Russian troops scatter on foot for survival as the front implodes.
Now we are talking about 3,000 square kilometers and really this entire front has now collapsed with what is expected to be phenomenal Russian fallback.
I mean what else are you going to say about this because if you can see this picture then you can realize that depths and enormity of this.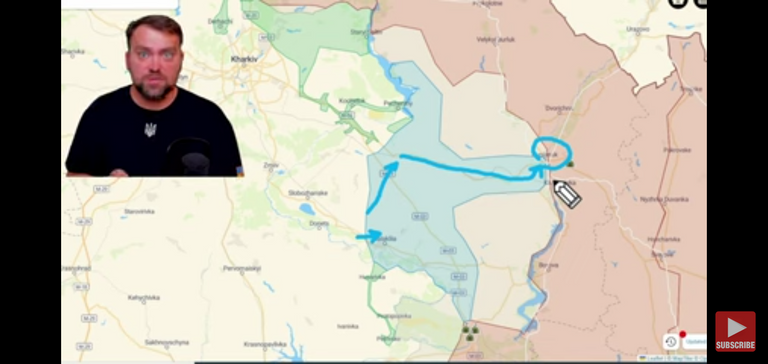 And if you look the blue area here is cleared retaken ground and everything in Gray happens to be disputed and ongoing fighting however I'm just going to say that there's no way that southern pocket would stay there and get trapped. And of course the logistical capability to be able to support this offensive movement absolutely has to be there because there's no way they get this far into this offensive without supplies.
And this is now sitting at the front door of the major supply routes for the entire area which now endangered pretty much the entire front making this conflict so unstable.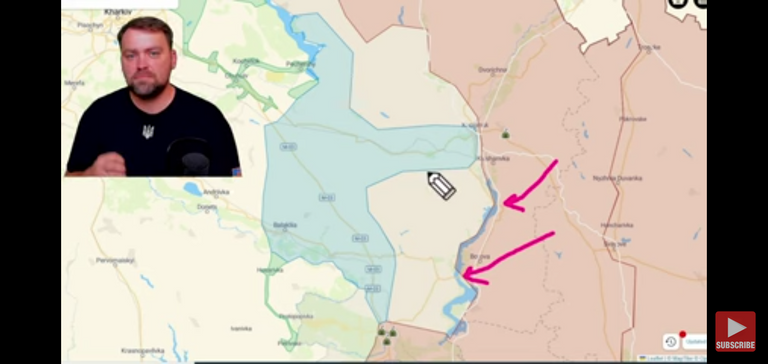 Wow....
Okay so in the above map Rush forces tried to stop Gap the huge advance however with air superiority and really a lack of enough helicopters none of soldiers were able to be deployed and I'm guessing just made for an excellent Target. Really I mean what is a bunch of foot soldiers going to do in the middle of this mechanized assault and combined asset coverage along with all the drone surveillance.
Onward to the next map here with red lines being DNR and LNR officials being transported North to safeguard them from assassination while Ukrainian forces are shooting North as well cutting off a huge pocket of resistance which is going to make that entire front collapse.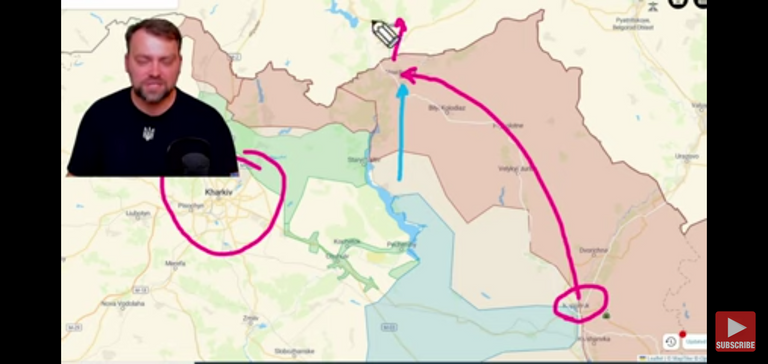 And it's just absolutely astonishing the speed that the Russian forces are collapsing and getting mauled.
That will be the most shocking part of this entire situation having Russian military forces being so resoundingly defeated.
And of course this conflict is going to change the entire idea of warfare.
Well I'm going to try to finish this video so let's see what's next.
And now in the center pocket we are looking at again more activity as well as offensive so I am just kind of laughing that the entire Ukrainian front is on fire and I am sure that the lack of Russian military leadership is now snowballing into huge further issues.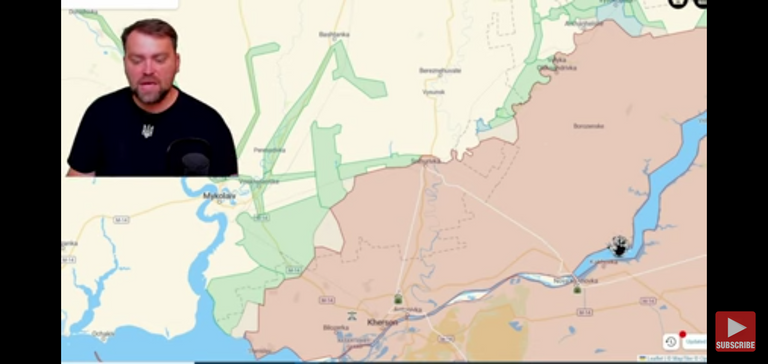 And here you can see three active offensives with the southernmost one really making some huge advancements which is going to risk for her encirclement if that news wasn't tight enough already in the south.
Russian forces are rumored to be using some ferries however this is absolutely a huge bottleneck choke point with a huge supply limitation so I'm only going to expect that here soon as ammunition and supplies run out in this pocket that consolidation of the Russian lines and the full-out stampede of 25,000 men are going to sue here pretty quick. And it doesn't really matter if Russian forces threatened to shoot individuals.
However I expect that the huge fall back movements are just going to, of course end up becoming panicked rushed and leaving behind massive amounts of soldiers for capture.
And personally if I was a Russian soldier I would happily be left behind and surrender especially since Russian resupply in that area means that it's either food or ammo being sent to the front line and there's not much food being put into those transports.
There is no way that you can be able to win a conflict unless you have adequate logistical and supply routes already planned out. It basically takes 25 rear echelon individuals to maintain and support one fighting man on the front lines.
The cover thumbnail on this YouTube video basically explains exactly what's going on and the huge defeat that is being handed to the Russian military commanders today.
And a really big telling part of this entire collapse of the Russian front line is the massive amount of equipment that is being left behind which is going to further bolster this entire advance with spare parts equipment and supplies being overrun. All of those supplies are now being denied to Russian forces and used against them making for a double-edged sword.
And on top of it apparently Bob damage assessment videos show absolute havoc being introduced into the Russian supply lines firsthand and from the ground. I'm not exactly sure how this word is going to be continued to be fought.
However after what has happened today I think that the push for sanity and a resolution to this war as well as the removal of the so-called President of Russia Vladimir Putin has now gotten every reason to proceed.
I can only just imagine how upset the people back home in Russia are after this iconic failure of a special military operation.
So what are the odds that Putin is going to get removed I'm guessing that they are pretty astronomical at this point. I have a feeling that the entirety of Russia is going to be super upset and starting to act up and rebel against the leadership.
And one thing that was pointed out to me is during this counteroffensive Ukrainian forces have been marking their vehicles with white crosses to signify which side they're on.
Which is ironically actually a really good designation!!!
The Russians are getting their teeth kicked in is pretty much the first words about this conflict and I really can't disagree.
And graphically he is not wrong. Best way I can put it is this is the redhead stepchild getting beaten silly.
The absolute hypocrisy of Russian forces in saying that there is real no strategic importance to this counteroffensive however I counter with this counteroffensive success most likely will and military options for the Russian forces in this area. There is absolutely no counter unless we are talking about going a full nuclear option. Russian Porsches will be forced to pull back and start to lay in some kind of defensive lines and stopped running away from the Ukrainian army if they even hope to survive the retaking of the eastern part of Ukraine.
And if the Russians are unable to figure out how to prevent the wholesale retreat with some kind of defensive fallback positions we are going to continue seeing rushing units fleeing all the way back into the borders of Russia. And let's just say that even there they are not safe.
Ukrainian attacks have reached deep into Russian lands as well as the capital.
And I think it's pretty funny that with a coalition of 53 countries standing against Russia for some reason they think that an exceptional countries such as North Korea will be able to save them with that massive military stockpile of equipment Russia had to give North Koreans for how many decades?
Personally it is an absolute joke that Russia would be able to resupply from such a tiny little country.
Don't forget this is the most improved military force in the past 8 years. Ukrainian soldiers have worked so very hard and it definitely shows how much heart and dedication these warriors really have.
---
---