The northern front completely unravels. Russia retreats!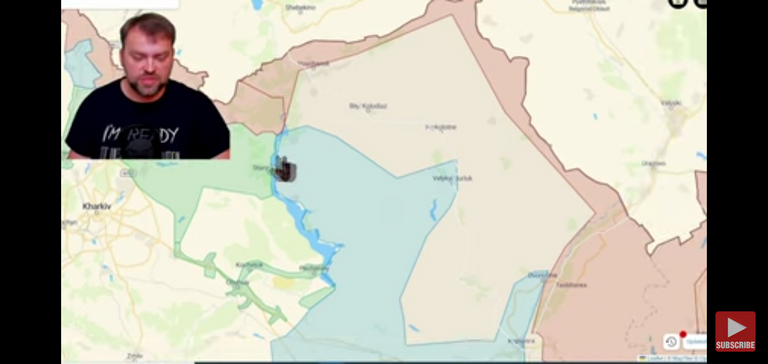 Well it looks like it's over for the Russian forces in that area and I can just imagine the complete demoralization as word is announced to the southern pocket that is completely cut off and isolated from the main Russian Force.
The only way this could be accomplished is with a complete and total headlong surrender and retreat because these soldiers have absolutely no leadership to stop the headlong run for theoretical safety.
There can be absolutely no other option with the amount of territorial space that was seized and in the next coming days we will see how far these gains are going to take Ukrainian forces however it looks like this is going to be a full fall back to the border.
And personally I really don't think that Ukrainian forces really should stop at the border if needed I really think that they should start taking Russian controlled territories that are on the Russian side of the border.
This war is basically the complete definition of f*** around and find out. As well as a huge amount of karma because knocking over this country two or three days was the original objective and so many months later Russian forces have been humiliated multiple times.
Shocking yes I know however I just really don't see any ability for these Russian forces too regroup and prepare defensive positions. Personally I really don't even think that the border with Russia and Ukraine is fortified in the very least.
Well I am definitely sure that the documentary about this event is going to be extremely eye-opening.
I guess this takes the cake as the greatest land grab of the century in the shortest amount of time. And I really don't see any other options with this. Personally it just looks like that this war has been completely and totally finished and Russian forces just seem to pretend that it really isn't.
And just all over the northern front is continued successes as well as really a very resounding lockdown to prevent the city that is right next to this border from getting taken over again.
Russian artillery can still reach over there however this is also another reason why we have counter artillery radars and other crazy technology headed over to these Ukrainian front lines.
Next up with this huge takeover we now have completely peeled back the Russian army and the next huge supply line and supply Depot is now completely within range of pretty much all 155 mm artillery systems like the m777.
Basically now with the front shifting over so rapidly there is no fortifications or defensive positions for the Russians to mount any kind of defense and if the Russian soldiers don't stop running the slaughter is just going to continue.
And then on top of it Ukrainian forces are approving extremely capable at River crossing and as well making some substantial footholds on the other side of some of these waterways which I just see ending up getting exploited even more as this conflict progresses.
And definitely you were going to see a lot of special Forces operations going on behind enemy lines. I can only see even more actions going down with Ukrainian special operations forces working behind these lines and the advanced targeting as well as identification of supply routes and command personnel have just solved this conflict.
And don't forget the stage is completely set with this breakout coming very shortly.
No don't forget Russia did drive to defend however the force a cent was not only inadequate but poorly equipped as well as completely exposed to Ukrainian artillery and drone surveillance while they had absolutely no assets to call hon from the Russian forces.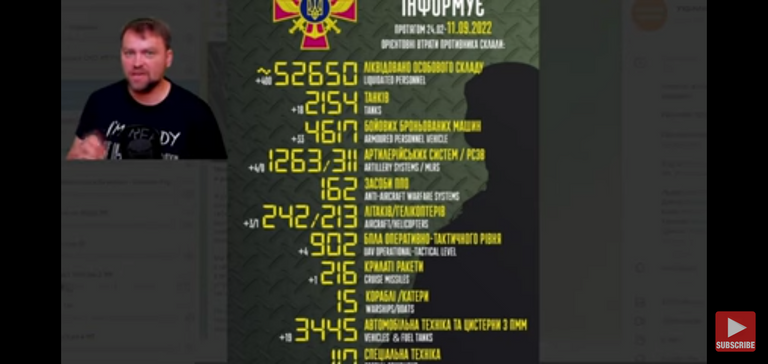 52,69 0 soldiers have died from Russian side and it looks like Ukrainian military forces did not exaggerate. Josh we will definitely see the truth on how many people have died however it is looking like 8,000 Russian soldiers are dying per month. Which is even more than our losses in 20 years of war in Iraq and Afghanistan.
And that is really going to be difficult to fully count then through human cost of this work with so many soldiers being vaporized by artillery fire in these extremely long range sniping incidents.
This is one of the craziest conflicts and the upset as well as self-destruction of the Russian military complex not only is shocking, but this is going to have immediate long-term repercussions.
China sounds pretty quiet now that Russian forces have been humiliated.
US army combat veteran apparently agrees that this entire conflict is pretty much over with this full retreat.
And even better this is a illegal mobilization to now cover the Russian border to prevent the invasion of Russia itself because Ukrainian forces have completely humiliated and demolished all of the occupational Russian forces.
And this is also coming on the heels of St Petersburg politicians calling for Putin to be removed from office for treason.
And it looks like there is a huge public backlash to the thought of forced conscription to defend President Putin's worst military decision to date.
And even the public knows that the excessive body count is dramatically impacting them and nobody wants to get involved and be the first to die. Which that is really the biggest part of all this. Public support for joining this conflict is at an all-time low.
And on top of it we are looking at a massive campaign of fire bombing military recruitment offices to prevent further conscriptions.
With this war being so incredibly unpopular and now being on the front doorsteps of Russia we will see how the fallout is going to settle both with the conflict and internally because it does look like Russia is about ready to splinter and implode.
I'm not sure that the return of the USSR was exactly planned like this by Putin and the rest of the hardline Communist old breed.
Well unfortunately the reunification of the Communist block and the further takedown of NATO and Western Nations for global supremacy has ended up failing.
---
---