The ukrainian push. The russian collapse of the southern front.
So apparently North Korea is coming to Russia's rescue.
Yep apparently Rush is going to buy millions of artillery shells from North Korea and then have to transport all of that through a network of sabotage rail lines. That sounds like it's really going to work and how are you going to get these so-called millions of shells all the way over. Yeah...
Yeah if you have to go begging North Korea to get military equipment obviously you must be really screwed up because North Korea has a lot of really old outdated military equipment yes however all of that really old outdated equipment is virtually useless and just really taking up space because modern equipment is just that much better.
And yes what are you going to do with a bunch of North Korean garbage equipment and defective artillery shells and rockets.... Just flail around in anger.
However this is again just underlying how much of a problem that Russia is having with sanctions and now supply lines. How are you able to save those 25,000 men who are currently isolated and trapped.
Basically all of the western military equipments going over there is being completely unopposed by the older Russian and Soviet era equipment.
Not only that you also have resistance fighters and special Forces operations happening behind enemy lines targeting identifying and destroying depots as well as supply lines and of course don't forget targeting officers barracks... I'm not exactly sure if there is a single original general left in the combat command structure due to electronic warfare eavesdropping by Ukrainian forces and targeting senior command military officials...
48,739 Russian soldiers have lost their life in Russia according to Russian ministry of defense numbers that have come out which basically means we are looking at five to one losses nearly.
This is as shocking as can be really.
Izum
Dual encirclement.
And it looks like again strategy of supply denial and destruction is getting repeated. Basically giving hope to the thought that Russian forces are going to be completely repelled and said on their heels.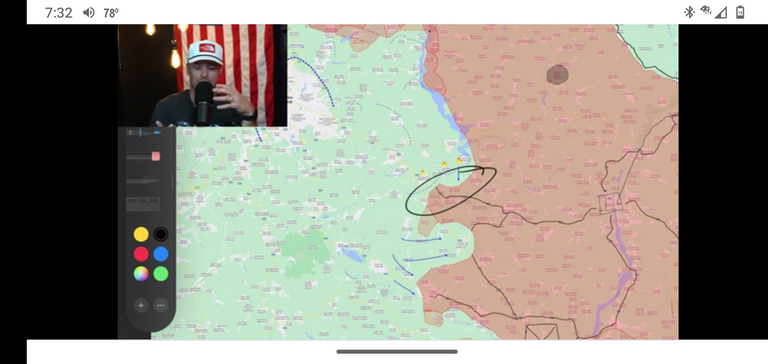 Well this is definitely going to be quite the situation because now it looks like Ukrainian forces are making a push.
And then to the east of that we are looking at Ukrainian forces have shifted over the river that Russian Porsches have taken such brutal losses attempting to cross. And on top of getting across the river establishing a foothold they also were able to liberate an entire town.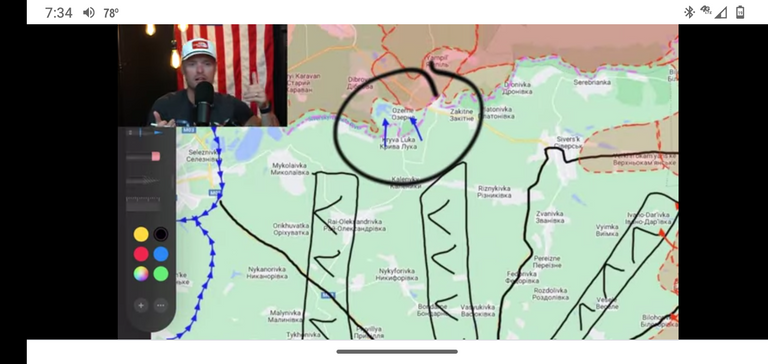 Biggest issue with military forces and their movement is that second you lose the initiative and stop moving. It's hard to get going again.
Southern front.
Ukrainian Air Force flies over 30 40s with a notice control of the airspace and as a result we are going to see some huge Domino effects with Ukrainian air assets. And even with only a tiny glimpse of the Southern front map I am currently seeing huge amounts of territorial gains by Ukrainian forces.
It is like they are out of food and ammunition and in a desperate stampede to get as close to Russian lines as possible. Which that looks like Russian lines are not just breaking but shattering and with these huge territorial gains, comes a bloodlust.
This is actually a very scary time for Russian forces during their retreat because it does not sound like there is any operational covering forces. Meaning that these Russian troops are going to be completely exposed without a managed to defend themselves is they were running away. I am not exactly sure how much territory has been taken but I'm going to guess just today just in this area a bigger section of land has been taken by Ukrainian forces then is the size of the smallest American state Rhode Island...
Which actually isn't that small... Don't forget carefully looking at the map you are seeing a huge push deep into Russian occupied territories looking like it is splitting the northern half pocket and isolating them which would again I am just going to guess but if it were me I would be absolutely panicked and terrified at that point if I was trapped there..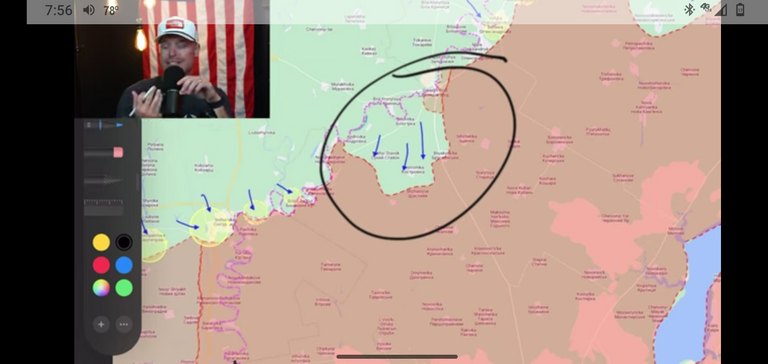 And on this huge territorial push we are absolutely seeing a distinctive pattern of supply line disruption as well as long range artillery sniping and rear area engagements limiting anything but soldiers on foot from fleeing.
And in this next photo Ukrainian artillery is absolutely smashing and continuing sustained fire and sustained operations in destroying absolutely anything that moves along the squiggly line which happens to be the resupply route. Basically preventing soldiers from getting any resupply if there was any left.
And also setting up continued targeting operations as they are using long range artillery and Western precision weapons to slice a corridor in between these Russian elements. And as well the logistical supply lines and capabilities for the supply have been stockpiled and carefully stashed and hidden in a diversified manner so that one supply Depot being hit will not take out all of the ammunition...
And unfortunately Russian forces have absolutely forgotten any strategic knowledge like diversification of supply depots. As we continue watching these massive munition piles at the supply depots continually being targeted over and over by Ukrainian forces and long-range Western munitions.
I must say things are looking extremely bleak for the communist Russian push to reunify Ukraine with the rest of Russia.
And absolutely note in the Southwest pocket there is another huge encirclement I thought it looks like is nearly complete.
And there is absolutely no other way to put it than to say that Ukrainian forces are now steamrolling over unsupplied Russian forces with impunity and complete air superiority as well as extremely efficient combined arms assets.
And with all of this military momentum moving with adequate Ukrainian resupply and solid Ukrainian logistics we are probably going to see these forces surround and isolate huge pockets of Russian forces.
And in this event there is only going to be one solution which is the unconditional surrender of huge amounts of Russian forces because they haven't gotten food that week...
Ironically Russia trying to force the world to starve is now getting turned around to Russian military forces are starving. Unfortunately I have absolutely no pity and 25,000 soldiers is now going to be a massive bargaining chip for Ukrainian forces to Ransom back to Russia.
Well. This has to be the most inept military campaign of this century and we'll go down in history as how not to conduct military operations.
---
---