Ukrainian forces cut off izum! Another 20,000 MORE russian soldiers are in danger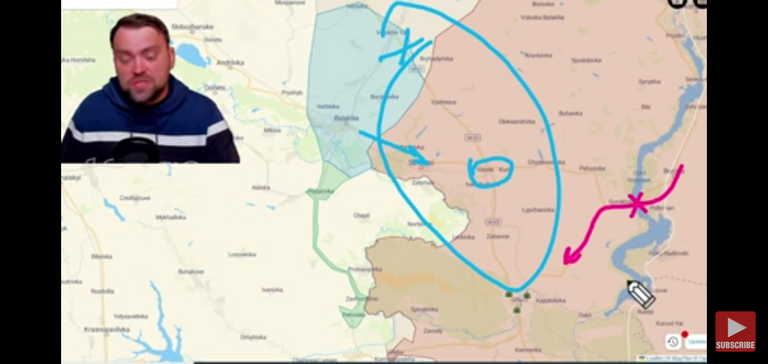 Oh this is absolutely hilarious not only are the Russian forces collapsing in the southern front in the northern front this massed penetration is going to wreak absolutely havoc and we are talking another 20,000 Russian soldiers in the pocket of this one plus 25,000 Russian soldiers in the other one...
You're looking at nearly 45, 000 soldiers being taken prisoner with little to no risk. And actually those starving men are willingly going to surrender by the hundreds just for a chance to get meals.
Now we are looking at another humanitarian crisis because 45,000 Russian captured soldiers is going to be a huge mouth to feed let alone a massive leveraging point for Ukrainian forces to force peace.
Well we know the truth of what is going on and that definitely is quite a big issue especially now that we have the clear actions of the Russian army in wholesale retreat giving up strategically invaluable opportunities and isolating huge forces of Russian troops in a area that is easily rendered into being trapped and encircled.
I have a feeling after the failure of this conflict there is not going to be very many russian officers if there is any command leadership surviving after Putin has a purge.
And then... Is there more?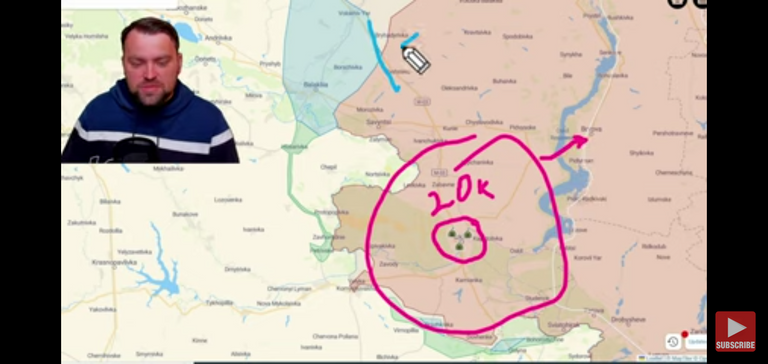 So if you'll notice in the bottom right hand or Southeast corner there happens to be one tiny little road and bridge that is able to be used for supply lines however this actually is probably the most evil idea ever.
Because you were talking about the only reason why to this huge amount of troops happens to go completely within visual range and is completely susceptible to targeting as well as even the shorter range javelin missiles. So basically that means that anything that drives down that road is a sitting duck and completely vulnerable. And absolutely it being completely and 100% vulnerable that also means that anybody trying to escape is also completely and totally vulnerable however that is unless they are fleeing on foot and unarmed waving White flags however I just do not see the logistical capability of transportation of 20,000 men across that tiny little pocket under fire to retain what little of the Russian forces are in that area.
The penetration evidence!!!!
Back to the ukrainian information
Actually another really big point that Russian forces need to worry about is being totally cut off in multiple ways with a huge push penetrating in just 100% more of the way that they've already cleared and you end up in a massive City and supply route hub that would isolate a huge portion of this Northern invasion. And also making sure izum is abandoned..
And here we see it that there is virtually no movement on the southern front wow just waiting for the entire $25,000 man army to end up starving themselves and running out of ammo.
However up north ironically it seems like Russian forces decided to strip this entire section thinking that there was no action and it was pretty free for them to operate in and that has now cost them dearly with 30 some odd miles being taken.
Again precision weapons strikes and precision artillery cover is showing Russians how much of a mistake they could possibly make.
So of course the more that we look at this conflict the more we see things changing and it really looks like while Russian forces were scrambling to help the southern pocket we are looking at.
And in this video here you're seeing a bunch of captured Russian soldiers.
And then if you look really closely you not only are going to cut off that big huge element to the South you are looking at getting off an Element directly to the east freeing up an entire village with what looks to be like not even a shot taken especially if that happens and no massive panicked withdrawal ensues.
And it is being hinted that we're going to have even more videos of captured troops and on top of it the complete lack of acceptable equipment these individuals are being captured with.
And then they've also got a video in there of a captured Russian kernel which is actually some pretty huge news because that is definitely not a low level officer.
And reports of Russian soldiers abandoning their uniforms in favor of civilian clothes is definitely believable plausible as well as expected especially with this crazy offensive.
And then they've also got a video in here of a pontoon bridge getting hit. And that video is absolutely pretty cool I'm definitely goin to rewind that this little part.
In this video they say 12 to 14 km however in other videos we are seeing upwards of 30 miles which would be a significant push and as well a dangerous move because that means artillery forces can be moved up there by threatening that Northern pocket that is just about cut off and trapped with River to its North and the entirety of the Ukrainian offensive surrounding it.
And another scary part is the fact that it really does look like Russian forces have stripped as much of their men and equipment to block these counter-attacks however apparently these counter-attacks have been phenomenal with subterfuge.
Don't forget Ukrainian forces built a bunch of wooden look like decoy pretend missile systems that have been extensively targeted by Russian forces and that targeting is just wasted munitions. As well as a extremely dangerous precedent. To underestimate the capability of these weapon systems in such a vital manner is now being made extremely clear to the Russian forces.
There is absolutely no way in the world of this war is going to plan or for that matter going well at all with nearly 50,000 dead and nearly 45,000 surrounded and threatened.
Putin making a promise that they haven't lost anything and that they're not going to lose anything is basically blowing up in his face and making Putin into a liar.
And last but not least let's go over a much more clear report for this Russian Colonel that was captured.
---
---