A Journey To Heaven

Many ages back, there was a man who lived his life to serve others. He devoted all his life to his kingdom. He was a true honest king who always followed Dharma(Righteousness).
Dharma means serving others and making everyone the same as there is no difference in Dharma's eyes. Animals and humans all stated the same.
Where this king has done nothing wrong in his life, But apart from him, his brothers made some mistakes that can not give them a place in heaven.
They had a loyal dog who was always with them in their happiness to their difficult time. This dog is no different than the man who was always going on the right path never done anything wrong in his life. Always follow the order given by his master. But there is some certainty only humans can have a place in heaven.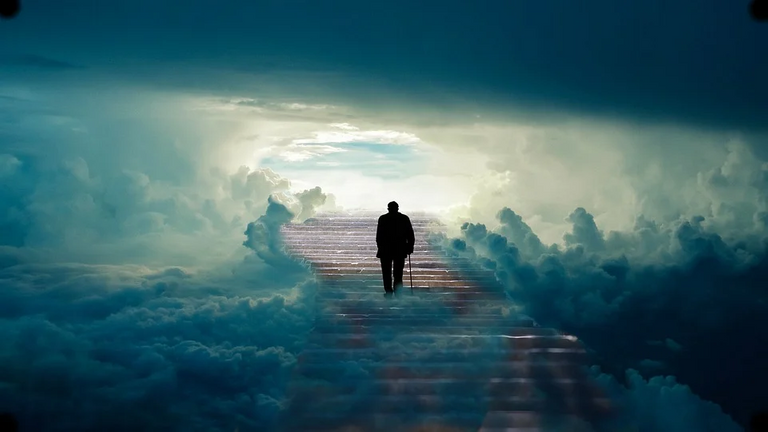 Image Source
A Journey To Heaven
So knowing all about their character, they all started their voyage "A journey to heaven." There was a place somewhere in ancient times, where the staircase of heaven could be seen. But the journey is long and so difficult. So after completing their voyage they had to go all along with their bare feet and no one knows where they will able to see the staircase of heaven but there was hope that takes them to walk consistently.
In the journey of heaven, There were some rules by God- "The one who wants a place in heaven must start their journey barefoot with no water and food, they just have to walk aimlessly. In this long journey, there are only two options - you die in the middle somewhere basically depends on the Karma you did in your life or you will able to found the staircase where I'll take the person with me to heaven.
So in their journey to heaven time by time, the king's brothers died but he continued his journey with his dog. After a week, he saw the staircase where his dog is still with him.
God appears in front of him and said "You lived your life serving others, you are the person everyone will take an example in all ages, you never betrayed anyone, sometimes you sleep hungry only to feed your kingdom. You always took the right action like you want to save your community. So I am here to take you to heaven.
But this man had rejected God's offer and reply "This dog was always with me. Even though if I had not done anything wrong in my life, this dog has also done the same in his way. My dog followed everything I said to him so my lord you want to take me to heaven please also take my dog with me in heaven.
God was amazed by his reply at that time dog revealed his true identity and became a man. King's dog was none then himself Dharma Who was always with him but no one knows who the dog was.
After the dog changed to the form of Dharma he profoundly said "You are the true king, and now at the end phase of your life you again proved that you always had the mind and righteousness that never was in your brothers.
In the end, they took the king to heaven where he was entitled as the king of heaven.
So in life, we always consider humans first, animals in last but the thing is that they are also same like us. We should respect everyone and not ignoring the hungry stair animals in our way. And also I just want to request you personally please don't abandon pets and strays.
I want to Thank you guys for being here. I just want to ask you what will you like to become because, in this short time, everything will fade away soon, and only your good deeds remain alive always.
---
---