Bolsa de Plomo en Qué Riquera (Esp-Eng)
Qué Riquera! se vistió de gala ayer con la visita de todo un personaje dentro de Hive; el más querido quizás entre todos los peluches y las jabas. Por supuesto que nos referimos al señor del título, @bolsadeplomo.
La noche de domingo estuvo colmada de risas. Más de veinte asistentes participaron durante las rondas de preguntas al invitado y quedaron locos con las ocurrencias de este muñeco que tiene personalidad propia.
Qué Riquera dressed up yesterday with the visit of a character within Hive; perhaps the most beloved among all the stuffed animals and jabas. Of course we are referring to the gentleman of the title, @bolsadeplomo.
Sunday night was filled with laughter. More than twenty attendees participated during the rounds of questions to the guest and went crazy with the witticisms of this doll who has a personality of his own.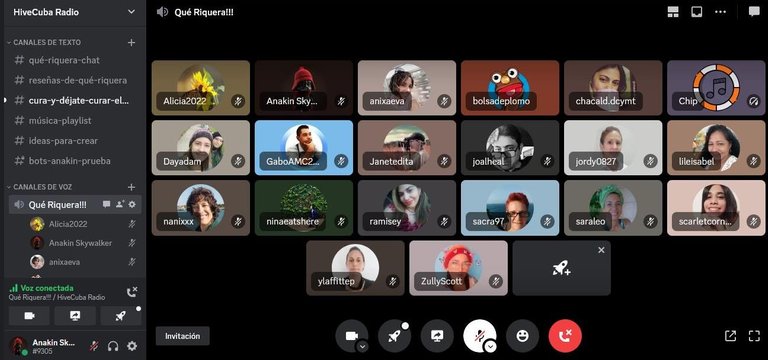 Captura de pantalla tomada durante la actividad | Screenshot taken during the activity.
No faltó la sección habitual Correctamente Mal, la cual siempre tiene premios para quien responda con mayor celeridad y de forma incorrecta (sí, es el objetivo del juego 🙂). Bolsa acertó todas sus preguntas, y del público fueron rápidas en responder certeramente las amigas @anixaeva y @ninaeatshere.
Pero sin más dilación, vamos con las canciones del gran Bolsa de Plomo:
The usual section Correctly Wrong, which always has prizes for whoever answers faster and in the wrong way (that's the aim of the game 🙂 ), was not missing. Bolsa got all her questions right and from the audience were lucky friends @anixaeva and @ninaeatshere.
But without further ado, let's go to the songs of the great Bolsa de Plomo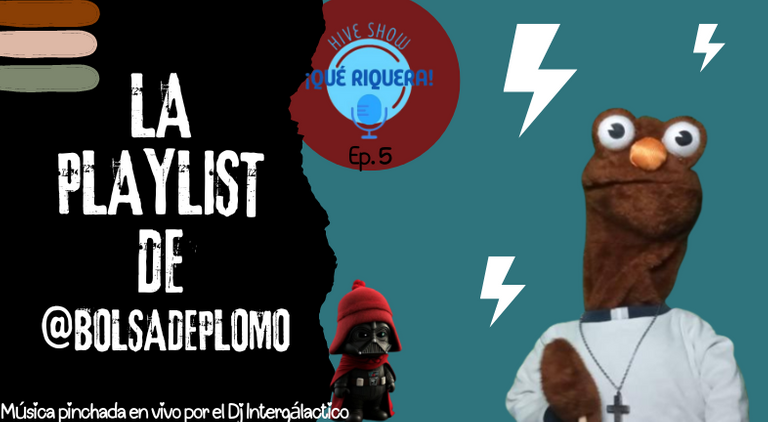 LISTA DE CANCIONES | LIST OF SONGS: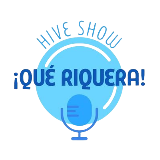 Pincha en el ícono para unirte a nuestro Discord 👉
Click the icon to join our Discord👉
---
La lista de Bolsa estuvo bien arriba y nos mostró su veta de amante del rock, del pop, del rap y de Aventura. Al preguntarle sobre la selección de los temas, el entrevistado respondió, con su acostumbrado sentido del humor, que como él es medio neurótico, sufre de ataques de ansiedad y siente como los demás seres humanos, esas canciones lo representan.
Casi al finalizar Bolsa dedicó la canción Solo por un beso a Minga. Y si no sabes quién es Minga pero sigues a Bolsa en sus habituales videos de 3Speak, pronto lo sabrás. Cuando te enteres, recuerda que fue en Qué Riquera donde tuviste la primicia :').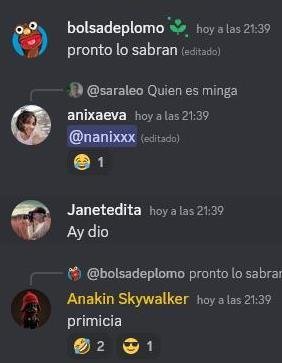 Bolsa's list was well up there and showed us his love for rock, pop, rap and Aventura! When asked about the selection of the songs, the interviewee answered, in his usual sense of humor, that since he is neurotic, suffers from anxiety attacks and feels like other human beings, these songs represent him.
Almost at the end Bolsa dedicated the song Solo por un beso to Minga. And if you don't know who Minga is but follow Bolsa in his regular 3Speak videos, you will soon find out. When you find out, remember that it was in Qué Riquera where you had the scoop :').
---
También hubo un momento muy gracioso en el que el público lanzó la pregunta de la relación de Bolsa con el de producción. Si influía lo interpersonal en lo laboral, a lo que una voz bastante grave (y sexy, según el chat) solo atinó a decir: No.
En resumen, muy buena onda en ese Discord. Ayer fue otra noche de pasarla bien con amigos hispanohablantes. Vale destacar que hubo muchos rostros nuevos este fin de semana; esperamos que se sumen muchos más. Recuerda que estamos todos los sábados y domingos a las 8 de la noche hora de Cuba con muchas sorpresas en #HiveCubaRadio.
There was also a very funny moment in which the public asked the question about the relationship between the stock exchange and the production department. If it influenced the interpersonal in the work, to which a rather serious voice (and sexy, according to the chat) only managed to say: No.
In short. Very good vibe in that Discord, yesterday was another night of having a good time with Spanish-speaking friends. It is worth mentioning that there were many new faces this weekend. We hope many more will join us. Remember that we are every Saturday and Sunday at 8 pm Cuban time with many surprises on #HiveCubaRadio.
Los dejo con la canción que quise regalarle al chat y al invitado. Creo que capta la esencia de Bolsa de Plomo, el peluche de humor más NSFW (Not Safe For Work) que tiene Hive 😉.
I leave you with the song I wanted to give to the chat and the guest. I think it captures the essence of Lead Bag, the most NSFW (Not Safe For Work) humor plushie that Hive has 😉.
---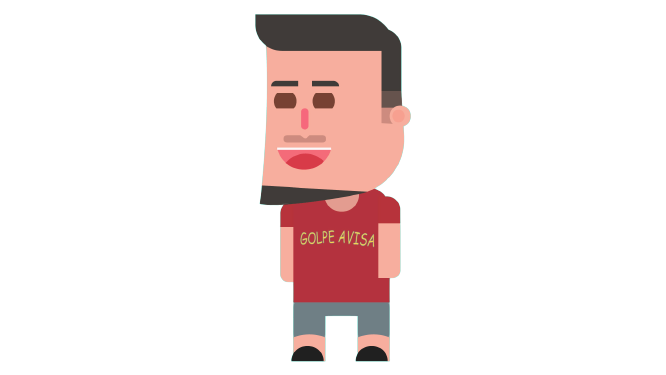 Text and images by the author, @garorant.
Cover edited on Canva.
Translated with Deepl.
Anakin Skywalker icon created in Midjourney free version.
Qué Riquera! identity created by @crptogeek.
All rights reserved ©, 2023.

---
---