🐱 Travesuras de mi gato Bonder || 🐱 Mischief of my cat Bonder

De Bonder ya he escrito en otras ocasiones. Fue un gato que me marcó la vida y hasta puedo decir que me ayudó a superar una etapa muy difícil de mi vida. En este post (Más que un gato, un antidepresivo que me dio esperanza y alegría || More than a cat, an antidepressant that gave me hope and joy) y en este otro (Ojos expresivos | Expressive eyes - Desafío Monomad) puedes leer sobre él y la relación que tuvimos. Hasta una vez me hizo ir de invitado al programa de @actioncats "Patas arriba", el cual se emite cada viernes a las 7:00 p. m., en el servidor de Discord de @laradio.
Tengo varias fotos de él, el verlas me hace recordar esos momentos felices con él, porque sí, fue un animal que me trajo felicidad plena. No era una simple alegría, no era únicamente divertirme con sus travesuras (que eran muchísimas), sino que su presencia me trajo una sensación de plenitud, de amor como nunca había ni he sentido por otro animal hasta ahora.
I have already written about Bonder on other occasions. He was a cat that marked my life and I can even say that he helped me to overcome a very difficult stage of my life. In this post ([Más que un gato, un antidepresivo que me dio esperanza y alegría || More than a cat, an antidepressant that gave me hope and joy](https://peakd. com/hive-196708/@garybilbao/mas-que-que-un-gato-un-antidepressant-que-me-dio-esperanza-y-alegria-or-or-more-than-a-cat-an-antidepressant-that-gave-me-hope-and-joy)) and in this one ([Ojos expresivos || Expressive eyes - Desafío Monomad](https://peakd. com/hive-142159/@garybilbao/ojos-expresivos-or-expressive-eyes-desafio-monomad)) you can read about him and the relationship we had. He even once made me go as a guest on the @actioncats show "Patas arriba ", which airs every Friday at 7:00 pm.
I have several pictures of him, seeing them makes me remember those happy moments with him, because yes, he was an animal that brought me full happiness. It wasn't just a simple joy, it wasn't just having fun with his antics (which were many), but his presence brought me a feeling of fullness, of love as I had never felt for any other animal until now.
🐈 🐈 🐈 🐈 🐈 🐈 🐈
En esta ocasión quise centrarme en sus travesuras. Tengo varias fotos unas mejor de mejor calidad que otras, que registraron algunas de esas aventuras que protagonizó. Como en dicho en mis otras publicaciones, era un gato sumamente particular. He tenido muchos gatos, pero ninguno tan único como este. Era de raza Siamés, aunque no de raza pura, pero al parecer eso no le impidió sacar el carisma de esta raza. Era extrovertido, muy expresivo, sentías que te respondía lo que le decías. Desafiante, mil porciento curioso y se llegó a montar en los lugares menos imaginados por los gatos del mundo. Los robos que hizo de almuerzos o gatarina, harían morir de envidia al mismísimo Ethan Hunt de Misión Imposible. Fueron épicos. En la familia seguimos sin entender cómo hizo muchos de ellos. 😅
Pero ya nos hablaré más, dejaré que sean la fotografías las que nos narren algunos de esos eventos, que les advierto, quizá no sean tan divertidos e impresionantes como los que no pude capturar. Pero igual, aquí se los dejo.
On this occasion I wanted to focus on his antics. I have several photos, some of better quality than others, that recorded some of the adventures he had. As I have said in my other publications, he was a very particular cat. I have had many cats, but none as unique as this one. He was a Siamese, though not purebred, but apparently that didn't stop him from bringing out the charisma of this breed. He was extroverted, very expressive, you felt that he answered what you said to him. Challenging, a thousand percent curious and he got to ride in the least imagined places for cats in the world. The thefts he made of lunches or catnip, would make Ethan Hunt himself from Mission Impossible die of envy. They were epic. In the family we still don't understand how he did many of them. 😅
But I'll tell you more, I'll leave it to the pictures to narrate some of those events, which I warn you, may not be as fun and impressive as the ones I couldn't capture. But anyway, here they are.
---
🐱 🐱 🐱 🐱 🐱 🐱 🐱
Acostado en un escritorio, mordiendo unos libros. Prefiero decir que lo estaba devorando (ya saben, por creer que tenía un gato intelectual)
Lying on a desk, chewing on some books. I prefer to say he was devouring it (you know, for believing he had an intellectual cat).

---
🐱 🐱 🐱 🐱 🐱 🐱 🐱
Enredado dentro de un cartera. Por curioso se quedó atascado.
Tangled inside a wallet. Curious, it got stuck.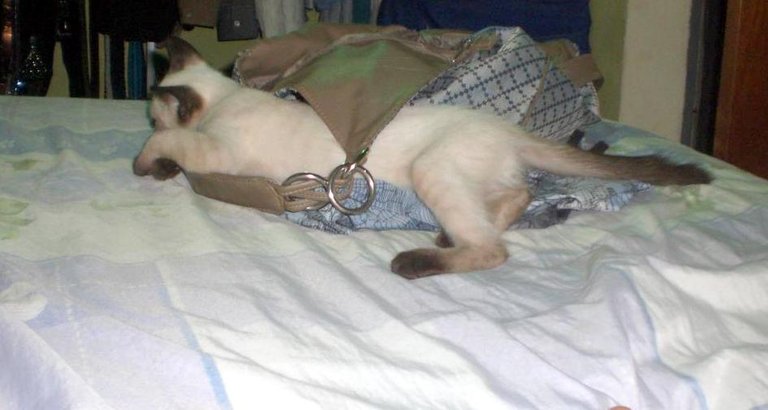 ---
🐱 🐱 🐱 🐱 🐱 🐱 🐱
¿Ya les mencioné que era ninja? Pues sí, tenía complejo de gato ninja, aquí la prueba.
Did I mention he was a ninja? Yes, I had a ninja cat complex, here's the proof.

---
🐱 🐱 🐱 🐱 🐱 🐱 🐱
Como ladrón profesional, le encantaba rodar todo tipo de bolsa que expeliera algún olor de comida.
As a professional thief, he loved to roll any kind of bag that gave off any kind of food odor.

---
🐱 🐱 🐱 🐱 🐱 🐱 🐱
No me pregunten porqué, pero una vez tumbó un recipiente con un trapeador (mopa) de limpiar el piso, lo sacó y lo arrastró. No sé, supongo que estaba aburrido o vio algún charco de agua en la cocina y quiso limpiarlo. Al final no supe para qué hizo eso, porque lo dejó abandonado unos metros después.
Don't ask me why, but one time he knocked over a container with a floor mop, took it out and dragged it around. I don't know, I guess he was bored or saw some puddle of water in the kitchen and wanted to clean it up. In the end I didn't know what he did that for, because he left it abandoned a few meters later.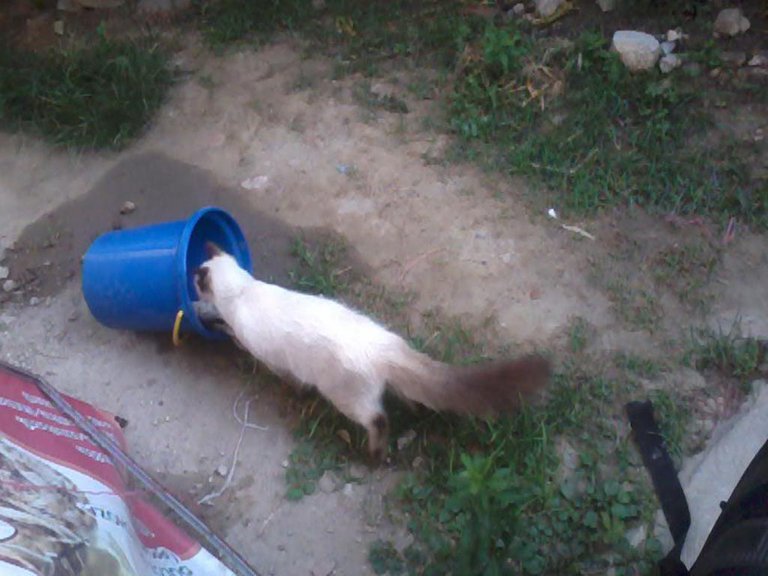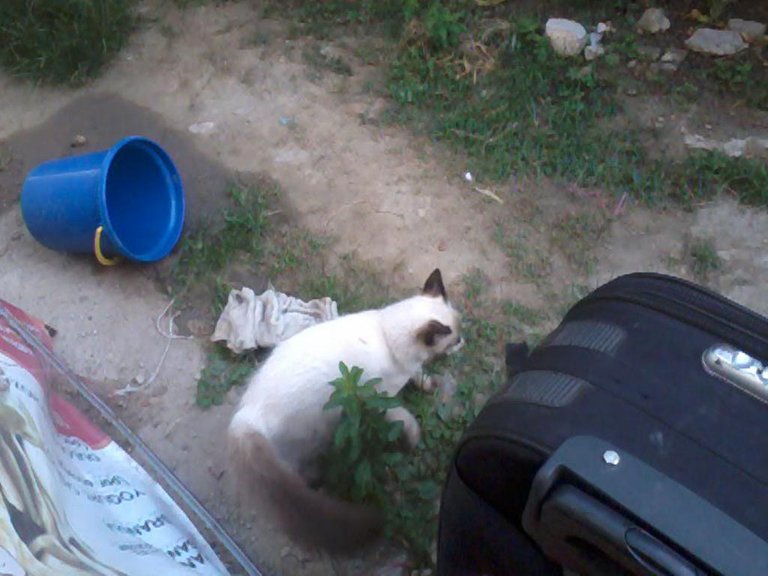 ---
🐱 🐱 🐱 🐱 🐱 🐱 🐱
Su primera experiencia trepando arboles. Varias veces se quedó sobre las ramas, pero no sostenido con sus patas, sino con su panza. Luego de eso, como todo gato, se convirtió en un experto felino trepador de paredes, arboles, techos... y cocinas, mesas del comedor hasta neveras.
His first experience climbing trees. Several times he stayed on the branches, but not supported by his paws, but by his belly. After that, like all cats, he became an expert climber of walls, trees, ceilings... and kitchens, dining room tables and even refrigerators.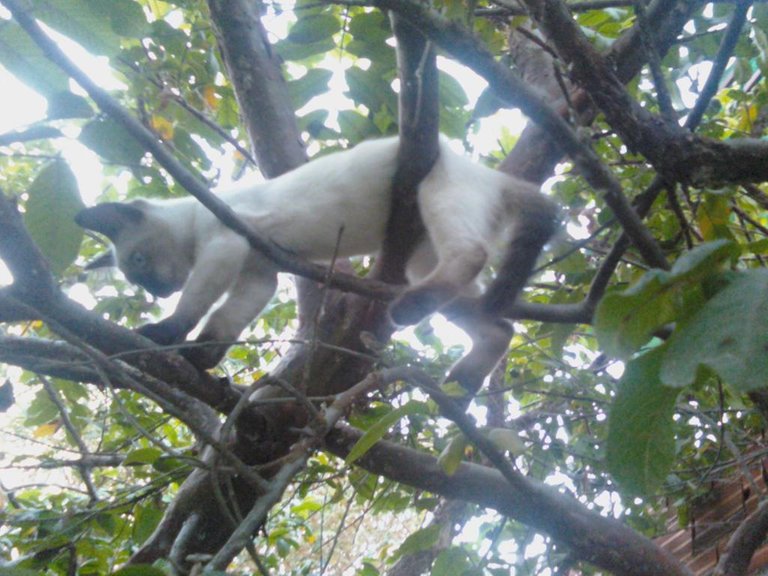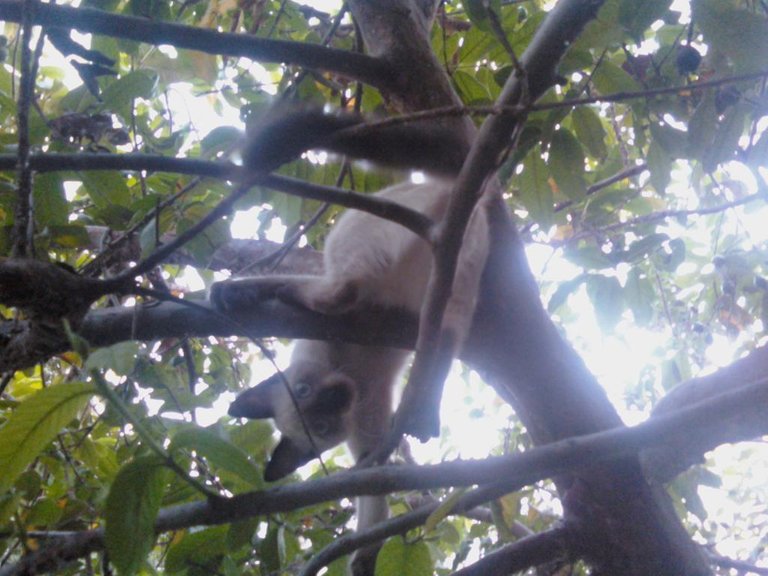 ---
🐱 🐱 🐱 🐱 🐱 🐱 🐱
Aquí tomando el sol y tal vez viendo algún bachaco o insecto caminar.
Here sunbathing and maybe seeing some bachaco or insect walking.

---
🐱 🐱 🐱 🐱 🐱 🐱 🐱
Gracias por acompañarme en las travesuras de mi recordado Bonder. Son cuatro años sin él, pero su recuerdo en mi sigue vivo. Me alegra el alma ver fotos como estas. Gracias por acompañarme a recordarlo. Me encantó describir sus aventuras.
Thank you for accompanying me in the antics of my remembered Bonder. It's four years without him, but his memory in me lives on. It gladdens my soul to see photos like these. Thank you for joining me in remembering him. I loved describing his adventures.
---
---
Conócenos y comparte tu comentario para que sea valorado. Únete a nuestro servidor de Discord.

¿Quieres aprender más sobre los comentarios y su importancia?
Visita la etiqueta https://ecency.com/created/hivecomments y vuélvete un experto.
---
---