MONOMAD - Telarañas 🕸️🕷️ / Spiderwebs 🕸️🕷️
Las telarañas, por un lado, son trampas mortales para cualquier insecto desafortunado que caiga entre sus redes, y por otro lado, son un indicio de la ausencia de la presencia humana o también, un recordatorio de que no se ha hecho la limpieza desde hace un buen tiempo jajaja.
Spiderwebs, on the one hand, are deadly traps for any unfortunate insect that falls into their webs, and on the other hand, they are an indication of the absence of the human presence or a reminder that we haven't been doing the cleaning for a long time hahaha.
Si hay algo que combine con el formato de la fotografía en blanco y negro son las telarañas así que en esta entrega compartiré algunas fotos de la presencia cotidiana que hacen las telarañas a mi alrededor.
If there is something that combines with the black and white photography format are the spiderwebs, so in this post I will share some photos of the daily presence that the spiderwebs make around me.
La taza y el chinche
Tenía unas dos semanas sin limpiar mi biblioteca y me sorprendí cuando bajé una de las tazas que uso para poner mis pinceles y vi a este pobre chinche muerto que había quedado atrapado en una telaraña que colgaba del asa de la taza. La imagen, a pesar de ser triste me pareció interesante para hacerle unas fotos.
The cup and the bedbug
I hadn't cleaned my bookcase for about two weeks and I was shocked when I put down one of the cups I use to put my brushes in and saw this poor dead bug that had gotten caught in a spider web that was dangling from the handle of the cup. The image, despite being sad, seemed interesting to me to take some photos.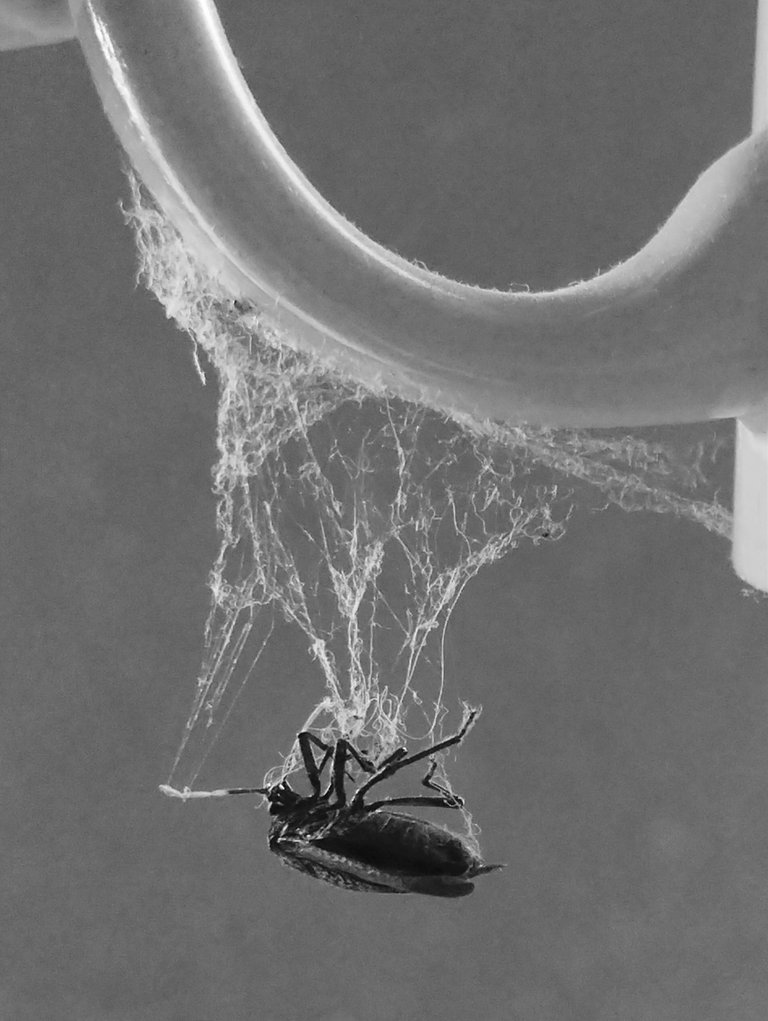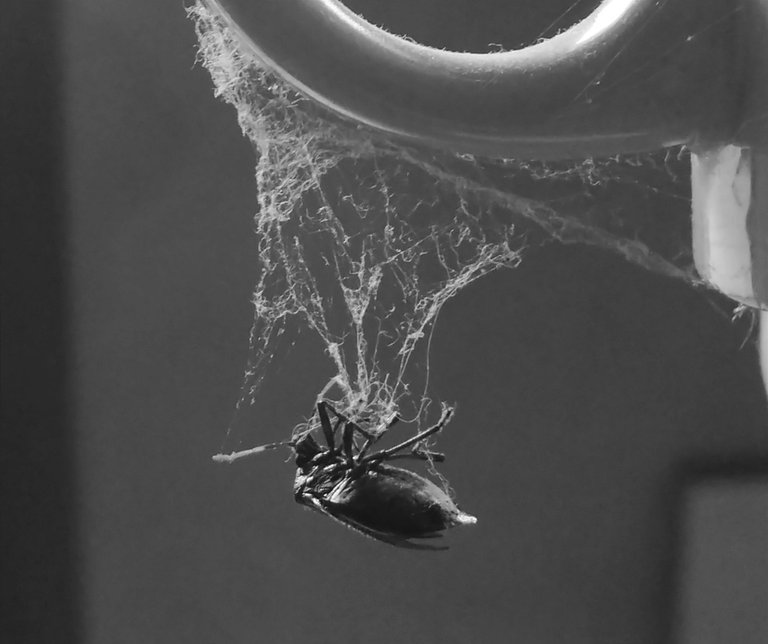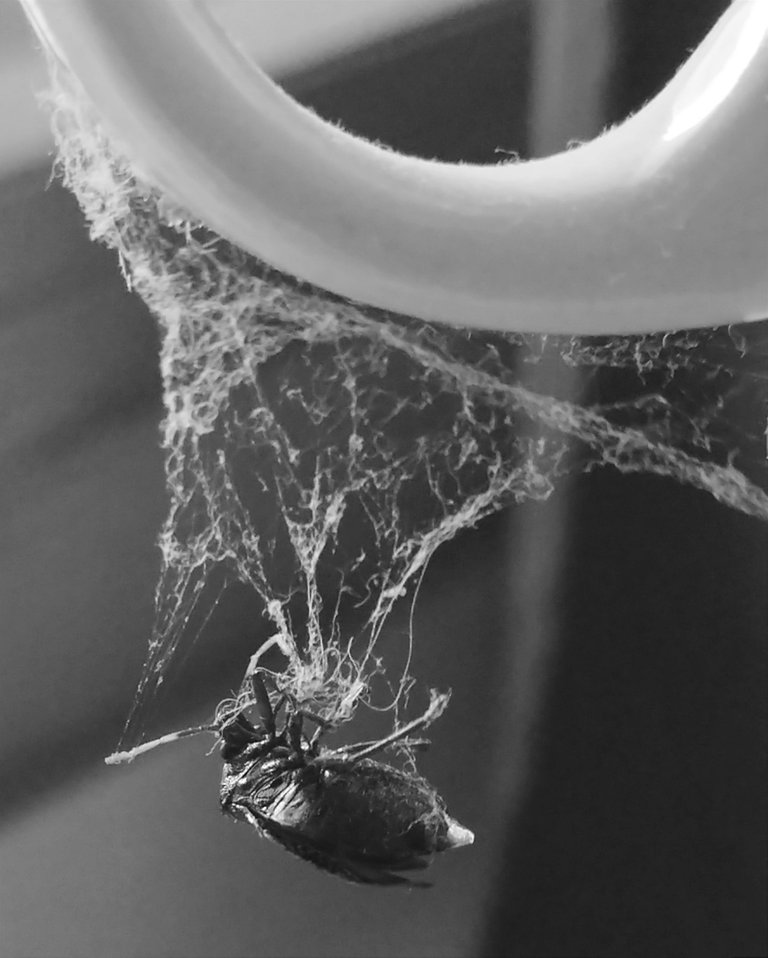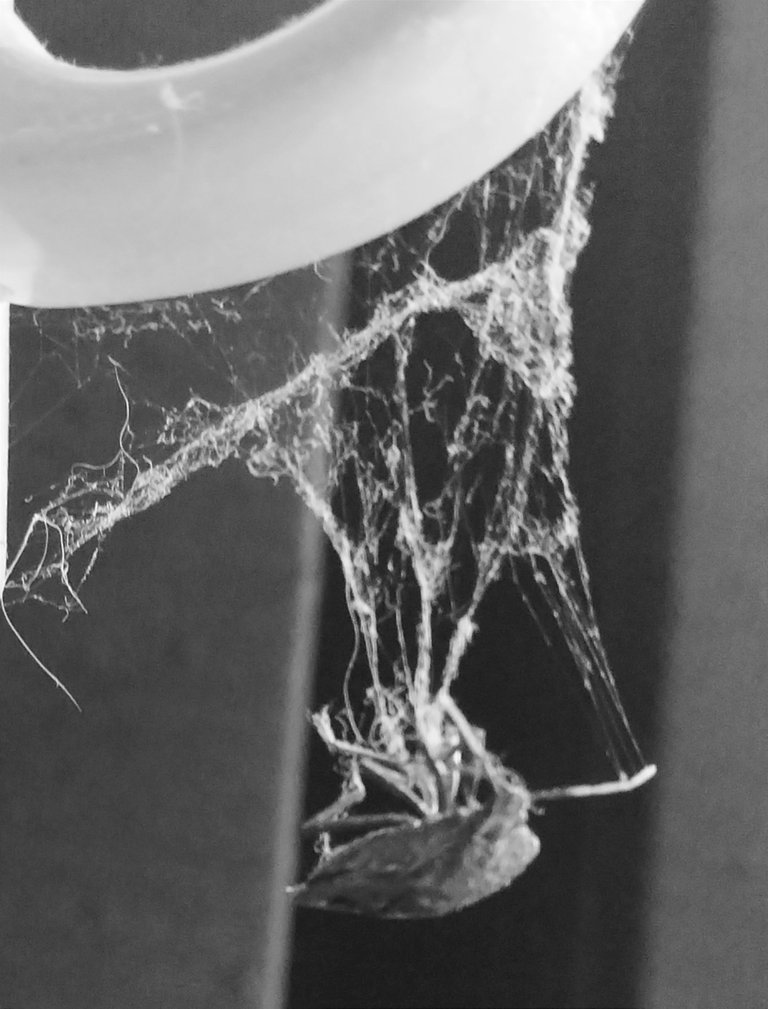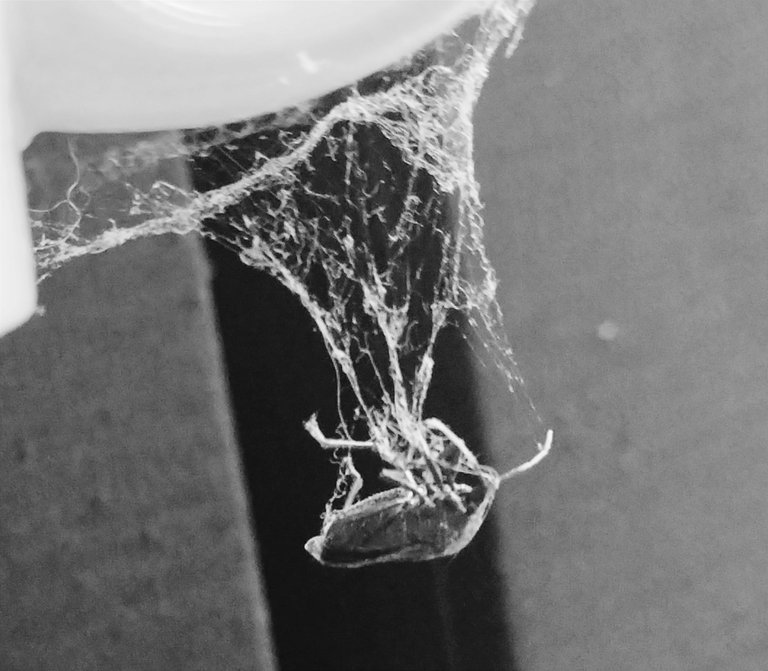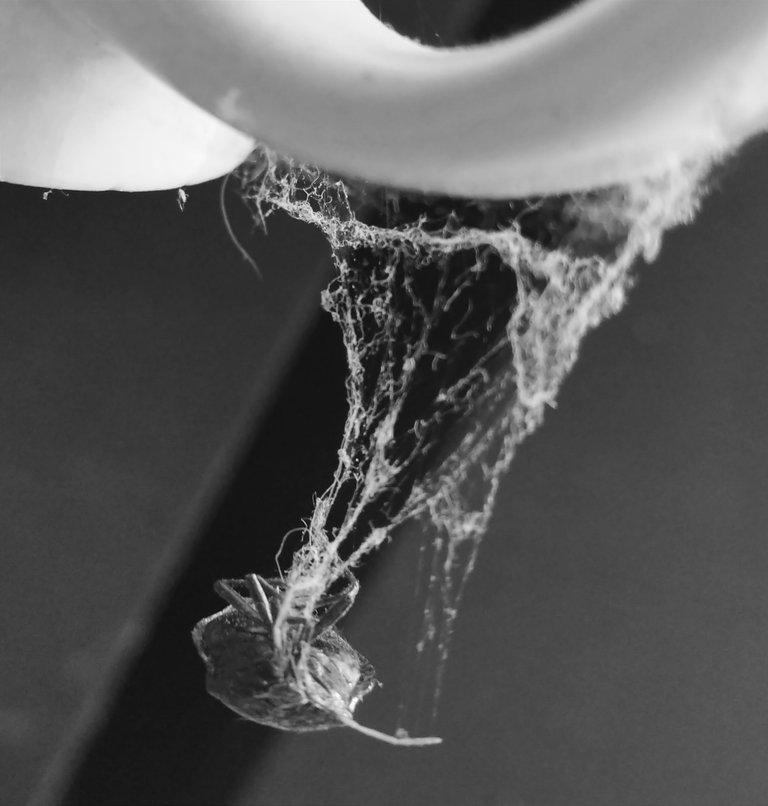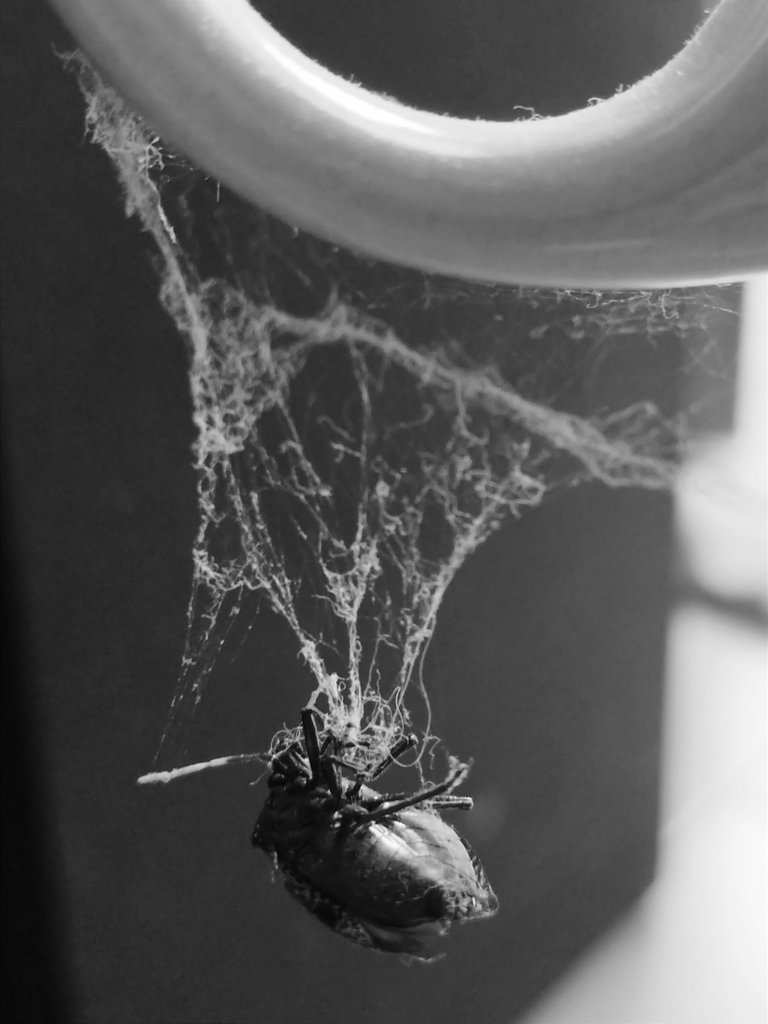 La planta de millonaria
A algunas arañas caseras o de jardín les gusta tejer sus telarañas entre las plantas ya que siempre pasan por allí insectos.
The millionaire plant
Some house or garden spiders like to weave their webs between plants as insects are always passing through.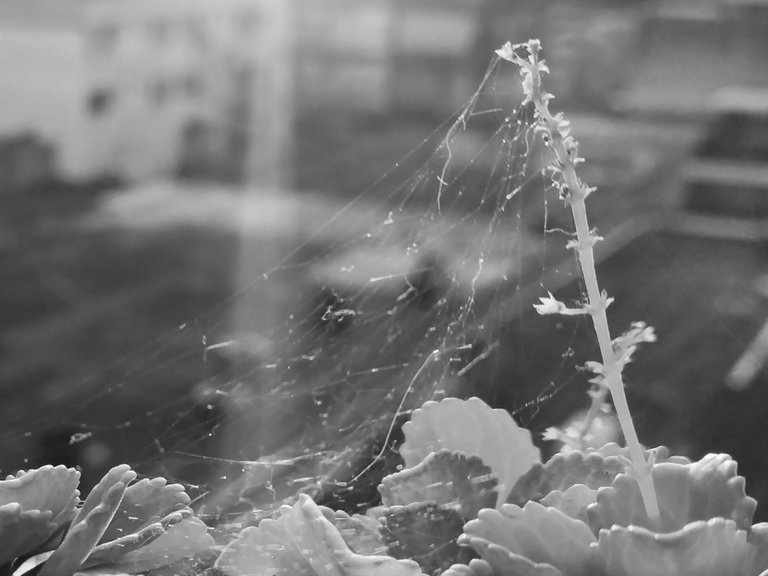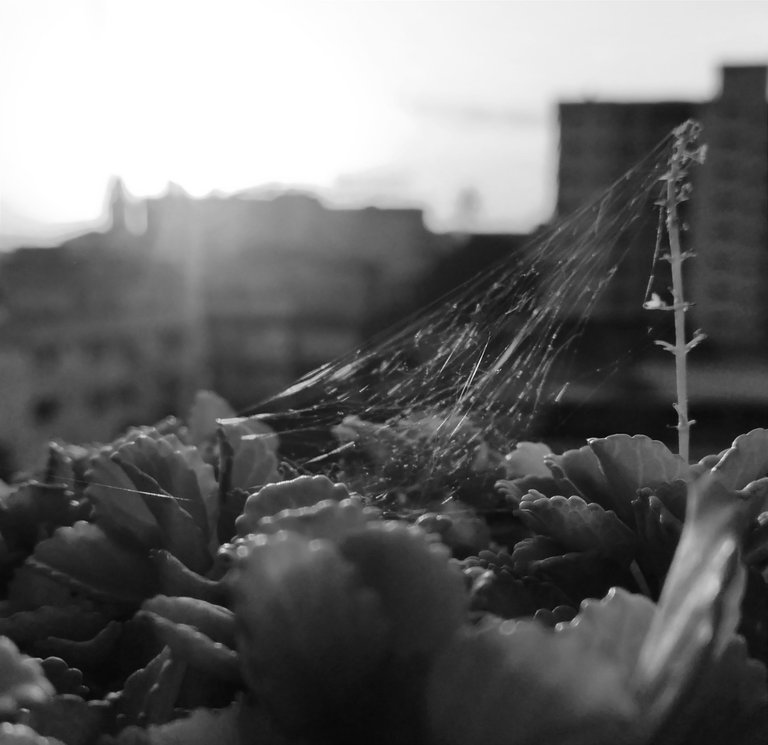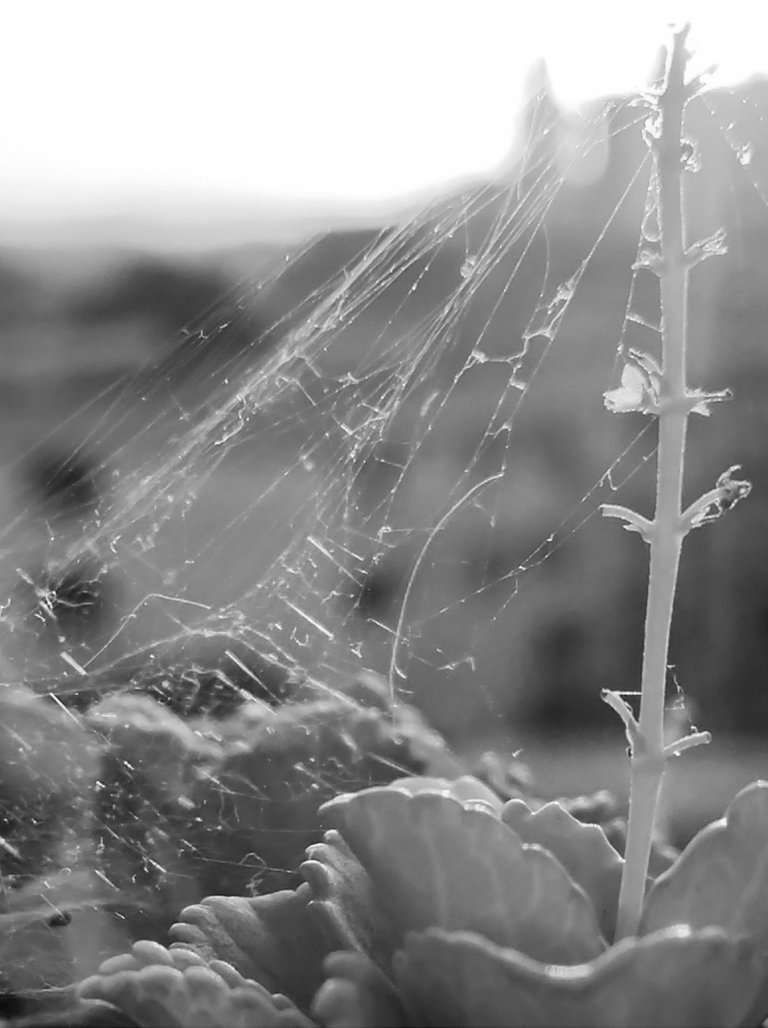 El romero
Esta maraña de telarañas parecía un ovillo enredado 🧶jejeje
The rosemary
This tangle of cobwebs looked like a tangled wool ball 🧶hehehe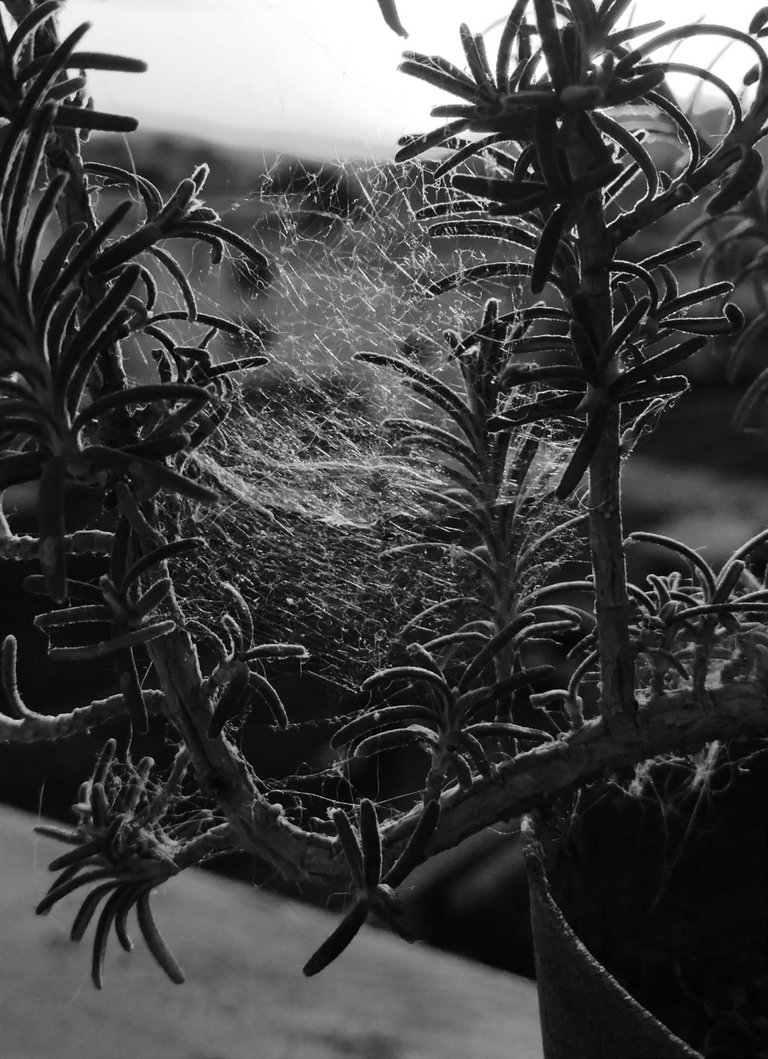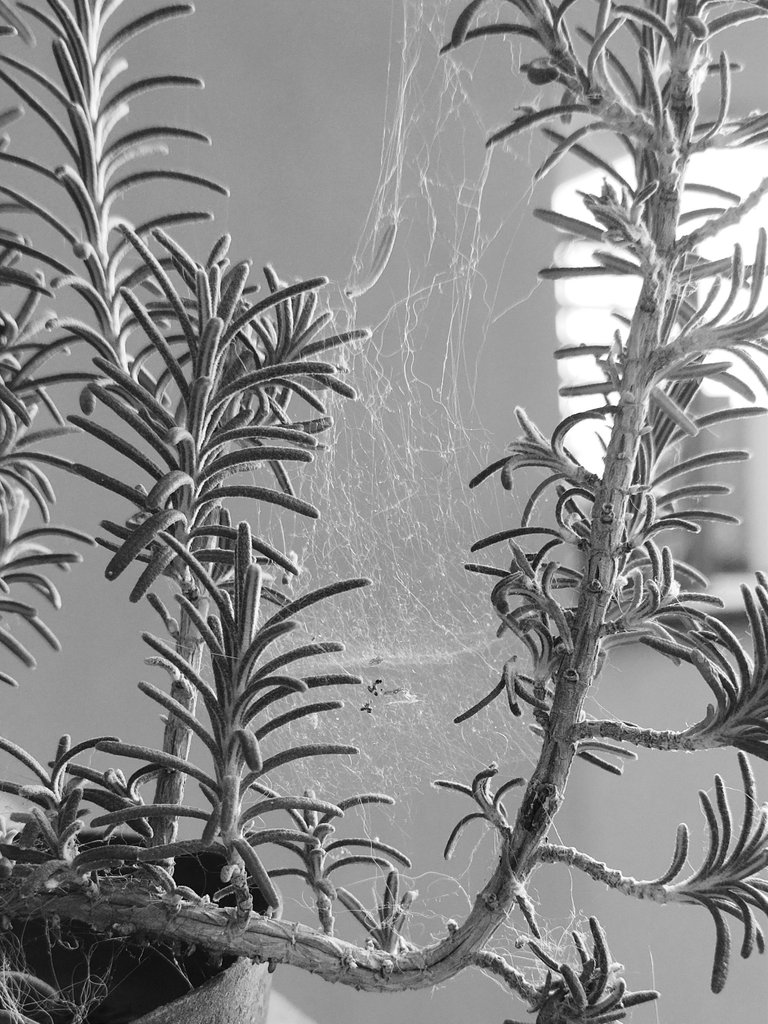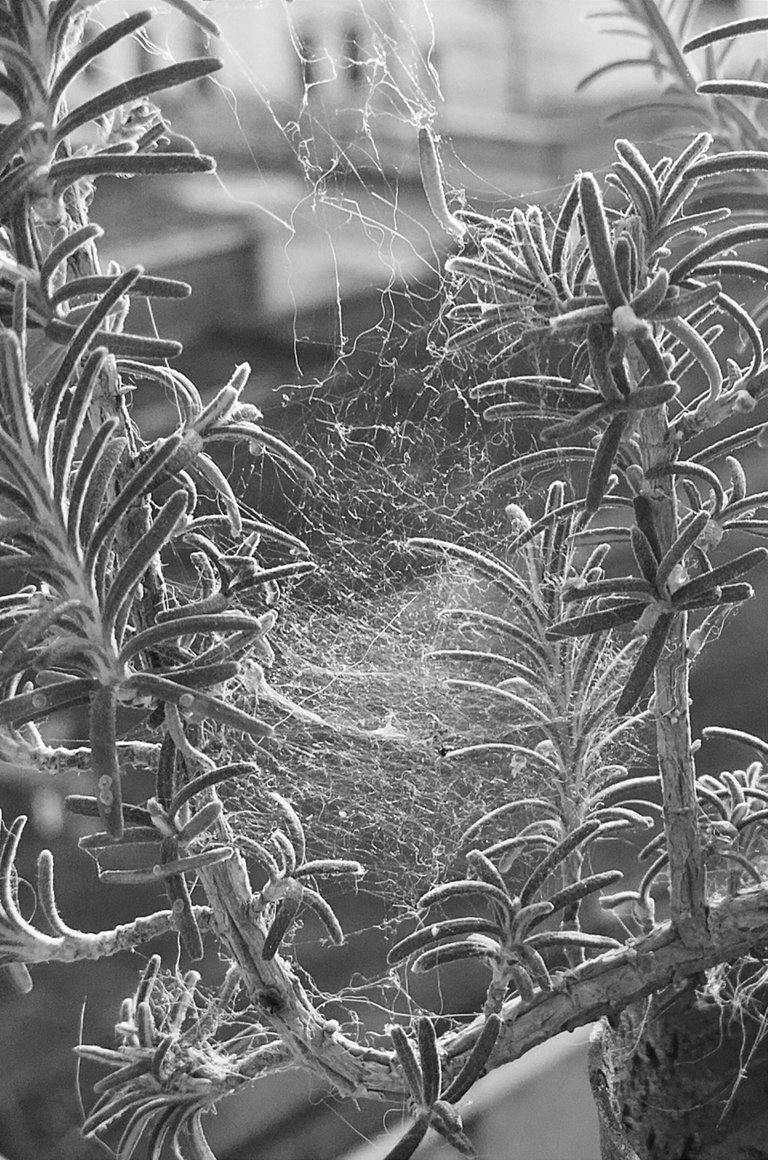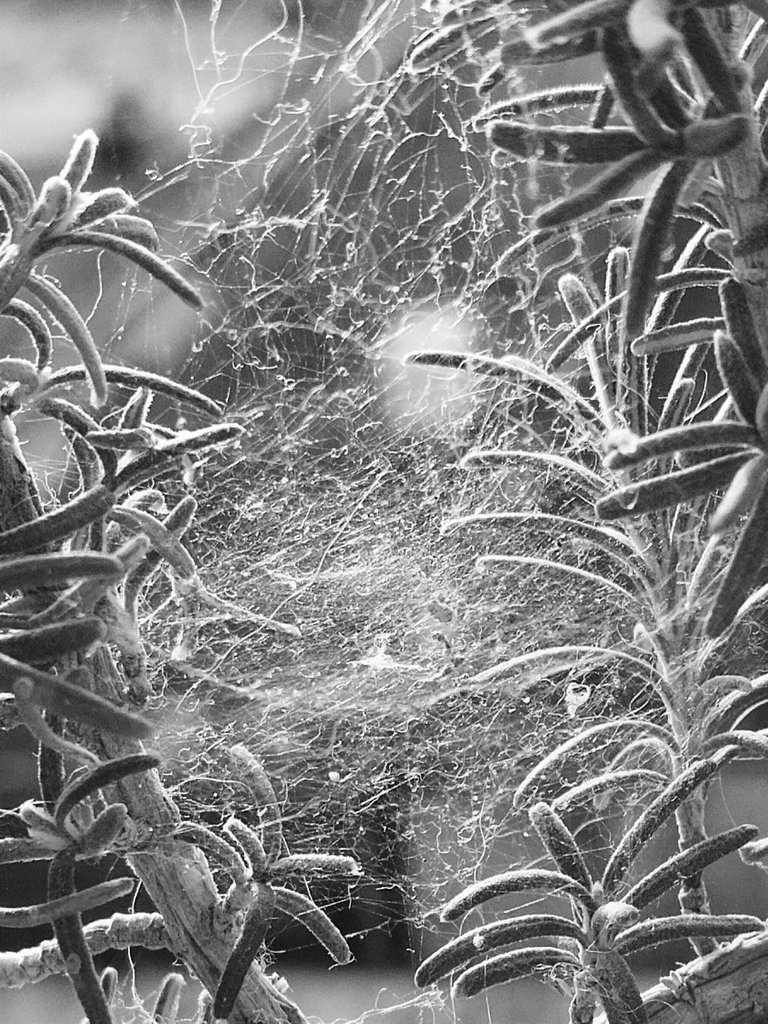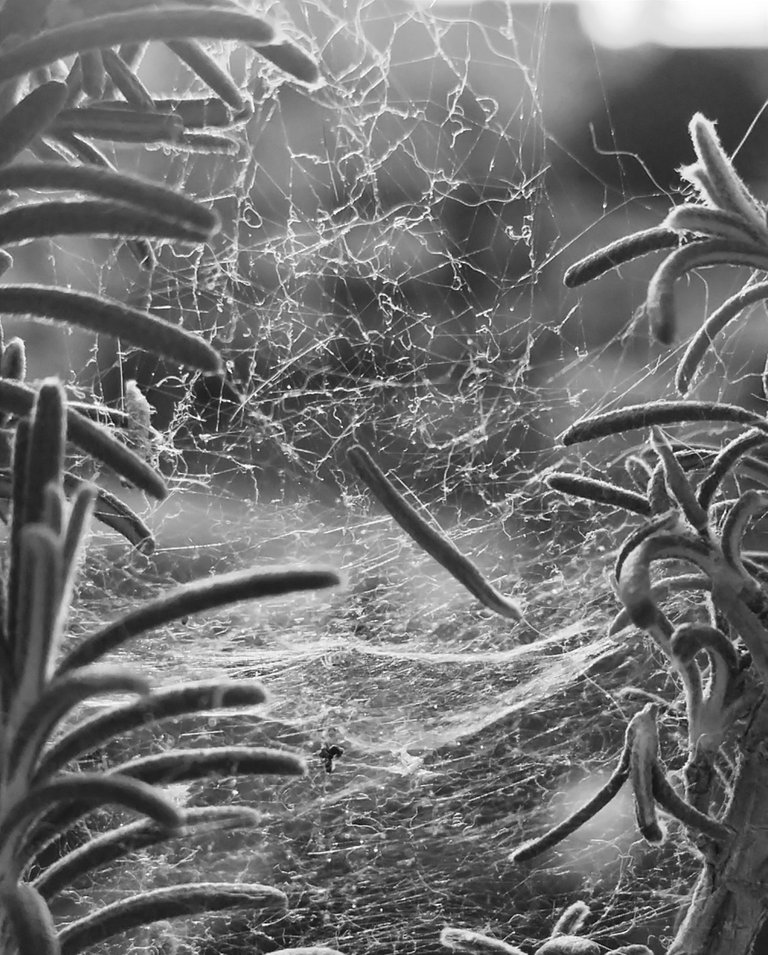 Las semillas de llantén
Una araña decidió tejer sus telarañas entre estas dos espigas de semillas de llantén.
Plantain Seeds
A spider decided to weave its webs between these two plantain seed spikes.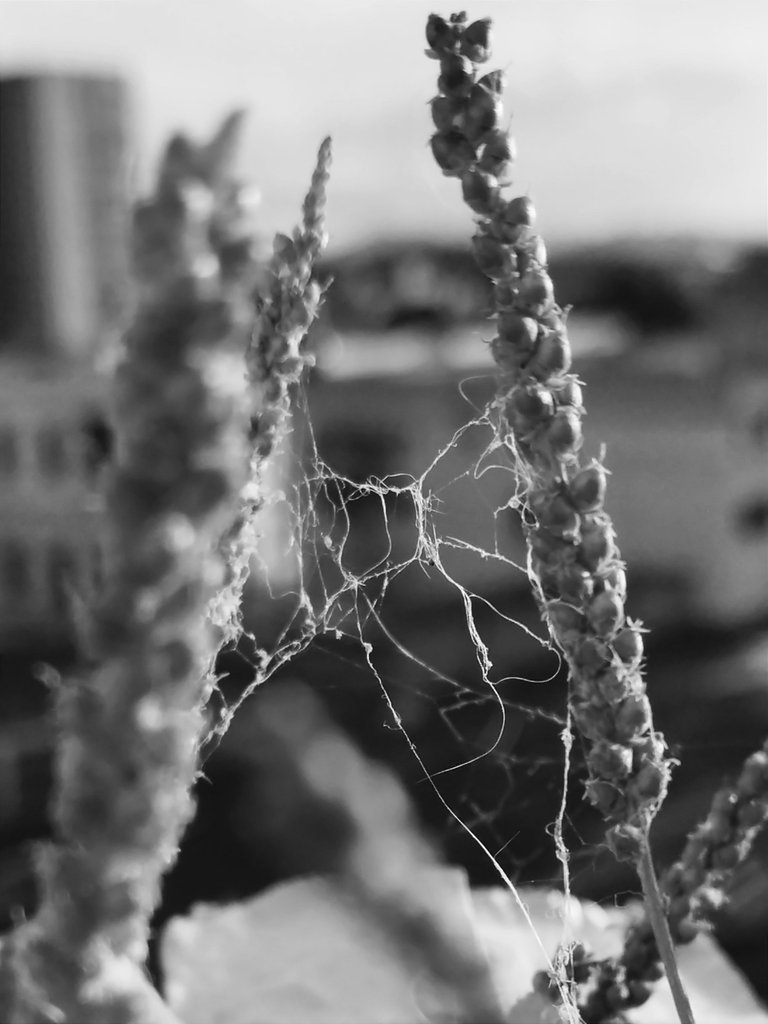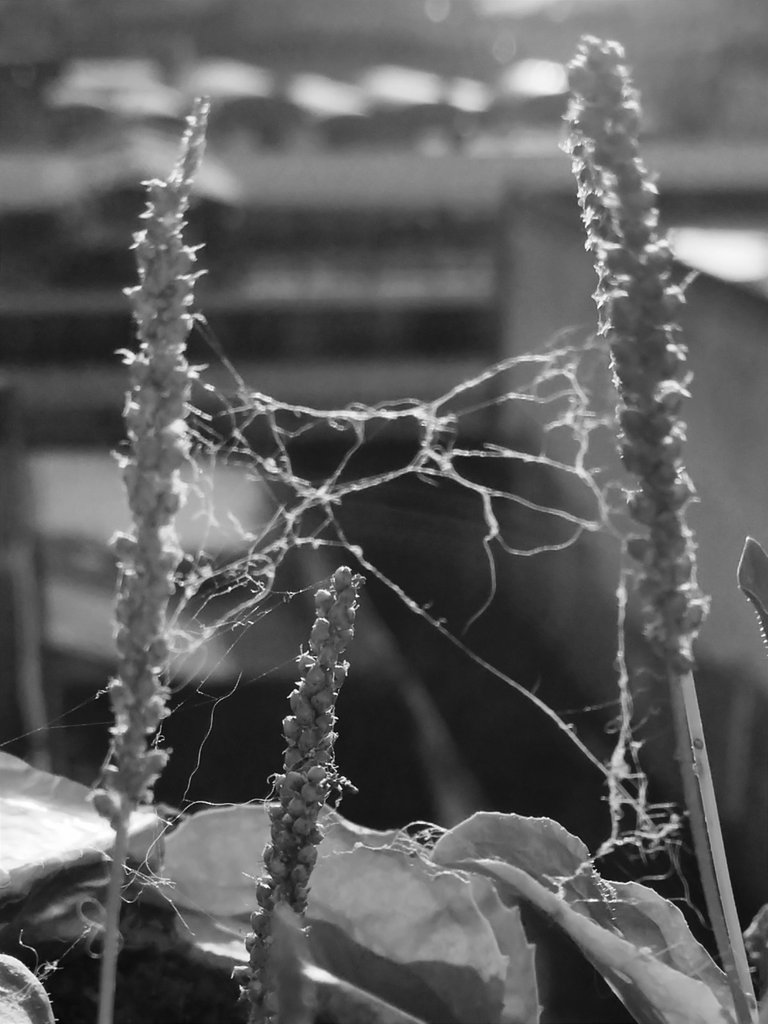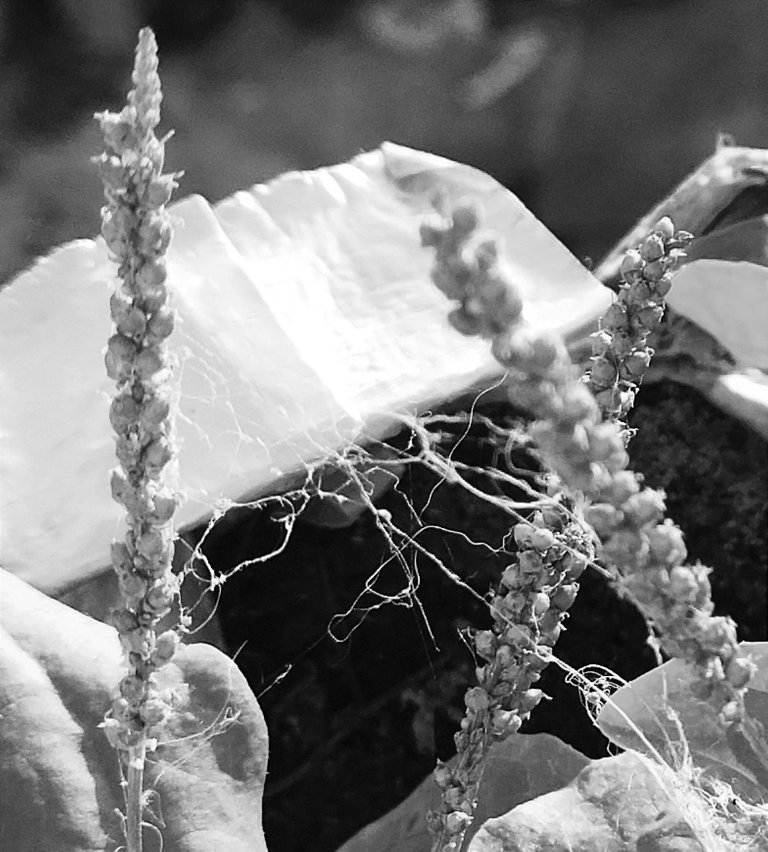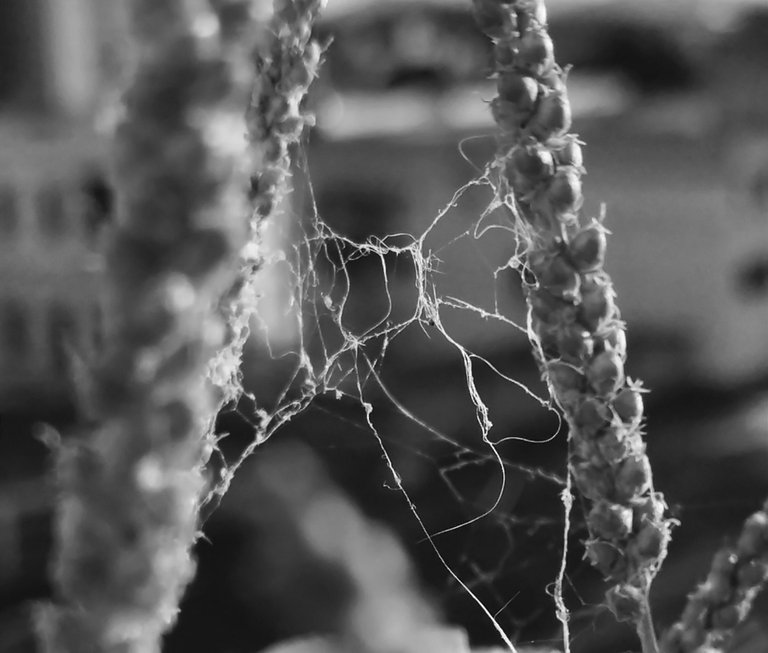 Esta fue mi participación en Monomad. Espero les haya gustado, gracias por su tiempo.
This was my contribution to the Monomad challenge. I hope you liked it, thanks for your time.
Todas las fotos fueron hechas y editadas por mi con mi celular Redmi 9T y me pertenecen / All photos were taken and edited by me with my Redmi 9T cellphone and they belong to me
Gracias por leer, compartir, apoyar, votar y comentar.
Hasta la próxima.
¡Miau!
Thanks for read, share, vote and comment.
Until next post.
Meow!
---
---