[EN/ES] 5 video games I recommend from Steam Next Fest June 2022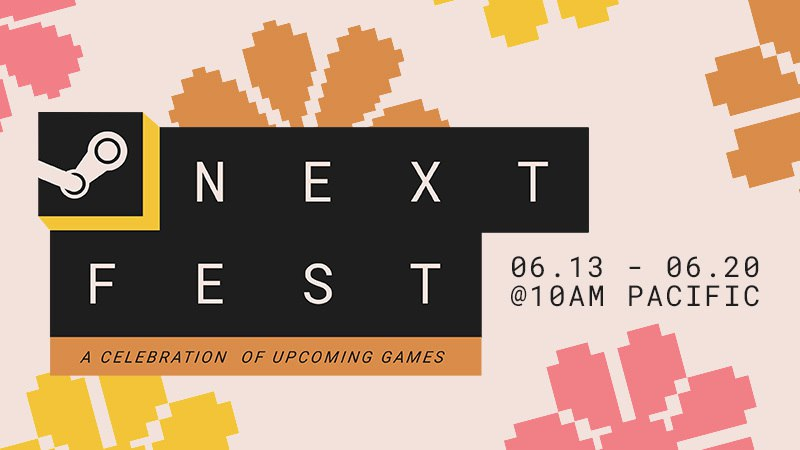 Image courtesy of Steam.
Steam is currently celebrating the Next Fest where we have the opportunity to try demos of video games that have already been announced but whose release date is still relatively far away. In addition to the demos there are live broadcasts to promote these games and activities on Steam that allow us to earn badges to level up our profiles on the platform.
It is incredible how much the gaming world has changed, in the old days having a playable demo was something basic to be able to promote your video game. It was very common to include such demos in the magazines of the time, a practical way to make your game known, but above all to allow the player to verify if it worked well on his computer. Nowadays demos are so rare to see that they even become a special Steam event and take advantage of that, I'm going to tell you about the 5 videogames that caught my attention the most in this Next Fest:
---
Official trailer courtesy of IGN on YouTube.
Cult of the Lamb
It is undoubtedly my favorite game for its aesthetics and thematic out of the ordinary. In this game you are a possessed lamb who must build his own cult, seeking to attract new believers while collecting resources to build and fight against the infidels of other cults looking to become the almighty lamb of this universe. Although it looks like a construction-only videogame, battles are an essential part of this title.
I know the religious terms may not be to the liking of many gamers, but its Animal Crossing-style aesthetics with a slightly somber thematic make it the title that most appeals to me at this event.
Steam: Cult of the Lamb
---
Official trailer courtesy of DevolverDigital on YouTube.
Terra Nil
In SimCity as you progress you destroy the entire ecosystem of that region, your progress involves doing environmental damage to that area. In this game we do the opposite, our constructions are restoring nature, returning the green to the area and our ultimate goal is to have a balanced ecosystem to restore wildlife which allows us to complete the cycle.
Once the ecosystem is balanced and fully restored we can remove our equipment, the objective of the game is to return the dead lands to nature restoring all its splendor. Note that we can create controlled fires to use the ashes as natural fertilizer to help the growth of forests.
Steam: Terra Nil
---
Official trailer courtesy of IGN on YouTube.
Metal: Hellsinger
Undoubtedly the most satisfying thing about the latest installments of Doom is its heavy metal music that seems to accompany you in the destruction caused by your shots in the adventure. In Metal: Hellsinger the shots must be fired to the rhythm of the metal, following the rhythm is part of the game's mechanics. Synchronizing your shots with the rhythm of the music allows you to generate combos and special events.
It is worth mentioning that this videogame counts with the participation of metal stars such as Serj Tankian from System of a Down, Randy Blythe from Lamb of God and Matt Heafy from Trivium.
Steam: Metal: Hellsinger
---
Official trailer courtesy of Digerati on YouTube.
UNDETECTED
This video game is a tribute to Metal Gear Solid, a stealth game where we will have to move through the shadows, in a political plot full of conspiracies and set in the modern era. UNDETECTED is full of references to Metal Gear Solid in every way, every shot and every movement of the main character reminds us of the original game from which it was inspired.
More than inspiration I would say that it is a copy, superior perspective with the possibility of seeing the enemy's vision cones and when we enter in first person to perform an action we can not move. A clone of Metal Gear Solid that does not seek to hide its origin.
Steam: UNDETECTED
---
Official trailer courtesy of On Game Trailers on YouTube.
Moons Of Darsalon
A team got lost while exploring some moons, your mission is to rescue them in this retro style world with advanced physics that influence the destruction of the terrain, your movement and the projectiles you shoot. The characters that you rescue can be used to protect you as well as give you orders that take advantage of the AI they have.
The characters that you rescue remind me a lot of Lemmings in their behavior, basically they follow you and you can give them orders to jump over obstacles or attack enemies. The most remarkable thing about the game is the physics that affect everything, even the behavior of the liquids.
Steam: Moons Of Darsalon
---
If any of the video games mentioned here interest you, remember that you have until 19:00 (UTC+2) on Monday 20th of this month to try their demos and experience first hand each of these games. Needless to say that this list is based on my personal tastes and these 5 games were the ones that caught my attention the most, you can go through the Next Fest page and you will surely end up discovering more games that were not mentioned in this article.
Steam Next Fest: June 2022
---
---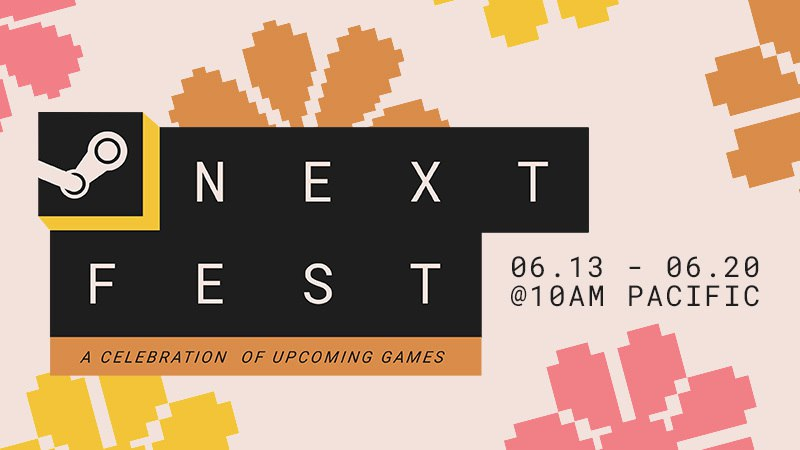 Imagen cortesía de Steam.
Actualmente en Steam se está celebrando el Next Fest donde tenemos la oportunidad de probar demos de videojuegos que ya están anunciados pero que su fecha de salida aún está relativamente lejos. Adicional a las demos hay transmisiones en vivo para promocionar dichos videojuegos y actividades en Steam que nos permiten obtener insignias para subir de nivel nuestros perfiles en la plataforma.
Es increíble lo mucho que cambió el mundo del gaming, antiguamente disponer de una demo jugable era algo básico para poder promocionar tu videojuego. Era muy común incluir dichas demos en las revistas de la época, una forma práctica de dar a conocer tu juego, pero sobre todo permitirle al jugador verificar si funcionaba bien en su computadora. Hoy en día las demos son tan raras de ver que hasta se convierten en un evento especial de Steam y aprovechan eso, te voy hablar de los 5 videojuegos que más llamaron mi atención en este Next Fest:
---
Trailer oficial cortesía de IGN en YouTube.
Cult of the Lamb
Sin duda alguna es mi juego favorito por su estética y temática fuera de lo común. En este videojuego eres un cordero poseído que debe construir su propio culto, buscando atraer nuevos creyentes al mismo tiempo que recolectas recursos para construir y luchar contra los infieles de otros cultos buscando convertirte en el cordero todopoderoso de este universo. Aunque parece un videojuego solo de construcción, las batallas son una parte esencial de este título.
Se que los términos religiosos no sean del agrado de muchos jugadores, pero su estética estilo Animal Crossing con una temática un poco sombría lo convierten en el título que más me atrae de este evento.
Steam: Cult of the Lamb
---
Trailer oficial cortesía de DevolverDigital en YouTube.
Terra Nil
En SimCity a medida que avanzas destruyes todo el ecosistema de esa región, tu progreso implica hacer un daño medioambiental a esa zona. En este videojuego hacemos lo opuesto, nuestras construcciones van restaurando la naturaleza, devolviendo el verde a la zona y nuestra meta final es tener un ecosistema balanceado para restaurar la vida salvaje lo que nos permite completar el ciclo.
Una vez el ecosistema esté balanceado y totalmente restaurado podremos retirar nuestros equipos, el objetivo del juego es devolver las tierras muertas a la naturaleza restaurando todo su esplendor. Destacar que podemos crear fuegos controlados para usar las cenizas como fertilizante natural para ayudar el crecimiento de bosques.
Steam: Terra Nil
---
Trailer oficial cortesía de IGN en YouTube.
Metal: Hellsinger
Sin duda alguna lo más satisfactorio de las últimas entregas de Doom es su música heavy metal que pareciera acompañarte en la destrucción que provocan tus disparos dentro de la aventura. En Metal: Hellsinger los disparos se deben realizar al ritmo del metal, seguir el ritmo es parte de la mecánica del juego. Al sincronizar los disparos con el ritmo de la música te permite generar combos y eventos especiales.
Destacar que este videojuego cuenta la participación de estrellas en el mundo del metal como Serj Tankian de System of a Down, Randy Blythe de Lamb of God y Matt Heafy de Trivium.
Steam: Metal: Hellsinger
---
Trailer oficial cortesía de Digerati en YouTube.
UNDETECTED
Este videojuego es un homenaje a Metal Gear Solid, un juego de sigilo donde tendremos que desplazarnos por las sombras, en una trama política llena de conspiraciones y ambientada en la era moderna. UNDETECTED está plagado de referencia a Metal Gear Solid en todos los sentidos, cada plano y cada movimiento del personaje principal nos recuerda al juego original del que se inspiró.
Más que inspiración diría que es una copia, perspectiva superior con posibilidad de ver los conos de visión del enemigo y cuando entramos en primera persona para realizar una acción no podemos movernos. Un clon de Metal Gear Solid que no busca ocultar su origen.
Steam: UNDETECTED
---
Trailer oficial cortesía de On Game Trailers en YouTube.
Moons Of Darsalon
Un equipo se perdió mientras exploraba unas lunas, tu misión es rescatarlos dentro de este mundo estilo retro con físicas avanzadas que influyen en la destrucción del terreno, en tu desplazamiento y el de los proyectiles que dispares. Los personajes que vayas rescatando los puedes usar para protegerte además de darle órdenes aprovechan la IA que tienen.
Los personajes que vas rescatando me recuerdan muchísimo a los Lemmings en su comportamiento, básicamente te siguen y puedes darle órdenes para saltar obstáculos o atacar enemigos. Siendo lo más destacable del juego sus físicas que afectan todo incluso el comportamiento de los líquidos.
Steam: Moons Of Darsalon
---
Si alguno de los videojuegos mencionados acá te interesa, recuerda que tienes hasta las 19:00 (UTC+2) del lunes 20 de este mes para probar sus demos y experimentar de primera mano cada uno de estos juegos. De más está decir que esta lista se basa en mis gustos personales y estos 5 juegos fueron los que más llamaron mi atención, puedes pasar por la página del Next Fest y de seguro terminarás descubriendo más videojuegos que no fueron mencionados en este escrito.
Steam Next Fest: Junio 2022

---
---