I have been here before: my déjà vu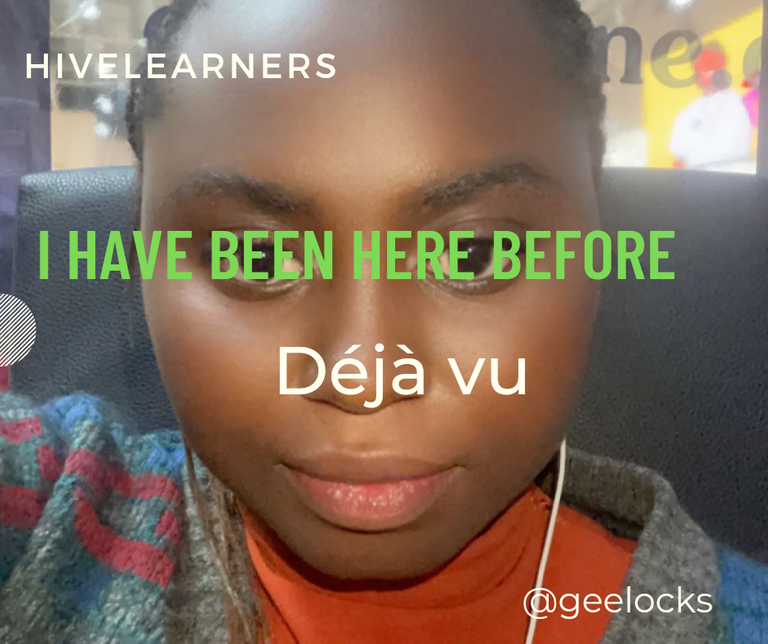 Image design with canva
I got the déjà vu experience before I even knew the meaning of déjà vu. It wasn't until some months later when I watched a movie titled déjà vu that I knew that was I experienced had a name. The movie had a very strong impact on me, it was a very sad movie and after watching it, I had to go and check the meaning online.
Déjà vu is the feeling you get when it feels like you have already experienced or seen something which you are really seeing for the first time before.
Déjà vu sometimes gives very intense feelings that make you confuse the present with something that has never happened before. Reading up on déjà vu, I got to know that it might also be due to a medical condition and should not be a frequent occurrence
My déjà vu encounters
My first déjà vu encounter, was when my mom and I went to visit her friend for the first time. She had lost contact with her for a while and they just reconnected again, hence the reason for the visit. When we got to the town where my mom's friend was living, I felt like I have been there before. Everything and everywhere seems so familiar that I was forced to ask my mom if she had ever brought me to the town when I was a child but she said that was the very first time we were both visiting the town. I couldn't believe it, everything felt so familiar like I have been there before. Even some places looked so real like they were in my brain. I got a very familiar feeling.
The second encounter was when I went to collect money from the ATM. I met a woman on the queue and we started talking about so many things. Halfway through our conversation, something struck me and I got a very familiar feeling that I have had a similar conversation with the same woman before. But I have never met the woman before, she was just a stranger I met on the Atm queue, which makes it impossible for me to have met her before or for us to have had the same conversation however the feeling was so familiar. Throughout that day, I was thinking and rethinking the conversation. The feeling was so intense and I was racking my brain to find out why I had such a familiar feeling however I came to realise it was just a déjà vu feeling and that the conversation had never taken place before except for the moment it really happened.
Déjà vu does give me an eerie feeling sometimes, because it's more or less an illusion of something that has never happened, of something I have never seen before, yet feels so familiar, like it's part of my memory but also not part of it. Am not sure am comfortable with that kind of feeling at all. There was a time I thought perhaps I had lived a previous life which was why I get this kind of familiar feeling sometimes, the things déjà vu make you think.
Have you ever had a déjà vu experience?
---
---