Electrizante rutina con pesas. /🔥🔥Electrifying routine with weights.
---
Hola. queridos amigos de full deportes, en este nuevo día vengo con una activa rutina para trabajar todo el cuerpo, para esta rutina combine varios ejercicios y los realice de manera dinámica buscando tener movilidad y acondicionar mi cuerpo, realice 4 series de 20 repetición en cada movimiento, mis amigos los invito a ver toda la rutina así que acompáñeme.
Hello dear friends of full sports, in this new day I come with an active routine to work the whole body, for this routine combine several exercises and perform them dynamically looking to have mobility and condition my body, perform 4 sets of 20 repetitions in each movement, my friends I invite you to see the whole routine so join me.
---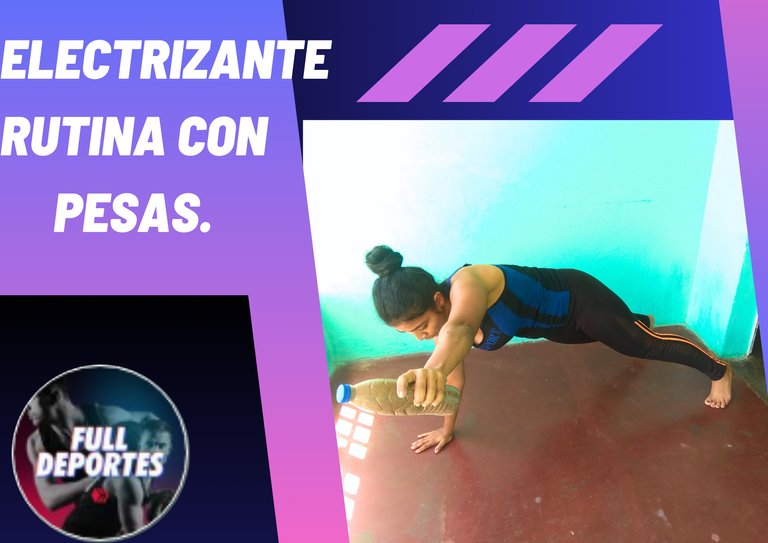 ---
Calentamiento/Heating
Para acondicionar mi cuerpo realice saltos navales, 100 repetición en una sola serie.
To condition my body I did jumping jacks, 100 repetitions in one set.
---

---
Rutina./ Routine.
---
Plancha + sentadilla y elevación de brazos. / Plank + squat and deadlift.
---
Primer ejercicio, realice un ejercicio combinado en el cual se enfoca en mi cuádriceps y glúteos ayudando a fortalecer gracias a la sentadilla finalizando con un levantamiento de brazo frontal, de manera que se pueda trabajar un poco el tren superior.
First exercise, perform a combined exercise in which focuses on my quadriceps and glutes helping to strengthen thanks to the squat ending with a front arm lift, so you can work a little upper body.
---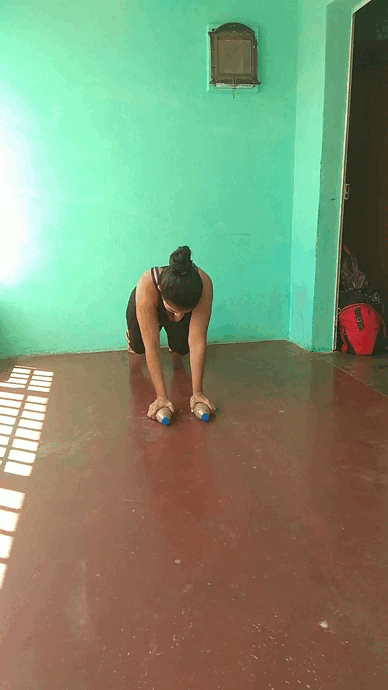 ---
Plancha con elevación brazo lateral + flexión./Lateral arm lift plank + push-up.
---
Segundo ejercicio, realice plancha más elevación de brazo lateral, terminando con flexión buenísimo movimientos para fortalecer la espalda, hombros y abdomen, lo realice en 4 series de 20 repetición.
Second exercise, perform plank plus lateral arm elevation, ending with flexion, very good movement to strengthen the back, shoulders and abdomen, performed in 4 sets of 20 repetitions.
---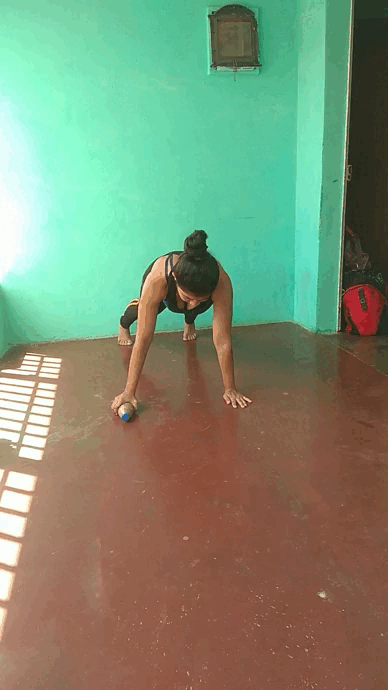 ---
Flexión de rodillas + sentadilla profunda y press de hombros./Knee bend + deep squat and shoulder press.
---
Tercer ejercicio, realice flexión de rodillas más sentadilla y press de hombros, perfecto movimiento para trabajar todo el cuerpo ya que realice sentadilla profunda fortaleciendo en tren inferior, más press subiendo las pesas sobre mis hombros, lo realice en 4 series de 20 repetición.
Third exercise, perform knee flexion plus squat and shoulder press, perfect movement to work the whole body as I performed deep squat strengthening the lower body, plus press raising the weights on my shoulders, I did it in 4 sets of 20 repetitions.
---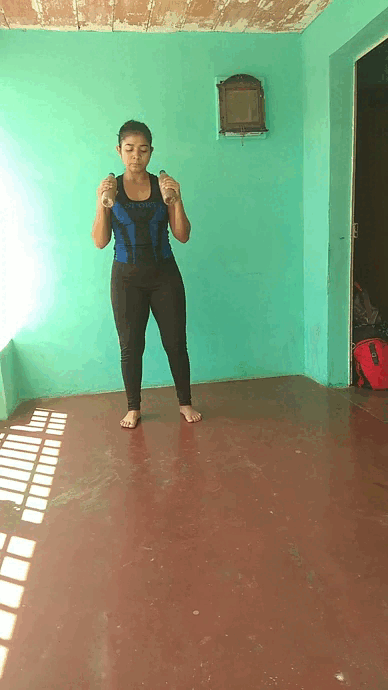 ---
Estocada dinámica + sentadilla profunda./Dynamic lunge + deep squat.
---
Cuarto ejercicio, realice estocada dinámica más sentadilla profunda, consiste en realizar la estocada con un pequeño salto coordinado luego terminar en sentadilla profunda, lo realice en 4 series de 20 repetición.
Fourth exercise, perform dynamic lunge plus deep squat, consists of performing the lunge with a small coordinated jump then finish in deep squat, perform it in 4 sets of 20 repetitions.
---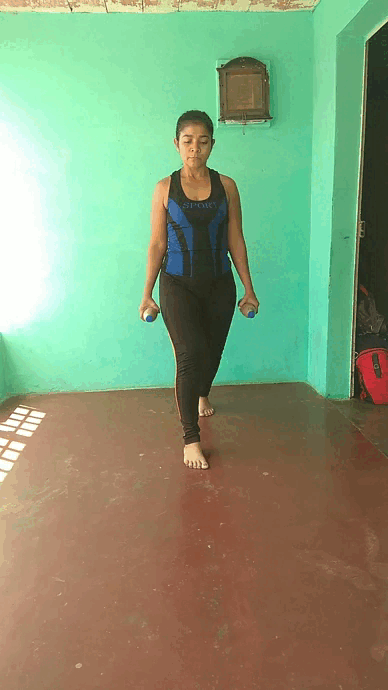 ---
Estocada + elevación frontal de brazos./Lunge + front elevation of arms.
---
Quinto ejercicio, el siguiente movimiento es parecido al anterior lo que lo diferencia es que lo combine con elevación frontal de mis brazos, buscando realizar el ejercicio de manera coordinada, lo realice en 4 series de 20 repetición.
Fifth exercise, the following movement is similar to the previous one, what makes it different is that I combine it with frontal elevation of my arms, trying to perform the exercise in a coordinated manner, I performed it in 4 series of 20 repetitions.
---
---
Salto + flexión y elevación de caderas./Jump + hip flexion and elevation.
---
Sexto ejercicio, salto más caminata en manos y flexión y elevación de caderas, intenso movimiento que se enfoca gran parte de mi cuerpo, perfecto para acondicionar y activar el cuerpo, lo realice en 4 series de 20 repetición.
Sixth exercise, jumping plus hand walk and hip flexion and elevation, intense movement that focuses a great part of my body, perfect for conditioning and activating the body, I did it in 4 sets of 20 repetitions.
---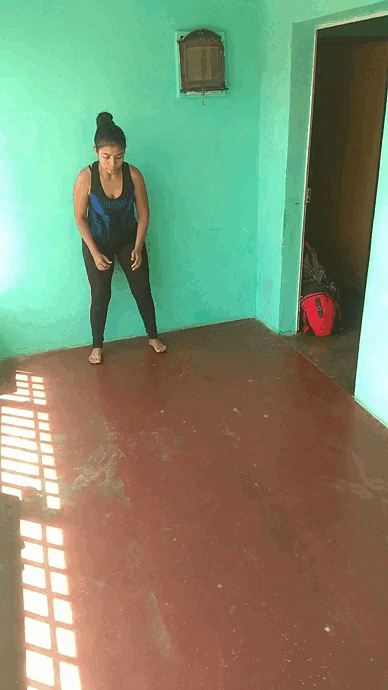 ---

Me despido querida comunidad compartiendo una vez más otra rutina bien dinámica, que ayudara a quemar grasa y fortalecer los músculos del cuerpo, es una fácil alternativa de entrenamiento que pueden realizar desde su hogar con apoyo de pesas caseras, este entrenamiento lo realice en 4 series de 20 repetición dejando un pequeño tiempo de descanso entre series de 10 segundos es importante hidratarse para retomar nuevamente fuerzas y seguir con la rutina, les recuerdo combinar los entrenamientos con una excelente alimentación balanceada bueno mis amigos sin decir nos vemos en otra oportunidad.
I say goodbye dear community sharing once again another well dynamic routine, which will help burn fat and strengthen the muscles of the body, is an easy alternative training that can be performed from home with the support of home weights, this training was performed in 4 sets of 20 repetitions leaving a small rest time between sets of 10 seconds is important to hydrate to regain strength again and continue with the routine, I remind you to combine the workouts with an excellent balanced diet good my friends without saying see you another time.
---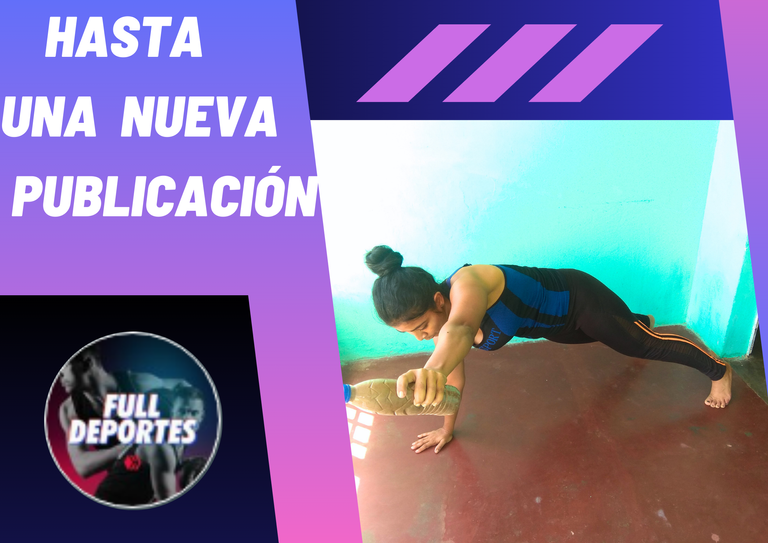 Video realizado desde teléfono Alcatel idol. / Video made from Alcatel idol phone.
Videos convertidos en gifs enlace
Separadores y ediciones hechas en Canva. / Separators and editions made in Canva.
---

---
---