Entrenemos cuerpo superior. / 💪💪 Let's train the upper body
---
Feliz inicio de semana querido comunidad de full deportes, inicio mi semana de entrenamiento con una excelente rutina para trabajar el tren superior, realizando unas series de movimientos muy fáciles que se pueden realizar desde casa, utilizando poco peso ejercicios enfocados para toda esa zona, de la espalda, hombros, bíceps y tríceps; esta rutina lo realice en 3series de 20 repetición así que los invito a ver toda rutina espero que les guste sin mencionar más comencemos.
Happy start of the week dear community of full sports, I start my training week with an excellent routine to work the upper body, performing a series of very easy movements that can be performed from home, using little weight exercises focused for the whole area, back, shoulders, biceps and triceps; this routine was performed in 3series of 20 repetitions so I invite you to see all routine I hope you like it without mentioning more let's start.
---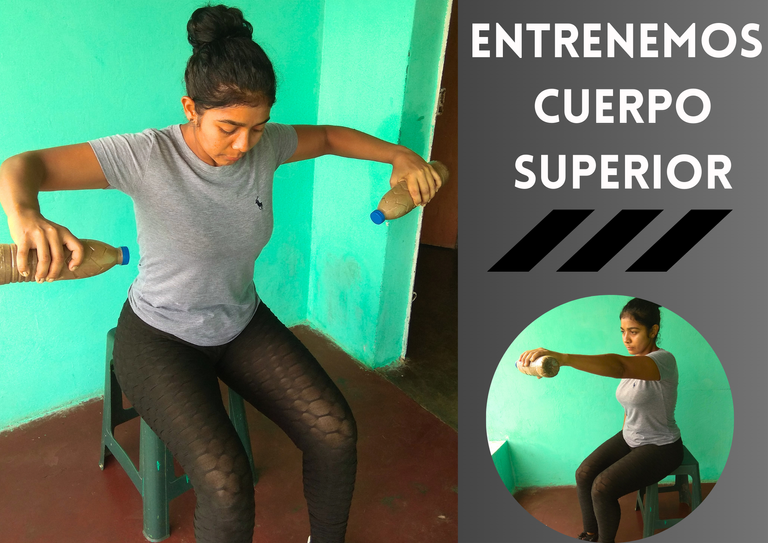 ---
Calentamiento./Heating.
---
Acondicione mi cuerpo, balanceándome por completo inclinando mis caderas, lo realice en 2 series de 45 segundos.
I conditioned my body, swinging completely by tilting my hips, I did it in 2 sets of 45 seconds.
---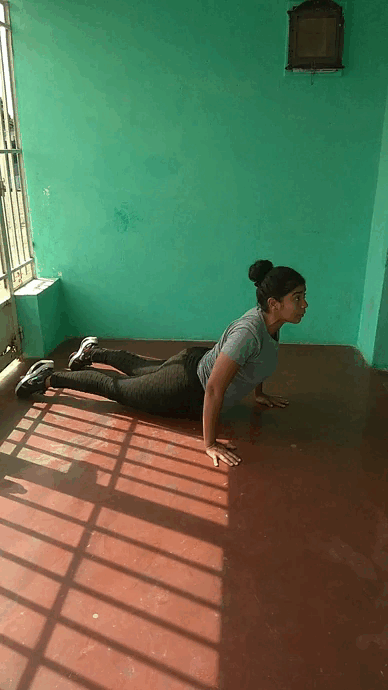 ---
Rutina./ Routine.
---
Primer movimiento, trabaje mis hombros realizando un ejercicio en el cual abrí mis brazos a 90° y mantuve el movimiento en abre y cierra, lo realice en 3 series de 20 repetición.
First movement, I worked my shoulders by performing an exercise in which I opened my arms to 90° and kept the movement in open and close, I did it in 3 sets of 20 repetitions.
---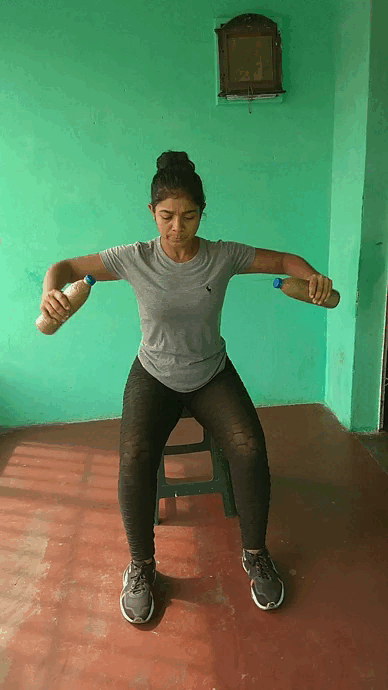 ---
Segundo movimiento, en esta ocasión me enfoque en mi espalda realizando vuelo con la cabeza hacia abajo y mantuve mi espalda derecha, lo realice en 3 series de 20 repetición.
Second movement, this time I focused on my back, flying with my head down and keeping my back straight, I did it in 3 sets of 20 repetitions.
---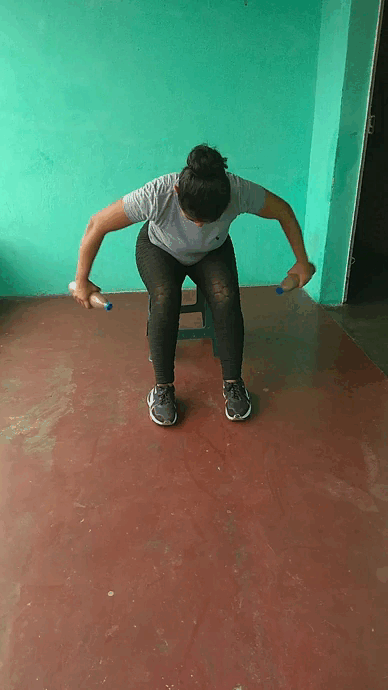 ---
Tercer movimiento, realice elevación de brazos sentada buscando fortalecer mis hombros, lo realice de manera pausada en 3 series de 20 repetición.
Third movement, I did a seated arm lift to strengthen my shoulders, I did it slowly in 3 sets of 20 repetitions
---
---
Cuarto movimiento, seguí trabajando con vuelos, pero esta vez parada de manera inclinada abriendo más los brazos; buscando enfoque en mi espalda, lo realicé en 3 series de 20 repetición.
Fourth movement, I continued working with flights, but this time standing at an incline, opening my arms more; looking for focus on my back, I performed it in 3 sets of 20 repetitions.
---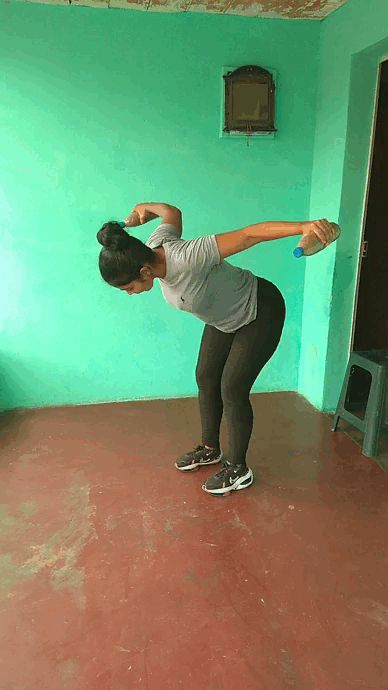 ---
Quinto movimiento, realice jalones cerrados deje estirar mis brazos luego jalaba buscando trabajar un poco los tríceps y parte de mi espalada, lo realice en 3 series de 20 repetición.
Fifth movement, I performed closed pull-ups, I let my arms stretch and then I pulled looking to work a little bit my triceps and part of my back, I did it in 3 sets of 20 repetitions.
---
---
Querida comunidad, les comparto esta fácil rutina buenísima para trabajar la espalda, hombro y tríceps solo realice 3 series de 20 repetición con poco peso, si desean aumentar un poco más el peso no hay problemas, la idea es realizar bien la técnica, espero que les guste, no está de más recordar dejar un pequeño tiempo de descanso entre series y combinar sus rutinas con una excelente alimentación.
Dear community, I share this easy routine great to work the back, shoulder and triceps only perform 3 sets of 20 repetitions with little weight, if you want to increase the weight a little more no problem, the idea is to perform the technique well, I hope you like it, do not forget to leave a little rest time between sets and combine your routines with an excellent diet.
---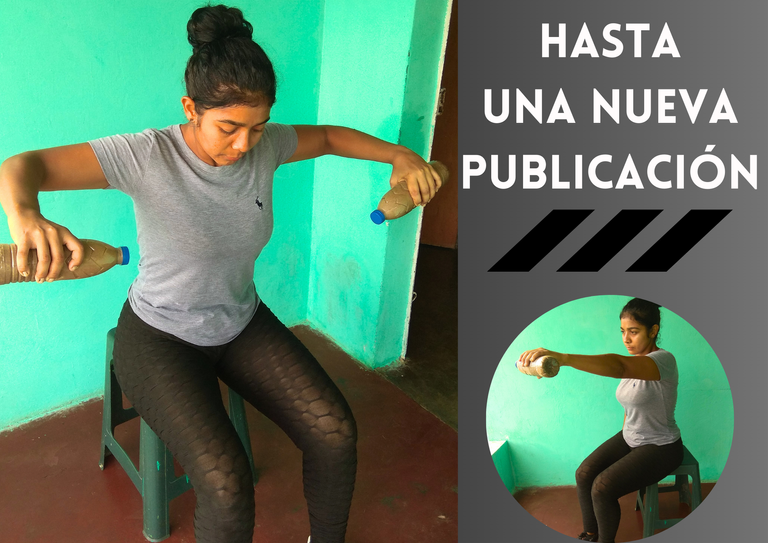 Video realizado desde teléfono Alcatel idol. / Video made from Alcatel idol phone.
Videos convertidos en gifs enlace
Separadores y ediciones hechas en Canva. / Separators and editions made in Canva.
---

---
---