Fortalece con este full body. /💪🔥💪Strengthen with this full body.
---
Feliz inicio de semana querida comunidad de full deportes, en este comienzo de semana vengo bien activa con un full body bien dinámico y exigente para trabajar todo el cuerpo y lograr quemar grasa y lo mejor fortalecer cada músculo, para esta rutina realice 6 movimiento combinados como siempre para así obtener una rutina bien dinámica; realice cada ejercicio en 4 series de 25 repeticiones, así que mi amigo los invito a ver toda mi rutina espero que les guste así acompáñeme.
Happy start of the week dear community of full sports, in this beginning of the week I come very active with a very dynamic and demanding full body to work the whole body and achieve burn fat and the best to strengthen each muscle, for this routine perform 6 combined movement as always to get a very dynamic routine; perform each exercise in 4 sets of 25 repetitions, so my friend I invite you to see my whole routine I hope you like it so join me.
---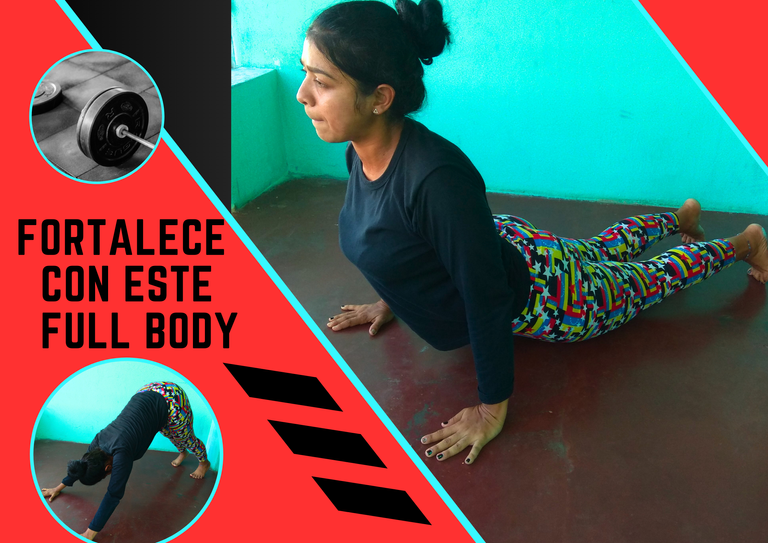 ---
Calentamiento/Heating
---
Para acondicionar mi cuerpo, realice estocada lateral bien profunda en 2 series de 20 repetición.
To condition my body, I performed a deep lateral lunge in 2 sets of 20 repetitions.
---
Rutina./ Routine.
---
Primer movimiento, realice sentadilla con rotación, ejercicio bien dinámico lo realice con peso para así poder bajar profundo en las sentadillas, lo realice en 4 series de 25 repetición.
First movement, perform a squat with rotation, a very dynamic exercise performed with weight in order to be able to go down deep in the squats, performed in 4 sets of 25 repetitions.
---
---
Segundo movimiento, realice estocada con saltos, otro ejercicio bien intenso ya que realizo salto que me ayudan a trabajar cardio y me asegura una mejor resistencia, lo realice en 4 series de 25 repetición.
Second movement, perform lunge with jumps, another very intense exercise since I perform jumps that help me to work cardio and ensures me a better resistance, I performed it in 4 sets of 25 repetitions.
---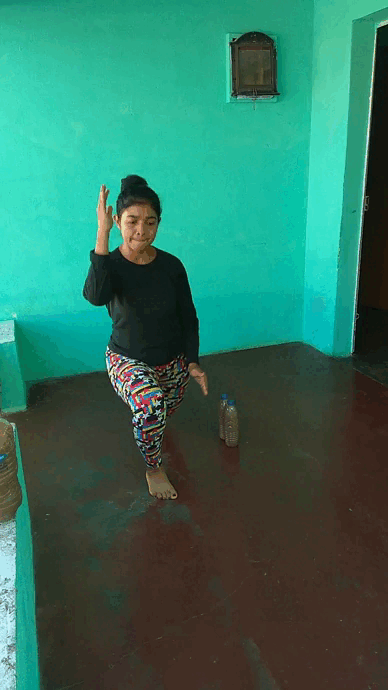 ---
Tercer movimiento, realice vuelos más plancha y salto, combine estos tres ejercicios para poder trabajar completamente mi cuerpo, utilice algo de peso para realizar los vuelos que se enfocan en mi espalda terminando con plancha y salto; donde semi flexione mis piernas y lo realice buscando terminar en sentadilla en cuadrupedia, lo realice en 4 series de 25 repeticiones.
Third movement, perform flights plus plank and jump, combine these three exercises to fully work my body, use some weight to perform the flights that focus on my back ending with plank and jump; where semi flex my legs and perform it looking to finish in squat in quadruped, perform it in 4 sets of 25 repetitions.
---
---
Cuarto movimiento, realice caminata acostada, se trata de caminar con ayuda de los brazos mientras se flexionan los brazos buscando fortalecer esa zona, lo realice en 4 series de 45 segundos.
Fourth movement, perform walking lying down, it is about walking with the help of the arms while flexing the arms looking to strengthen that area, do it in 4 series of 45 seconds.
---
---
Quinto movimiento, realice flexión más elevación de caderas, en este movimiento me enfoque en mi abdomen muy bueno para fortalecer toda esa zona media, lo realice en 4 series 25 repetición.
Fifth movement, perform flexion plus hip elevation, in this movement I focus on my abdomen very good to strengthen all that middle area, I did it in 4 sets 25 repetitions.
---
---
Sexto movimiento, realice flexión con inclinación más sentadilla en cuadrupedia más toque en los hombros, último ejercicio enfocado para el tren superior y parte de mi abdomen, lo realice en 4 series de 25 repetición.
Sixth movement, perform push-up with incline plus squat plus touch on the shoulders, last exercise focused on the upper body and part of my abdomen, performed in 4 sets of 25 repetitions.
---
---

Fue un placer compartir una vez más una alternativa de ejercicios que pueden realizar desde casa, con poco peso tan solo movimientos variados y combinados para trabajar todo el cuerpo, como pudieron apreciar realice 6 movimiento en 4 series de 25 repetición fueron ejercicios fáciles y muy dinámico para activar y fortalecer todo su cuerpo, como siempre les indico en muy importante mantener una excelente alimentación balanceada para poder tener resultados positivos bueno mis amigos sin decir más nos vemos en otra publicación.
It was a pleasure to share once again an alternative of exercises that can be performed from home, with little weight just varied and combined movements to work the whole body, as you could see I made 6 movements in 4 sets of 25 repetitions were easy and very dynamic exercises to activate and strengthen your entire body, as always I indicate in very important to maintain an excellent balanced diet to have positive results well my friends without saying more see you in another publication.
---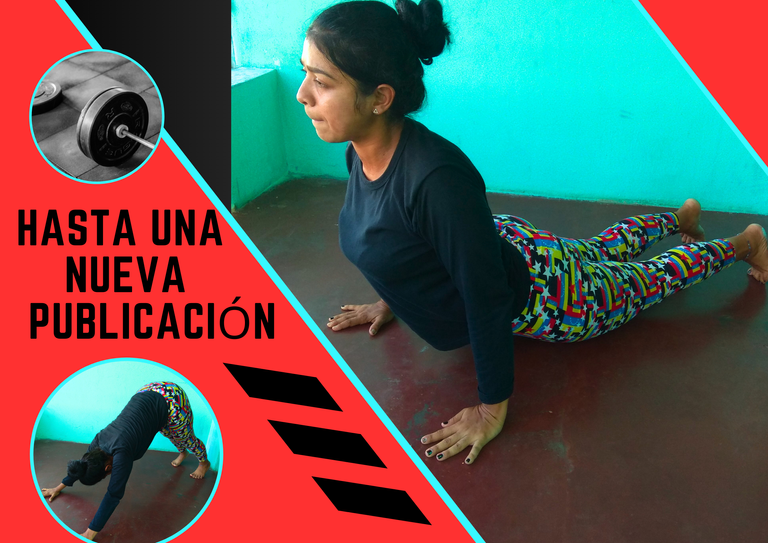 Video realizado desde teléfono Alcatel idol. / Video made from Alcatel idol phone.
Videos convertidos en gifs enlace
Separadores y ediciones hechas en Canva. / Separators and editions made in Canva.
---

---
---