Reafirma tus músculos con este full body. /🔥🔥Firm your muscles with this full body.
---
Feliz martes querida comunidad de full deportes, tengo el placer de compartir una vez más una activa y potente rutina para ponerte a sudar, se trata de un full body que te ayudara a reafirmar cada músculo de tu cuerpo; lo mejor es que lo pueden realizar desde casita, sin mucho peso solo movimientos combinados y muy dinámicos, realice para esta rutina 6 movimientos en 4 series de 20 repeticiones, mi amigo los invito a ver toda la rutina espero que lo disfruten.
Happy Tuesday dear community of full sports, I have the pleasure to share once again an active and powerful routine to get you to sweat, this is a full body that will help to reaffirm every muscle in your body the best thing is that you can perform these exercises at home, without much weight only combined movements and very dynamic, perform for this routine 6 movements in 4 sets of 20 repetitions. my friend I invite you to see the whole routine I hope you enjoy it.
---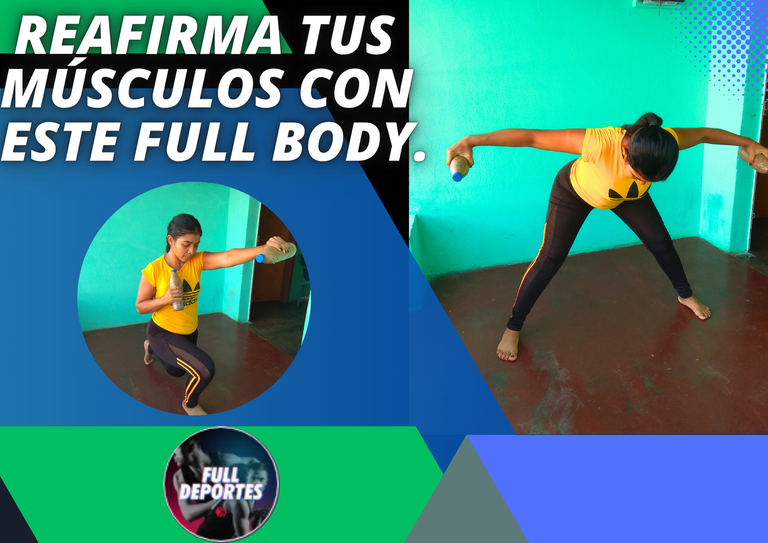 ---
Calentamiento/Heating
Acondicione con escalador, en 2 series de 50 repetición.
Condition with climber, in 2 sets of 50 repetitions.
---

---
Rutina./ Routine.
---
Zancada dinámica./Dynamic stride.
---
Primer ejercicio, realice zancada de manera dinámica, en el cual daba rotación de mi torso y realizaba el movimiento a su vez estiraba mis brazos, lo realice en 4 series de 20 repetición.
First exercise, I performed a dynamic stride, in which I rotated my torso and performed the movement while stretching my arms, I did it in 4 sets of 20 repetitions.
---
---
Estocada estática + golpes./Static lunge + blows.
---
Segundo ejercicio, realice estocada estática más golpes, se realiza de manera estática para sentir presión en los cuádriceps mientras se da un pequeño golpe estirando el brazo, lo realice en 4 series de 2o repetición n cada pierna.
Second exercise, perform static lunge plus strokes, it is performed statically to feel pressure on the quadriceps while giving a small blow stretching the arm, perform it in 4 sets of 2o repetitions n each leg.
---
---
Sentadilla profunda + estocada lateral./Deep squat + side lunge.
---
Tercer ejercicio, realice sentadilla profunda buenísimo para fortalecer los cuádriceps y glúteos combinado con estocada lateral perfecto ejercicio para reafirmar todo el tren inferior, lo realice en 4 series de 20 repetición.
Third exercise, perform deep squat great for strengthening the quadriceps and glutes combined with lateral lunge perfect exercise to reaffirm the entire lower body, perform it in 4 sets of 20 repetitions.
---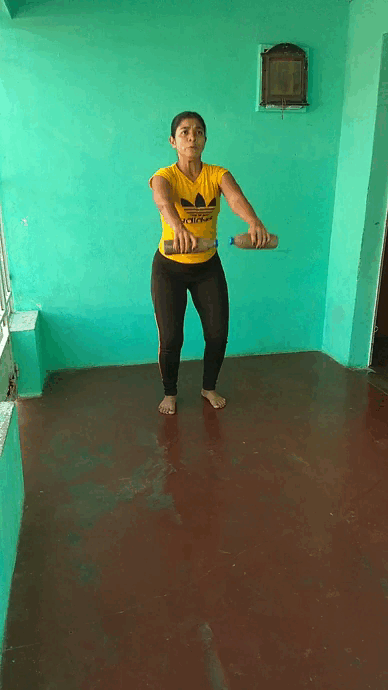 ---
Peso muerto unilateral + estocada y press./Unilateral deadlift + lunge and press.
---
Cuarto ejercicio, realice peso muerto unilateral combinado con estocada y press de pecho, seguimos trabajando el tren superior e inferior, este movimiento se enfoca en los femorales, glúteos y pecho, lo realice en 4 series de 20 repetición.
Fourth exercise, perform unilateral dead weight combined with lunge and chest press, we continue working the upper and lower body, this movement focuses on the femorals, buttocks and chest, perform it in 4 sets of 20 repetitions.
---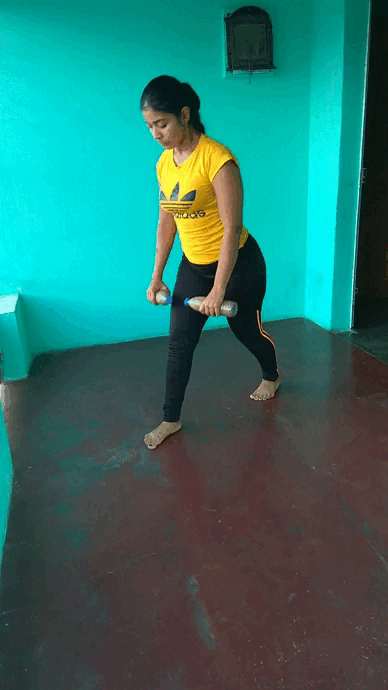 ---
Vuelo + estocada lateral./Flight + side lunge.
---
Quinto ejercicio, realice vuelo más estocada lateral, movimiento enfocado para la espalda y glúteos, al momento de realizar la estocada hay que bajar lo que más se pueda para sentir la presión en el músculo, lo realice en 4 series de 20 repetición.
Fifth exercise, perform flight plus lateral lunge, movement focused on the back and buttocks, at the time of performing the lunge you have to go as low as possible to feel the pressure on the muscle, perform it in 4 sets of 20 repetitions.
---
---
Jalones + estocada y patada./Pull-ups + lunge and kick.
---
Sexto ejercicio, realice jalones más estocada y patada, 3 movimientos en 1 buenismo para fortalecer cada músculo de mi cuerpo, mantuve una excelente coordinación y equilibrio para poder realizar la patada, lo realice en 4 series de 20 repetición.
Sixth exercise, I did pull ups plus lunge and kick, 3 movements in 1 good movement to strengthen every muscle in my body, I maintained excellent coordination and balance to be able to do the kick, I did it in 4 sets of 20 repetitions.
---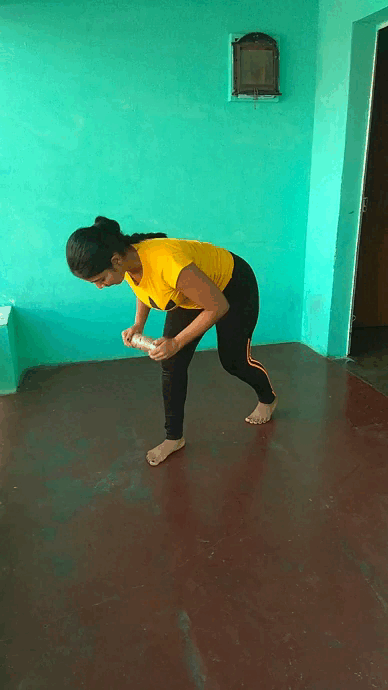 ---

Me despido querido amigos compartiendo este excelente full body desde casa sin mucho peso, solo fueron 6 ejercicios muy activo y dinámico perfecto para acondicionar y reafirmar el cuerpo, lo realice en 4 series de 20 repeticiones; sin olvidar mencionar que es muy importante dejar un pequeño tiempo de descanso entre series e hidratarse y mantener una excelente alimentación balanceada, sin decir más nos vemos en otra ocasión.
I say goodbye dear friends sharing this excellent full body from home without much weight, there were only 6 very active and dynamic exercises perfect for conditioning and firming the body, perform it in 4 sets of 20 repetitions, without forgetting to mention that it is very important to leave a little rest time between sets and hydrate and maintain an excellent balanced diet, without saying more see you another time.
---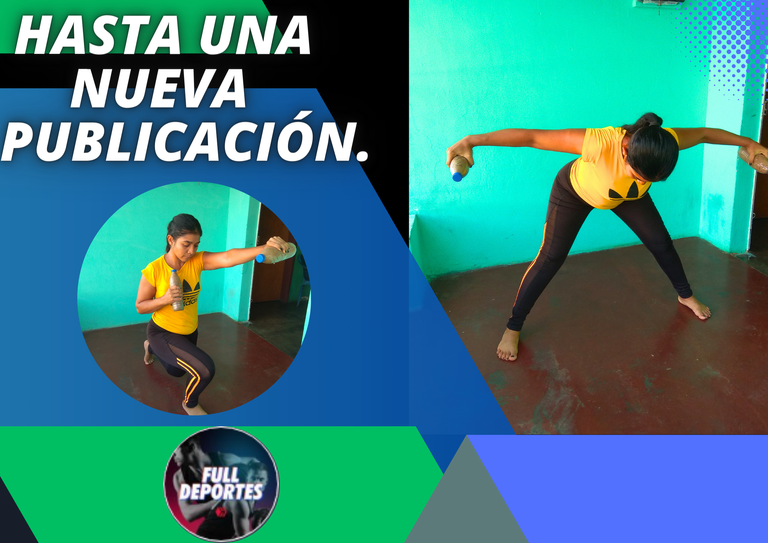 Video realizado desde teléfono Alcatel idol. / Video made from Alcatel idol phone.
Videos convertidos en gifs enlace
Separadores y ediciones hechas en Canva. / Separators and editions made in Canva.
---

---
---