Rutina de piernas y glúteos en casa. / Leg and gluteus routine at home.
---
Un cordial saludo comunidad de full deporte, el día de hoy tengo el placer de compartir una vez mas otra rutina de piernas pero esta vez trabajado desde mi hogar, queriendo presentar una alternativa fácil de entrenamientos; con materiales de nuestro uso como: botellas de agua, botellas con arena y madera; materiales que me ayudan a sustituir disco y mancuerdas que hay en un gimnasio cotidiano; en esta rutina ejercite mis piernas y glúteos con movimientos súper fácil de precisión, equilibrio y fuerza; que me ayudan a fortalecer y definir mis cuádriceps, glúteos y brazos ya que mantengo el peso de la botella de agua al momento de entrenar, os movimientos a realizar en mi rutina fueron: Sentadilla con press de hombros, Elevación lateral de piernas, Bailarina, Salto de poder; son 4 ejercicios que realice en 4 series en repeticiones de 20 cada una dejando un tiempo de descanso de 10 segundos, los invito a ver el paso a paso de esta rutina que realice en mi hogar, recuerden tener un breve calentamiento antes de entrenar puede seguir mi contenido de calentamiento para piernas.
A warm greeting full sport community, today I have the pleasure to share once again another leg routine but this time worked from my home, wanting to present an easy alternative workouts; with materials of our use as: water bottles, bottles with sand and wood; materials that help me to replace disc and dumbbells that are in a daily gym; in this routine I exercised my legs and buttocks with super easy movements of precision, balance and strength; that help me to strengthen and define my quads, glutes and arms as I keep the weight of the water bottle at the time of training, the movements to perform in my routine were: Squat with shoulder press, Lateral leg raise, Ballerina, Power jump; are 4 exercises that I performed in 4 sets in repetitions of 20 each leaving a rest time of 10 seconds, I invite you to see the step by step of this routine that I performed in my home, remember to have a brief warm up before training you can follow my warm up content for legs.
---
enlace
---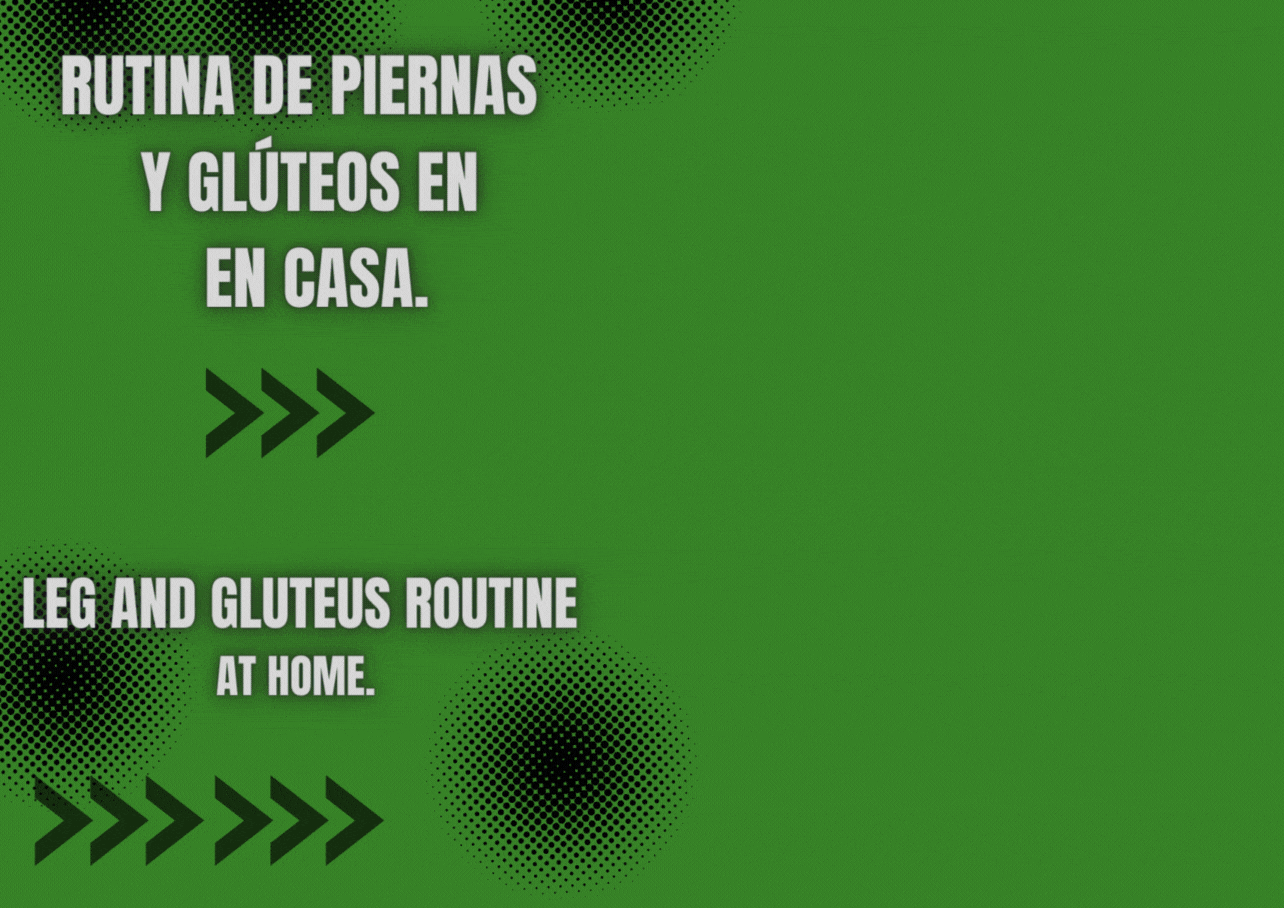 ---

---
Sentadilla con press de hombros./ Squat with shoulder press.
---
Primer movimiento sentadilla de press de hombro este ejercicio lo trabaje con un botellón de agua de de 5 litros, con un movimiento de sentadilla profunda sosteniendo el botellón en mi pecho a bajar, luego al subir extendiendo mis brazos hacia arriba realizando 20 repeticiones, también se puede hacer la sentadilla a 90 grados si se les hace muy difícil bajar mas.
First movement squat shoulder press this exercise I worked it with a 5 liter water bottle, with a deep squat movement holding the bottle on my chest to go down, then when going up extending my arms upwards performing 20 repetitions, you can also do the squat at 90 degrees if it is too difficult to go down more.
---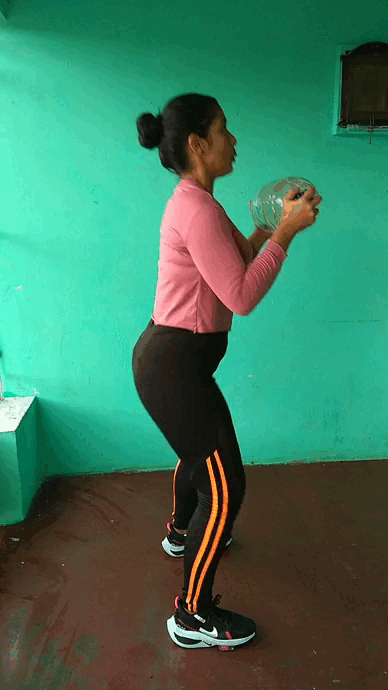 ---
Patada lateral con carga./ Side kick with load.
---
El segundo movimiento consiste en ponerse en plancha alta, luego detrás de la rodilla me coloque una botella pequeña con arena para sustituir pesas, luego comencé a dar movimiento laterales de arriba y abajo sin soltar la botella realizando repeticiones de 20 en cada pierna.
The second movement consists of getting into a high plank, then behind the knee I placed a small bottle with sand to replace weights, then I began to give lateral movement up and down without releasing the bottle performing repetitions of 20 on each leg.
---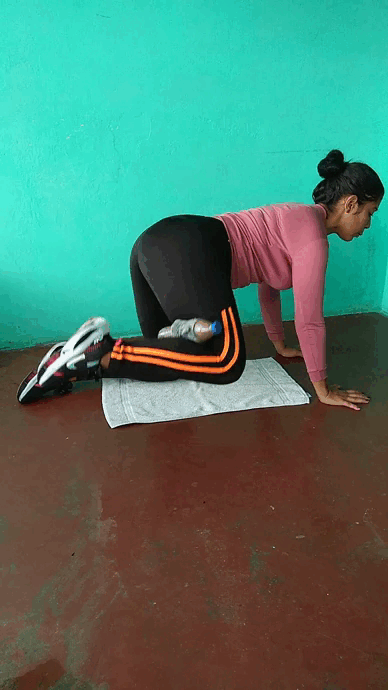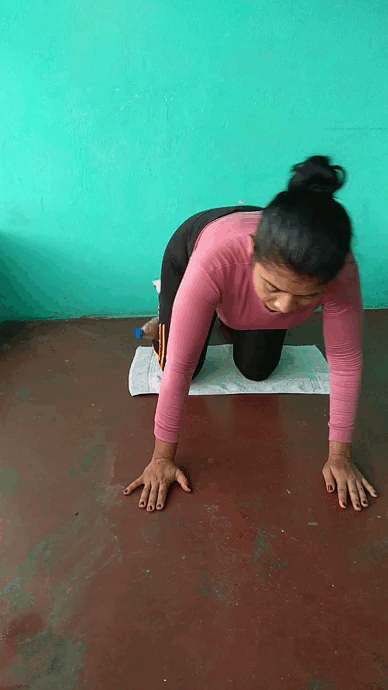 ---
Bailarina con carga./ Dancer with load.
---
El tercer movimiento es la bailarina; para realizar este movimiento necesite tener apoyo en mis pies por eso utilice 2 pedazos de maderas para apoyarme, luego pegue mis talones, volví a sostener el botellón de agua; comencé a bajar y subir como mucho equilibrio realizando 20 repeticiones.
The third movement is the ballerina; to perform this movement I needed to have support on my feet so I used 2 pieces of wood to support me, then I glued my heels, I returned to hold the water bottle; I began to go down and up as much balance performing 20 repetitions.
---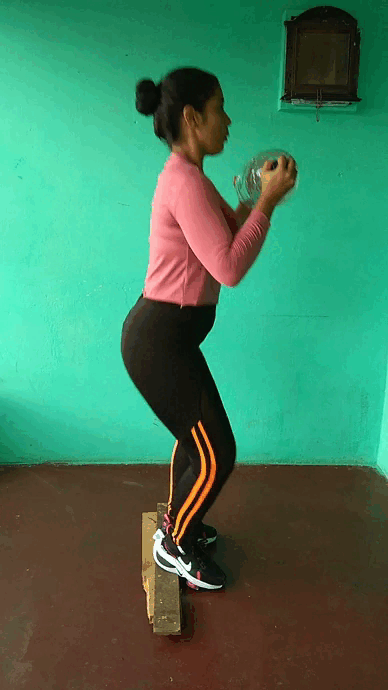 ---
Salto de poder./ Power leap.
El cuarto movimiento es el salto de poder, este ejercicio lo realice extendiendo mis brazos a los lados, luego dar un pequeño salto con firmeza y caer en cuclillas este movimiento lo realice en 20 repetición.
The fourth movement is the power jump, this exercise I performed by extending my arms to the sides, then give a small jump firmly and fall into a squat this movement I performed in 20 repetitions.
---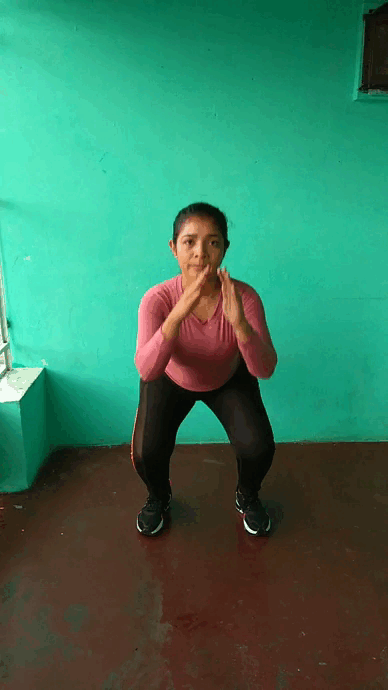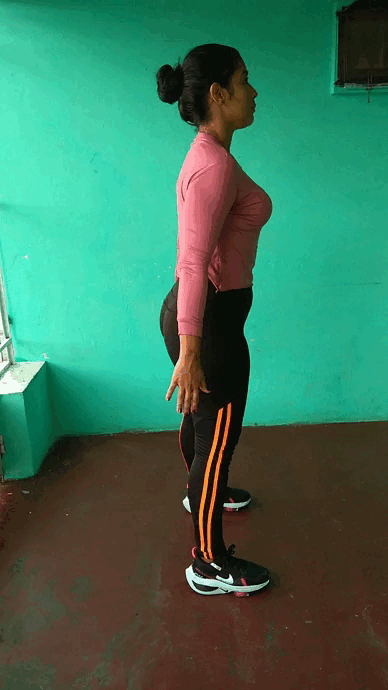 ---
Mis queridos amigo les comparto esta rutina de piernas y glúteos, que pueden realizar en su hogar con materiales fácil de adquirir, les recuerdo tomarse un tiempo de descanso de 10 segundos entre rutina y entre series lo que requiera el cuerpo, espero que les guste así que nos vemos en otra oportunidad.
My dear friends I share with you this routine for legs and buttocks, which can be performed at home with materials easy to acquire, I remind you to take a rest time of 10 seconds between routine and between sets as required by the body, I hope you like it so I'll see you another time.
---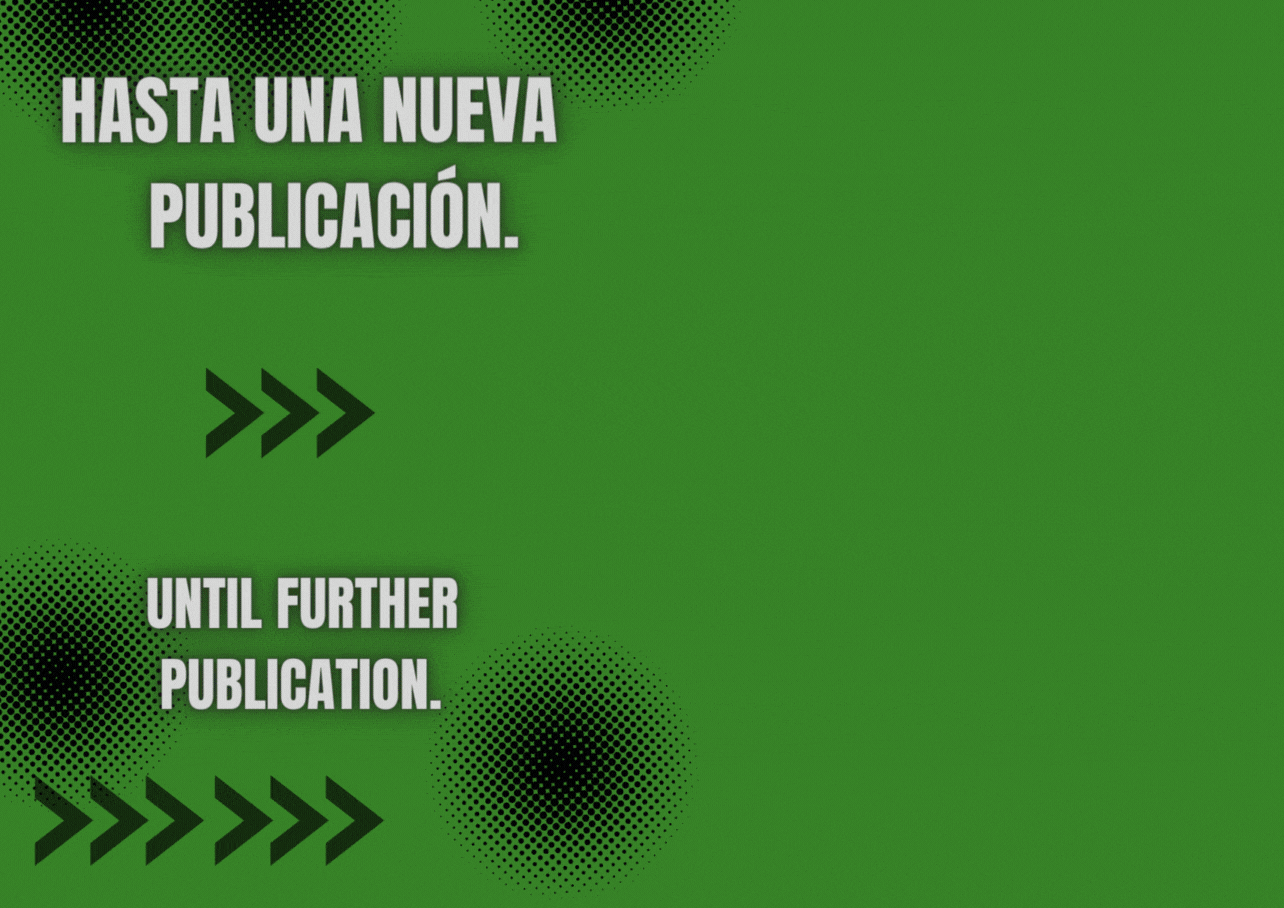 ---
Video realizado desde teléfono Alcatel idol. / Video made from Alcatel idol phone.
Videos convertidos en gifs enlace
Separadores y ediciones hechas en Canva. / Separators and editions made in Canva.
---

---
---