Viernes de full body. /💪🔥💪Full body Friday.
---
Feliz viernes comunidad de full deportes; en el día de hoy quiero compartir un full body bien activo en el cual realice desde mi hogar, realice 5 ejercicios enfocados para todo mi cuerpo, también combine algunos movimientos con cardio para mayor intensidad en mi rutina espero que les guste así que los invito a ver toda la rutina asi que disfruten.
Happy Friday full sports community; today I want to share a very active full body in which I performed from my home, I performed 5 exercises focused for my whole body, also combine some movements with cardio for more intensity in my routine I hope you like it so I invite you to see the whole routine so enjoy.
---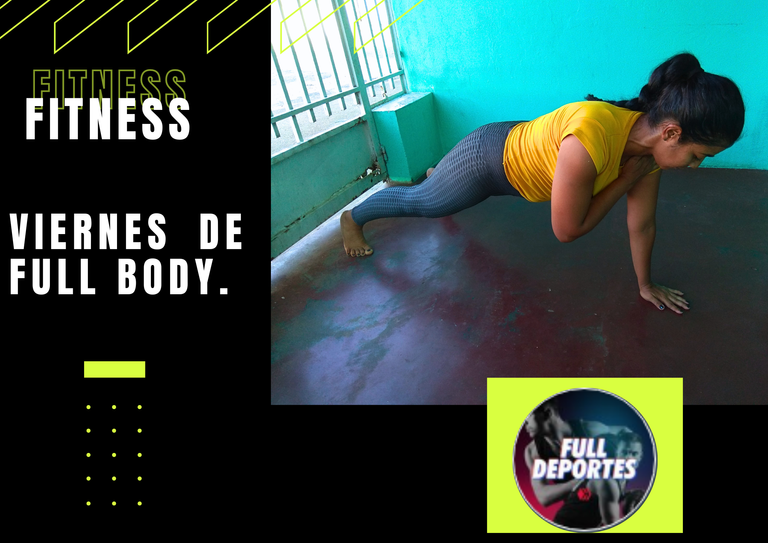 ---
Calentamiento/Heating
Acondicione mi cuerpo con 100 sentadilla cortas en una sola serie.
I conditioned my body with 100 short squats in one set.
---
Rutina./ Routine.
---
Plancha con toque en los hombros + flexión cursiva./Shoulder touch plank + cursive push-up.
---
Primer movimiento realice plancha con toque en los hombros buenismo para trabajar el abdomen lo combine con flexión cursiva y levantamiento de caderas excelente ejercicio para entrar en calor y comenzar a tonificar los músculos, lo realice en 4 series de 15 repetición.
First movement perform plank with touch on the shoulders good for working the abdomen combine it with cursive flexion and lifting hips excellent exercise to warm up and begin to tone the muscles, perform it in 4 sets of 15 repetitions.
---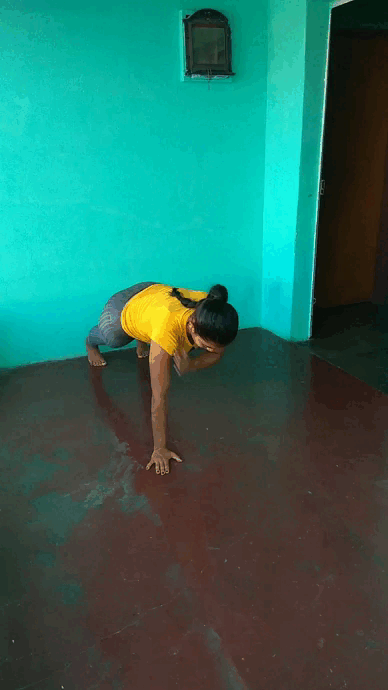 ---
Flexión negativa + sentadilla en cuadrupedia y saltos de poder./Negative push-up + quad squat and power lunges.
---
Segundo movimiento, seguí con flexión negativa estirando mis brazos hacia adelante luego realice sentadilla en cuadrupedia para culminar con salto de poder 3x1 excelente combinación de ejercicios para seguir trabajando duro el cuerpo; lo realice en 4 series de 15 repetición.
Second movement, I continued with negative flexion stretching my arms forward, then I performed a quadruped squat to finish with a 3x1 power jump, an excellent combination of exercises to keep working the body hard; I did it in 4 sets of 15 repetitions.
---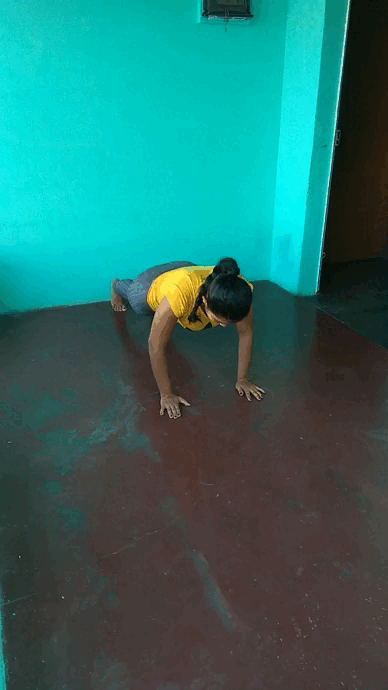 ---
Rotación de caderas + estiramiento de piernas lateral./Hip rotación + lateral leg stretch.
---
Tercer movimiento, realice rotación de caderas con estiramiento de piernas lateral, se enfoca mucho en el abdomen este movimiento, lo realice en 4 series de 15 repetición.
Third movement, perform hip rotation with lateral leg stretching, this movement focuses a lot on the abdomen, perform it in 4 sets of 15 repetitions.
---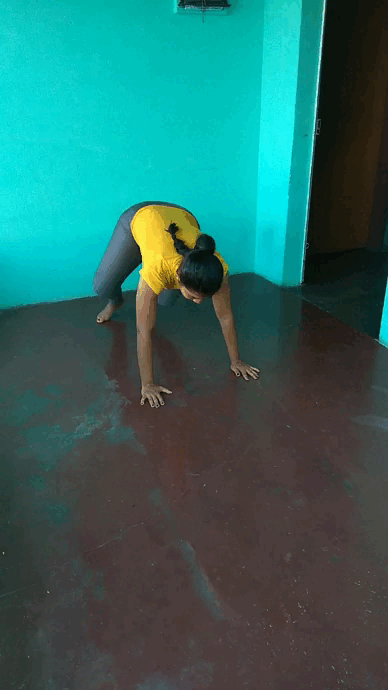 ---
Plancha con flexión y extensión de codos. /Plank with elbow flexion and extension.
---
Cuarto movimiento, seguí trabajando mi abdomen con plancha y manteniendo flexión y extensión de codos; bien intenso el ejercicio para mantener comprimido el abdomen, lo realicé en 4 series de 15 repetición.
Fourth movement, I continued working my abdomen with plank and keeping elbow flexion and extension; very intense exercise to keep the abdomen compressed, I did it in 4 series of 15 repetitions.
---
---
Desplazamiento en plancha + flexión y estiramiento de piernas. /Plank movement + leg flexion and stretching.
---
Quinto movimiento, último ejercicio el más intenso, realice desplazamiento en plancha seguido realice flexión y termine con estiramiento de piernas de manera lateral, una potente combinación de ejercicios que me ayudan a tonificar y quemar grasa en mi cuerpo, lo realice en 4 series de 15 repetición.
Fifth movement, last exercise the most intense, perform displacement plank followed by flexion and end with stretching legs laterally, a powerful combination of exercises that help me tone and burn fat in my body, I did it in 4 sets of 15 repetitions.
---
---

Me despido querida comunidad compartiendo este excelente entrenamiento desde casa sin nada de peso solo movimientos combinados bien intensos, que ayudan a tonificar partes del tren superior, tren inferior y el abdomen una zona que es bastante difícil de trabajar, cada movimiento lo realice en 4 series de 15 repetición, como siempre les indico siempre combinar los ejercicios con una buena alimentación e hidratación, es importante dejar descansar el musculo para así él se pueda tonificar bueno amigos espero que les guste sin decir más nos vemos en otra ocasión.
I say goodbye dear community sharing this excellent workout from home without any weight just well intense combined movements, which help to tone parts of the upper body, lower body and abdomen an area that is quite difficult to work, each movement is performed in 4 sets of 15 repetitions, as always I always indicate always combine the exercises with good nutrition and hydration, it is important to rest the muscle so he can tone well friends I hope you like it without saying more see you another time.
---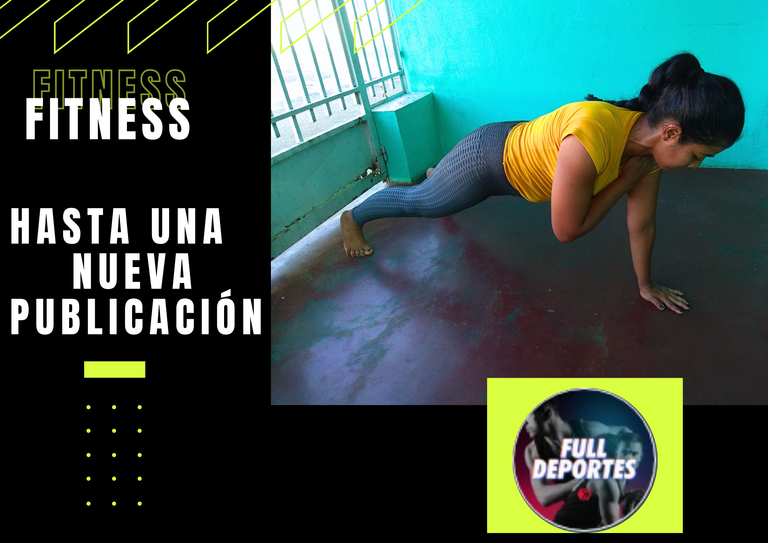 Video realizado desde teléfono Alcatel idol. / Video made from Alcatel idol phone.
Videos convertidos en gifs enlace
Separadores y ediciones hechas en Canva. / Separators and editions made in Canva.
---

---
---