SHARE YOUR BATTLE Weekly Challenge! SILENT SHA-VI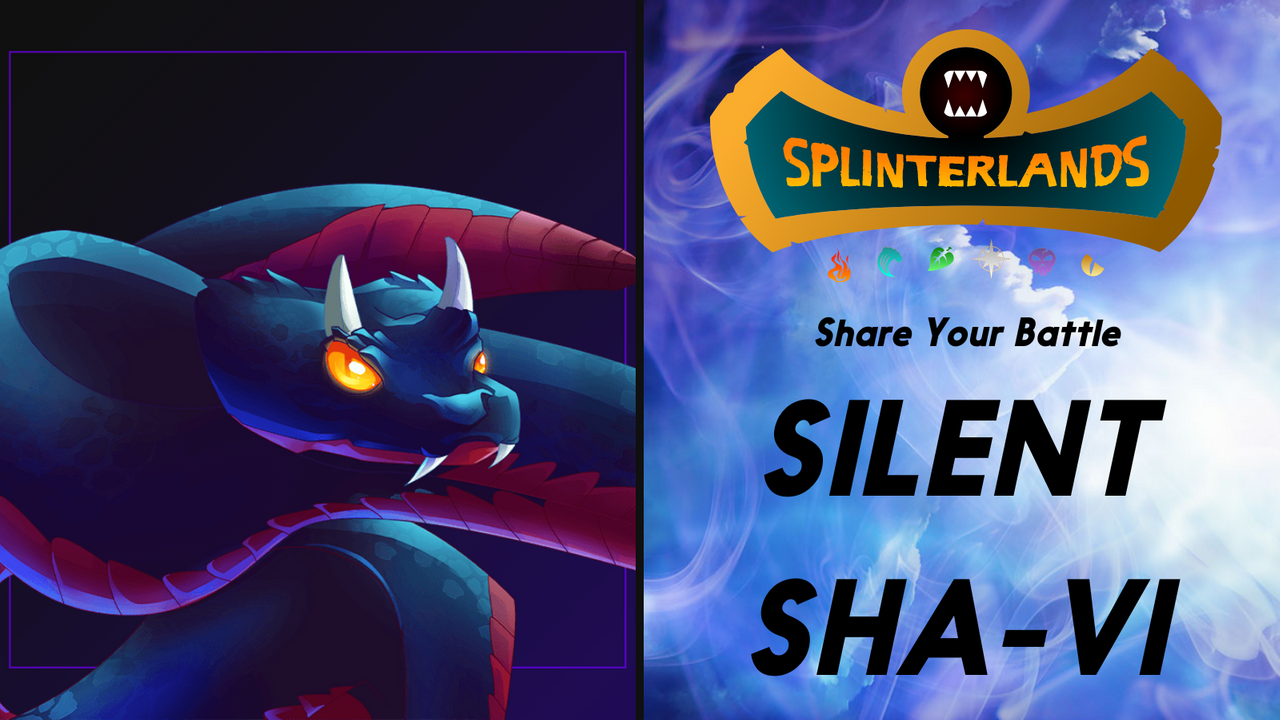 Always hidden in the shadow, Silent Sha-Vi is a deadly adversary waiting to strike. Frequently it will let the prey know of its presence while staying well hidden so as to instill fear into the victim. Fear excite the Silent Sha-Vi as it played hide and seek and waiting to be found... which is usually where it ends.
Silent Sha-Vi is a 5 Mana Death common unit whose strength lies in its speed and sneak ability. Below is her full stats from Level 1 to 10.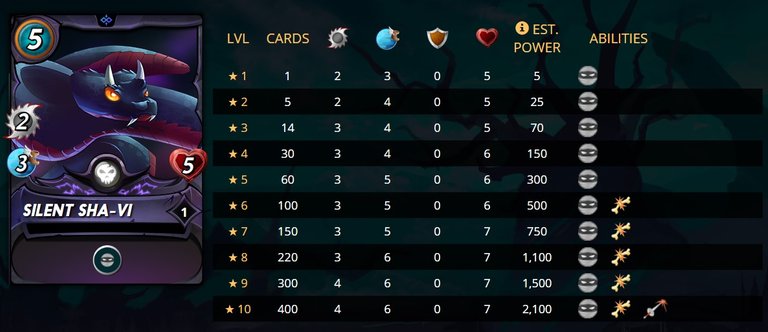 At level 1, it has a speed of 3 with 2 attack and 5 HP. Very decent speed and HP even at level 1. By the time it reached level 3, it has 3 attack and 4 speed. Thats where it starts to get terrifying. Not many back offensive units has 4 speed at level 3 and Sha-Vi usually can eliminate them before they can attack.
---
Next lets take a look at how Silent Sha-Vi will perform in the various rulesets:
Rulesets
Silent Sha-vi
🔮 Mana: 5,💗 Health: 5,🛡️ Armor: 0,⏩ Speed: 3
Not much effect as it hardly miss anyway.
👍More armor means higher survivability
👎Lose the sneak ability. Not good.
No effect
No effect
👎Not a flying unit so will takes 2 damage per round from earthquake.
Neutral as the HP of the unit is not low by itself.
No effect as its sneak ability will take precedence.
👎Cannot be deployed
👍Explosive means the unit can damage neighbouring targetted enemy unit as well.
👍Can be deployed.
👎Not good. It will lose its sneak ability.
👎Without healing, it has lower survivability.
Neutral. There is currently no death unit that can do stun and have sneak at the same time. The only time it is useful is when Sha-Vi is at the first position and facing a stunned target.
👍Can survive one more attack.
This table is generated using Koodies's Splintertools #3, created by @koodies
👎Cannot be deployed.
👎Cannot be deployed.
No effect.
No effect.
No effect. It can attack from any position already.
👎Will suffer 2 damage per round from poison.
👎Bad as it has a high speed.
👍Can be deployed.
👍Will have even higher attack and speed when damaged.
No effect.
No effect.
No effect.
No effect.
No effect as it has no armor in the first place
👍Can be deployed.
---
Finally lets take a look at a match I had using Silent Sha-Vi as one of the unit in the setup. The battle restriction is:
Noxious Fumes + Lost Magic with a max mana limit of 32
The Video for the Full Battle can be seen here:
https://splinterlands.com?p=battle&id=sl_c98a01734fb8e4f9217ae1c8b10e6f32&ref=genming
TEAM SETUP:
| Splinter | Mana Cost | Position | Reason |
| --- | --- | --- | --- |
| Zintar Mortalis | 3 | Summoner | My focus is Death so I am going for a death summoner. Reason I chose Zintar is because he is the only level 3 death summoner I have. The rest are all below level 3 and I need level 3 summoner so I can summon a level 2 Harklaw. A level 2 Harklaw has immunity which will help in this Noxious Fumes ruleset. |
| Crypt Beetle | 3 | 1st | A fodder tank upfront. Not expecting it to survive the 1st round. With shield, I hope it can withstand a couple of attacks. |
| Ever-hungry Skull | 5 | 2nd | My 2nd tank. The reason I put it in is because I am not expecting magic attack. I have quickly scan through the opponent last 5 battles earlier and guess the opponent is 90% going to put up a Life team with a range lineup as General Sloan is his/her goto summoner. |
| Riftwing | 4 | 3rd | My 3rd tank. I seldom have more than 2 tanks but this is an unique situation as I wanted my Hawklaw to avoid getting hit as long as possible. |
| Silent Sha-Vi | 5 | 4th | My only offensive unit in this whole lineup. If I am going to face a ranged lineup, then the hardest hitting opponent units are probably hidden at the back. Need Sha-Vi to take as many out as possible. |
| Harklaw | 8 | 5th | My most protected unit. Because it has immunity, it will not be damage by the Noxious Fumes ruleset. The aim is to have it be the last one standing. |
| Xenith Monk | 4 | 6th | To protect Harklaw against sneak attackers in case the opponent went with a sneak lineup. Also the monk has a self heal ability which will allow him to stay alive longer. |
| Total Mana: | 32 | | |
---
Battle Lineup: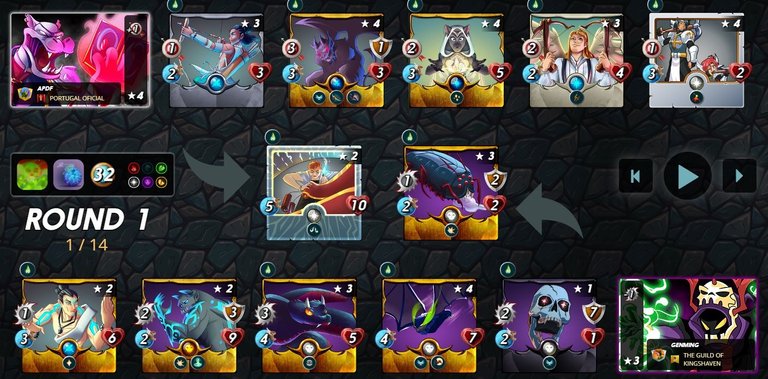 My opponent went with Life as expected. I didn't notice the opponent would be using a level 4 summoner though so was a bit anxious when I see all the enemy units are higher level than mine. Also the enemy's Warrior of Peace weaken my entire team with his Demoralize ability. Looking at the opponent lineup, the intention was to as quickly wipe out my team as possible as the ranged units all has strong attack but weak hp.
End of Round 1: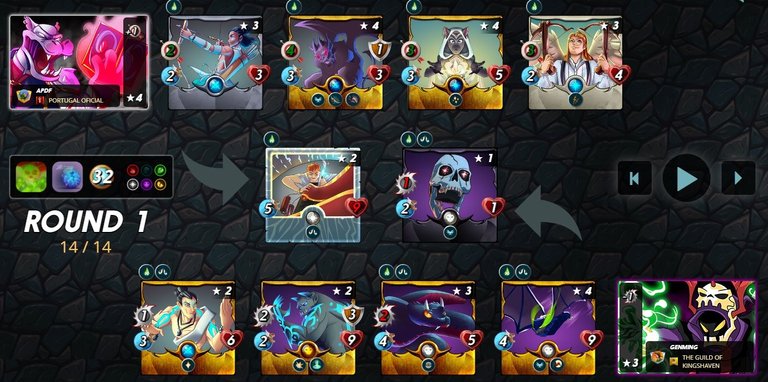 My Sha-Vi very quickly took out the opponent Silvershield Archers at the back on its first strike. But the opponent strike back and took out my 1st tank in 2 hits and almost took out the 2nd tank by the end of round 1. Even though my Ever-hungry Skull is a flying unit, it hasn't been able to dodge any attack yet.
Round 2 Start: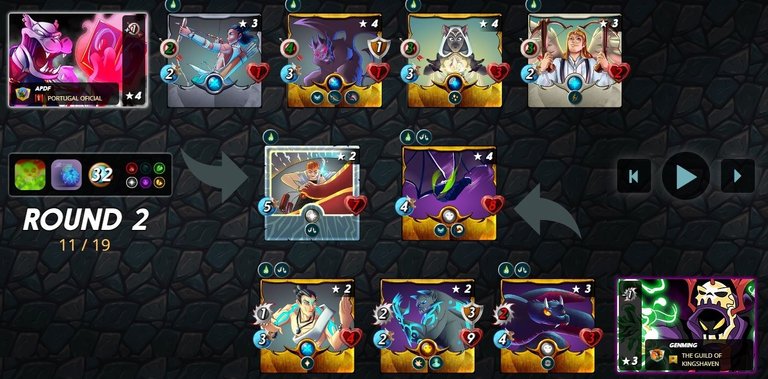 Round 2 starts with Poison taking into effect. My Ever-hungry Skull died from the poison and now my 3rd tank is facing firing squad. Meanwhile my opponent ranged unit hp weakness starts to show as almost all of them is not going to survive another poison round.
Round 2 End: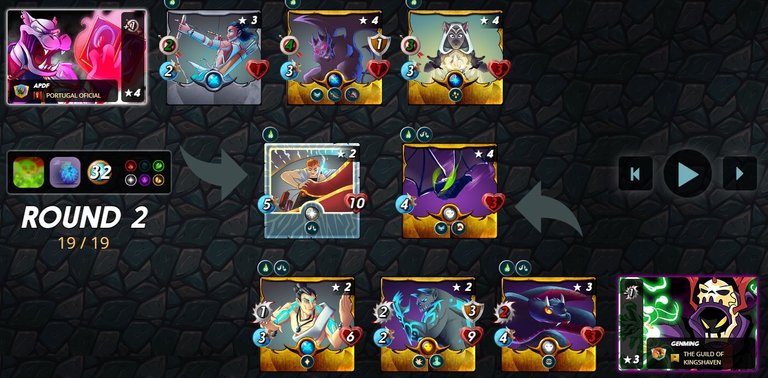 Sha-Vi took out another unit right from the start and this time it is the Pelacor Arbalest. This is important as the Arbalest can hit 3 damage 2 TIMES! This strike alone remove off 6 damages on my team. Meanwhile the opponent Venari Crystalsmith heal their Warrior of Peace back to full health. At this point my 3rd tank is dying as well although this round it managed to dodge an attack.
Round 3 Start: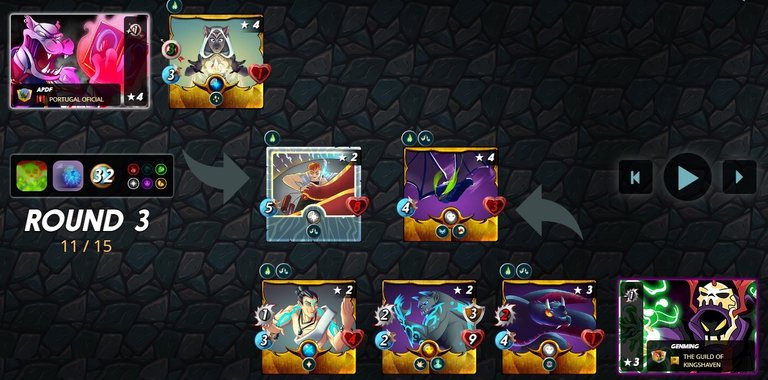 The poison makes its round for the 3rd time and the opponent has lost all the ranged units except for the Crystalsmith which will died soon as well.
Round 3 End: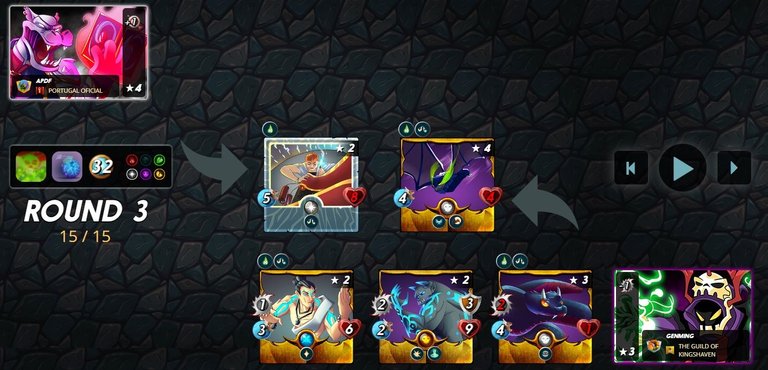 Sha-Vi took out Crystalsmith, its 3rd victims in as many round quickly. At this point I am confirmed winning the match as Warrior of Peace has no attack at all and has no more healing support it.
KEY STRATEGY
Protecting Forgotten One is my main priority here while my 2nd priority is to clear the opponent back units as much as possible. Here, Silent Sha-Vi performed the clearing functions perfectly even though it is the only unit I can afford to deploy to do it in this battle.
CONCLUSION ON SILENT SHA-VI
A very important Death unit in my opinion. Speed combine with high speed is what makes Silent Sha-Vi deadly. A lot of times, people like to put a high speed unit at the back as a back tank but with Sha-Vi you have lesser worry of high dodging enemy back tank.

To any new players who wish to explore the world of Splinterlands, do feel free to sign up with my REFERRAL LINK 😊.
---
---