A New Adventure With A Bigger Family.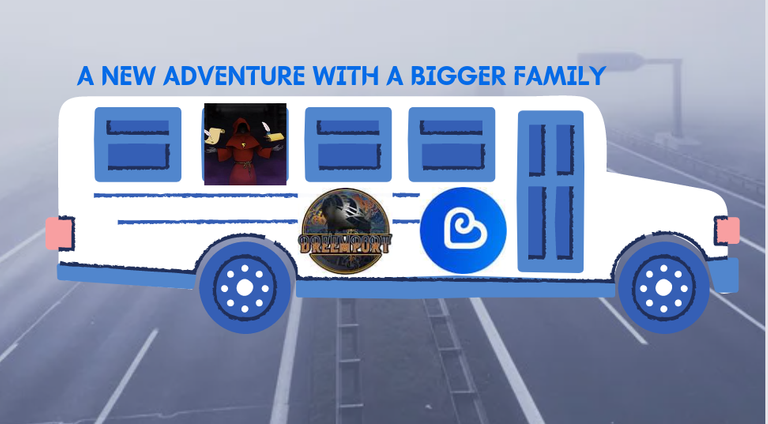 designed by george-dee using canvas
It is a new month with new everything for me when it comes to my engagement on Hive, last month with exciting for me and I want to say a big you to @dreemport and @ecency for making that happen. I am certain the Scholar and Scribe community will add more to the existing fun so I just need to prepare myself to have an amazing month.

My favorite dessert.
It would be hard to leave chocolate out of my favorite dessert, I don't take it directly often but seeing a chocolate cake turns me on. I have always loved cake, it is hard to take my mind off whenever I see and it took me a lot of time to be able to discipline myself with cakes.

gif from peakd
---
In 2018, a female friend gifted me with a big cake. I divided into four parts and gave one to my family while kept the rest with the hope of eating it for a few days.
.
On that same day, I was watching a movie with my immediate brother. I brought it out just to cut some but I kept cutting it bit by bit until we finished it.
---
My mom use to say, she hopes I don't get poisoned with cake someday. I am one of the birthday celebrants who cares about his portion of the cake before giving his guest, you can call me stingy if you like; I will take the lashes for the cake.

How long have you been with Hive?
I joined Hive in mid-July 2021, so I am exactly a year old on the platform. I wished I had joined earlier but I don't have regrets, what matters is that I am here.
Hive is a great place for me, it is part of my life and its impacts on me can't be quantified. I was away for a while, but my return has been awesome, I feel great interacting with people, and discovering Ecency has made blogging more beautiful for me.

Have you ever written fiction before?
I love stories and I have written quite a lot of them since I joined the platform. It is one of the niches I find very interesting but I many times run out of topics so participating in prompts makes things easy to an extent.
Knowing that August will be a month of writing stories makes me happy and I can tell a lot of dreemers feels the same way as well.

Are you familiar with Scholar & Scribe?
I am not familiar with the Scholar & Scribe, I got to know about the community during the Sanctuary contest. Someone submitted his or her entry through the community and I was wondering what kind of community it is but I didn't take the time to dig more about the community.

Are you expecting this to be a fun challenge, challenging challenge, exciting challenge, or are you really dreading writing publicly?
It is going to be a fun challenge because I love writing fiction stories, and I enjoy pouring out creativity into my stories.
It is going to be a challenging challenge as well because there are times I find it hard to come up with titles. It would be awesome if I get titles because that will make things easier, the challenge would definitely require putting my brain to proper use.
It would be exciting because I look forward to learning from lots of other fiction story writers, I can gather knowledge to improve my story writing abilities as well.

Are you going to TRY to go for the 3 part serial fiction (over 3 weeks), the engagement Bingo option, simply stick to SOME fiction this month for Scholar&Scribe, or some other option altogether?
I am not sure of anything yet but I am definitely going to engage with the community throughout the month. I intend to write more than just the Friday compulsory challenge so I can't tell exactly what it is going to look but it will surely be fun.

I am looking forward to having a great time just like I did in the previous month, having three communities join together to make this happen is a huge one for me. A big shout-out to God and everyone who has contributed to the success of the August challenge, have a beautiful August.
---
---