Deceit...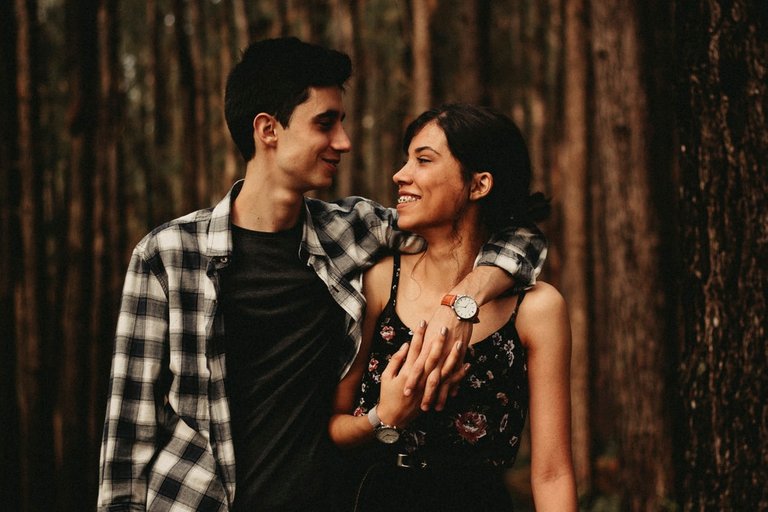 Source
George got tired of sitting in the car, he has been in there for over half an hour. The sweet music from the car stereo was hurting his ears already, he just couldn't figure out exactly why he was feeling that way in the early hours of the day.
He stepped out of the car to look around, the natural air felt better on him. He locked the car door and leaned on the bonnet as he fixed his eye on the hotel garden, it was beautiful; "they spent a lot of money in making this place look great", was the last statement before advancing towards the garden.
He found the view irresistible and had to step into the garden to admire the beauty of nature.
There were fancy chairs in the garden so he just sat and admired the colors of the varieties of flowers present in the garden, he brought his phone to capture shots in the garden and his camera caught a pretty figure behind the flowers.
He quickly removed the phone to be sure of what he saw, it was real. George was surprised at the view of this perfectly carved lady standing on the other side of the garden, he stared at her for a few minutes and decided to shoot his shot at her.
He walked up to her to say hello, George is a veteran at wooing ladies but he has never been able to keep any of them.
"Hello beautiful", George said as he gave this big smile out.
The lady turned slowly to see who owned that voice, he was tall and handsome with muscles.
"Hi" was the only word she could come up with but it was accompanied by a smile.
George continued, "I am George, I was in the garden appreciating those flowers when I saw you and I felt it would be unfair not to appreciate another beautiful flower even though you are not in the garden."
She was blushing while the conversation went on and that prompted him to request her contact after the introduction .
Her name was Anabel and she claimed to have passed the night at the hotel after drinking too much the night before, George asked if she was a hooker but she denied it.
He said he was at the hotel so early for business purposes and their little introduction got them interested in one another, they exchanged contacts to keep in touch with each other.
Days passed, and George never reached out to Anabel. He kept tabs on her by checking her social network profile, he checked from time to time.

About two months later, Anabel posted about her upcoming birthday. The post got his attention, he chatted her up and asked about her birthday.
Anabel was happy to see his message and they continued from where the conversation stopped the first time they saw each other. George asked her what she wanted for the birthday but she said "nothing, there is no point sending a gift on my birthday since I won't be in the country. You can host a dinner for me when I am back, or what do you think?"
George replied with a "yes" and the chat went on for a long time. It continued for weeks and they became very tight buddies, always checking up on each other.
---
The birthday came and George made her feel loved with calls, he wrote messages that swept her off her feet. Anabel sent pictures of herself in a hotel suite, George was impressed and didn't doubt her claim to be one of the daughters of the wealthy businessman in the country.
She beeped him on her arrival and they fixed a date, George prepared well ahead of that day, he got flowers, a teddy bear, and a box of chocolates on his way to the scheduled place. He thought of going to pick her up but she claimed that her dad's driver dropped her off already since she can't drive.
He got into the lounge and was stunned, Anabel looked like a goddess even though she was in a simple gown. They had a lot to eat and drink, it was the best date for both of them, and they hung out a few more times before George asked her out, she didn't hesitate to say yes.
The feeling got deeper and Anabel requested to visit George at his house but he turned down the request which pissed her off, he proposed they met at a hotel for some reason. She didn't like the place and complained about their standard, George was able to defend himself and they got down that day.
She enjoyed every bit of the romance and they both slept like a doll after the sex, Anabel's phone rang around 7 pm and the ringing woke them up. She picked up the call, went to the toilet to speak to the caller and she came back rushing to dress up, "George I have to go now, my dad called me, he wants me to represent him somewhere very early tomorrow and I have to be at the airport in few hours" she kissed him on the head as she rushed out of the hotel.
George insisted on dropping her off but she said she was going to take a cab home first so her dad's driver will drop her at the airport. He stood on the balcony to see her but she just disappear into the night, he went back into the room and prepare for his leave as well.
---
About three weeks later, George told Anabel he would be traveling for a few days to attend to business. She also said she won't be around for a week as well, they spent some time together at the hotel the night before George's trip.
They went their separate ways very early the next morning after hugging and kissing so passionately in the morning.

George was sitting in the vehicle when his phone rang, the caller gave instructions to him so he alighted from the car, and looked left and right before entering the hotel with a briefcase.
He went straight to room 206, George knocked, and a voice told him to come in. He opened the door and slowly turned around to lock it when he saw Anabel in the hotel staff uniform, they were shocked to see each other.
The caller was George's boss, he interrupted the lovers staring at each other speechlessly. "Will you hand over the bag to me", he said in a loud voice and George went to give him the bag.
He took some cash out of it and told George to return to the car while he gave Anabel money for the meal he ate, the two of them left the room wondering if they were dreaming.
Later that morning, Anabel left her duty to look for George in the garage because she couldn't comprehend what was going on. She asked what he was doing there and George asked her the same question.
"Are you a driver?", Anabel asked.
"I thought you are a wealthy man's daughter or is your father the owner of the hotel?", George replied.
He brought out his phone to check the picture hotel suite Anabel posted during her birthday and it happens to be where his boss lodged for the meeting he had with his associates, he raised his head to look at Anabel who was in tears already.
Anabel walked away and George wasn't himself, he kept pacing around the garage as murmured words, "I have been scammed, I am in debt. I thought this girl will help my life, how will I pay the debt I am into for trying to meet the standard she claimed to be?."
Anabel on the other hand was crying, she thought George was the way out of her problems too, she wanted a rich guy that would solve all her problems. They called each other on the phone a few times after they knew each other real identity just to curse and abuse themselves and soon they took their minds off experience.

Two months later, Anabel discovered she was pregnant. She was shocked because she hasn't had sex with anyone since George left, she called him to ask if he didn't use protection and he claimed he did.
He ended the conversation quickly and Anabel was thrown into darkness, she didn't believe it. Her world was crashing right in front of her, having the baby was not an option and she made up her mind to abort it.
George was worried, he knew what he did and his conscience. He called Anabel but she didn't pick up.
He dropped a message confessing that he released some semen into her just to tighten the bond since he thought she was from a wealthy home, he apologized and requested that they saw each other but Anabel saw the message after leaving the hospital for abortion.
She cried and accepted her fate, and they both moved on with their lives. They both learned a great lesson.
---
---