The possibility of free higher education
The importance of education in the world is massive and the reason why many people think it is overrated is because of the high expectations we place on it. A lot of people still harbor the mentality that when you are educated, it is a must that you are successful.
When education came to Africa, people who took it became elites. They were few and the knowledge they acquired which is the purpose of being educated made them very valuable. Slowly their number increased and the opportunity available for them in the society decreased and today, the population of educated people globally can't and won't fit into the available opportunity.
---
Today education doesn't guarantee success but applying the knowledge you have spent years acquiring can make a huge difference for you.
Despite what some people think about education, a lot of people are still trying everything to ensure their children get educated. Every morning, I see different sets of students trooping out of their homes to school and you can tell how many parents still believe so much in education.
Primary, Junior, and Senior education have been made easy to an extent due to having many government schools where students pay less or nothing in tuition fees. In Nigeria, there are lots of secondary school graduates who couldn't continue their education just because higher education doesn't come at a cheap price.
The cost of acquiring higher education is on the high side and it doesn't surprise me anymore when people talk about how long they were at home before they could go to the university. I spent 5 years after secondary working just to acquire higher education and everything I saved in five years wasn't even enough for my first year, it happened that there is always a small increase in tuition fees every year.
---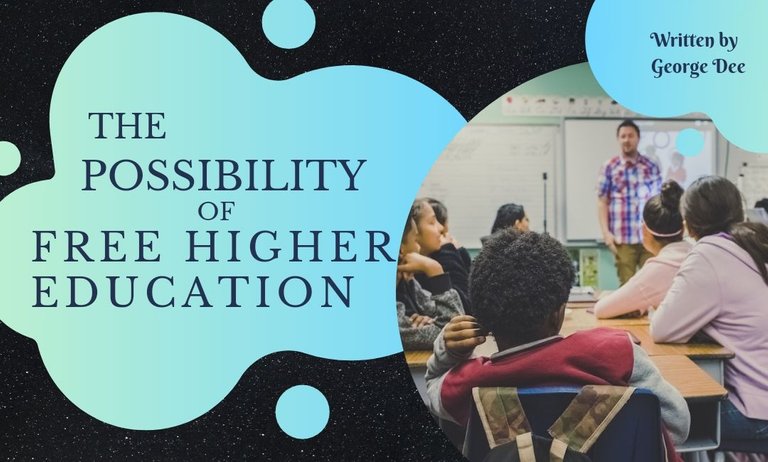 Source - the design was made by me using Canva app

Is free higher education possible?
Many times, I have thought about the possibility of free higher education but the truth is that I don't see it happening 100 years from now. I learned that there are a few countries that run free higher education but the truth is that it is not completely free.
The citizens of those places are the ones responsible for tuition, some parts of their taxes are used to cover those expenses.
---
Free higher education is impossible especially in my part of the world due to some reasons.
Corruption is one of the reasons why education can't be free. I see no reason why education should be a source of revenue for the country, ensuring that the youths are educated should be one of the country's priorities but it is the other way around.
Despite making so much money from different sectors, the greedy people in power still want to drain people financially just because they want to acquire an education. In the end, this money is been embezzled.
Insufficient taxes is a genuine excuse for the government to deny us free education and they are right.
Aside from the value added tax (VAT) that can't be avoided at the point of purchase, I believe that most Nigerians aren't paying their taxes. The economy is tight and that money used for tax can still be used to purchase some kilos of rice so why do I have to pay?
It is truly not encouraging to dish out a particular amount of money every month for tax when we hear embezzlement stories everyday.
There are lots more reasons why a free higher education won't work and we can't blame the government alone, we all have supported the impossibility of this thing one way or the other.


The effect of free higher education?
There will be positive and negative effects if free higher education comes into existence.
The good side
A lot of people, especially the less privileged will have access to higher education.

There will definitely be growth in the country because there are lots of people who after going through higher education can come up with great ideas that can boost the country's growth and development.

illiteracy will reduce which is a win-win situation for the government and the people.
The bad side
some students will take free higher education for granted. Most times, people don't take things they get for free seriously and that might be the case as well.

Some students might not study well since they won't be paying for an extra year if they fail. Remember the fear of carryover is the beginning of seriousness.

I see the government using free higher education to cover their dirty games. Don't be surprised when they tell the citizens that half the country's revenue is used to sponsor education and that's why the country is stagnant.

The impact of free higher education on the standard of teaching.
The impact on the standard of teaching will be drastic, it will get worse especially here in Nigeria. If ASUU keeps going on strike despite students paying enormous tuition fees, what's expected when they are not paying anything?
Infrastructure will be zero, equipment won't be available for students and even lecturers won't be eager to work when pay doesn't come as expected.

Instead of free higher education, the cost of acquiring higher education can be reduced globally. The government can make this happen if they stop putting pressure on the education sector to boost the country's revenue.
Whatever is generated from the education sector should be just to cover the expenses of school infrastructure, equipment, maintenance, and other important things needed in the institution.
That way, the student will have less to pay which automatically makes education affordable.
---
---