A perfect day, a day to remember! [Eng | Esp]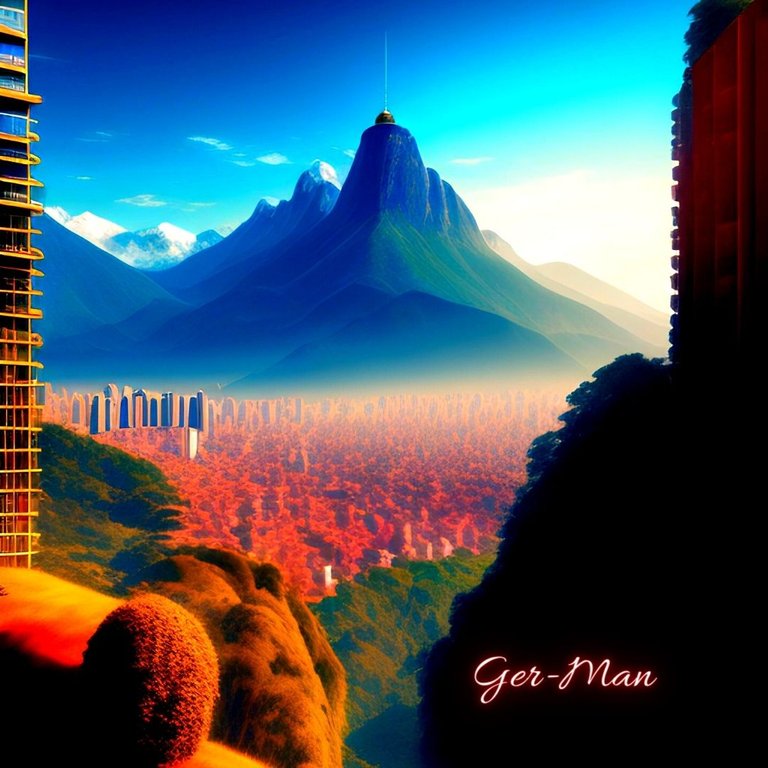 lexica.art
We had been in Bogota last week for work and before boarding the plane that would take us back home to Venezuela I bought a ticket for the Colombian lottery; I felt like a winner.
A couple of days after arriving in Caracas, my girlfriend told me that we had won the lottery jackpot and had to return to Colombia to claim it. Unbelievable!
After a couple of hours of flying from Caracas (Venezuela), my girlfriend and I arrived in Bogota hoping to have a wonderful day.
To start our perfect day, we decided to have a coffee at a local coffee shop to celebrate our award.
We then toured the city and visited some sights, such as the Gold Museum, the Parque de los Novios (Bride and Groom's Park), and Cerro Monserrate.
After a tiring day, we decided to spend the night in a luxury hotel and enjoy a delicious dinner.
To close the day, we bought some drinks at a disco and danced until dawn.
We arrived at the hotel and took a bath, changed clothes and decided to go shopping.
We went to the biggest store in town to buy some gifts - it was the best decision we could have made! We bought a plethora of things, from clothes to electronics.
After doing all our shopping, we headed to one of the best restaurants in town. There we tasted a delicious paisa meal, yes, a paisa plate each. We could not leave without eating a typical Colombian dish.
When the evening came, we decided to go to the cinema to watch the latest movie. Not only did we have a lot of fun, but it also allowed us to disconnect for a while from our daily lives.
To top off our day, we decided to buy some sweets and ice cream at a small store near our hotel. We savored every bite as if it were our last.
In the morning, we woke up excited about our trip to Bogota. After packing our bags, we took a cab back to the airport. Although the trip was short, the memories we take with us are forever.
The perfect day we spent in Bogota allowed us to disconnect from reality, enjoy the moments and forever remember that life is an adventure to be lived to the fullest.
Yes, I'm sure you'll tell me that it wasn't one day, but maybe a couple, but since we practically didn't sleep, we took it as a single perfect day.
Our perfect day in Bogota came to an end, but the happiness we felt still lingers.
This is a memory for life!

My participation for ED weekly posting topic: PERFECT DAY
---
---
Original content, total or partial reproduction in any form is prohibited.

Original content created by @germanandradeg for Hive.

All rights reserved.

© Copyright 2023 Germán Andrade G.

Castellano
Habíamos estado la semana pasada en Bogotá por causas laborables y antes de abordar el avión que nos llevaría de regreso a casa en Venezuela compré un boleto de la lotería mayor de Colombia; me sentía ganador.
Un par de días después de haber llegado a Caracas, mi novia me indicó que habíamos ganado el premio mayor de la lotería y que debíamos volver a Colombia para reclamarlo. ¡Increíble!
Después de un vuelo de un par de horas desde Caracas, Venezuela, mi novia y yo llegamos a Bogotá con la esperanza de tener un día maravilloso.
Para comenzar nuestro día perfecto, decidimos tomar un café en una cafetería local para celebrar nuestro premio.
Luego recorrimos la ciudad y visitamos algunos de sus lugares de interés, como el Museo del Oro, el Parque de los Novios y el Cerro Monserrate.
Después de un día cansador, decidimos pasar la noche en un hotel de lujo y disfrutar de una deliciosa cena.
Para cerrar el día, compramos algunas bebidas en una discoteca y bailamos hasta el amanecer.
Llegamos al hotel y nos dimos un baño, nos cambiamos de ropa y decidimos irnos de compras.
Nos fuimos a la tienda más grande de la ciudad para comprar algunos regalos. ¡Fue la mejor decisión que pudimos tomar! Compramos una gran cantidad de cosas, desde ropa hasta artículos electrónicos.
Después de hacer todas nuestras compras, nos dirigimos a uno de los mejores restaurantes de la ciudad. Allí degustamos una deliciosa comida paisa, si, una bandeja paisa cada uno. No nos podíamos ir sin comer un plato típico de Colombia.
Cuando la noche llegó, decidimos ir al cine para ver la última película. No sólo nos divertimos mucho, sino que también nos permitió desconectar por un rato de nuestra vida diaria.
Para culminar nuestro día, decidimos comprar algunos dulces y helados en una pequeña tienda cerca de nuestro hotel. Saboreamos cada bocado como si fuera el último.
Por la mañana, nos despertamos contentos con nuestro viaje a Bogotá. Después de preparar nuestras maletas, tomamos un taxi para regresar al aeropuerto. A pesar de que el viaje fue corto, los recuerdos que nos llevamos son para siempre.
El día perfecto que pasamos en Bogotá nos permitió desconectarnos de la realidad, disfrutar de los momentos y recordar por siempre que la vida es una aventura que hay que vivir al máximo.
Si, seguro me van a decir que no fue un día, sino tal vez un par, pero como prácticamente no dormimos, nosotros lo tomamos como un solo día perfecto.
Nuestro día perfecto en Bogotá llegó a su fin, pero la felicidad que sentíamos aún perdura.
¡Esto es un recuerdo para toda la vida!

Mi participación para Tema de publicación semanal de ED: DÍA PERFECTO
---
---
Contenido original, prohibida la reproducción total o parcial bajo cualquier forma.
Contenido original creado por @germanandradeg para Hive.

Todos los Derechos Reservados.

© Copyright 2023 Germán Andrade G.

Image processed with CANVA.
Translated with www.DeepL.com/Translator - free version
Imagen procesada con CANVA.
---
---