[Eng-Esp] My entry to the "Shadow Hunters" contest... week 195 - Mi entrada al concurso cazadores de sombras… semana 195.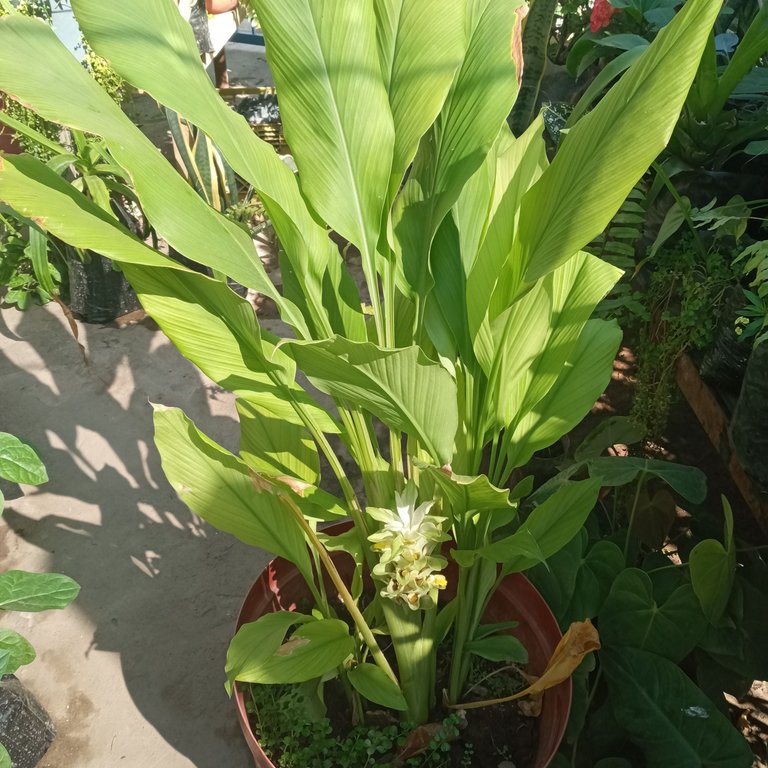 Hello to all my friends in the shadow hunter community. Today I bring you the shadows my Turmeric plant has made. In my home I'm never without a plant of this precious rhizome.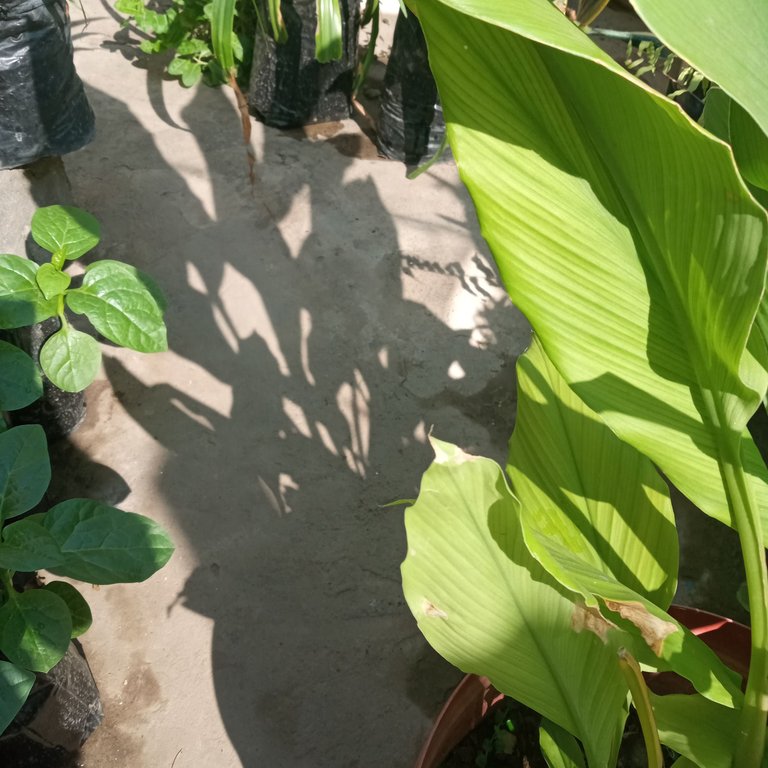 I have many years planting and cultivating this rhizome that has as a scientific name "Curcuma Longa", it is also a decorative plant thanks to it's long beautiful apple green leaves.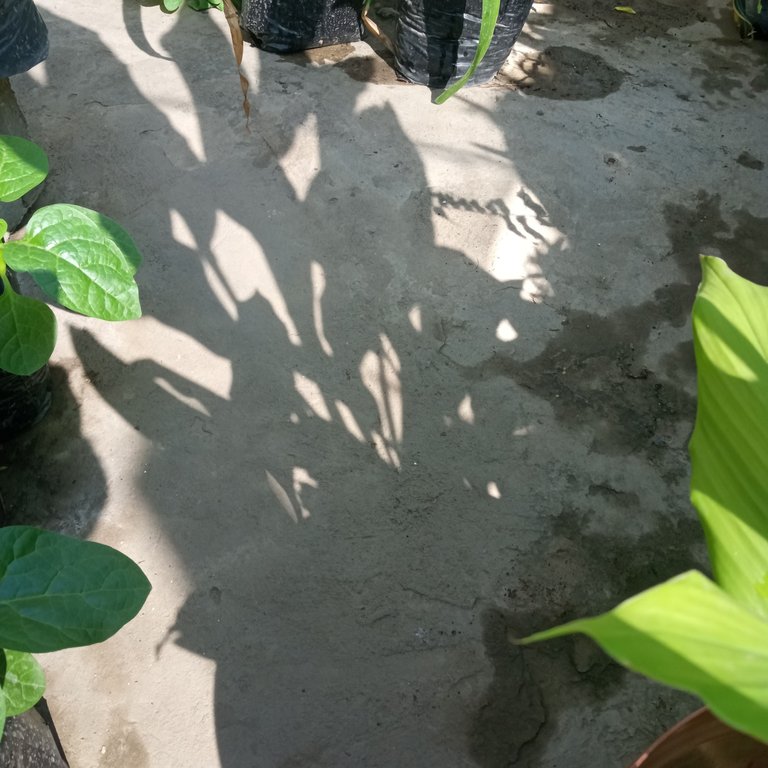 Generally it takes 6 to 8 months for the plant to flower, and I took some rhizomes to transplat from a mother plant that I harvested last December. It remained in a resting period without growing the usual small, germinating bud that comes out of it. After that period of rest, the bud began to grow and germinated and became this beautiful plant that you see now.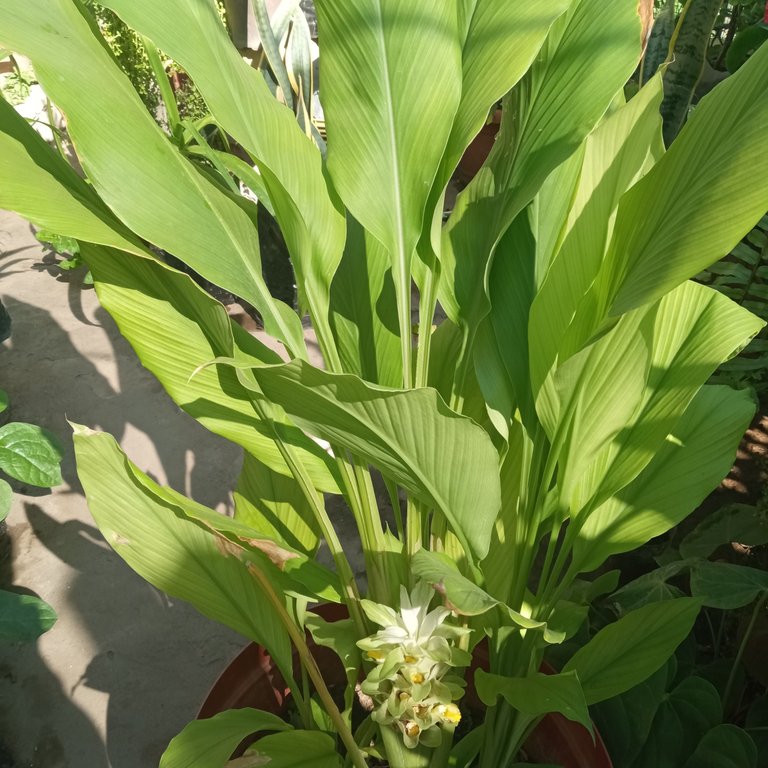 This beautiful flower has just been born. I take this opportunity to take its beautiful shadow for the shadow contest and as a second intention to show you this beautiful flower. She slowly begins to fade and then the plant dries out which tells me that I must proceed to harvest.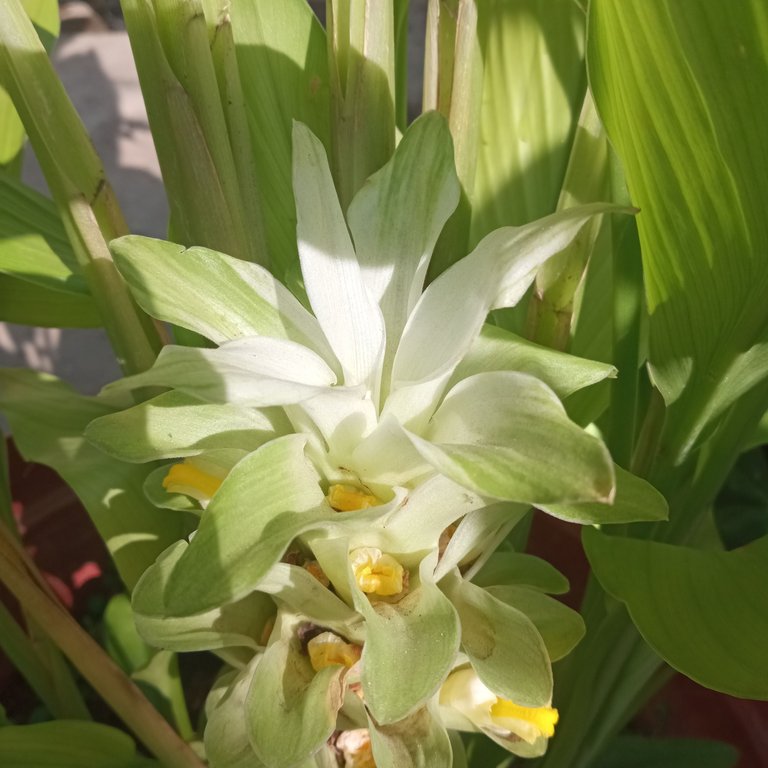 The process of collecting some rhizomes for transplanting and for consumption will begin again. To liquefy the rhizomes I use some oil and a little lemon juice, then make it into paste and put it in the freezer.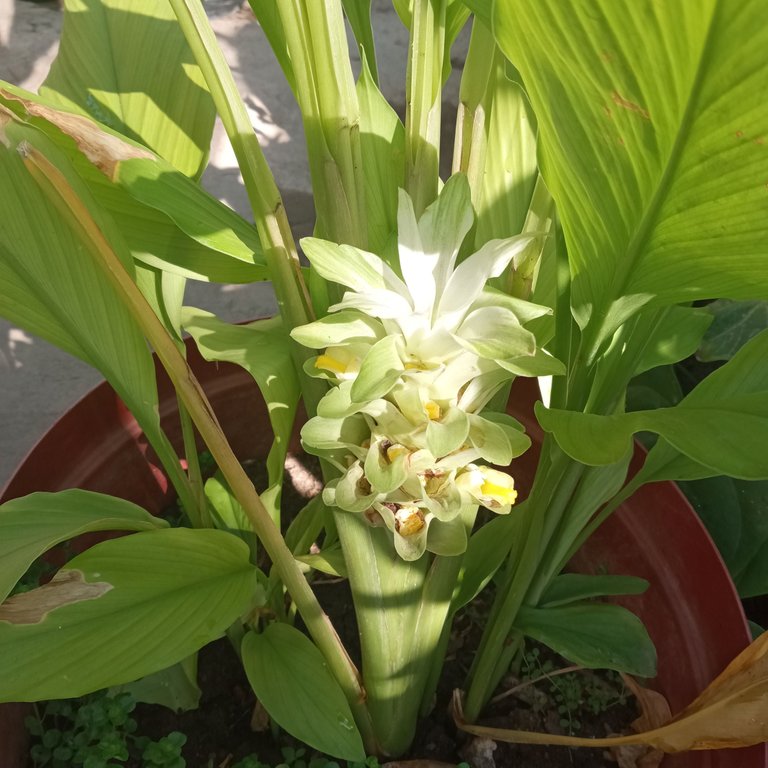 Every time I'm cooking something I take some out and add it to my soups, meats, stews and/or rice. It gives a different flavor to the food and my son and I love this plant or its rhizome in our meals.
I was recently told that the leaves are used in some culinary cultures to wrap food for cooking. I really didn't know that, but I know that the leaf of the banana plant is used for bananas, figs, grapes and why not use this precious resource of turmeric as well?
So far my shades I hope you enjoyed them and my plant too.
This is my entry to the weekly contest hosted by our dear friend @melinda010100 and with the presence of our friend and contest judge, @annephilbrick.

Hola a todos los amigos de la comunidad de cazadores de sombras. Hoy les traigo las sombras que ha hecho mi planta de Cúrcuma. En mi hogar nunca me falta una planta de éste preciado rizoma.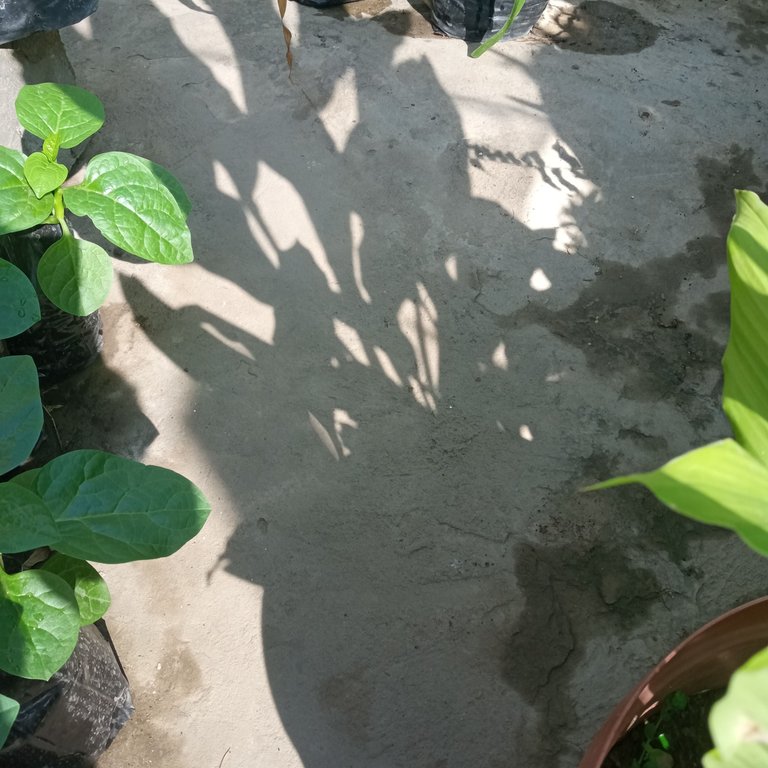 Tengo muchos años sembrando y cultivando este rizoma que tiene como nombre científico la Cúrcuma Longa. Además de que es una planta decorativa. Porque como pueden ver que son sus largas hojas hermosas de color verde manzana.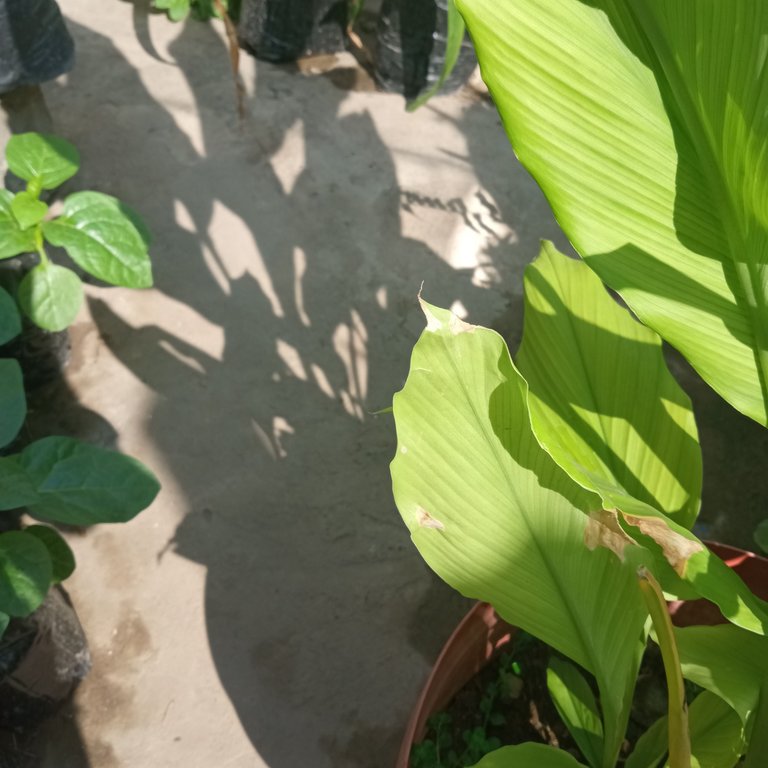 Generalmente son de 6 a 8 meses que necesita la planta para florecer. Pero a la planta madre que yo coseché en el diciembre pasado, le tomé varios rizomas para trasplantar. Se quedó en un tiempo de reposo sin crecer el pequeño botón germinativo que salió de ella. Luego de ese período de receso empezó acrecer el botón que germinó y se transformó en ésta linda planta que ven ahora.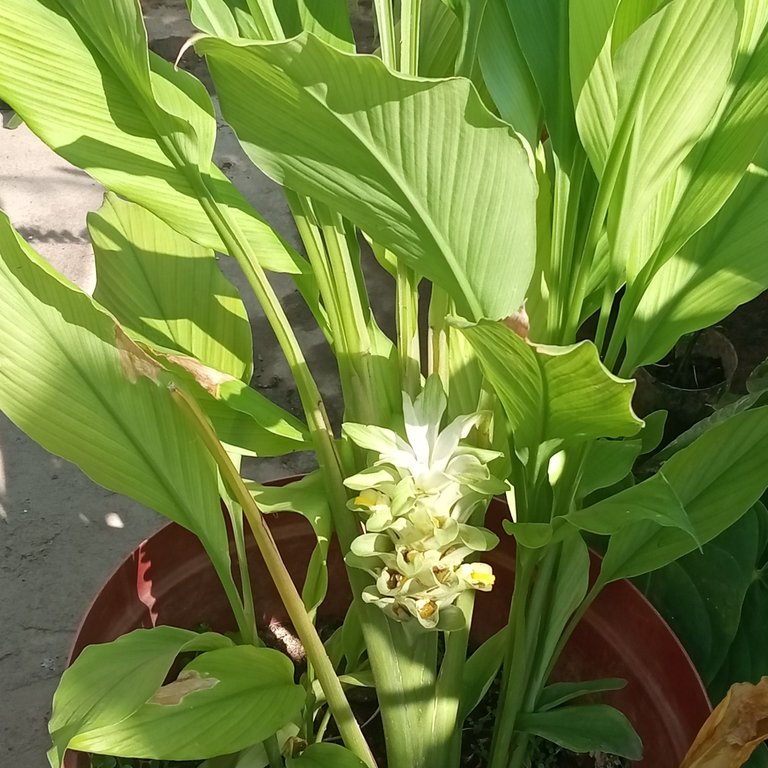 Acaba de nacer ésta hermosa flor. Aprovecho para tomar su bella sombra para el concurso de sombras y de segunda intención mostrarles a ésta preciosa flor. Ella poco a poco comienza a desaparecer y luego se seca la planta lo que me indica que debo proceder a cosechar.
Comenzará de nuevo el proceso de recolecta de algunos rizomas para trasplantar y para el consumo. Yo acostumbro a licuar los rizomas con un poco de aceite y un poco de jugo de limón. Hago ésta pasta que coloco en el congelador. Cada vez que voy a cocinar saco un poco y lo agrego a mis sopas, carnes, guisados y arroz. Le da un sabor diferente a la comida. Mi hijo y yo somos amantes de ésta planta o de su rizoma en las comidas.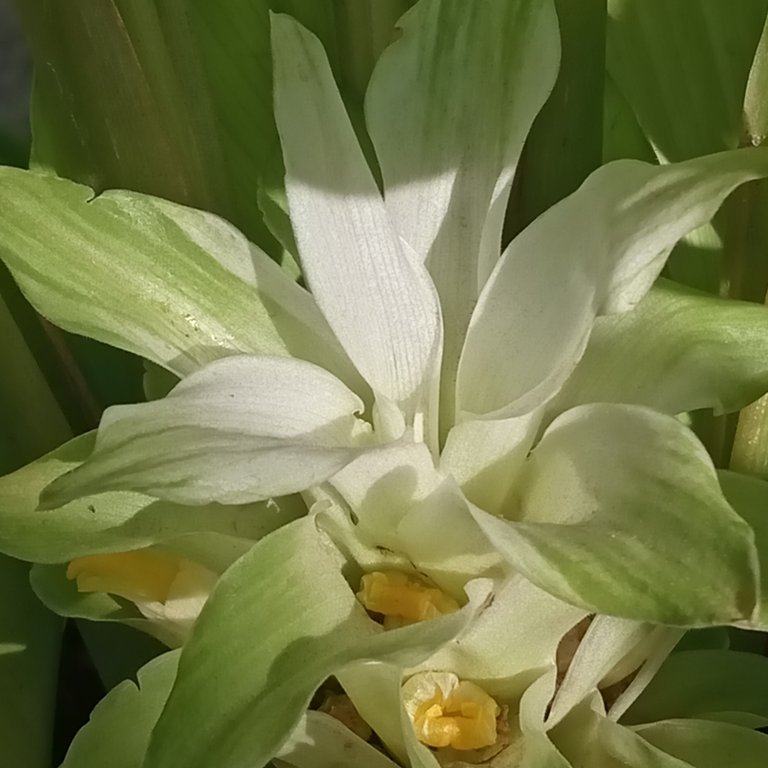 Hace poco me han dicho que las hojas son usadas en algunas culturas culinarias para envolver alimentos para cocinar. Realmente no lo sabía. Pero sé que se usa la hoja de la planta de plátano, de higos, de uvas y porque no se usaría este preciado recurso de la cúrcuma también?
Hasta aquí mis sombras espero que hayan disfrutado de ellas y de mi planta también.
Esta es mi entrada al concurso semanal alojado por nuestra querida amiga @melinda010100 y con la presencia de la nuestra amiga la juez del concurso @annephilbrick.

---
---