Visiting the Museum of Fine Arts in Venezuela.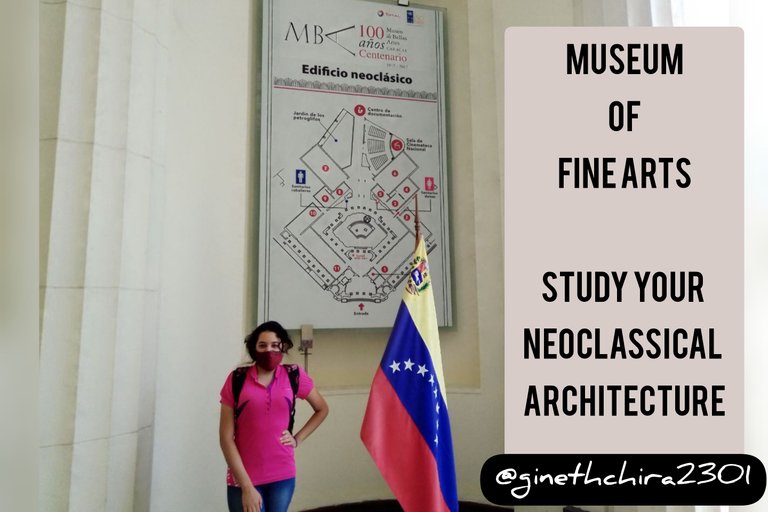 Welcome everyone to this publication based on my observations, analysis and personal opinion on the internal and external architecture of the great Museum of Fine Arts.
The first thing you should know is that this Museum is located in Venezuela - Capital District, more specifically in Fine Arts near Plaza los Caobos.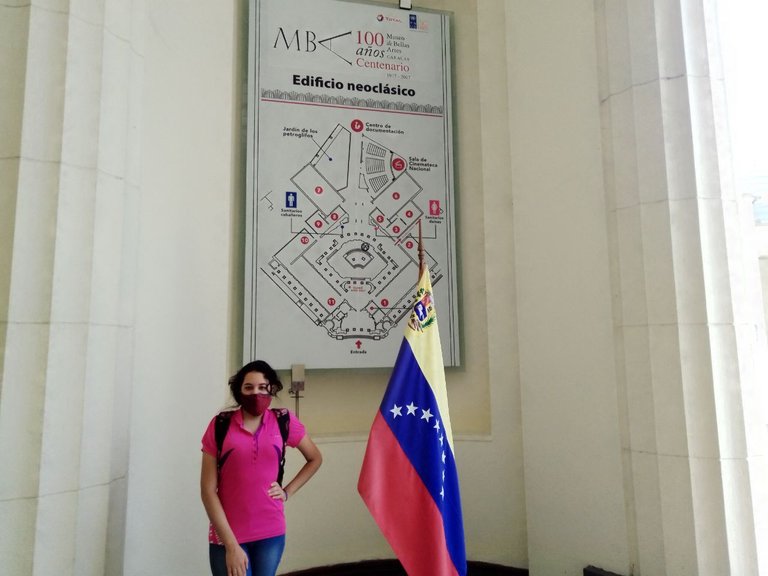 In my case, my main motivation was to spend a different time with my boyfriend and also to be able to appreciate the architecture of the museum; so I took the action of taking a bus from my house with my boyfriend to that place, which made me a very pleasant and fun ride; Other transportation options can be by private car or using the Caracas Metro.
Now if you look at the image you can see a little what is the general plan of the Museum of Fine Arts which has already been more than 100 years old from 1917 to 2017 and we are currently in 2022 for which 105 years have passed.
Who created this magnificent architectural work of art was the architect Carlos Raúl Villanueva who had the intention of creating a building with neoclassical characteristics.
Through the plan you can see that the structure is geometrically similar to the union of two diamonds, which he thought is a great attraction since I am used to seeing rectangular buildings or geometrically square structures.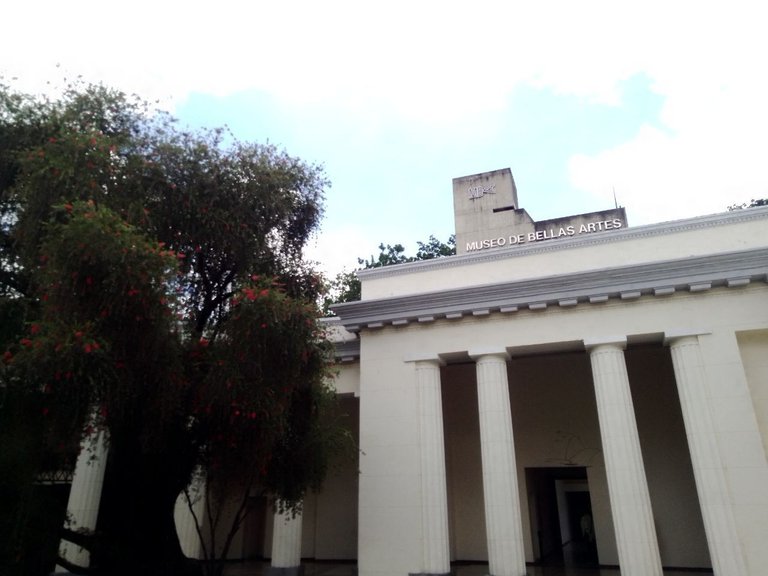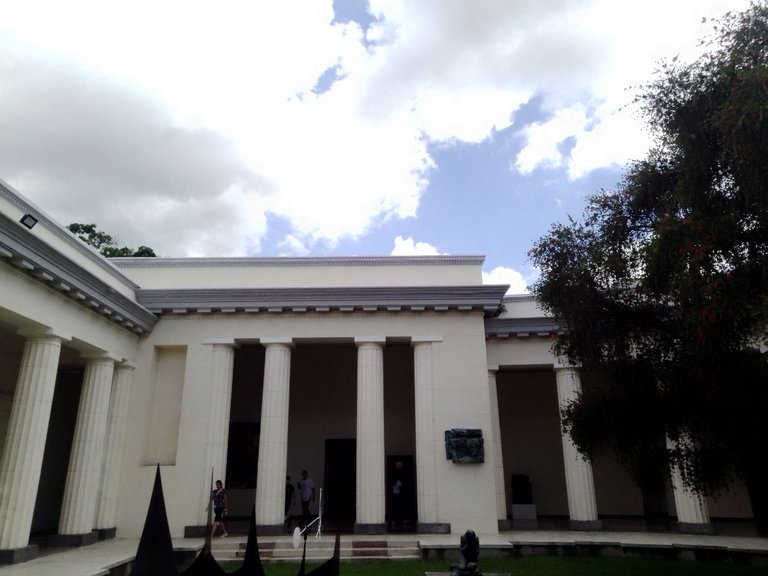 The museum has 1 open main entrance that also acts as an exit for the people who visit the place and its workers.
One detail that they will progressively realize is that, referring to neoclassicism, this structure has, both on its exterior façade and internally, different Greek-style columns that reach more than 4 meters in height; making the first impression of the visitors and indeed mine is one of amazement to see such an imposing structure with its great height.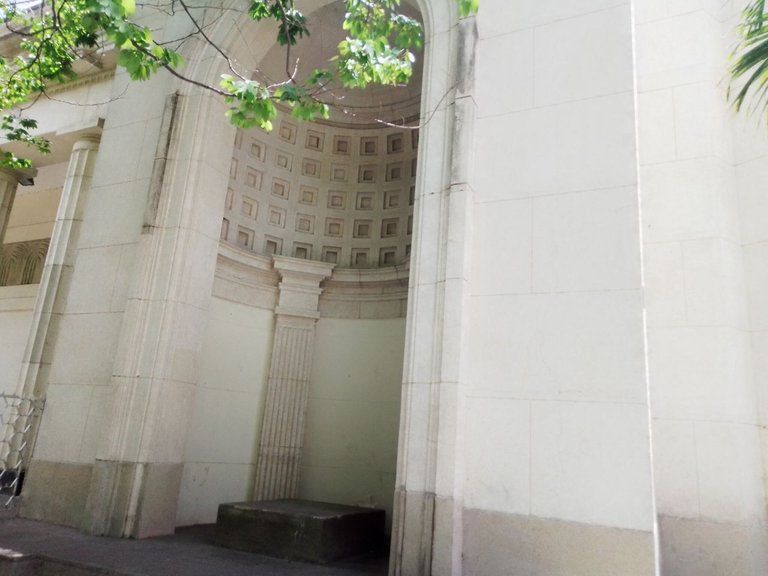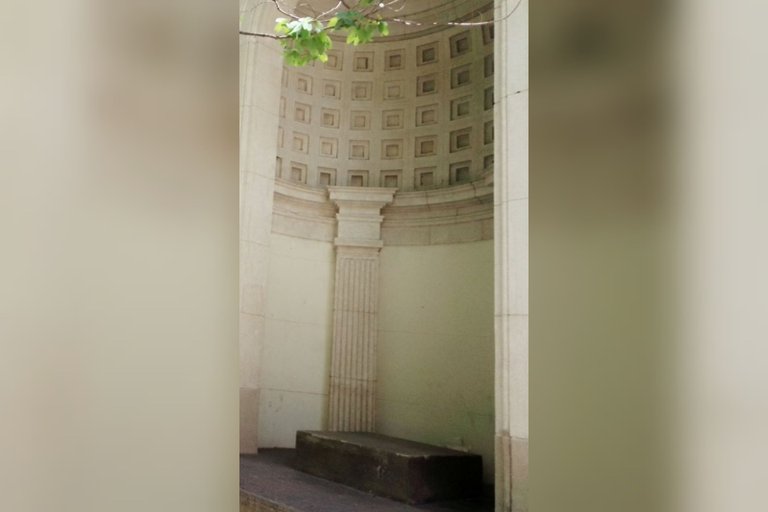 On the sides of the main façade you can see these semi-circular spaces, where the workers explained to me that it works in a certain way as one more space that can be admired for the great details that are clearly in that space and on few occasions it is shown some painted or marble work of art that is brought from other countries or national works.
Another charm of this external part lies in that mini garden where squares were specifically created on the concrete floor filled with earth where certain palms have been planted, for which I think it is a great space to rest and admire the union of nature- landscaping. plus all the architecture of the place, feeling the breeze and the sun on the skin.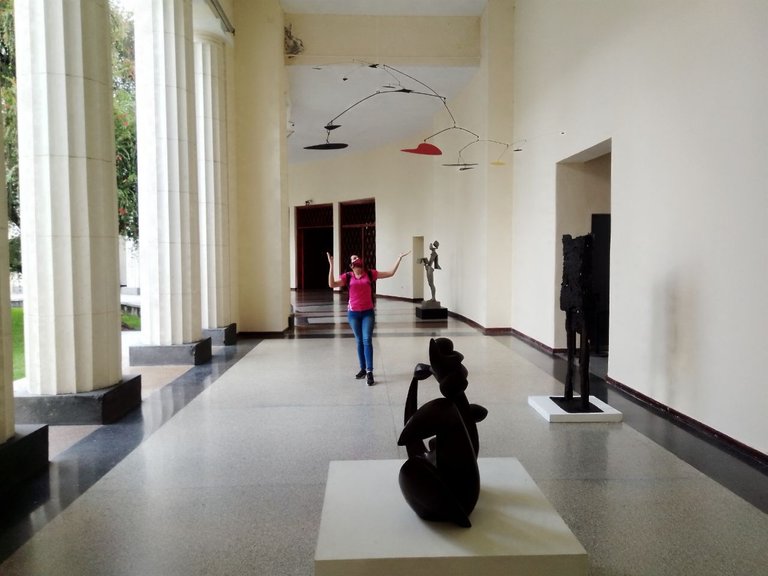 Upon entering I was surprised by the great height of the columns, the ceiling and the doors that lead directly to the various exhibits.
It also made me feel happy to a certain degree, seeing on the ceiling a mobile work of art that represents in a certain way the ceiling of the Central University of Venezuela (UCV).
In the same way, you can see how different types of works by different authors are found on the floor, although they were not made with a common objective or context.
Due to the way they are placed and exposed in this corridor, it is possible to appreciate in an almost intuitive way a history.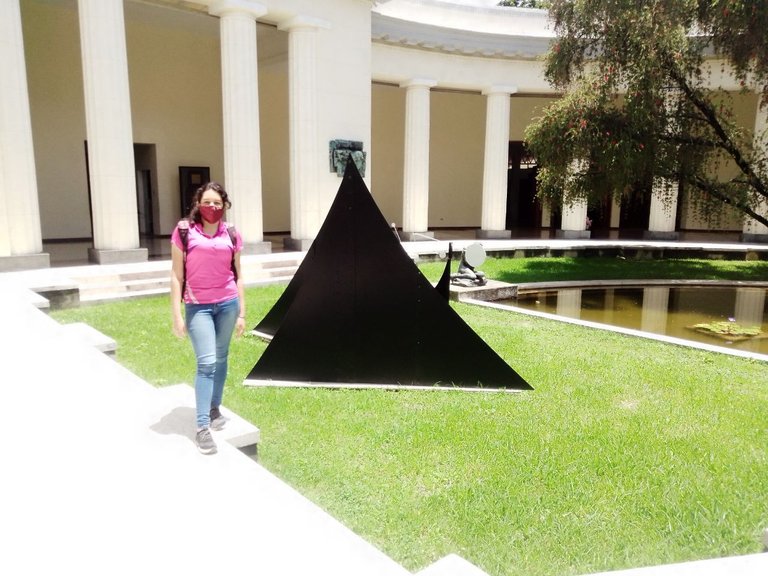 Now he presented the central part of the Museum, here you have a small charming space where in the center there is a small pool well known as a water mirror where and next to it there is a leafy tree.
Then there is all this green space, grass where you just want to sit or lie down while you observe all the architectural details of the place.
FOR INSTANCE: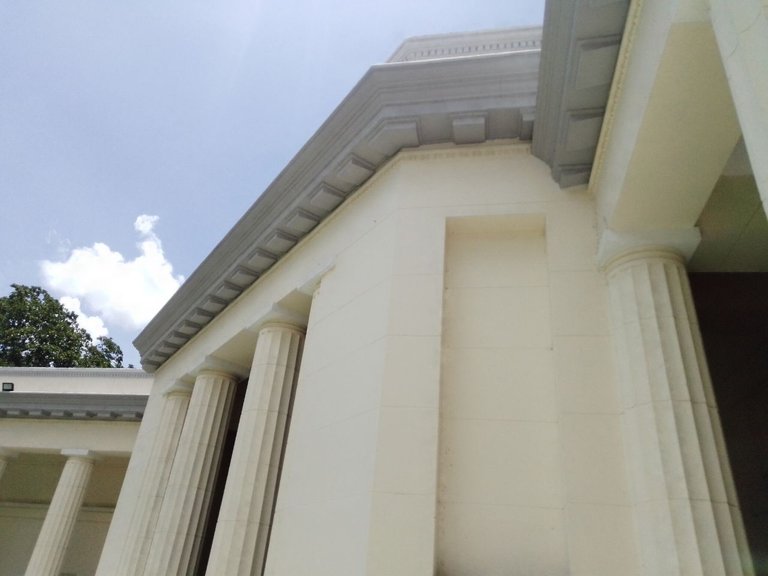 Here you can see certain details of the roof architecture; small thick squares are displayed that are on a flatter square base.
Then it is followed by a large number of ascending lines that I personally find this detail charming, since I can imaginatively associate it with small stairs.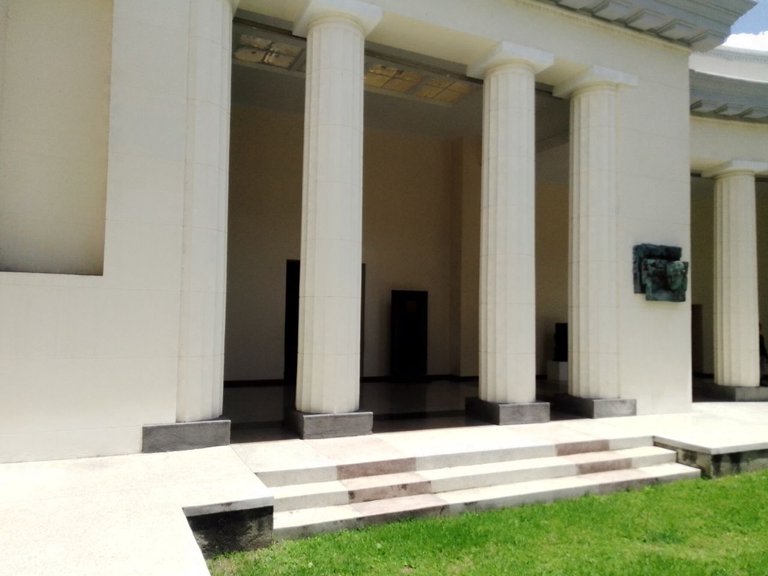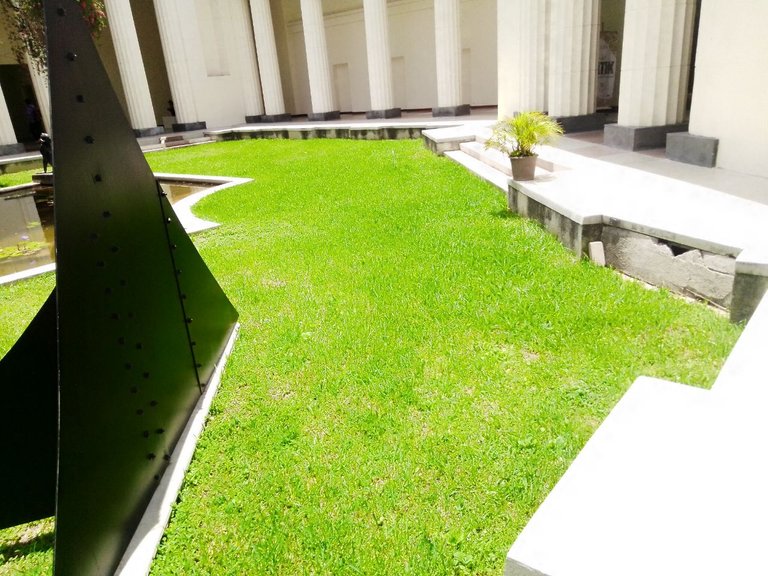 Then there are the stairs that connect the internal space of the Museum with the part of the central patio.
Visually they look well maintained since there are no traces of any deterioration with the materials used for their construction; however, it is the opposite of the small wall in the corners that also acts as a separation as it is a gap from the Museum to the green space; since due to the humidity plus the sun to which it is constantly exposed, it can be observed how the paint and part of the concrete falls off in small fragments.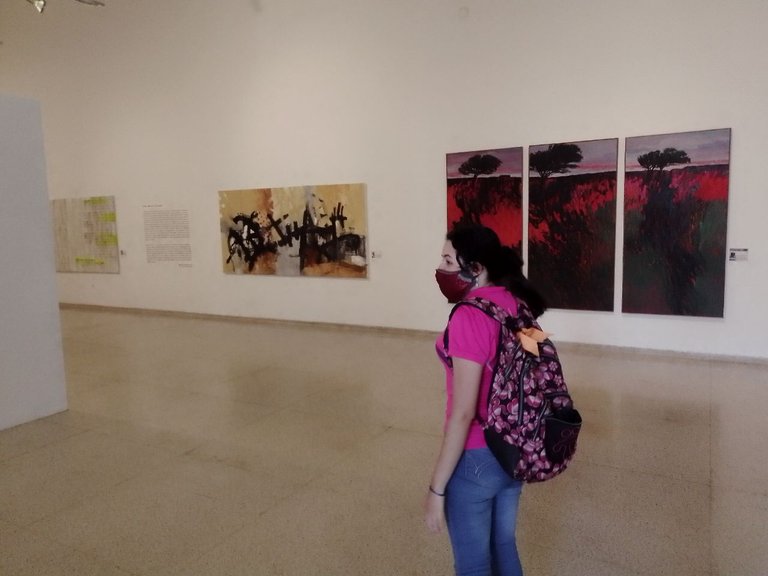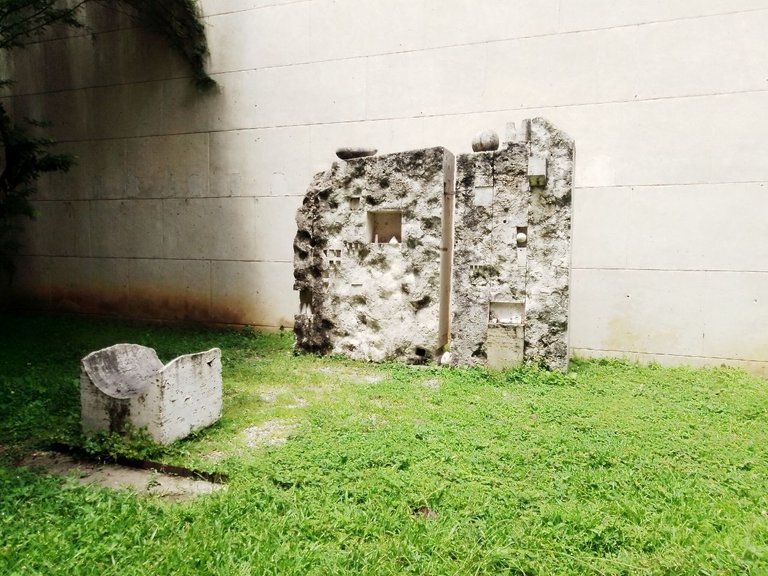 Finally, I must indicate that although I went to the museum for recreational reasons as an opportunity to share more time with my partner; Being inside and observing each one of the paintings that were exhibited made me value the great talent of each national - international painter, architect and interior designer, since in the painting exhibitions everything was shown simply, with a palette of colors from White to Beige and that made each work presented stand out in an extraordinary way, making each visitor, as it was in my case, be speechless due to the great cultural value.
Likewise, he presented them with one last work located in one of the smallest green spaces; where in this case you can clearly see a pure concrete wall, which inside and outside of it show different geometric figures and spaces slightly divided by fine lines that simulate to be a kind of puzzle-style game or Rubik's box represented on these walls that they fall apart.
Note: Application used to edit photos: InShot.
Reference information link: Link
Translation app: Google Translate
---
---