Señora Potts Ufufy-Amigurumi/Mrs. Potts Ufufy-Amigurumi [ENG/ESP]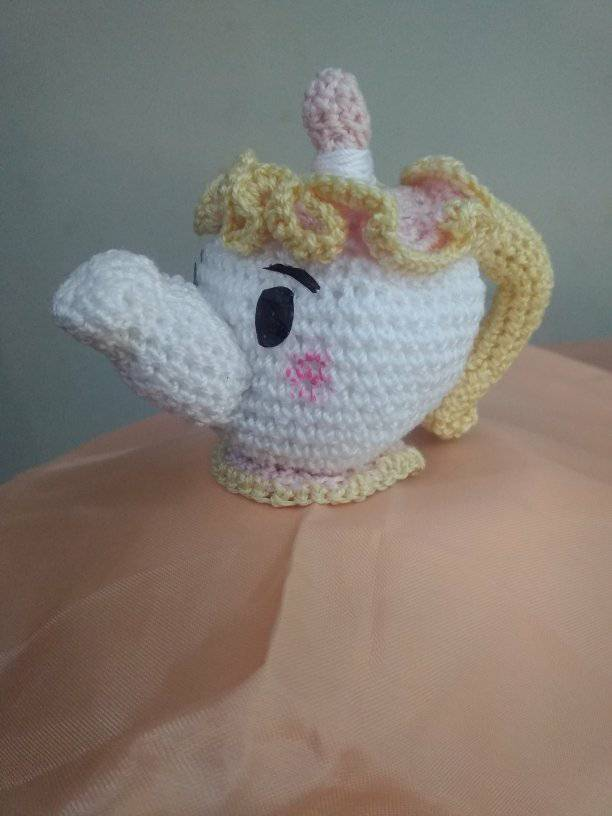 Saludos mis queridos hivers, hace algun tiempo no venia a esta amable comunidad a compartir con ustedes pero ya estoy acá para compartirles un tierno trabajo en crochet el cual disfrute mucho al elaborarlo, este me llevó ocho horas en tejerlo, aun cuando no fueron horas continuas pero si logre llevar el tiempo y darme cuenta que pude lograrlo en menos tiempo.
Greetings my dear hivers, it's been a while since I came to this kind community to share with you but I'm here to share with you a tender crochet work which I enjoyed very much to make it, this took me eight hours to knit it, even though it was not continuous hours but I managed to take the time and realize that I could do it in less time.
Se trata de la Señora Potts Ufufy, reconocido personaje de la pelicula animada La Bella y la Bestia, ella es el ama de llaves del castillo, quien se convirtió en tetera encantada luego de que una hechicera le colocara una maldición. Su elaboración es bastante sencilla, por lo que los puntos trabajados fueron puntos bajos y deslizados, incluyendo aumentos y disminuciones; lo que normalmente se realiza a la hora de crear tejidos y asi lograr las diferentes formas deseadas.
This is Mrs. Potts Ufufy, recognized character of the animated movie Beauty and the Beast, she is the housekeeper of the castle, who became an enchanted teapot after a sorceress put a curse on her. Its elaboration is quite simple, so the stitches worked were low and slipped stitches, including increases and decreases; what is normally done when creating fabrics and thus achieve the different desired shapes.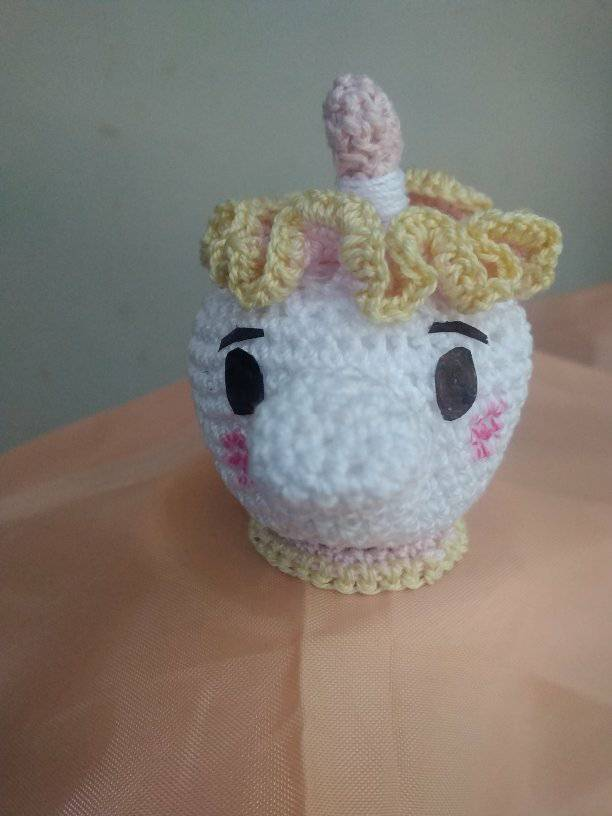 📌📌📌📌📌📌📌📌📌📌
Materiales/Materials
📌📌📌📌📌📌📌📌📌📌
Hilo de crochet en colores, blanco, rosa y amarillo
Aguja para crochet
Aguja lanera
Un trozo de fieltro en color negro
Un creyón rosa
Tijera
Silicón líquido
Relleno
Crochet thread in colors, white, pink and yellow
Crochet needle
Wool needle
A piece of black felt
A pink crayon
Scissors
Liquid silicone
Stuffing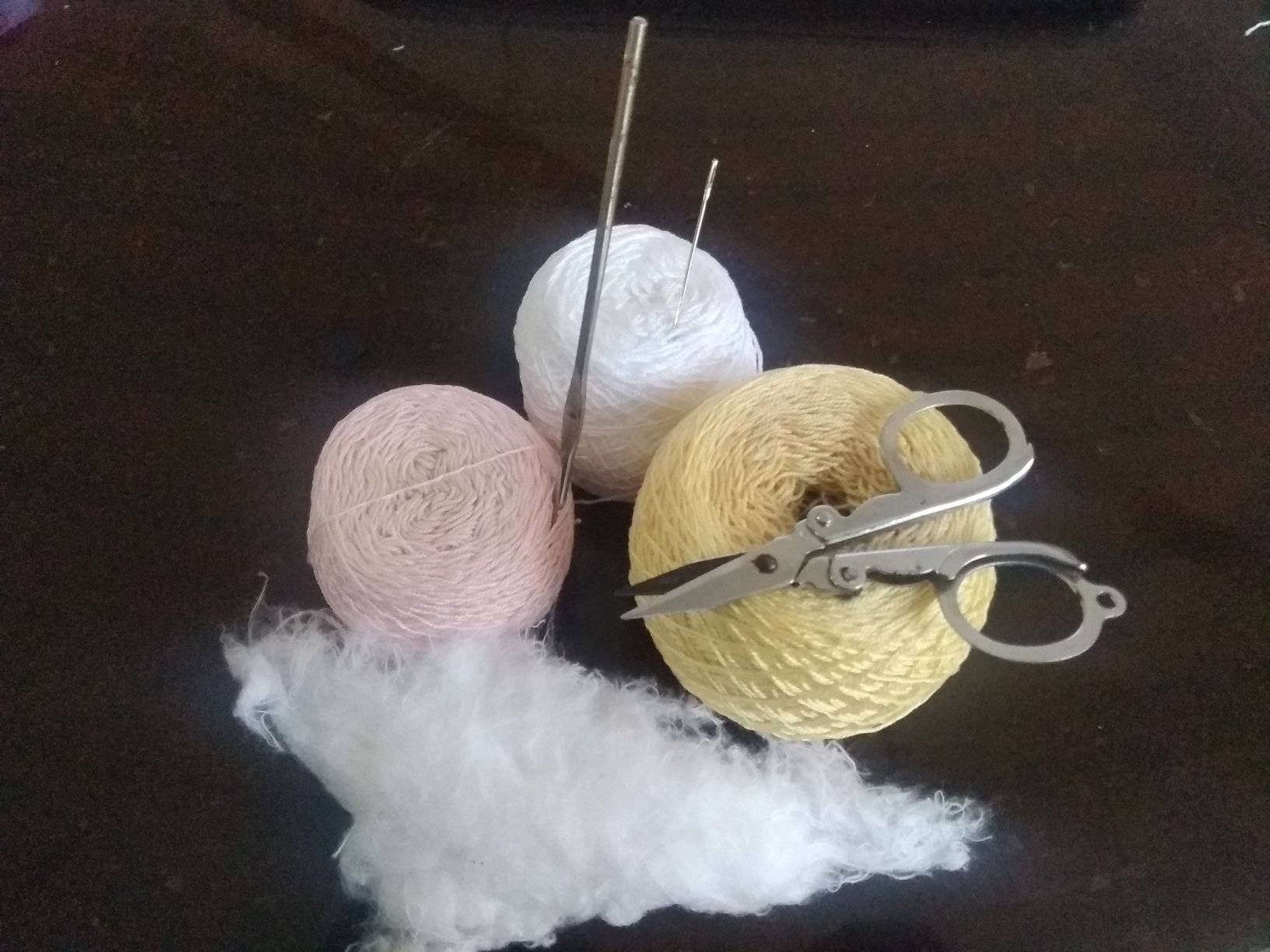 📌📌📌📌📌📌📌📌📌📌
Vamos a crear/We will create
📌📌📌📌📌📌📌📌📌📌
Abreviaturas/Abbreviations
A.M: anillo mágico
Pto: punto
V: vuelta
C/aum: con aumento
C/dis: con disminución
BT: bucles traseros
PD: punto deslizado
Pb:punto base
A.M: magic ring
Pto: point
V: turn
C/aum: with increase
C/dis: with decrease
BT: back loops
PS: slipped stitch
Pb: base stitch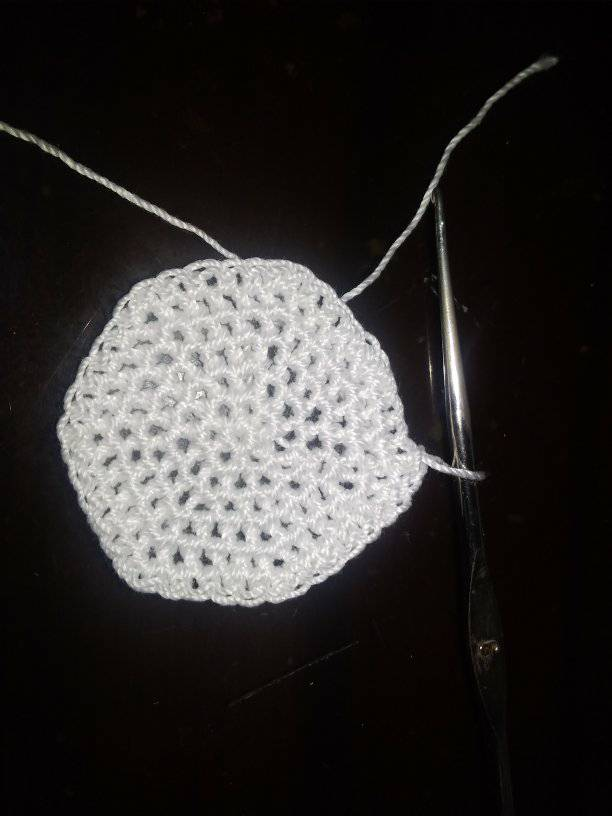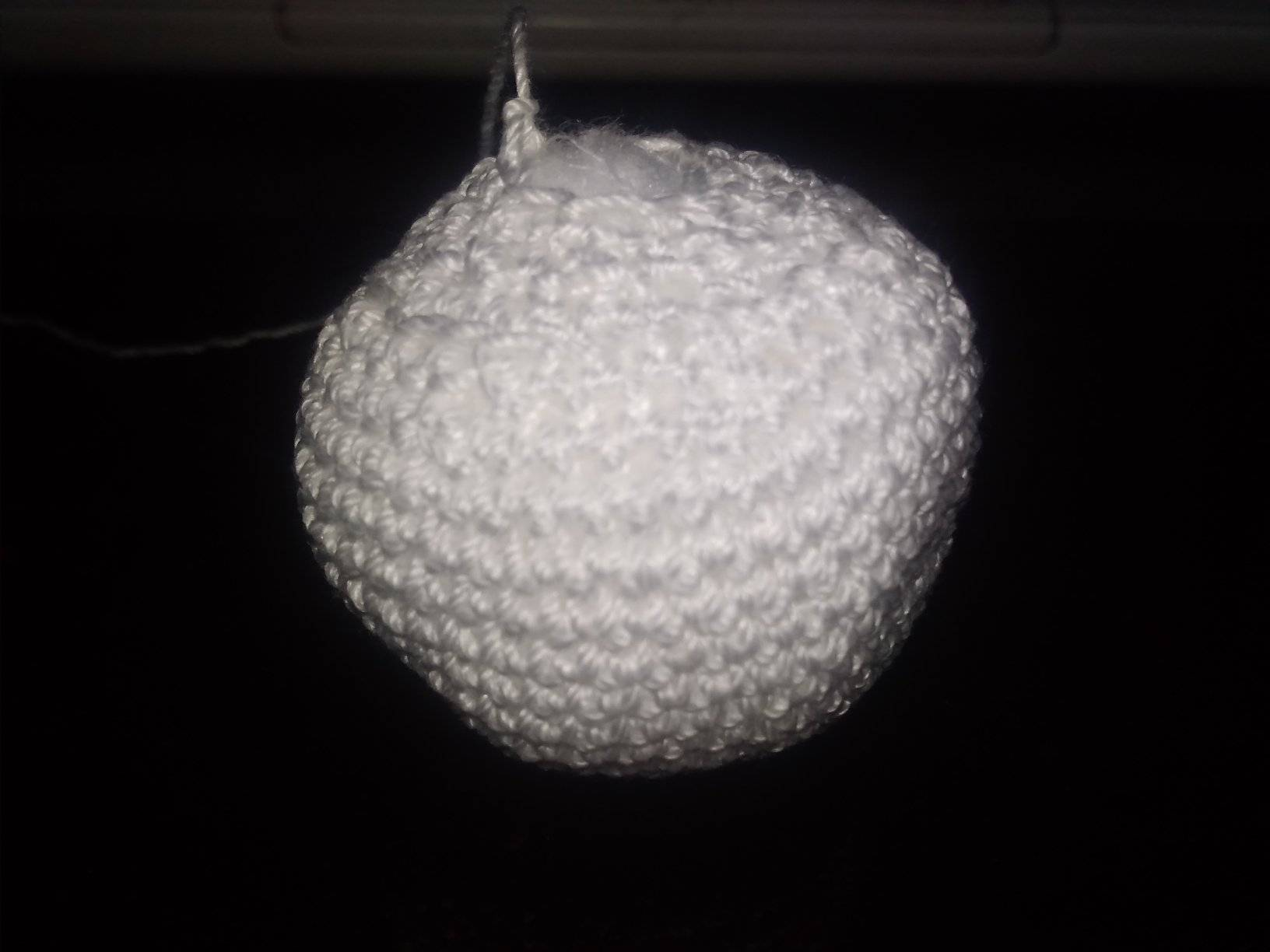 ---
Comenzaremos trabajando el cuerpo con el hilo de color blanco.
A.M: 6pts
V c/aum: 12
1 pto+aum: 18
2 ptos+aum:24
3 ptos+aum: 30
4 ptos+aum:36
9 V c/36pts
4 ptos c/dis: 30
3 pts c/dis: 24
BT 2 pts c/dis: 18
1pto c/dis: 12
Rellenar
V dis: 6
PD-rematar y cortar hilo.
We will begin by working the body with the white yarn.
A.M: 6pts
V w/aum: 12
1 sts+yarn: 18
2 sts+yarn: 24
3 sts+yarn: 30
4 pts+aum:36
9 V w/36pts
4 pts w/dis: 30
3 pts w/dis: 24
BT 2 pts w/dis: 18
1pt w/dis: 12
Fill in
V dis: 6
PD-rewind and cut yarn.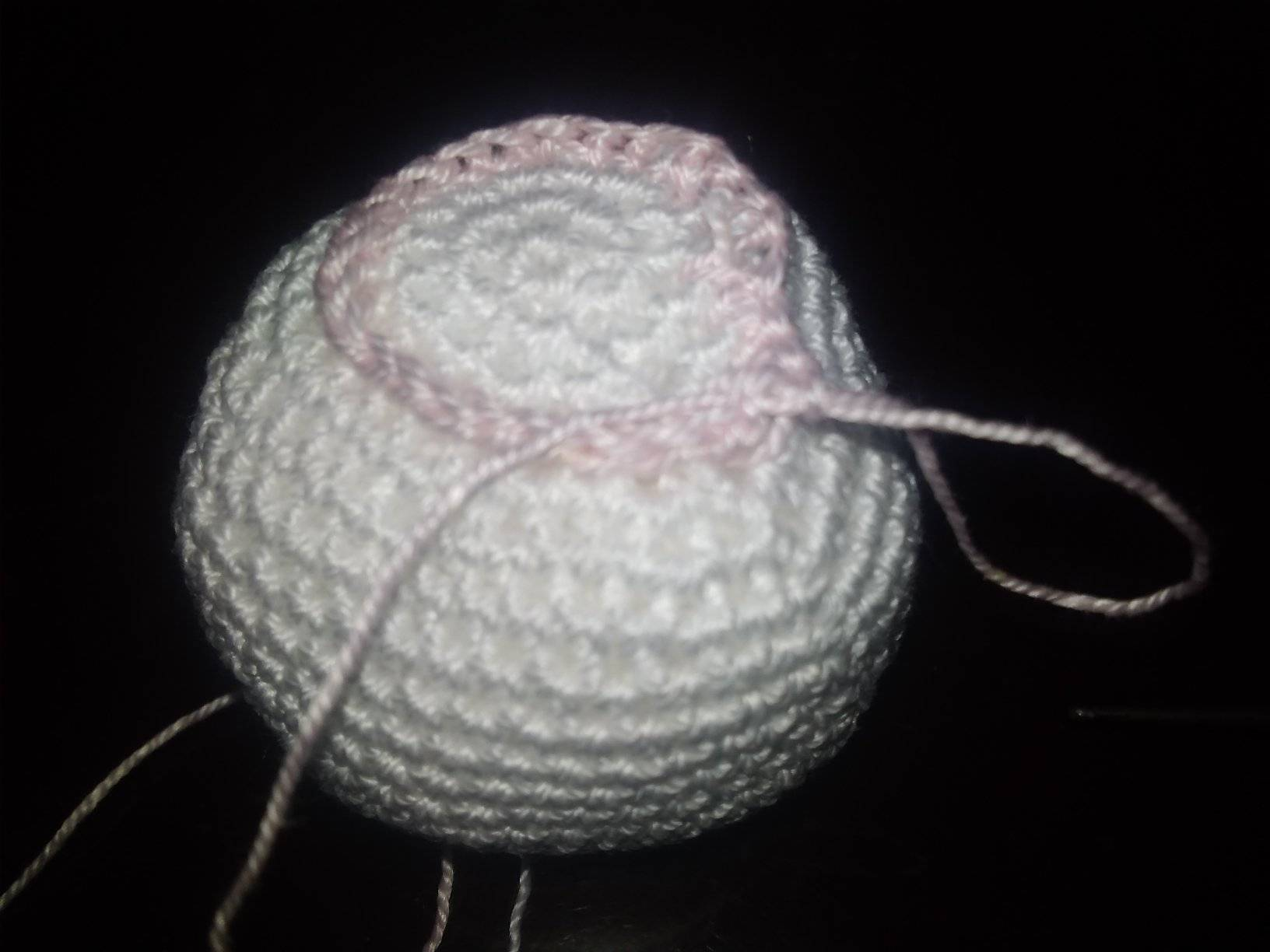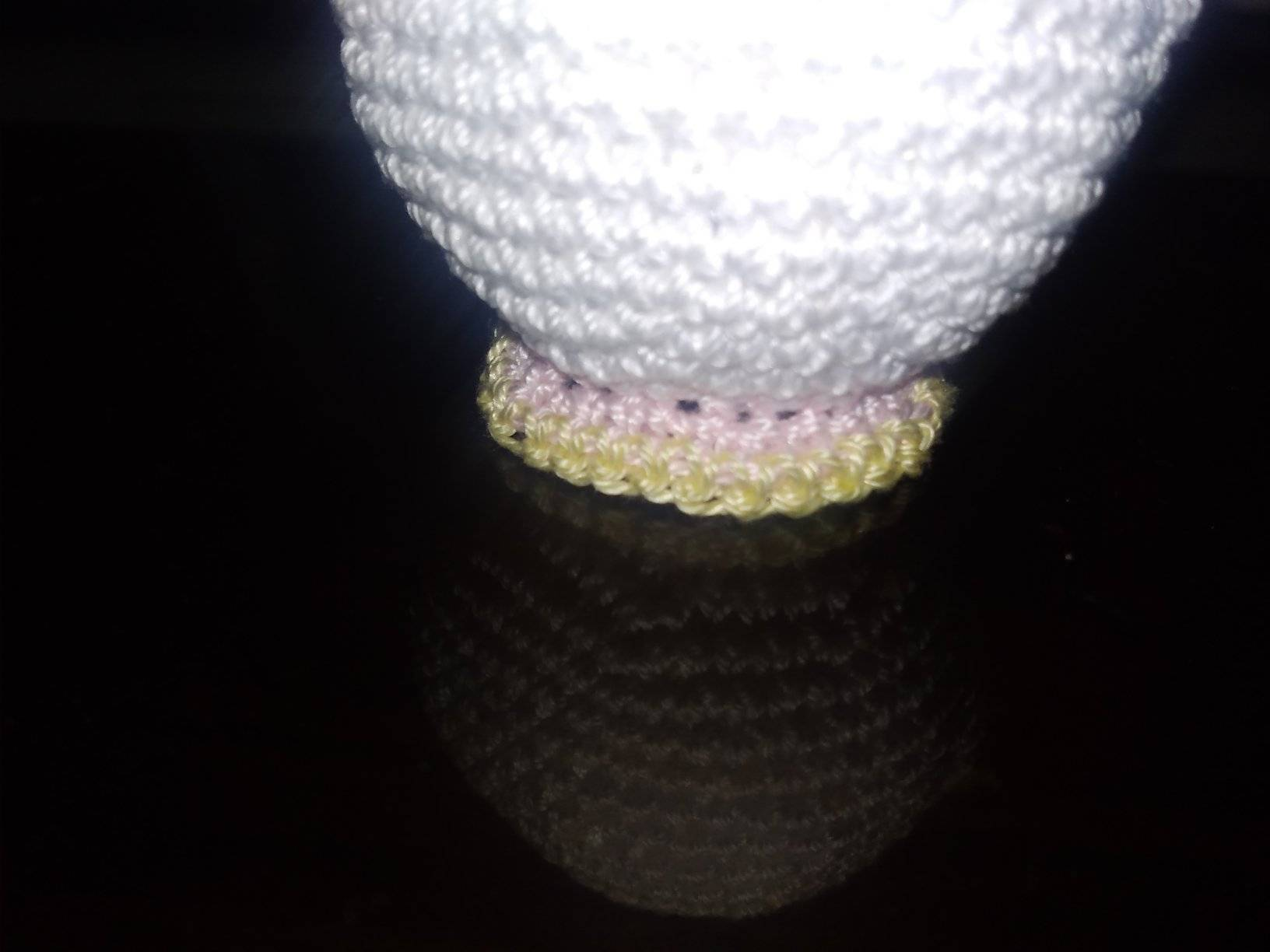 ---
Para elaborar el pie o base de la tetera, la vamos a voltear para contar 17 hileras de tejido desde el anillo mágico e insertaremos el color rosa:
24 ptos
3 ptos+aum: 30
Cambiar a hilo amarillo
BT 30 pts
PD-rematar y cortar hilo
To make the foot or base of the teapot, we will turn it over to count 17 rows of fabric from the magic ring and insert the pink color:
24 sts
3 sts+aum: 30
Change to yellow yarn
BT 30 sts
PS-do up and cut yarn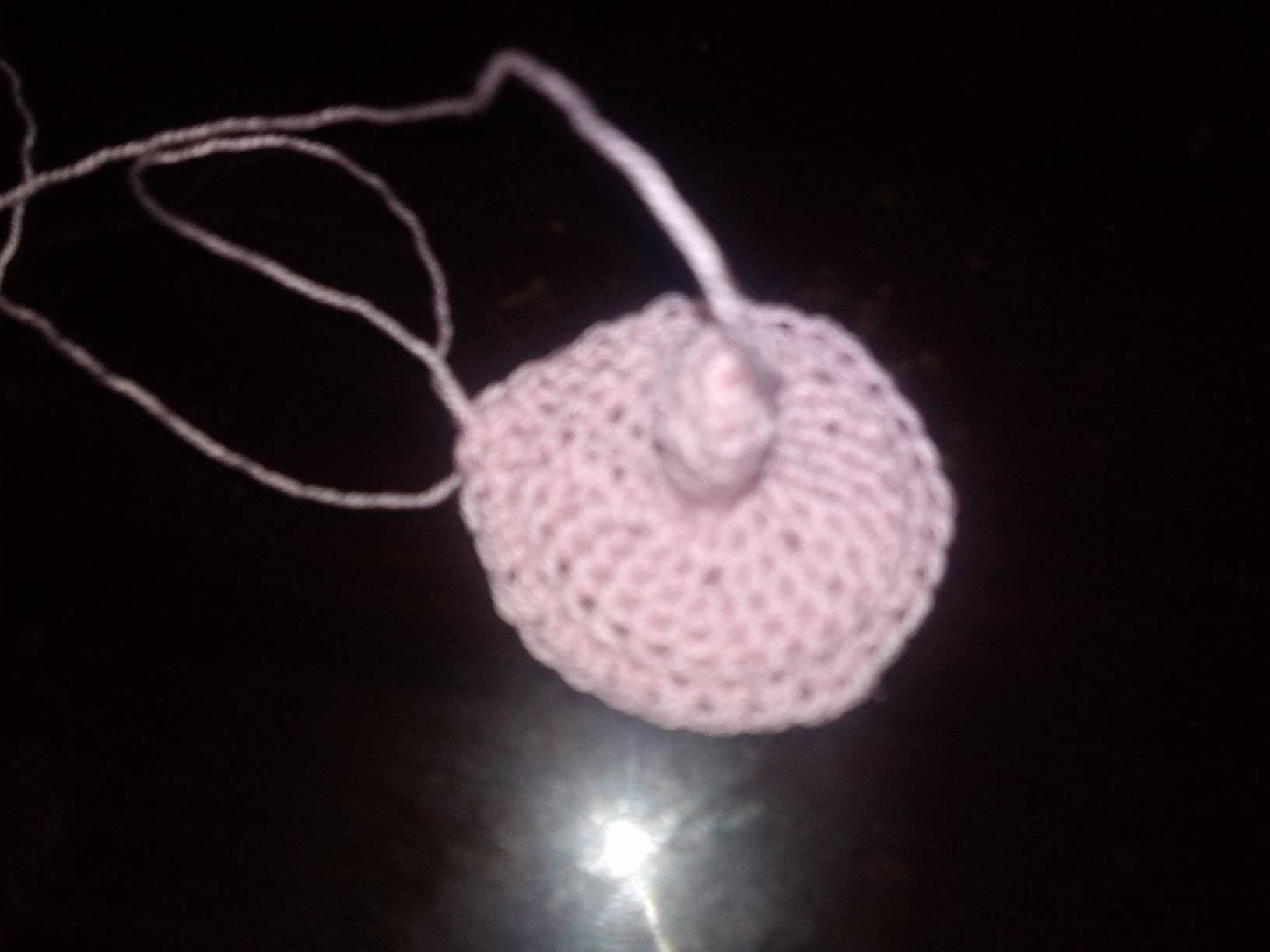 Para realizar la tapa de la tetera, vamos a trabajar primero con el hilo de color rosa:
A.M: 4
V c/aum: 8
V pb: 8
V c/dis: 4
1 pto+aum: 6
V c/aum: 12
1 pto+aum: 18
2 ptos+aum: 24
2V: 24
BT pb: 24
2 ptos c/dism: 18
PD-rematar y cortar hilo
To make the lid of the teapot, we will first work with the pink thread:
A.M: 4
V c/aum: 8
V pb: 8
V w/dis: 4
1 st + yarn count: 6
V w/aum: 12
1 pto+aum: 18
2 pts+aum: 24
2V: 24
BT pb: 24
2 pts w/dism: 18
PD-rewind and cut yarn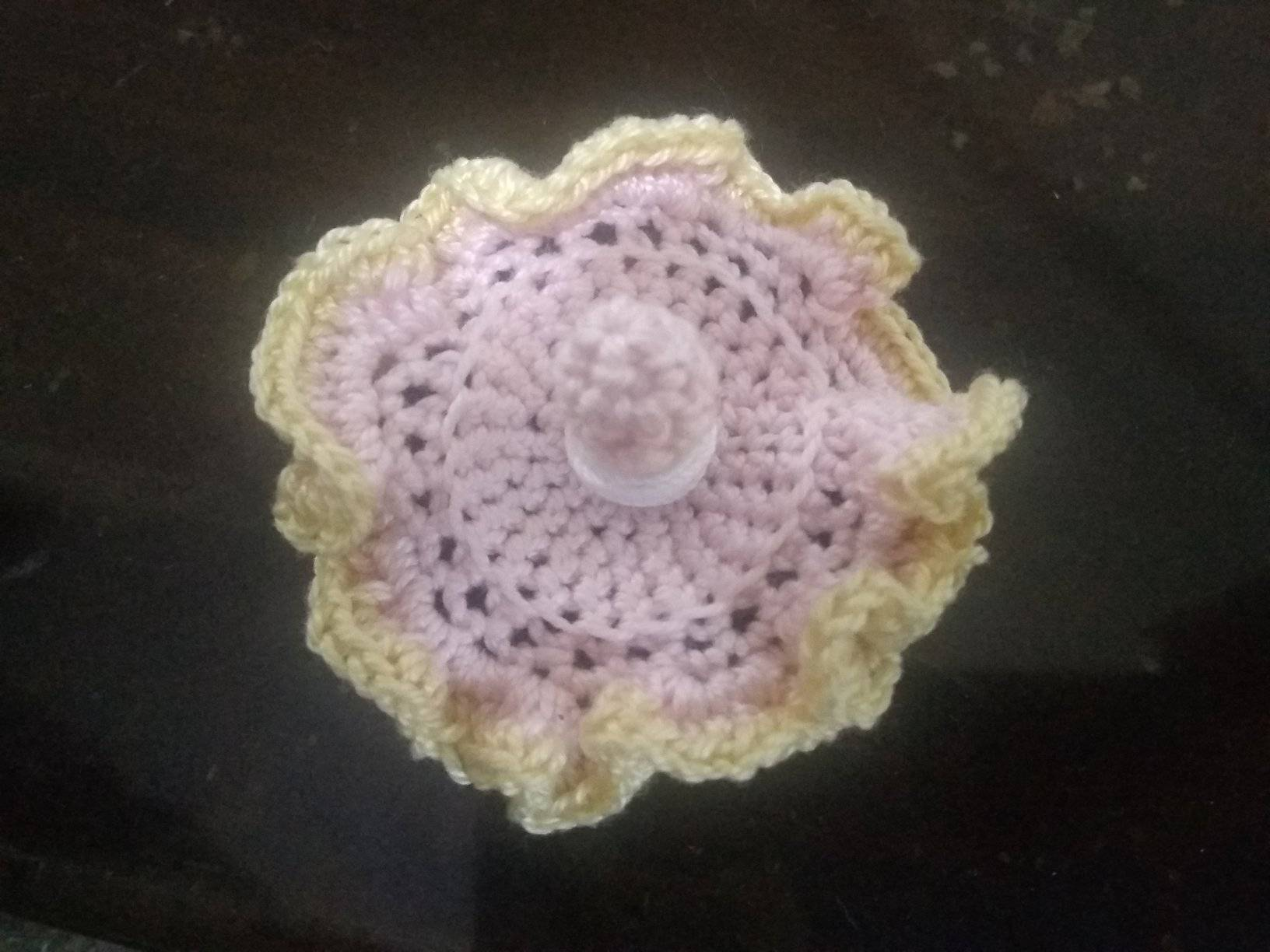 Para realizar el volante de la tapa insertar el color amarillo en la terminación de color rosa para trabajar 4 puntos en cada espacio logrando obtener 96 puntos y cerraamos con punto deslizado.
To make the frill of the cover, insert the yellow color in the pink ending to work 4 stitches in each space to obtain 96 stitches and close with slip stitch.
Insertar color amarillo y realizar una vuelta de 96 puntos, terminar con punto deslizado, rematar y cortar el hilo.
Insert yellow color and knit a row of 96 stitches, finish with slip stitch, finish off and cut the yarn.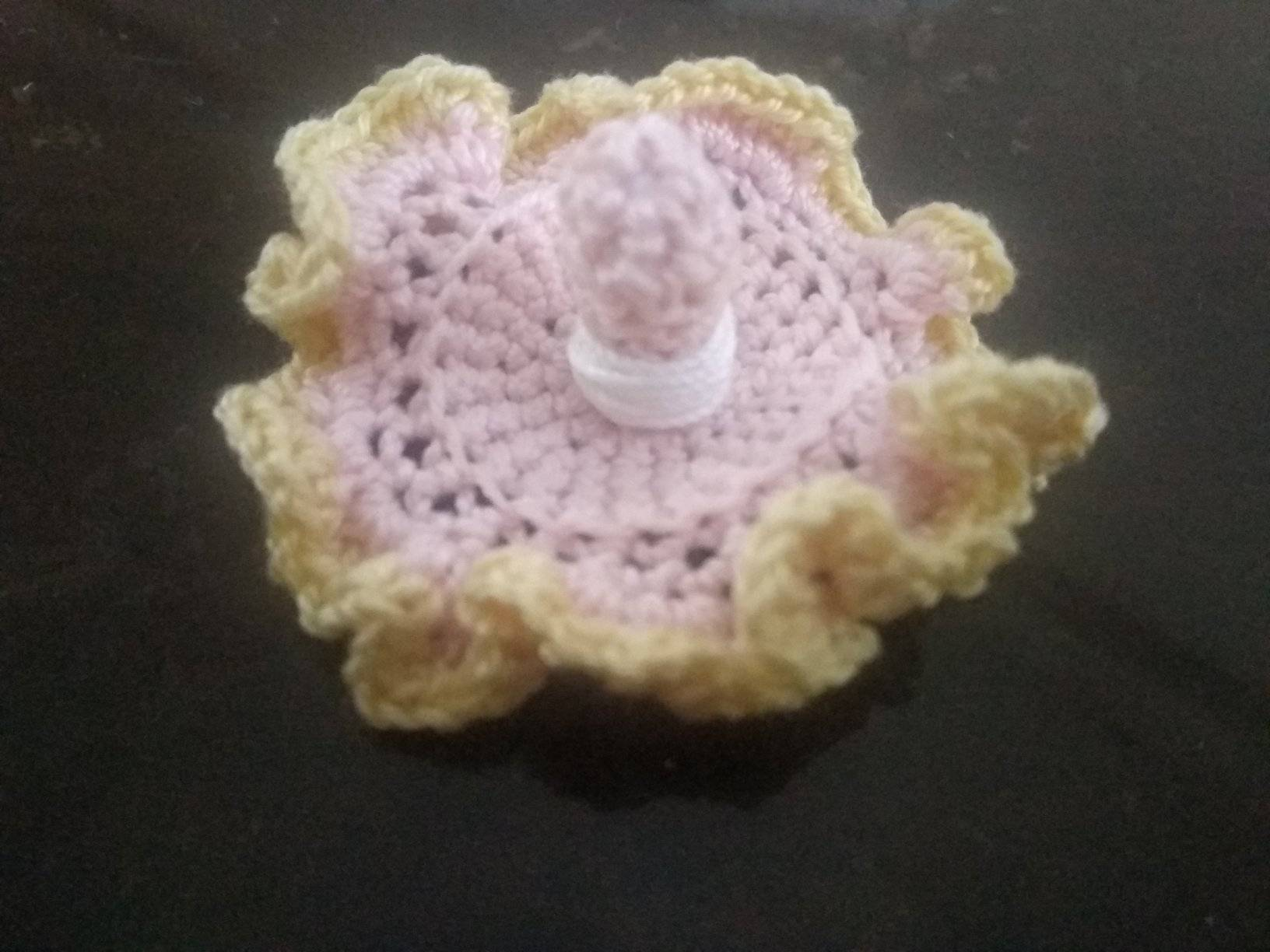 Tomar suficiente hilo de color blanco y dar varias vueltas al final del bolillo de la tapa.
Take enough white yarn and make several turns at the end of the top bobbin.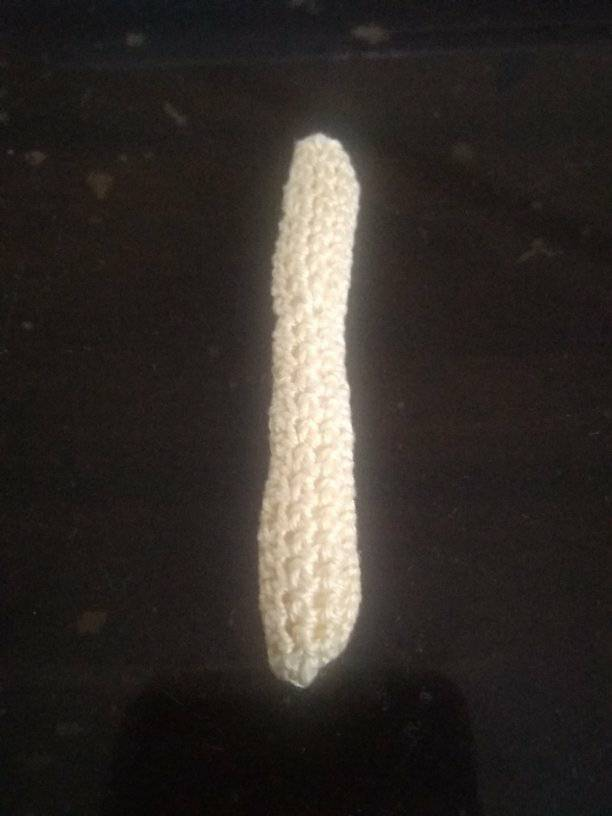 Para la asa vamos a usar hilo de color amarillo
A.M: 6
16 V: 6
PD-rematar y cortar hilo
For the handle we will use yellow thread.
A.M: 6
16 V: 6
PS-remating and cutting yarn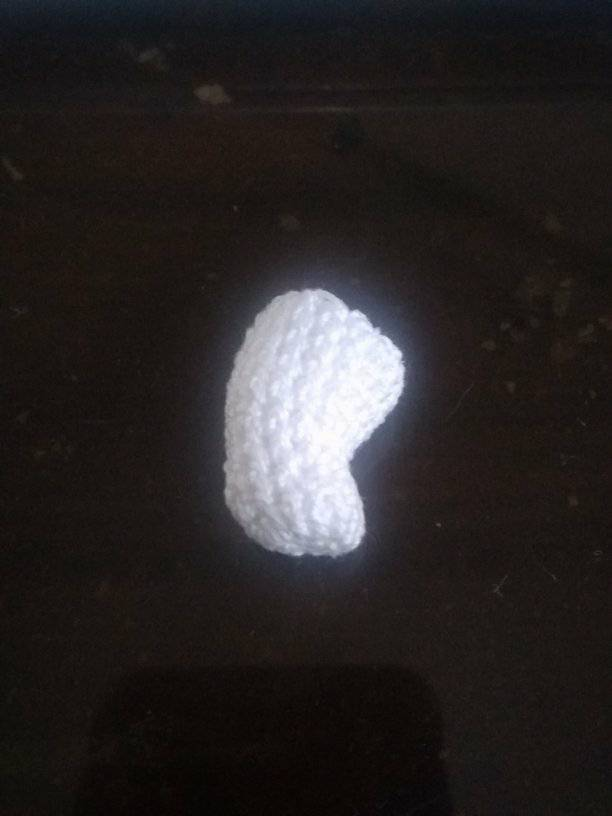 La próxima pieza a trabajar es la nariz, que será de color blanco
A. M: 6
V c/aum: 12
V: 12
3 pts c/dis: 9
V: 9
2 pts+aum: 12
5 V: 12
2 ptos c/dis: 9
PD-rematar y cortar hilo
The next piece to work on is the nose, which will be white.
A. M: 6
V w/aum: 12
V: 12
3 pts w/dis: 9
V: 9
2 pts+aum: 12
5 V: 12
2 pts w/dis: 9
PS-remating and cutting thread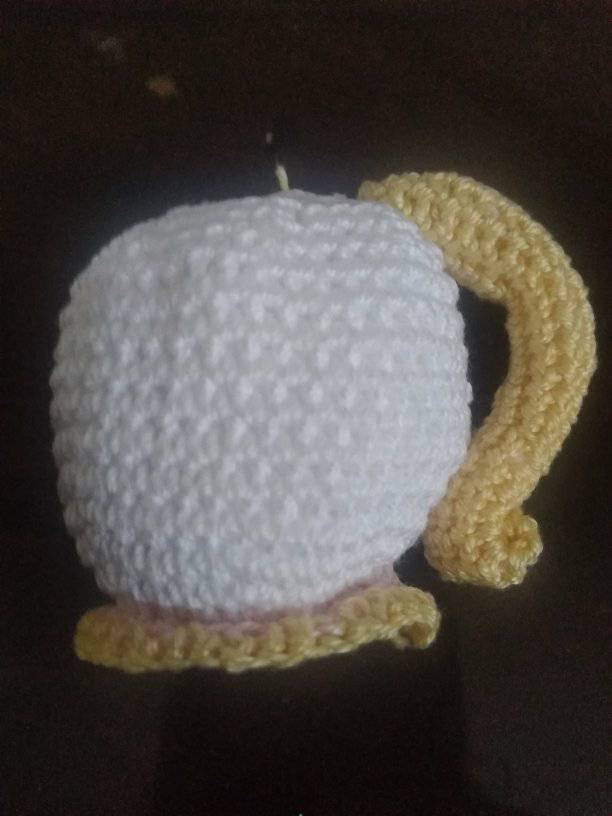 Para el armado, comenzamos cociendo en asa al cuerpo, con la aguja lanera justo donde quedaron los puntos deslizados. Así que colocamos puntos muy sutiles en la parte superior para que esta quede muy sujeta al cuerpo, luego en la parte inferior aseguramos con dos puntos, de manera que quede holgada, dejando una parte sin coser para luego realizar realizar un ligero doblez el cual también aseguramos con dos pequeños y suaves puntadas.
For the assembly, we begin by sewing the handle to the body, with the wool needle just where the slipped stitches were. So we place very subtle stitches in the upper part so that it is very attached to the body, then in the lower part we secure it with two stitches, so that it is loose, leaving a part without sewing to then make a slight fold which we also secure with two small and soft stitches.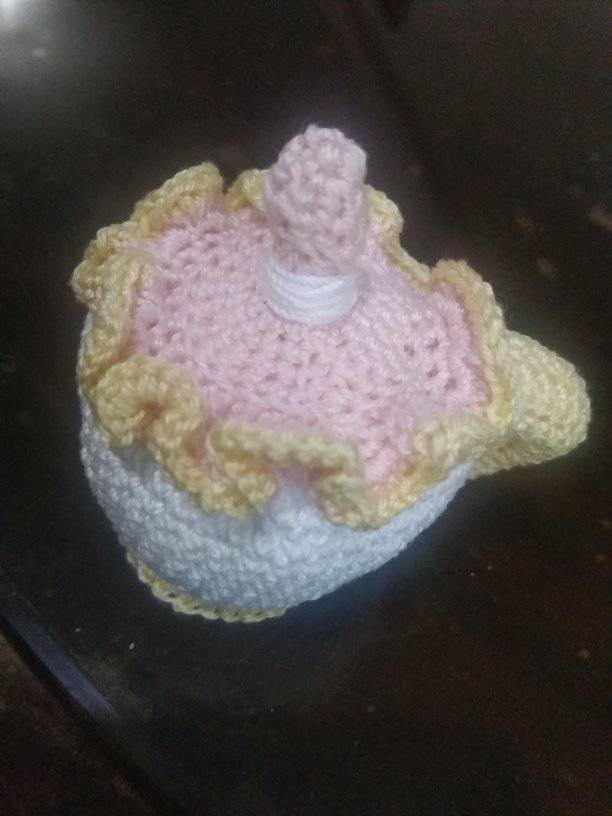 Lo siguiente será coser la tapa al cuerpo con la aguja lanera y el hilo de color rosa para que las puntadas no se noten.
The next step is to sew the cover to the body with the wool needle and pink thread so that the stitches are not noticeable.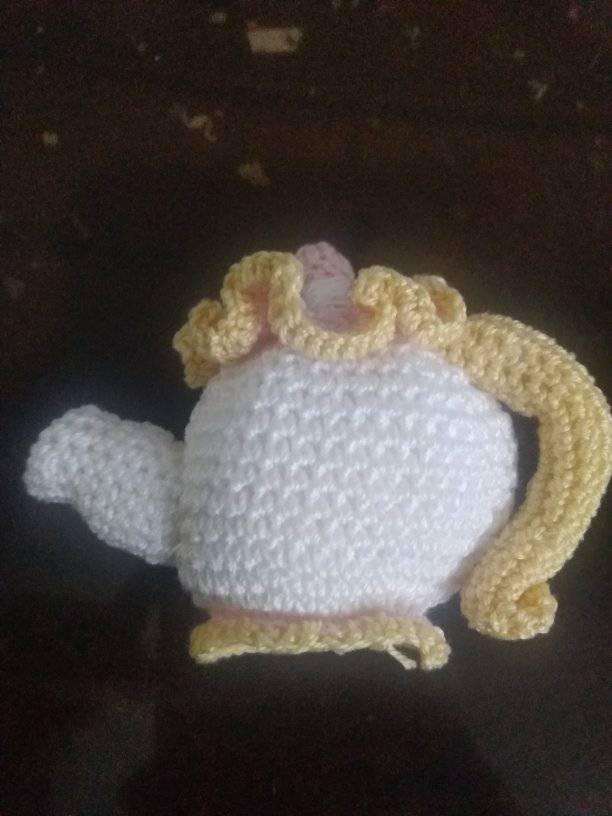 Continuamos cociendo la nariz a manera que esta quede centrada, en la misma dirección del asa.
Continue cooking the nose so that it is centered in the same direction as the handle.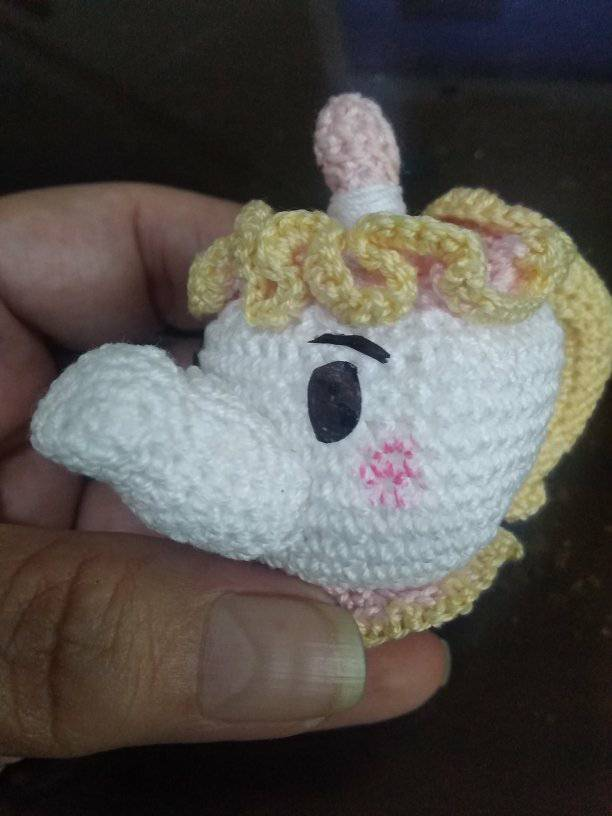 Lo último será cortar los ojos y cejas en la tela de fieltro para pegar a lo que será la cara de la Señora Potts Ufufy, con silicón; y con el creyón coloreamos suavemente las mejillas.
The last thing will be to cut the eyes and eyebrows in the felt fabric to glue to what will be the face of Mrs. Potts Ufufy, with silicone; and with the crayon we gently color the cheeks.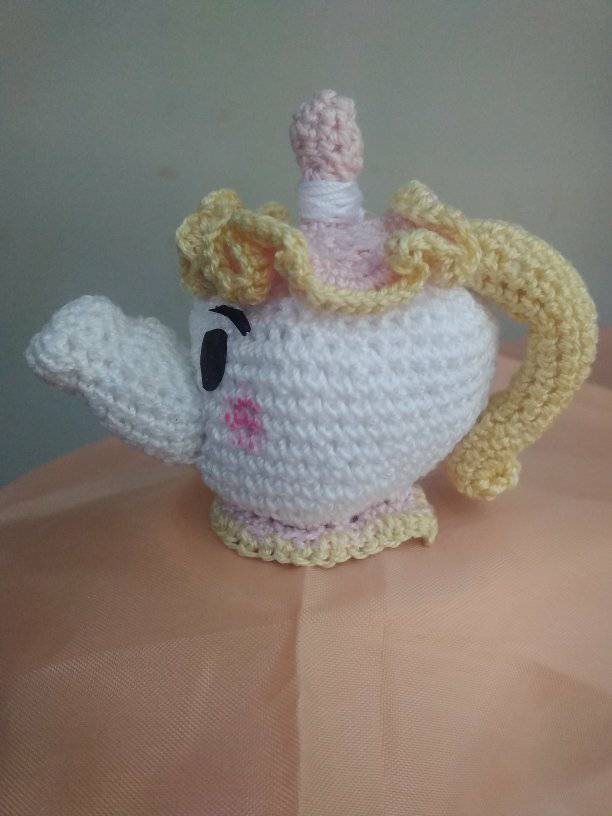 Así ha quedado la tierna tetera.
This is how the tender teapot turned out.
📌📌📌📌📌📌📌📌📌📌
Contenido 100% original de @giocondina/100% original content by @giocondina
Las fotografías proporcionadas para esta publicación fueron tomadas desde mi celular Redmi/The pictures provided for this publication were taken from my Redmi
Translated with www.DeepL.com/Translator (free version)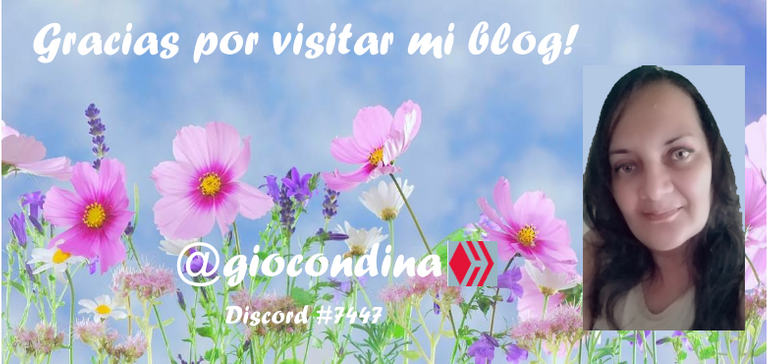 ---
---