Mi primer bolso en técnica Patchwork (Esp/(Eng)
Feliz inicio de semana a mis querido Hivers amigos, no podía dejar de pasar el día sin compartir con ustedes en este lunes de aguja, hoy en mi país inician las clases a académicas en todos los niveles y como yo no me quiero quedar atrás decidí retomar mis estudios de costura.
Happy beginning of the week to my dear Hivers friends, I could not let the day pass without sharing with you on this Monday of needlework, today in my country academic classes begin at all levels and as I do not want to be left behind I decided to resume my sewing studies.
Este jueves será mi primer día de vuelta a un salón de clases "como alumna" después de casi 8 años, por esta razón quise hacer algo que me recordara que a pesar de los desafíos debía seguir adelante, y que mejor manera que un bolso para llevar mis implementos de costura.
This Thursday will be my first day back to a classroom "as a student" after almost 8 years, for this reason I wanted to make something to remind me that despite the challenges I had to keep going, and what better way than a bag to carry my sewing supplies.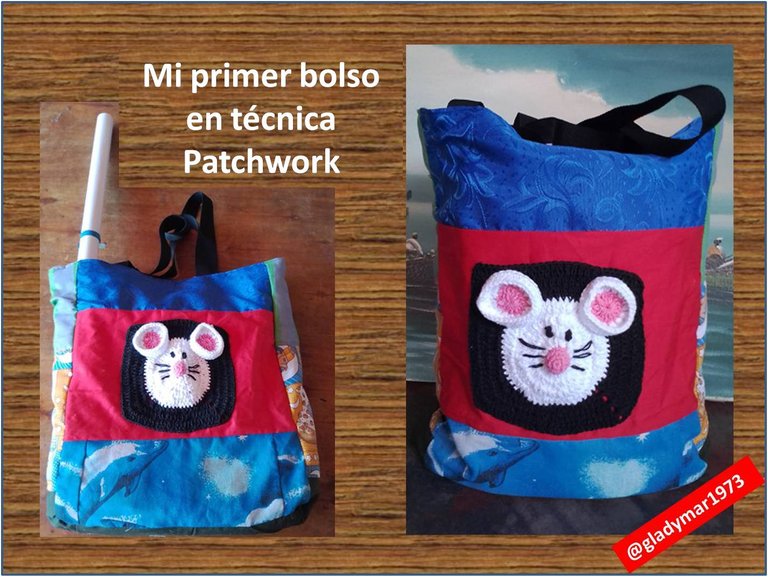 Otras veces he realizado bolsos unicolores y prácticamente en un solo corte, pero esta vez quise a la vez hacerle un honor a mi madre, buscando entre algunas de las cosas que ella dejó y que todavía permanecen intactas, encontré unos retazos de tela y entre ellos estaba uno que en particular me llamó la atención un retazo de tela roja.
Other times I have made one-color bags and practically in a single cut, but this time I wanted to honor my mother at the same time, looking among some of the things she left and that still remain intact, I found some scraps of fabric and among them was one that particularly caught my attention, a piece of red fabric.
Esta sería la oportunidad ideal para aprovechar el granny que tejí un tiempo atrás este es el link (https://peakd.com/hive-127911/@gladymar1973/mi-primer-granny-animado-espeng), así que sin más tiempo que perder puse el ingenia a andar, es mi primera vez que realizo algo con retazos, siempre vi a mi madre realizar colchas para mis sobrinos, pero no me habían llamado la atención practicarlo, pero esta vez quise hacerlo.
This would be the ideal opportunity to take advantage of the granny that I knitted some time ago, this is the link (https://peakd.com/hive-127911/@gladymar1973/mi-primer-granny-animado-espeng), so without more time to lose I put the ingenuity to work, it is my first time that I make something with scraps, I always saw my mother making quilts for my nephews, but I had not called my attention to practice it, but this time I wanted to do it.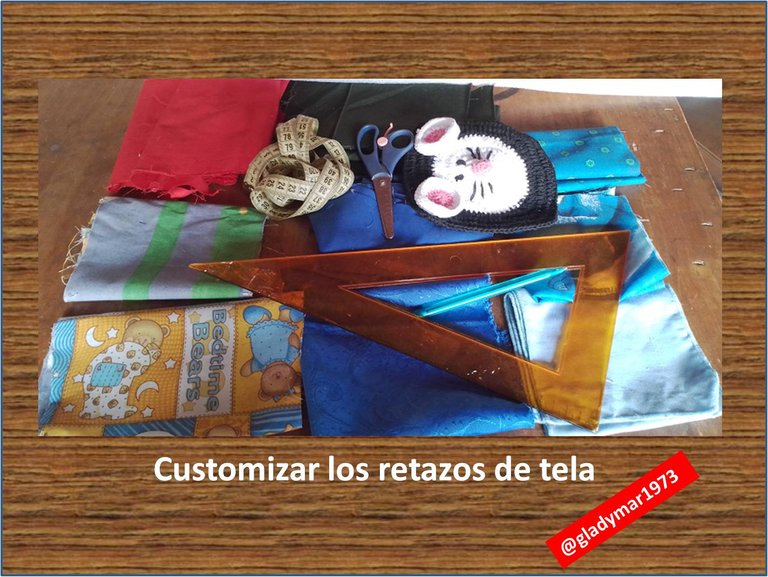 Para este bolso utilicé a parte de los retazos en tela verde, rojo y diferentes azules, me gustaron pues crean una combinación a mi gusto, aparte utilice también unas botas de una pijama que estaban guardadas, cinta Poly para las agarraderas, una escuadra de 32 cm, tijera, lápiz, hilo negro aguja, alfileres y el granny.
For this bag I used apart from the scraps in green, red and different blues fabric, I liked them because they create a combination to my taste, apart I also used some boots from a pajamas that were saved, Poly tape for the handles, a 32 cm square, scissors, pencil, black thread needle, pins and the granny.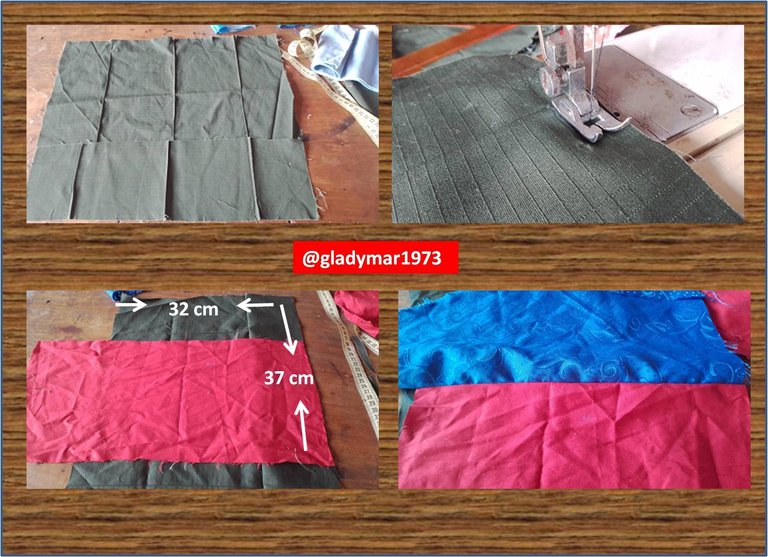 Procedimiento:
Lo primero que hice fue planchar los retazos y combinarlos con sus respectivos colores, para la parte inferior y trasera del bolso utilice una tela verde, los cuales uní con costura recta quedando de una medida de 32 cm de ancho y 37 cm de largo.
Procedure:
The first thing I did was to iron the scraps and combine them with their respective colors, for the bottom and back of the bag I used a green fabric, which I joined with straight stitching leaving a measure of 32 cm wide and 37 cm long.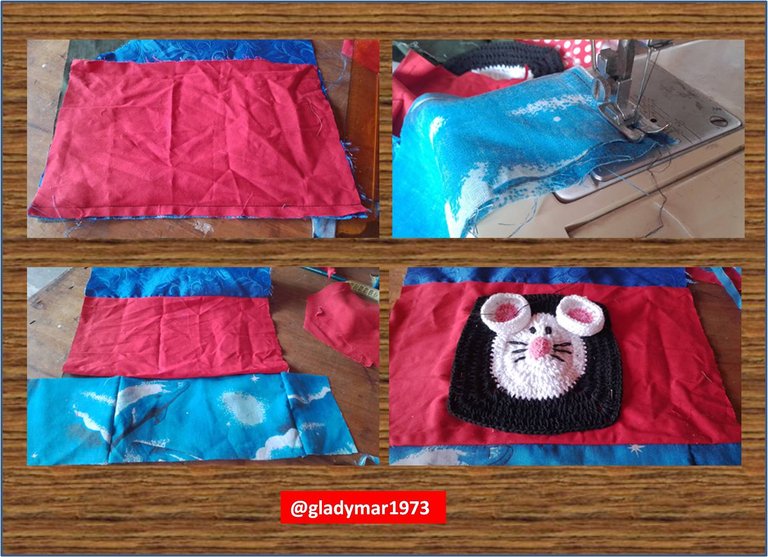 Parte delantera
Luego coloque la tela roja que sería la parte central de la parte delantera y en donde colocare mi granny, corte al ancho de la tela verde, posteriormente para la parte superior le coloque un retazo azul brillante; el cual quedo de unos cojines que mi hermana había hecho 4 años atrás; y para la parte inferior un retazo azul que tenía un pequeño Delfín, cosí cada retazo a la tela roja, ajustándome al mismo tamaño de la tela verde.
Front part
Then I placed the red fabric that would be the central part of the front and where I will place my granny, cut to the width of the green fabric, later for the top I placed a bright blue patchwork; which was left from some cushions that my sister had made 4 years ago; and for the bottom a blue patchwork that had a small Dolphin, I sewed each patchwork to the red fabric, adjusting to the same size of the green fabric.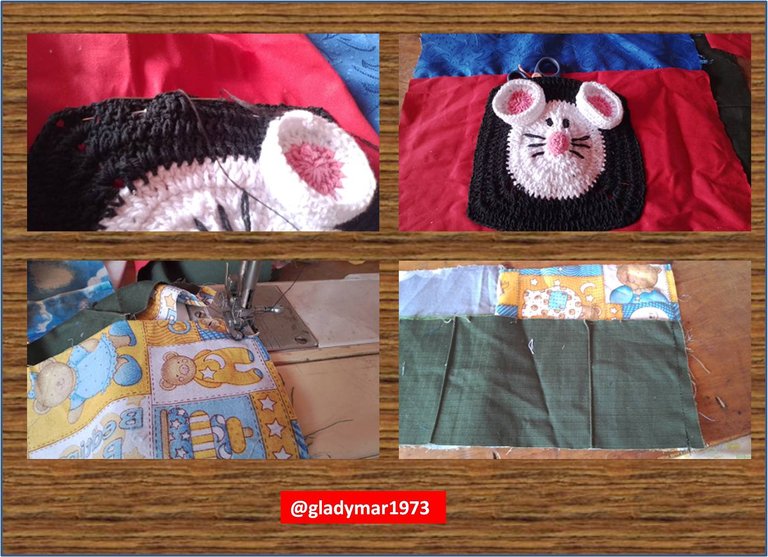 Laterales:
Luego de completar la parte delantera ajuste con alfileres el granny y con la aguja y el hilo negro lo cosí centrado a la tela roja, con puntadas ajustadas. Seguido comencé a unir los retazos para el costado del bolso, para ello uní un retazo de de tela de osos y una azul, para cada lado del costado, luego uní estos a la tela verde.
Sides:
After completing the front I pinned the granny and with the needle and black thread sewed it centered to the red fabric, with tight stitches. Next I began to join the scraps for the side of the bag, for this I joined a piece of bear fabric and a blue one, for each side of the side, then I joined these to the green fabric.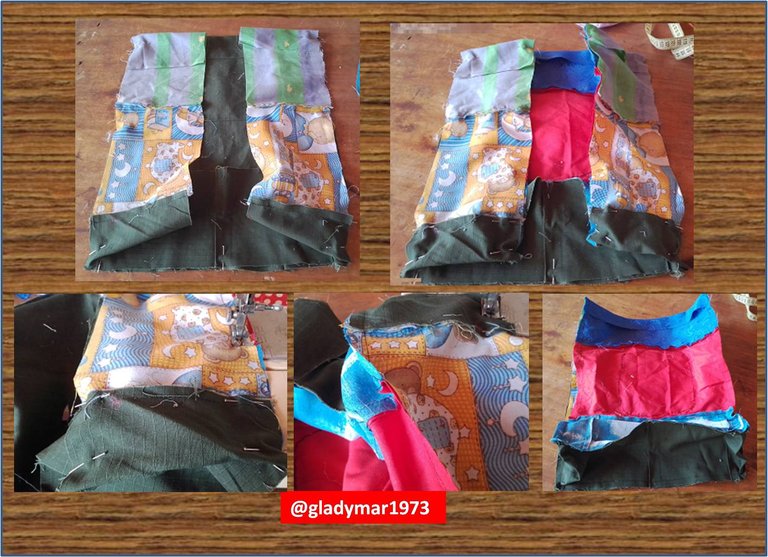 Ajuste con alfileres los laterales desde el centro hacia los lados, tanto la parte delantera como la trasera del bolso y lo cosí con costura recta.
I pinned the sides from the center to the sides, both the front and the back of the bag and sewed it with a straight seam.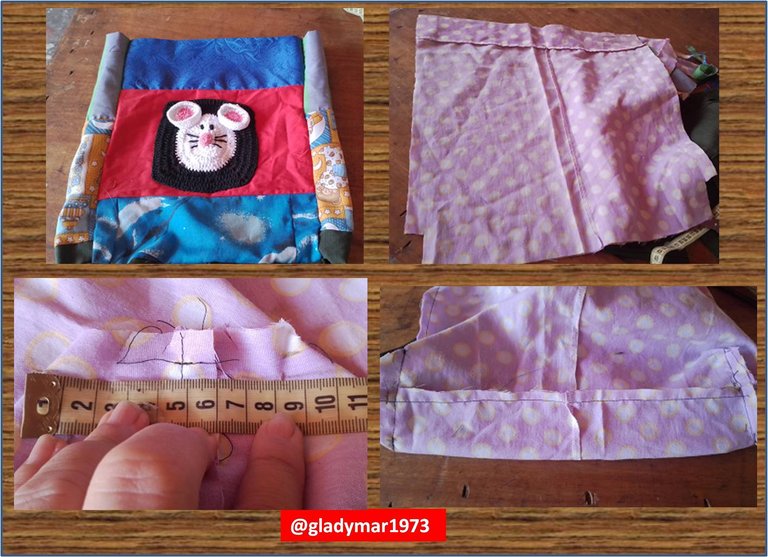 Ya finalizado la parte principal de mi bolso, para el forro corte y cosí las mangas de la pijama, con la mismas medidas de mi bolso.
Once the main part of my bag was finished, for the lining I cut and sewed the sleeves of the pajamas, with the same measurements of my bag.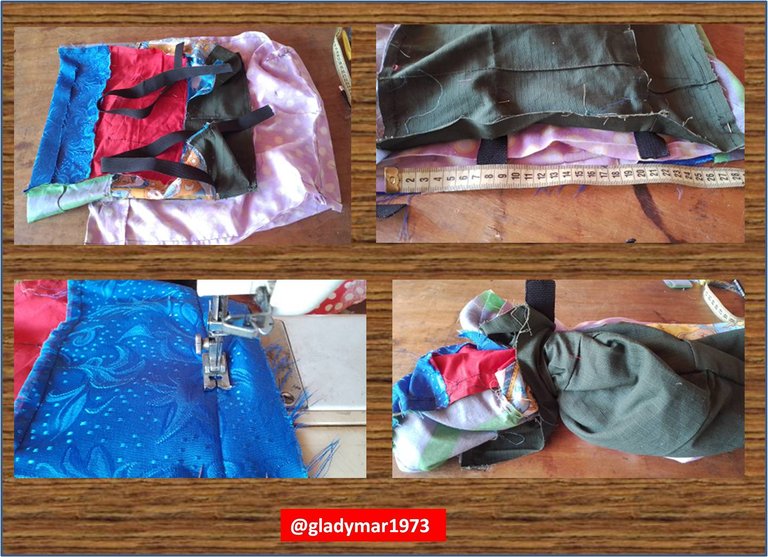 Para cerrar el bolso uní las partes con las costuras y coloque la cinta Poly a 12 cm de distancia entre ellas; proseguí a cerrar el bolso comenzando por un extremo de las agarraderas por todo el contorno del bolso hasta el otro extremo de la agarradera, dejando así un espacio para voltear el bolso.
To close the bag I joined the parts with the seams and placed the Poly tape at 12 cm distance between them; I proceeded to close the bag starting at one end of the handles all around the bag until the other end of the handle, leaving a space to turn the bag over.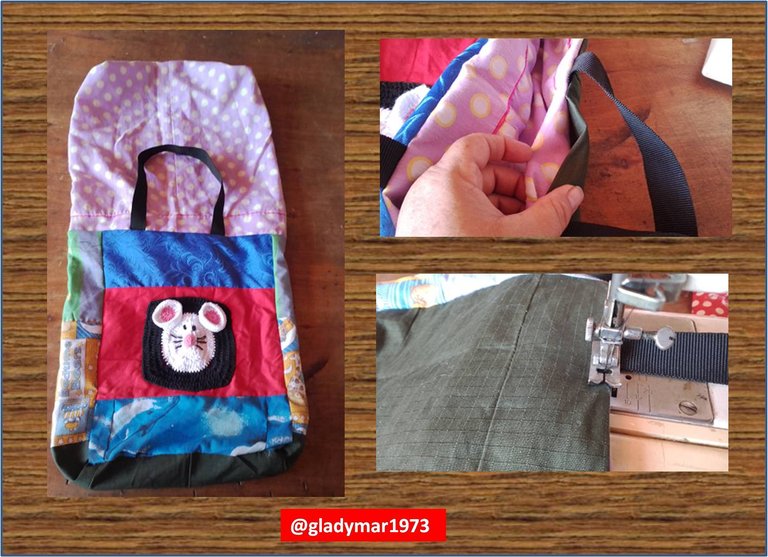 Después de voltear el bolso, procedí a cerrar la abertura y a la vez ajustar la costura del bolso para darle una mejor vista, y listo ya tengo mi bolso para ir de nuevo a clases.
After flipping the bag, I proceeded to close the opening and at the same time adjust the seam of the bag to give it a better view, and now I have my bag to go back to school.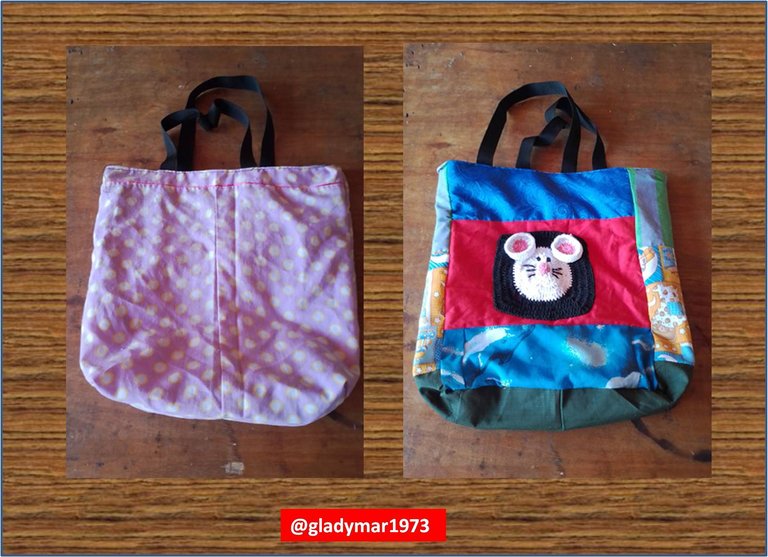 Espero les haya gustado y les sirva de inspiración a otros, que tengan una feliz y exitosa semana.
I hope you liked it and that it will inspire others, have a happy and successful week.
Las fotos fueron tomadas con mi celular Moto E6I y fue traducido con www.DeepL.com,Translator (versión gratuita).
The photos were taken with my Moto E6I cell phone and the translation was thanks to www.DeepL.com,Translator (free version).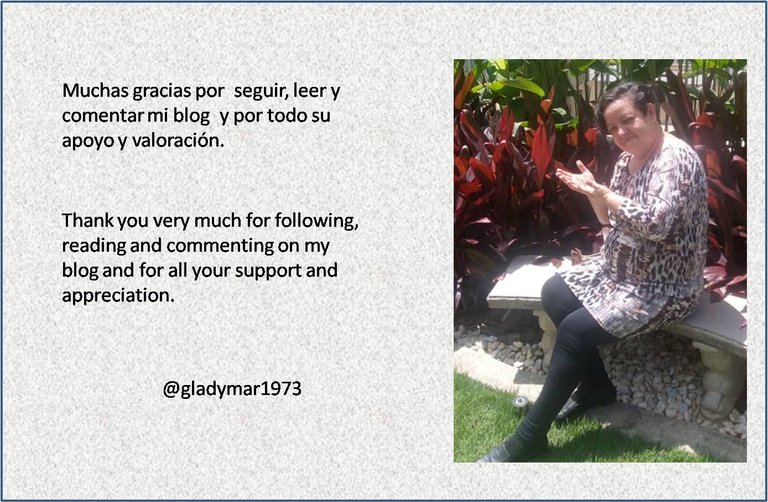 ---
---