Closing of Initiative #15 (Disney-Pixar) // Opening of Initiative #16 Inspired by World Cup 2022
---
Hello my beautiful people we are at the end of the #15 initiative inspired by Disney-pixar, and as always we have beautiful participations in our GlowUpArt community that are of great value and admiration, the ladies were very creative with their presentations, demonstrating their great ability to perform characterizations highlighting with their very nice makeup art and of course with their great personality.
Hola mi gente hermosa estamos al final de la iniciativa #15 inspirada en Disney-pixar, y como siempre tenemos hermosas participaciones en nuestra comunidad GlowUpArt que son de gran valor y admiración, las damas fueron muy creativas con sus presentaciones, demostrando su gran habilidad para realizar caracterizaciones destacando con su muy lindo arte de maquillaje y por supuesto con su gran personalidad.
From the GlowUpArt team we would like to thank and congratulate:
Desde el equipo de GlowUpArt les damos un agradecimento y muchas felicitaciones a:
@marnaza




@mayifiestas




@yulsy




@borbolet




@crystalmoon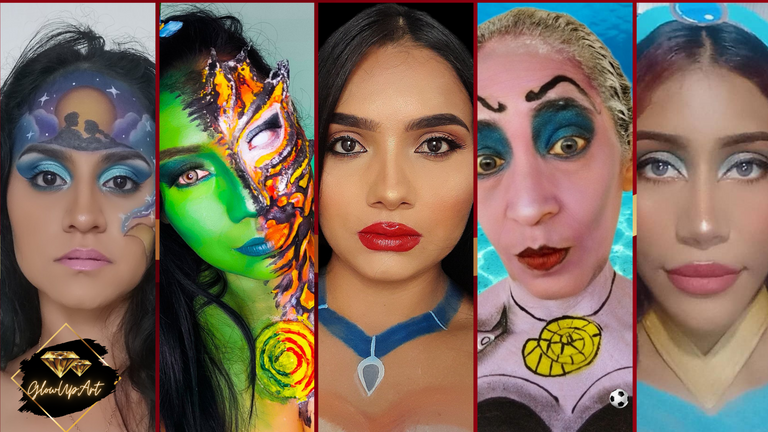 For your valuable participations, we hope you continue with such magnificent creativity.
Por sus valiosas participaciones, esperamos que sigan con tan magnífica creatividad.
The nomination for initiative highlight #15 goes to

@marnaza

for her great Pocahontas-inspired characterization, congratulations my dear creatividad.
La nominada a lo más destacada de la iniciativa #15 es para

@marnaza

por su gran caracterización inspirada en Pocahontas, felicidades querida creatividad.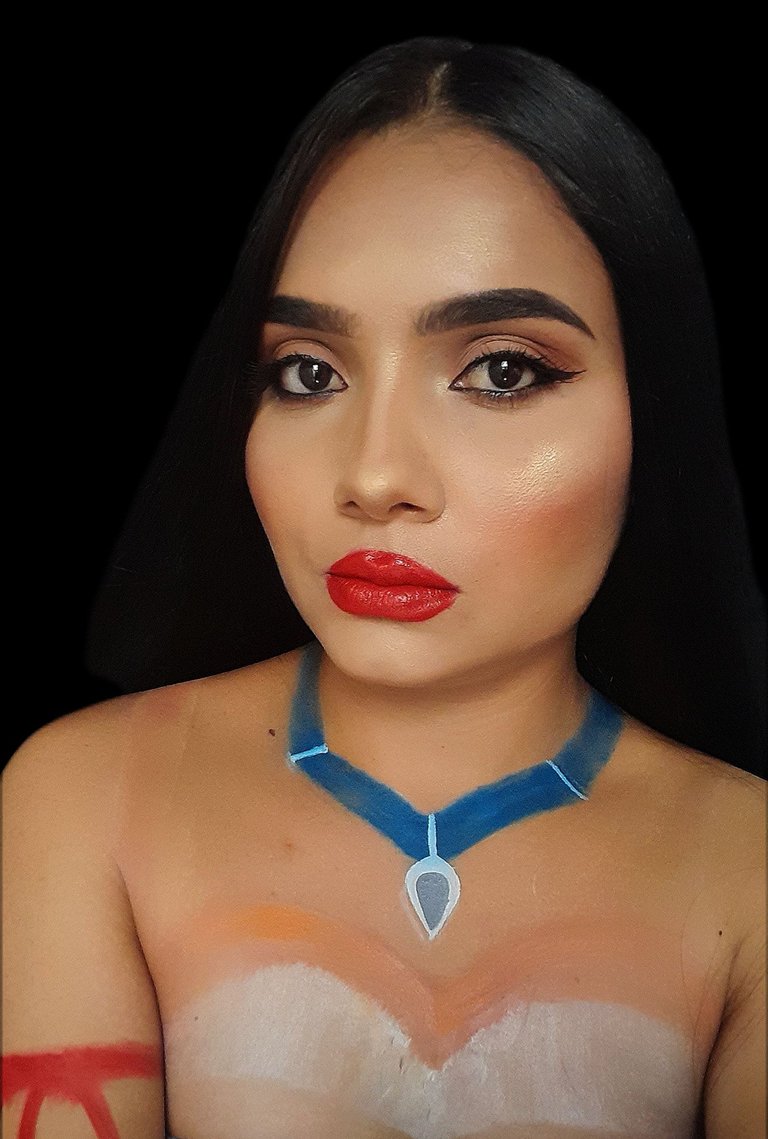 ---
---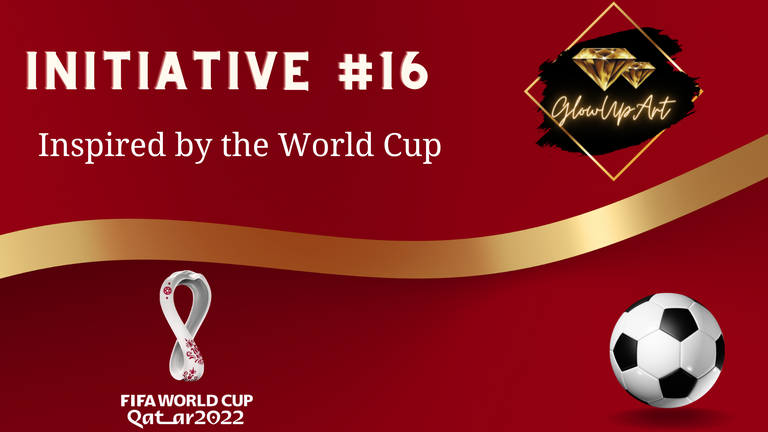 Now we start initiative #16 and this time we will be inspired by the World Cup 2022, so you can choose your favorite World Cup team and make your makeup art, you can be of one, two or as many teams as you want. We hope you have fun with this initiative and that the fans get an idea of how to make up to support their team.
Ahora comenzamos la iniciativa #16 y esta vez nos inspiraremos en el Mundial 2022, así que puedes elegir tu equipo favorito del Mundial y hacer tu makeup art, puedes ser de uno, dos o tantos equipos como quieras. Esperamos que te diviertas con esta iniciativa y que los aficionados tengan una idea de cómo maquillarse para apoyar a su equipo.

⭐⚽CONTEST RULES⚽ ⭐
-The images in the post must not be opaque or blurry.
-You must show the step-by-step of your makeup.
-You must vote, comment and reblog this post so that this initiative has more reach and so more people can join this great activity.
-You must place the hashtag #glowupart between the tags of your post.
-Share your post on twitter and put #glowupart
@glowupart, this will send your post directly to our telegram channel.
-You must invite two or three people to participate.
---
---
⭐⚽REGLAS DEL CONCURSO⭐⚽
>-Las imágenes del post no deben ser opacas ni borrosas.
>-Debes mostrar el paso a paso de tu maquillaje.
>Debes votar, comentar y rebloguear este post para que esta iniciativa tenga más alcance y así más personas puedan sumarse a esta gran actividad.
>-Debes colocar el hashtag #glowupart entre las etiquetas de tu post.
>-Comparte tu post en twitter y pon #glowupart - @glowupart, esto enviará tu post directamente a nuestro canal de telegram.
>-Debes invitar a dos o tres personas a participar.
THE PRIZE WILL BE 5 HIVES TO THE BEST ENTRY.
EL PREMIO SERÁ DE 5 Hive A LA MEJOR ENTRADA.

We have come to the end, we say goodbye but not before inviting you to continue participating in our weekly initiatives in our community

@glowupart

where we hope to have a new winner this week number 16.
Don't forget to participate, this time you can be the winner.
Hemos llegado al final, nos despedimos pero no sin antes invitarlos a seguir participando en nuestras iniciativas semanales en nuestra comunidad

@glowupart

donde esperamos tener un nuevo ganador esta semana número 16.
No dejes de participar, esta vez puedes ser tú el ganador..

We make a closing video of the initiative every week, do you want to appear in it? Then send us a video fragment of your finished work, through our telegram group.
Hacemos un video de cierre de la iniciativa cada semana, ¿quieres aparecer en él? Entonces envianos un fragmento de video de tu trabajo terminado, a través de nuestro grupo de telegram.
🎥🎞️
https://t.me/glowup_art
-Video editing, and music made from the Videoshow pro App version.
-Use canva pro to frame the main image
-Translation: deelp.com free version
-Edición de video, y música hecha desde de App Videoshow versión pro
-Se utilizo Canva pro para portada de video e imagenes.
-Traducción: deelp.com versión gratuita
Musica del video desde: 0:00 a 2:54min
Music of the video from: 0:00 to 2:54min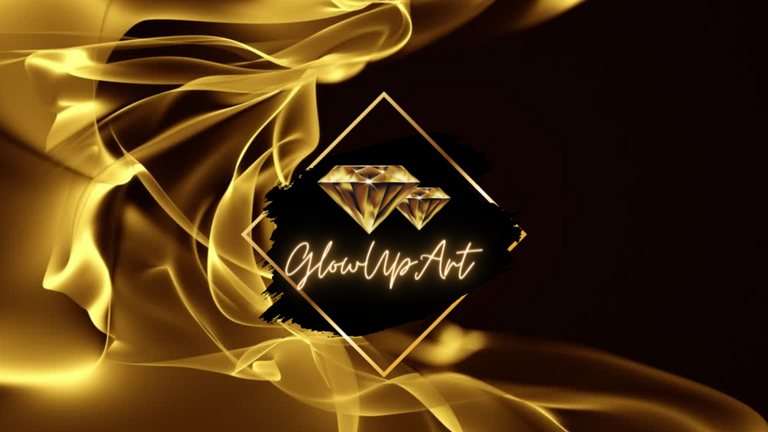 ---
▶️ 3Speak
---
---