Initiative: Inspired by Animal Print / week #11 GlowUpArt ⭐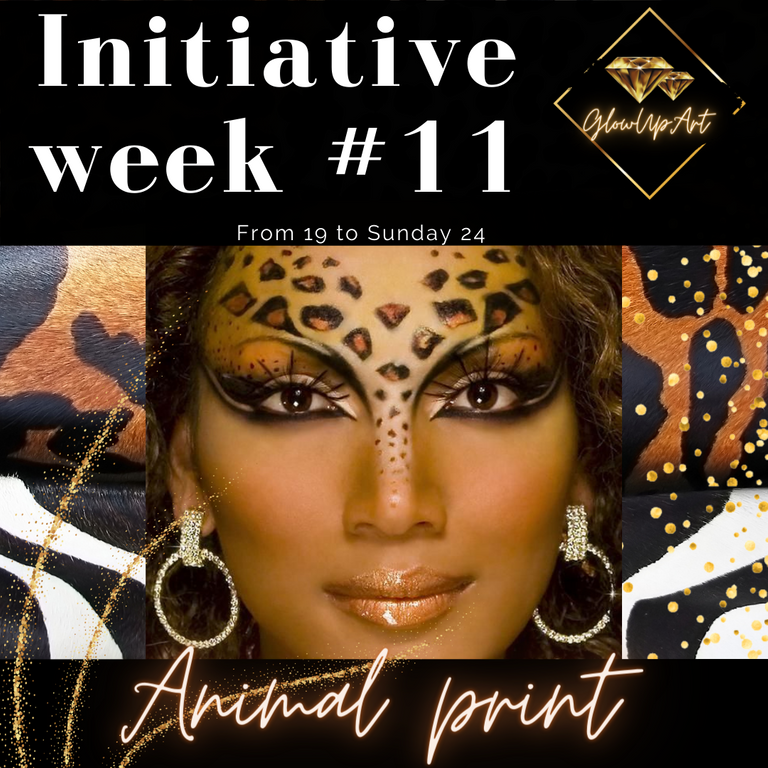 Hello wonderful people of

#hive

. We reached week number 11 of the initiatives in this community

@glowupart

and as always we want to bring options to celebrate each week making creations where we bring knowledge of different looks in artistic makeup or fantasy, this week we want to be inspired by the animal print a trend that never goes out of fashion.

When we talk about animal print we are talking about all animals without exception can be leopard, zebra, cow, giraffe, snake, tiger, lion, jaguar, birds and many more.
Hola gente maravillosa de

#colmena

. Llegamos a la semana número 11 de las iniciativas en esta comunidad

@glowupart

y como siempre queremos traer opciones para celebrar cada semana haciendo creaciones donde traemos conocimiento de diferentes looks en maquillaje artístico o fantasía, esta semana queremos inspirarnos en el animal print una tendencia que nunca pasa de moda.

Cuando hablamos de animal print estamos hablando de todos los animales sin excepción puede ser leopardo, cebra, vaca, jirafa, serpiente, tigre, león, jaguar, aves y muchos más.

It is said that animal print has the power to influence us emotionally and that with this trend we can experience and show who we are inside and out.
Se dice que el animal print tiene el poder de influirnos emocionalmente y que con esta tendencia podemos experimentar y mostrar quiénes somos por dentro y por fuera.

Each animal print theme has a meaning, as an example we can name the meanings of the most used in the catwalks and the fashion industry.
-Jaguar print: shows sensuality and power.




-Zebra print: reveals uniqueness and balance.




-Snake print: represents wisdom, insight, transformation, regeneration and a hint of sensuality.




-Leopard print represents speed to achieve goals.
Which animal do you identify with? Tell us a little about your inspiration.
Cada tema de animal print tiene un significado, como ejemplo podemos nombrar los significados de los más utilizados en las pasarelas y la industria de la moda.
-Estampado de jaguar: muestra sensualidad y poder.




-Estampado de cebra: revela la singularidad y el equilibrio.




-El estampado de serpiente representa la sabiduría, la perspicacia, la transformación, la regeneración y un toque de sensualidad.




-El estampado de leopardo representa la velocidad para alcanzar los objetivos.
¿Con cual animal te identificas? Cuéntenos un poco sobre su inspiración.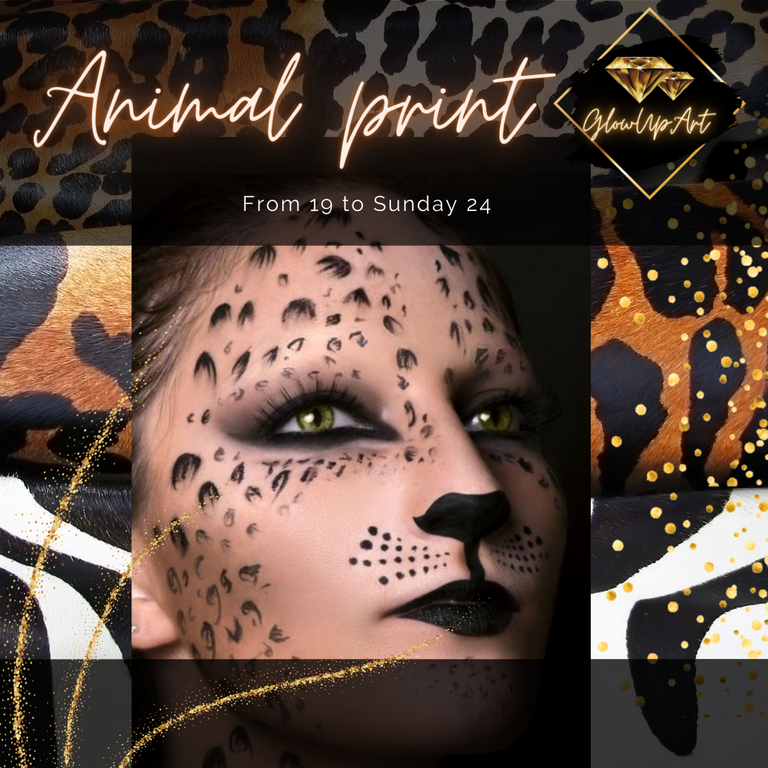 ⭐CONTEST RULES ⭐
-The images in the post must not be opaque or blurry.
-You must show the step-by-step of your makeup.
-You must vote, comment and reblog this post so that this initiative has more reach and so more people can join this great activity.
-You must place the hashtag #glowupart between the tags of your post.
-Share your post on twitter and put #glowupart
@glowupart, this will send your post directly to our telegram channel.
-You must invite two or three people to participate.
THE PRIZE WILL BE 5 HIVES TO THE BEST ENTRY.
---

---
⭐REGLAS DEL CONCURSO⭐
>-Las imágenes del post no deben ser opacas ni borrosas.
>-Debes mostrar el paso a paso de tu maquillaje.
>Debes votar, comentar y rebloguear este post para que esta iniciativa tenga más alcance y así más personas puedan sumarse a esta gran actividad.
>-Debes colocar el hashtag #glowupart entre las etiquetas de tu post.
>-Comparte tu post en twitter y pon #glowupart - @glowupart, esto enviará tu post directamente a nuestro canal de telegram.
>-Debes invitar a dos o tres personas a participar.
EL PREMIO SERÁ DE 5 HIVE A LA MEJOR ENTRADA.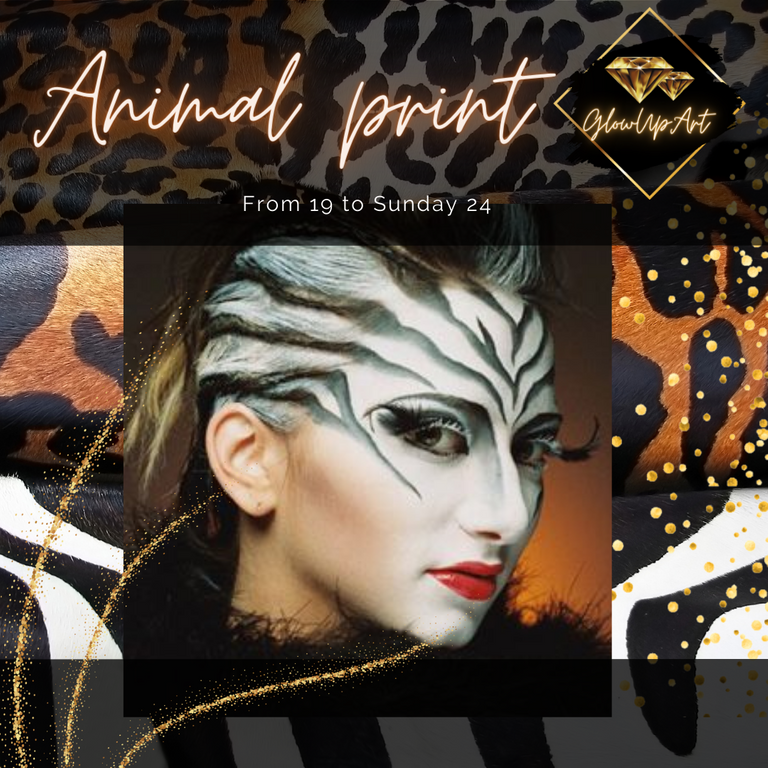 We are anxious to see your creation so we are waiting for you and for now we have to say goodbye with these famous words, which we want you to make them yours:
"DISCIPLINE BEATS TALENT "
If you feel passionate about this branch, put all the effort in the world to see your goal fulfilled.
⭐LUCK⭐
Estamos anciosos por ver tu creacion así que te esperamos y por ahora nos queda despedirnos con nuestras estas famosas palabras, las cuales queremos que las hagas tuyas:
"LA DISCIPLINA SUPERA AL TALENTO"
Si sientes pasión por esta rama, pon todo el esfuerzo del mundo para ver tu objetivo cumplido.



⭐SUERTE⭐

We make a closing video of the initiative every week, do you want to appear in it? Then send us a video fragment of your finished work, through our telegram group.
Hacemos un video de cierre de la iniciativa cada semana, ¿quieres aparecer en él? Entonces envianos un fragmento de video de tu trabajo terminado, a través de nuestro grupo de telegram.
🎥🎞️
https://t.me/glowup_art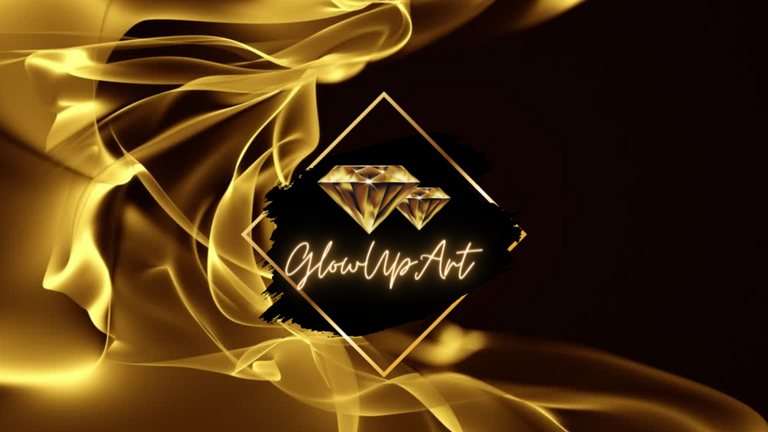 The cover and divider images were designed with the Canva Pro application using web fonts.
Las imagenes de portadas y separadores fueron diseñada con la aplicación Canva Pro utilizando fuentes web.
---
---