Look for Birds on the go
Hello .
Yesterday afternoon, I went to another village on business. On the way back from that village, I looked up at the sky and saw thick clouds.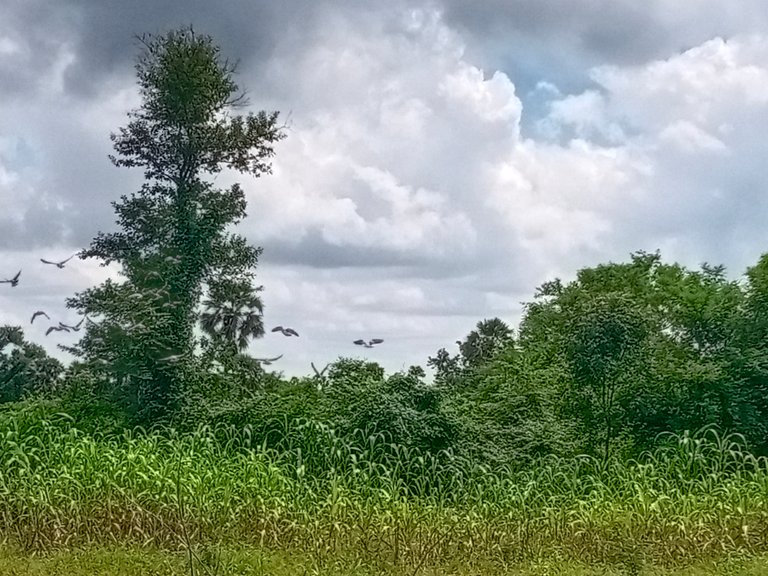 I looked towards the plowed field and saw birds gathering food.
So I opened my phone camera and took picture of the birds.
When I turned to them and pointed my phone camera at them, the birds flew away.
So the image of flying birds is blurred.
As someone who is blogging on Hive Blockchain, I record small experiences wherever I go.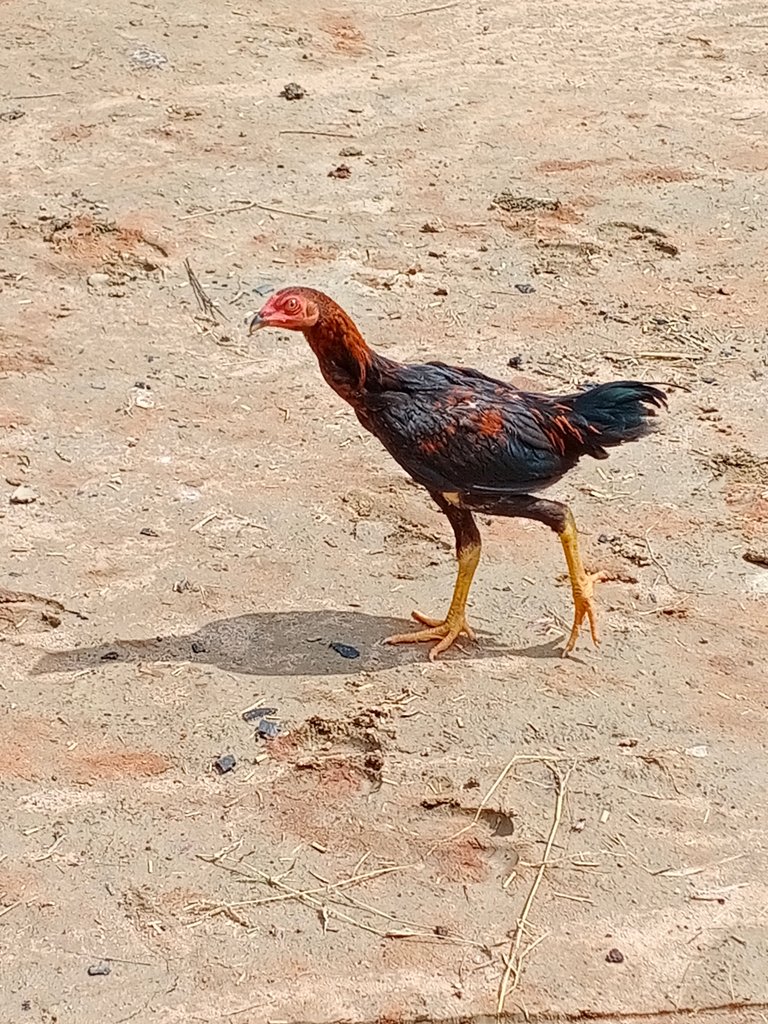 Then I saw a chicken looking for food in a field of a house.
I saw the shadow of the chicken in the afternoon sun.
I tried to take a picture of the beautiful shadow of the chicken, but the chicken scared me, so I took a picture of the chicken.
I didn't post it in Shadow Hunters because I thought the shadow of the chicken wasn't pretty, but I'm showing it together with the picture of birds flying in Feathered Friends.
This is the story of an HIVE Blogger.
Burmese Language,
မင်္ဂလာပါ ။
မနေ့က နေ့ခင်းဘက်မှာ အလုပ်ကိစ္စတခုဖြင့် အခြားရွာ သို့ ရောက်ဖြစ်ခဲ့တယ်။ ထိုရွာမှ အပြန် လမ်းမှာ ကောင်းကင်ကို မော့ကြည့်တော့ တိမ်တွေ ထူထပ်နေခဲ့တယ်။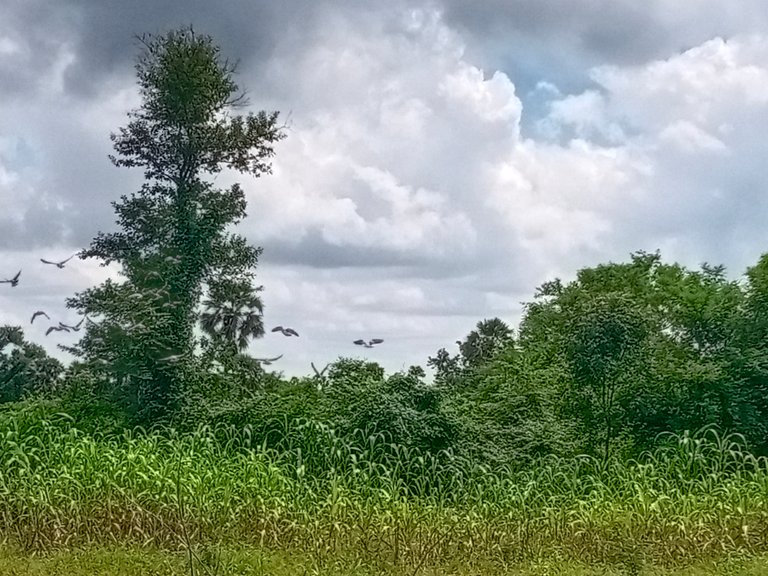 ထွန်ယတ်ထားသော ယာခင်း ဘက် ကြည့်လိုက်တော့ ငှက်တွေ အစာကောက်နေကြတာ တွေ့ခဲ့ရတယ်။
ဒါနဲ့ ဖုန်းကင်မရာ ဖွင့်ကာ ငှက်တွေကို ဓာတ်ပုံ ရိုက်ယူခဲ့တယ်။
ကိုယ်က သူတို့ဘက် လှည့်ပြီး ဖုန်းကင်မရာ ချိန်ရွယ်တာ သိတော့ ငှက်တွေ ထပျံသွားကြပါတယ်။
ဒီတော့ ပျံနေတဲ့ ငှက်တွေ၏ ပုံကို မပီဝိုးတဝါး ရလိုက်ပါတယ်။
Hive Blockchain မှာ Blogging လုပ်နေသူ ဖြစ်လေတော့ သွားလေရာမှာ အတွေ့အကြုံလေးတွေ မှတ်တမ်းတင်ရတာပါပဲ။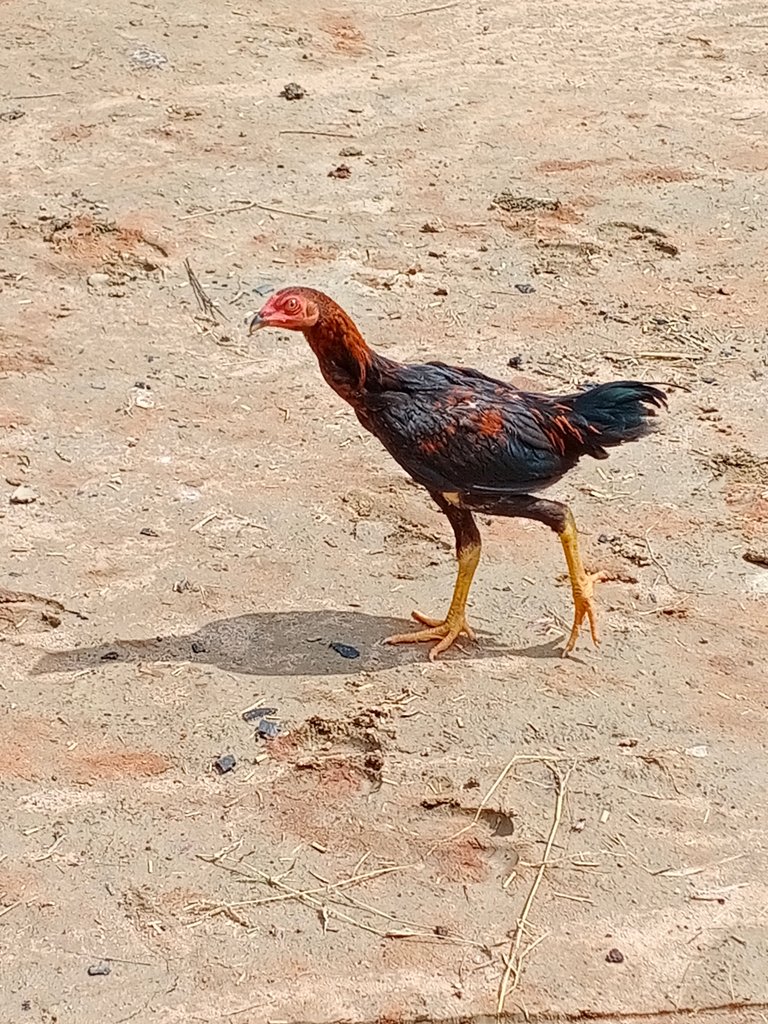 ထိုနောက် အိမ်တစ်အိမ်၏ ကွင်းပြင်တခုမှာ ကြက်တစ်ကောင် အစာရှာနေတာ မြင်ခဲ့ရတယ်။
နေ့လည်ခင်း နေရောင်အောက်မှာ ကြက်၏ အရိပ်ကို မြင်ခဲ့ရတယ်။
ကြက်၏ အရိပ် လှလှလေး ပုံရိုက်ဖို့ ကြိုးစားကြည့်ပေမယ့် ကြက်က ကိုယ့်ကို လန့်နေတော့ ရသလို ကြက်ပုံလေး ရိုက်ယူခဲ့မိတယ်။
ကြက်၏ အရိပ်က မလှဘူး ထင်လို့ Shadow Hunters မှာ မတင်တော့ဘဲ Feathered Friends မှာပဲ ငှက်တွေ ပျံနေသည့် ပုံ နှင့် တွဲကာ ဖော်ပြပေးလိုက်ပါတယ်။
ဒါက HIVE Blogger တစ်ဦး ၏ အဖြစ်အပျက်ပါပဲ။
---
---