Rare Natural Reflective Landscaping
Hello.
Today I went to another village.
I must say that the weather is nice today.
It has been over a day without rain and the sky is cloudy.
Even though the sun was shining, the sky was cloudy so it wasn't hot.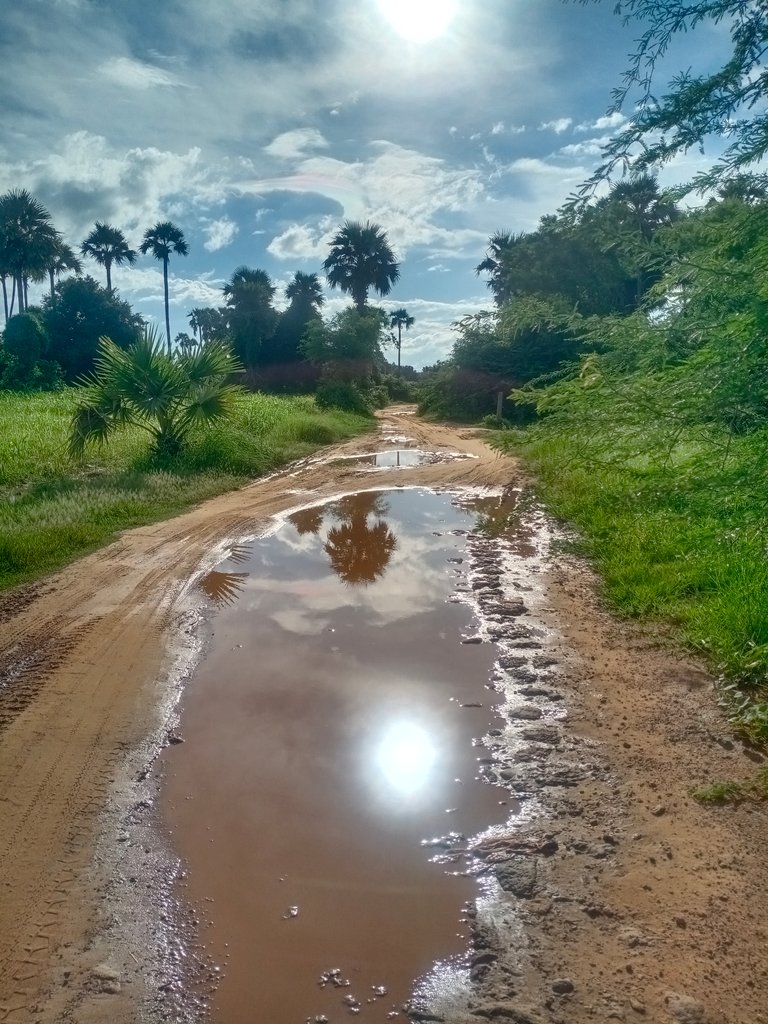 The road I rode my motorcycle on was a dirt road.
It had rained the day before, so there was still water in the low part of the road.
I saw the whole sun, clouds and palm tree in that puddle.
It is a rare natural sight.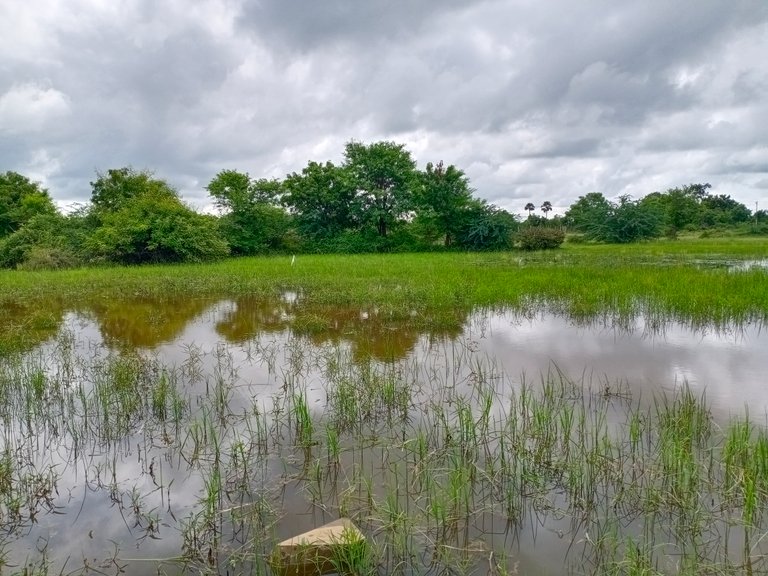 After that, I started to look at the fields.
The water was clean in the fields and the shadows of the clouds could be seen between the grass.
Now, today, while going on a short trip, I can show you some pictures of natural beauty.
Burmese Language,
မင်္ဂလာပါ။
ဒီနေ့ ကျွန်တော် အခြားသောရွာတစ်ရွာ သို့ သွားခဲ့သည်။
ဒီနေ့က ရာသီဥတု သာယာသည်ဟု ပြောရမည်။
မိုးမရွာသည်မှာ တစ်ရက်ကျော်ခဲ့ပြီး ကောင်းကင်မှာ။တိမ်တွေ ရှိနေသည်။
နေပွင့်နေသော်လည်း ကောင်းကင်မှ တိမ်တွေ ရှိနေသောကြောင့် အပူ မပြင်းပါ။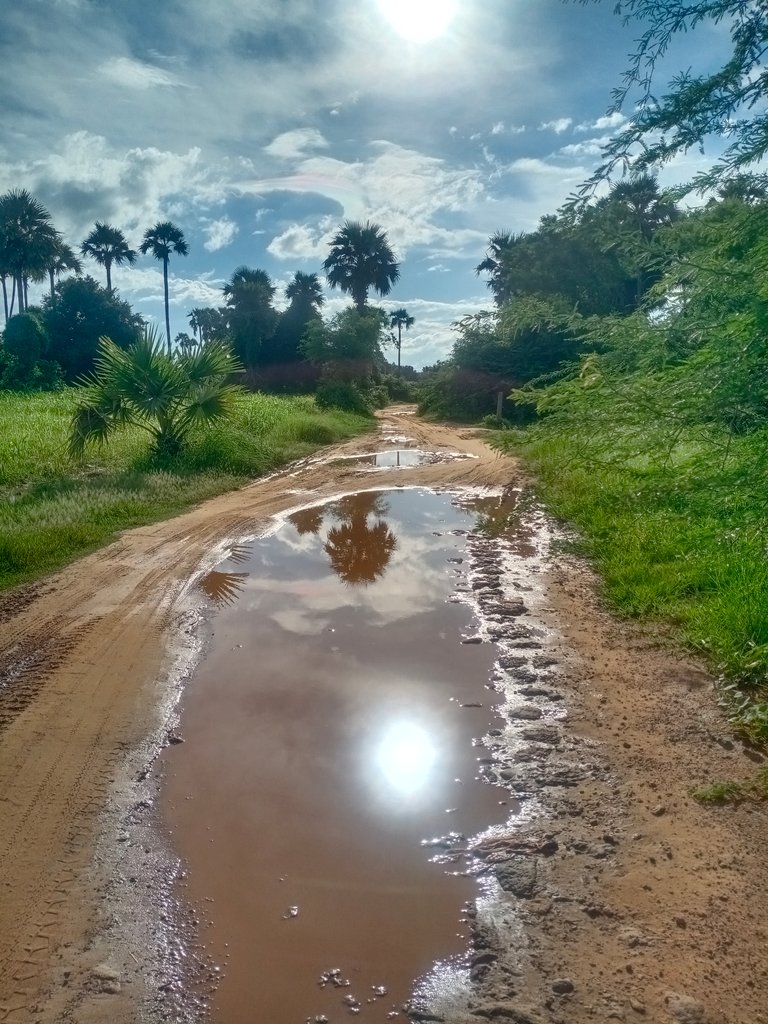 ကျွန်တော် ဆိုင်ကယ် စီးသွားသော လမ်းက မြေလမ်း ပါ။
အရင်ရက်က မိုးရွာထားသောကြောင့် လမ်း၏ နိမ့်ရာနေရာ၌ ရေဝပ်လျက် ရှိနေသေးသည်။
ထို ရေဗွက် ထဲ၌ နေလုံး၊ တိမ် နှင့် ထန်းပင် ကို မြင်ခဲ့ရသည်။
ဒါဟာ မြင်ရခဲတဲ့ သဘာဝရှုခင်း တစ်ခုပါပဲ။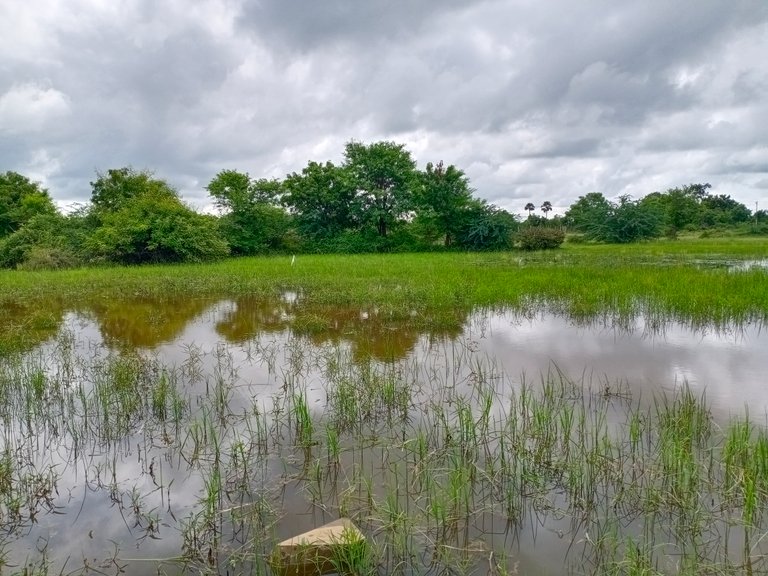 ထိုနောက်တော့ ကျွန်တော်လည်း ကြည့်ရှုလက်စနဲ့ လယ်ကွက်တွေဘက် ကြည့်ဖြစ်ခဲ့သည်။
လယ်ကွက်တွေ ထဲမှာ ရေတွေ ဖွေးနေပြီး မြက်ပင်တွေကြားမှ တိမ်တို့၏ အရိပ်ကို မြင်နေရသည်။
ကဲ ဒီနေ့တော့လည်း ခရီးတိုလေး သွားရင်း သဘာဝအလှပုံလေးတွေပဲ ဖော်ပြပေးလိုက်ရပါတယ်။
---
---