[Microsoft Flight Simulator] Season 2 Knowing the World *Alaska [ENG|ESP]

---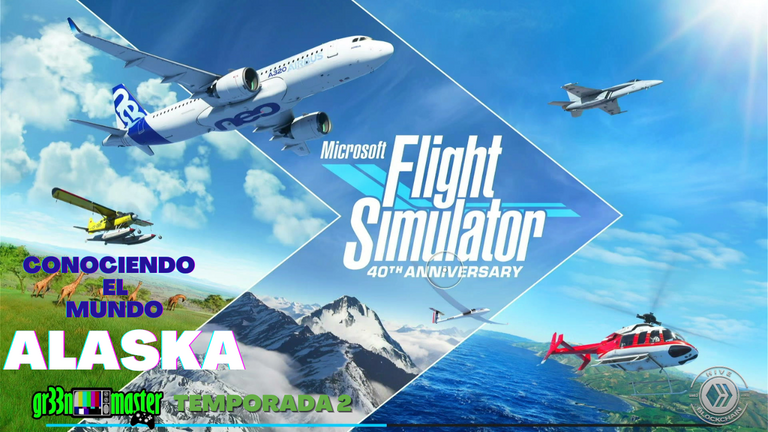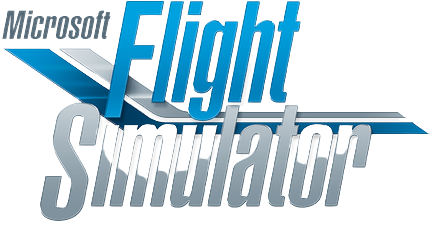 Season 2 Knowing The Word/ Conociendo el mundo temporada 2
In the year 2022 we visited virtually many places thanks to the magic of gaming with Microsoft Flight simulator, several were the places that took us your flight suggestions as some cities in Mexico, Argentina, Peru, Colombia and Venezuela which was the most active community and I thank you very much for your support and I love that you liked the series so much.
This year we resume the flights with the beginning of season 2 of "Knowing the World" it goes without saying that you are an important part of where our travels will take us, thanks to your suggestions we will take to the skies around the world.
I love the idea of starting this adventure again, as I know that this was the most liked and watched series of 2022 in my 3Speak channel.
We start with a flight that has left me many good impressions, because the landscapes that I enjoyed are splendid, I have flown over a part of Alaska exactly the area of PADU in Unalaska that has given us a dream trip.
Without more to add I hope you enjoy the trip, GREEN airlines reopens its doors we are on the air.
En el año 2022 vistamos virtualmente muchísimos lugares gracias a la magia del gaming con Microsoft Flight simulator, varios fueron los lugares a los que nos llevaron tus sugerencias de vuelos como, algunas ciudades de México, Argentina, Perú, Colombia y Venezuela que fue la comunidad mas activa y que les agradezco mucho su apoyo y me encanta que les haya gustado tanto la serie.
Este año retomamos los vuelos con el inicio de la temporada 2 de "Conociendo el Mundo" esta de mas decir que tú eres parte importante de hacia donde nos lleven nuestros viajes, gracias a tus sugerencias iremos a surcar cielos de todo el mundo.
Me encanta la idea de comenzar de nuevo esta aventura, pues se que esta fue la serie del 2022 mas gustada y vista en mi canal de 3Speak.
Arrancamos con un vuelo que a mi me ha dejado muchas buenas impresiones, pues los paisajes que disfrute son esplendidos, he sobre volado una parte de Alaska exactamente la zona de PADU en Unalaska que nos ha regalado un viaje de ensueño.
Sin mas que agregar espero disfrutes el viaje, aerolíneas GREEN reabre sus puertas estamos al aire.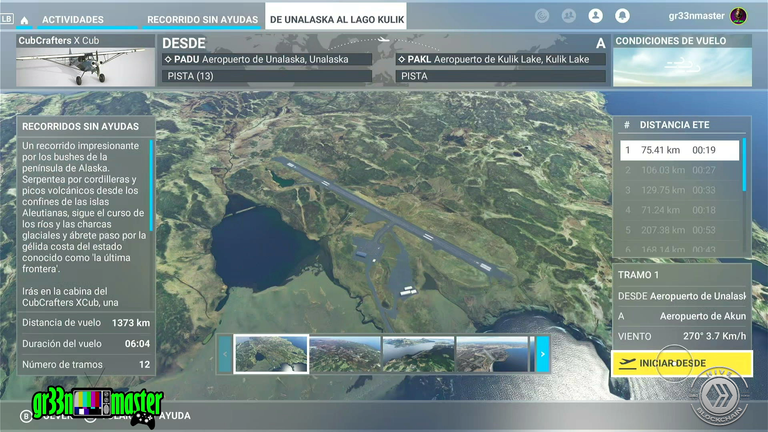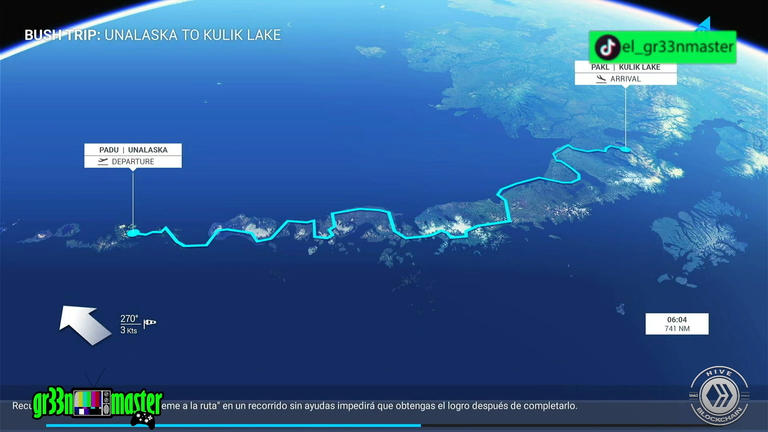 Which aircraft do we use on this trip?|¿Que aeronave utilizamos en este viaje?
For this trip we used a Cubcrafters XCUB which is a 2-passenger aircraft with a tradition of more than 35 years, according to the game describes it as a light aircraft to cross sea and land.
It reaches speeds of up to 160 MPH and it was perfect for this flight because we were able to cross the mountains without problems, although for such a large extension I think its maximum speed was very short.
I found it a very comfortable aircraft to fly because of its stability and easy control and response.
I leave you some pictures of the XCUB that are currently sold, they are beautiful and you could get one for the approximate sum of a little more than $330K, if you are interested.
Para este viaje utilizamos un Cubcrafters XCUB que es una aeronave para 2 pasajeros con una tradición de mas de 35 años, según el juego la describe como un avión ligero para cruzar mar y tierra.
Alcanza velocidades de hasta 160 MPH y nos ha quedado perfecto para este vuelo pues pudimos surcar las montañas sin problemas, aunque para la extensión tan grande creo que nos quedó muy corta su velocidad máxima.
A mi me ha parecido una aeronave muy cómoda para pilotear por su estabilidad y fácil control y respuesta.
Te dejo algunas fotos de los XCUB que se venden actualmente, son preciosos y te podrías hacer de uno por la suma aproximada de poco mas de $330K, por si estas interesado.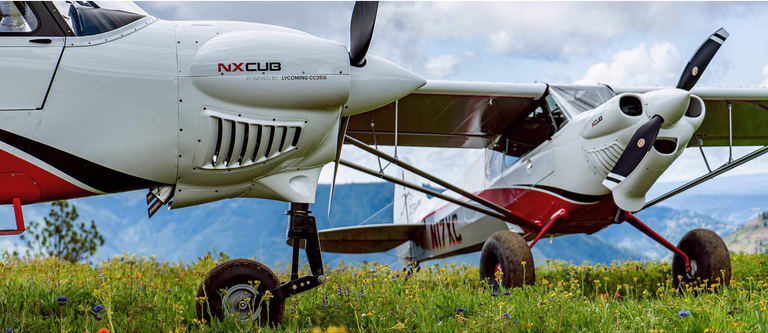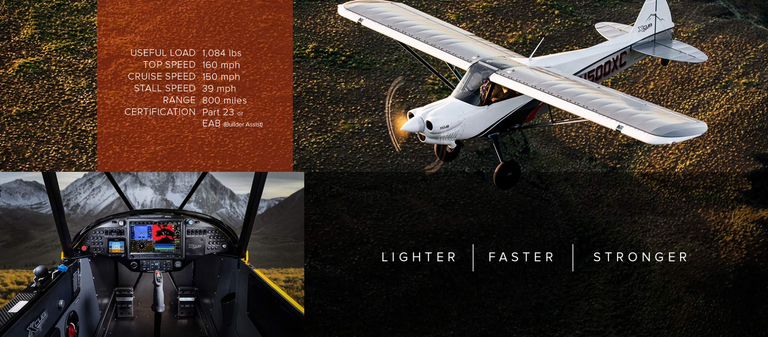 SourceCUBCRAFTERS

Flying experience | Experiencia de vuelo
This flight has left me beautiful images of how the area we saw, the lakes are beautiful and the mountains imposing, maybe I should make another flight to find some more inhabited areas to look at the type of buildings that are in Alaska.
I leave you some screenshots that I have taken of the gameplay with my console, the quality is splendid because they are 4K thanks to the advantages of my Xbox Series although as I ran the game from the cloud it doesn't do justice to the quality of graphics that it really should have.
I say goodbye reminding you that you are invited to suggest destinations that you would like to know or fly over with this simulator that is the best I've tried flight and especially environment emulation, it has a lot of technology behind in its development
Este vuelo me ha dejado bonitas imágenes de como la zona que vistamos, los lagos son hermosos y las montañas imponentes, talvez debería hacer algún otro vuelo para poder encontrar algunas zonas mas habitadas para mirar el tipo de edificios que hay en Alaska.
Te dejo algunas capturas que he tomado del gameplay con mi consola, la calidad es esplendida pues son 4K gracias las ventajas de mi Xbox Series aunque como el juego lo corrí desde la nube no hace tanta justicia a la calidad de gráficos que en realidad debería tener.
Me despido recordándote que estas invitado a sugerir destinos que te gustaría conocer o sobrevolar con este simulador que es el mejor que he probado de vuelo y sobre todo de emulación del entorno, tiene mucha tecnología detrás en su desarrollo.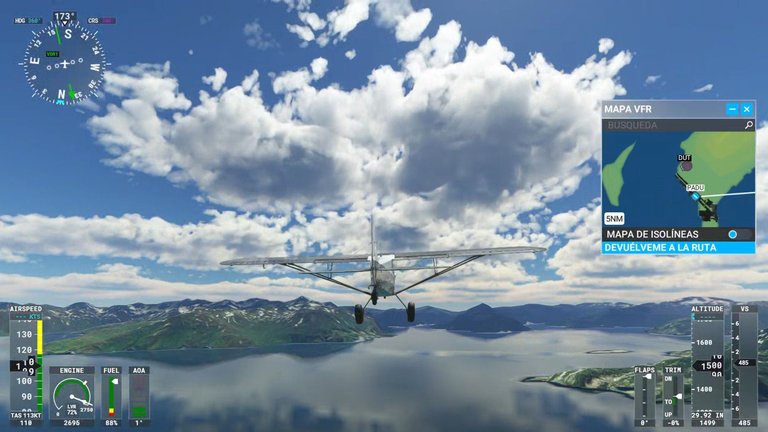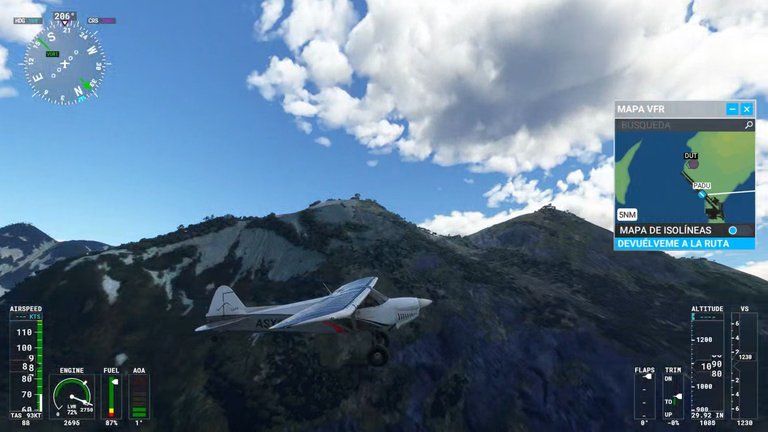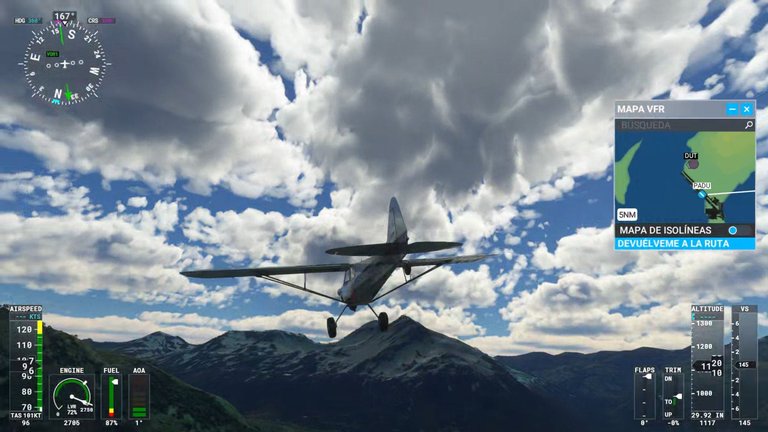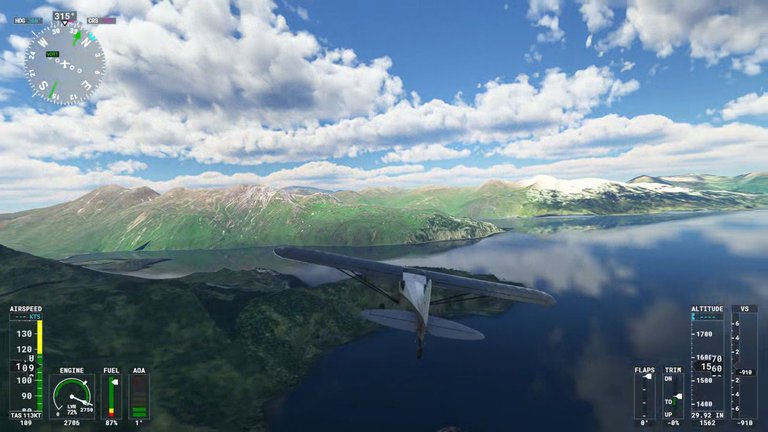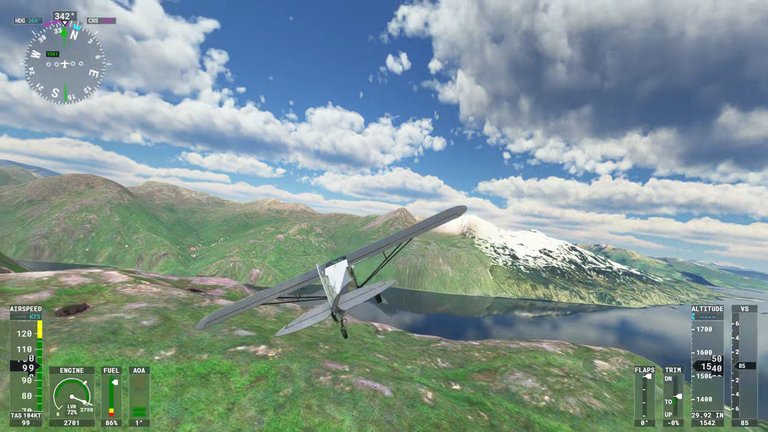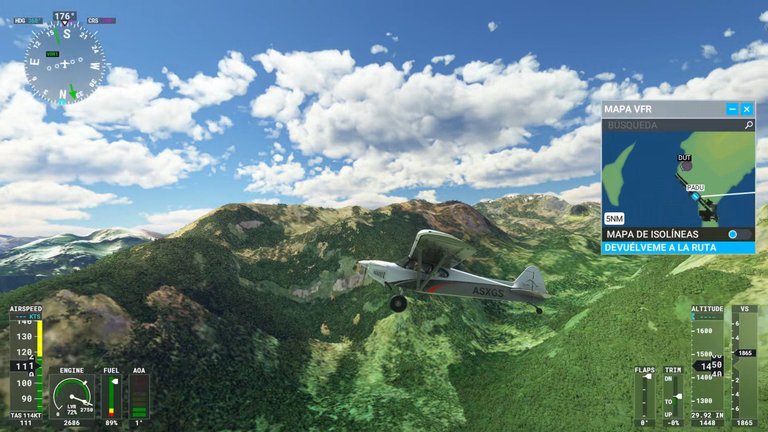 All pictures are taken from my Gameplay on my Xbox Series S/Todas las fotos son tomadas de mi Gameplay en mi Xbox Series S
Translated thanks to DeepL.com



---
▶️ 3Speak
---
---