Opening 48 booster packs *RisingStar
---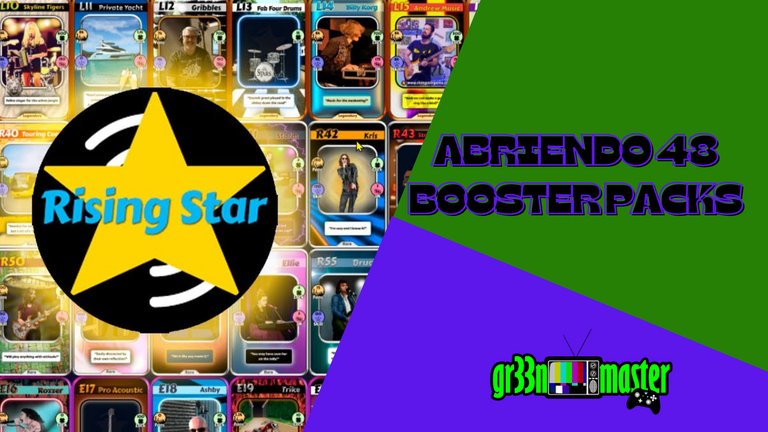 Great Opening of 48 packs
Hey friends here is your compa el Green with a new video of an opening where I was opening 48 packs of @risingstargame one of my favorite games of the Hive network.
A lot of people talk about the token being very low in price but not many talk about the opportunity that this means because thanks to these crazy prices you can buy and acquire an incredible amount of envelopes and fans to grow your collection and for the same reason increase the amount of Starbits you can generate.
I have some game tips and tutorials that can help you if you still don't play it or you are starting and you still don't know where you are in the game, just visit my Discord where we give advice on this game and some others that are also among our ecosystem of NFTgames where I am very active.
https://www.risingstargame.com?referrer=gr33nm4ster If you don't play RisingStar yet I leave you this referral link to start your music career for free.
https://discord.gg/Dn5ggScYpV If you have not yet visited my Discord server, I invite you to do so and you will find a lot of information about NFTGaming by Hive and other WEB3 related topics.
Hey amigos aquí su compa el Green con un nuevo video ahora de una apertura donde estuve abriendo 48 packs de @risingstargame uno de mis juegos favoritos de la red de Hive.
Y es que mucho se habla de que el token está muy bajo de precio pero no muchos hablamos de la oportunidad que esto significa pues gracias a esos precios de locura se puede comprar y adquirir una cantidad increíble de sobre y fans para así hacer crecer tu colección y por la misma razón aumentar la cantidad que puedes generar de Starbits.
Yo tengo algunos tips del juego y tutoriales que te pueden servir si aun no lo juegas o estas empezando y todavía no te ubicas en el terreo de juego solo visita mi Discord donde damos consejos de este juego y algunos otros mas que también están entre nuestro ecosistema de NFTgames donde estoy muy activo.
https://www.risingstargame.com?referrer=gr33nm4ster Si aun no juegas RisingStar te dejo este link de referido para que comiences tu carrera musical completamente gratis.
https://discord.gg/Dn5ggScYpV Si aun no te has dado una vuelta por mi server de Discord te invito a hacerlo podrás encontrar mucha información sobre NFTGaming de Hive y otros temas relacionados con la WEB3

Esta publicación así como el contenido del video debe de ser tomado solo como material informativo, de ninguna manera es un consejo de inversión./This publication as well as the content of the video should be taken only as informative material and is in no way investment advice.
Translated thanks to DeepL.com



---
▶️ 3Speak
---
---