Stream *Noche Mexicana!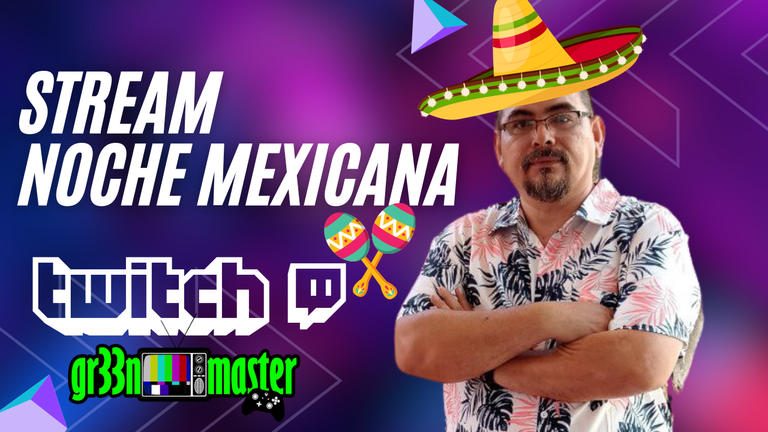 Greetings friends, today is the day of the Grito de la Independencia de Mexico, is a day of great pride for us Mexicans, in today's Stream we will talk about @risingstargame @hivefest, also I celebrate it with you with a night of Giveaways, Live Casino! And much more, come and have fun!
Saludos amigos, hoy es el día del Grito de la independencia de México, es un día de mucho orgullo para nosotros los mexicanos, en el Stream de hoy hablaremos de @risingstargame @hivefest, además lo festejo con ustedes con una noche de Giveaways, Casino en vivo! Y mucho mas, ven a divertirte!
Set Up que utilizo en algunos de mis videos, gameplays y streams:
Xbox Series S
Xbox One Fat
Super Nintendo Mini
Capturadora HDMI Video Hecha en China
Micrófono Marca Blue Nano
Cámara web USB 1080 ANNA TOSANI Mod. A1080
Pc :
Procesador Intel iCore 5 4ra generación
SSD 1TB Adata
Tarjeta grafica Nvidia GeForce 1050 Ti
Ram Asus X2 16 GB
Monitor Vios 20" 1080p- Monitor Asus 20" 1080p-TV 40" 4K
Set Up that I use in some of my videos, gameplays and streams:
Xbox Series S
Xbox One Fat
Super Nintendo Mini
HDMI Video Capturer Made in China
Microphone Blue Nano
USB 1080 webcam ANNA TOSANI Mod. A1080
Pc :
Intel iCore 5 4th gen Processor
SSD 1TB Adata
Graphics card Nvidia GeForce 1050 Ti
Ram Asus X2 16 GB
Monitor Vios 20" 1080p - Monitor Asus 20" 1080p-TV 40" 4K

---
---