Friendship to last a Lifetime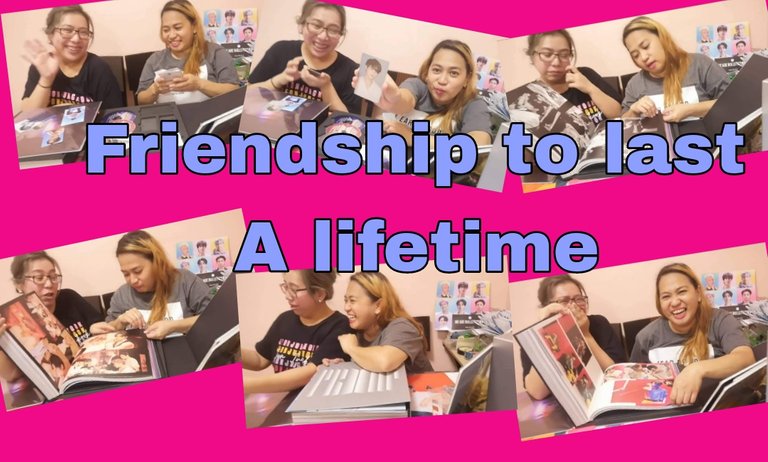 Just last Saturday, I went rushing to the house of my BFF to unbox another BTS Merchandise. I was invited because we ordered this album from BTS and the payment were shouldered by all of us. Actually, we are three besties but during that time the other one is not available so I went for her instead.
When my bestie is unboxing the merchandise she always do a recording or she is recording everything in a video to double check all the items of the merchandise per album. I think this is the right thing to do when you are receiving your merchandise.
Below are the pictures I screenshot from the video.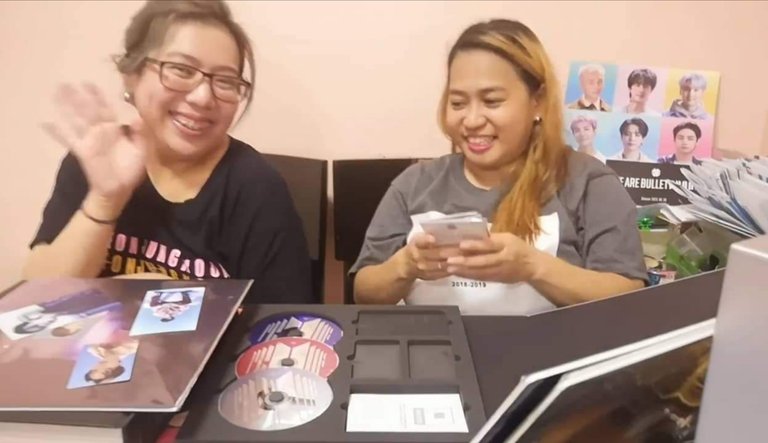 My bestie is the one wearing black shirt. I am on grey shirt. I came rushing to their house from my work (office) because I am so excited to open the box with her. While we were opening it, we are giving some reviews about how the merchandise look like. We gave our honest opinion about the items. I really did enjoy doing it with her because whenever I am with her, everything seems to be happy and funny at the same time. She is so frank and somewhat bully. I am a bully too, so I apologize.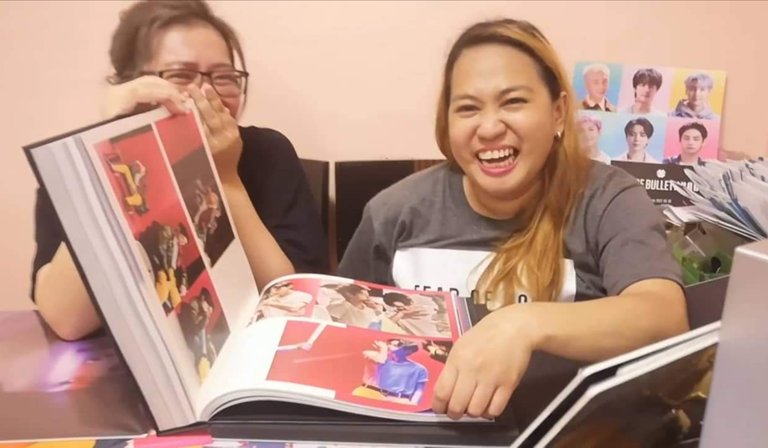 You see on this picture, I am showing the picture of Jungkook as one of the photocards in the album. I am showing it to the video because Jungkook of BTS really look young and he looks good.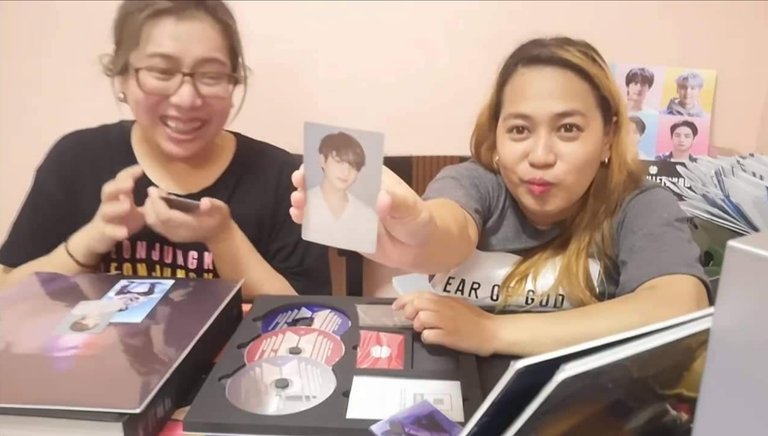 On this part we were arguing if there are available poster on the other albums we have because we are planning to cut the poster per member if there is no other poster on other albums.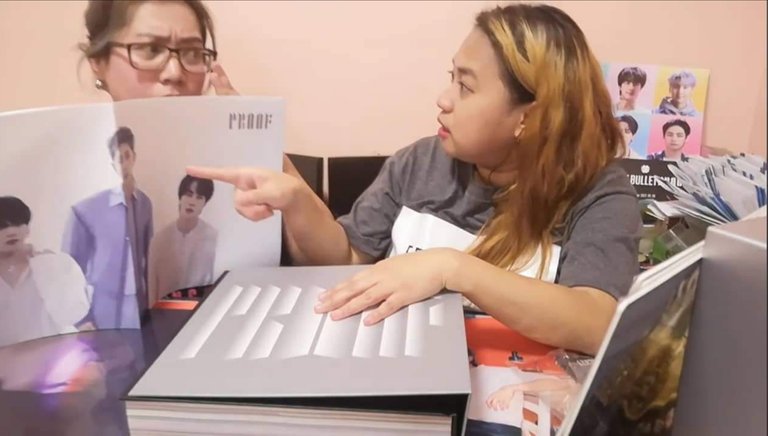 This part is when we are sharing the pictures of the big Photobook. This merchandise is name as Proof Collectors Edition. It was release this year and the weight of the album is 11 kgs. It is really heavy. The reason why it is heavy is because of the jump pack photos inside the humongous photobook. See in the picture that the photobook is really thick. Like you cannot finish checking out the pictures there in a day.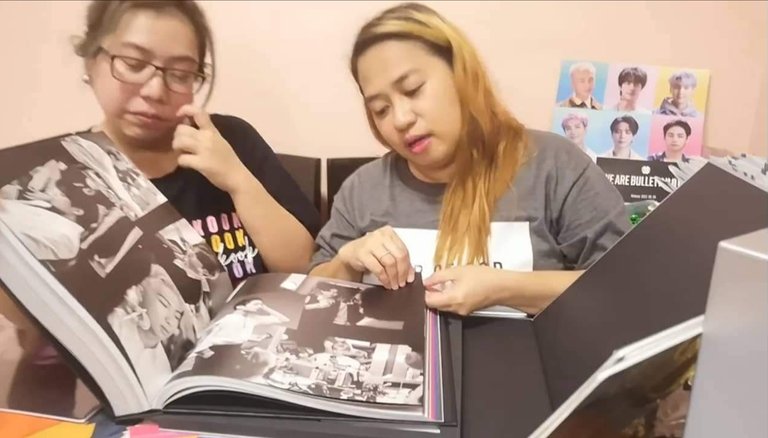 On this part we are commenting on the photos because we already saw some photos of Proof Standard Collection, however, the pictures might be repeatitive but they added lots of pictures and most of them are in the same place but different poses.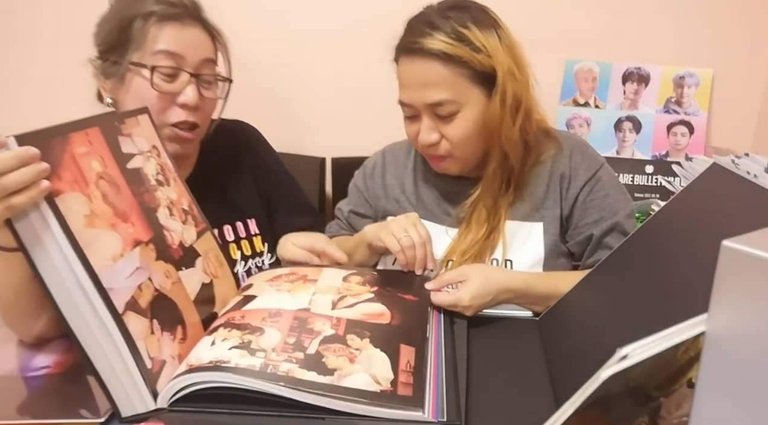 This one is really funny for me because we saw something funny that I choose not to share. All in all, it is worth it to have unboxing with my bestie because she is funny and it is a good quality time for mental health.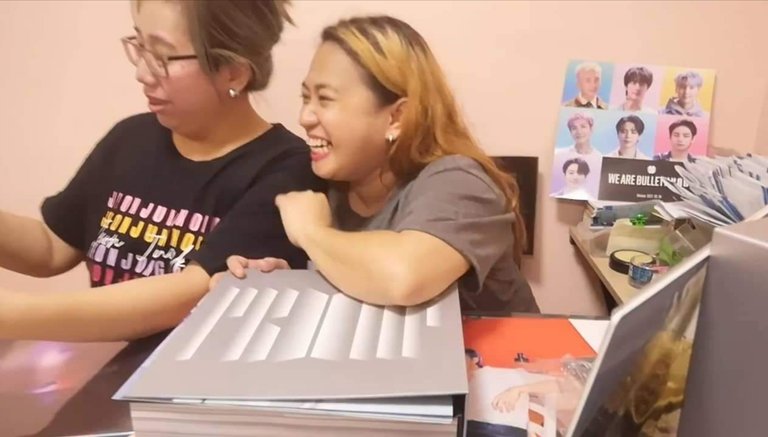 The Advantage of Having a bestie!!
We are friends for 15 years now and I know it will be for long. I am older than her but I feel she is more matured compared to me. Having her is like a breathe of fresh air. I know how true she is with me and I can be me when I am with her. It is not that because I am not real with other people, it is just that I am super comfortable being who I am when we are together. I can say what I want and she will judge me in my face.
I do the same to her though. I am grateful that in this cruel world, God gave me two people that will stick to me even when times get rough on me. I am not always kind and cool, sometimes I can be irritating and grumpy, but my besties are there to understand me and accept me with all my flaws. I can assure myself that when my family abandon me (joking aside), there will be someone that will pick me up. When I get old she and the other one will surely visits me when I can no longer stand up in bed. I know this friendship will last a lifetime.
---
---