Hive F1 2023 Contest - Race #09 - Montreal, CANADA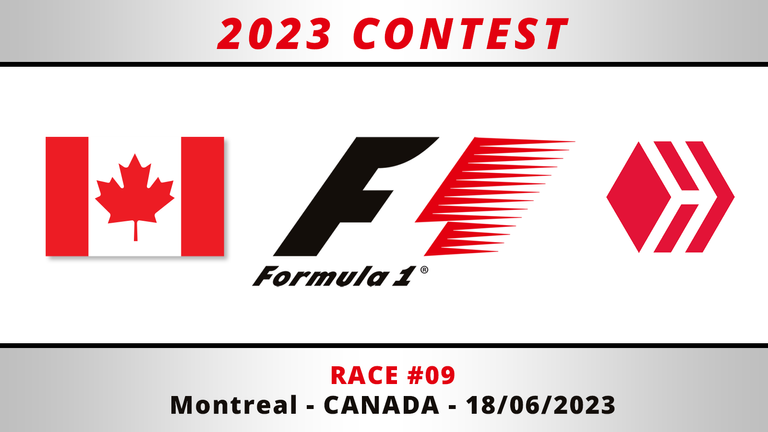 Gara #09 - Montreal, CANADA
Un saluto a tutti,
attraversiamo l'oceano e ci trasferiamo in Canada, con un altro dei circuiti classici, a Montreal. Pista molto veloce, a tratti complicata e difficile, con tornanti e forti staccate, ma soprattutto con il famoso muro dei campioni all'uscita della chicane che divide i due rettilinei principali. Aggiungiamo il fatto che è costruito in una bellissima location, intorno al lago.
Qui la sfida potrebbe essere più aperta, con le RedBull di nuovo favorite, ma i team dietro di loro stanno dimostrando di migliorare sempre di più ed avvicinarsi: Aston Martin potrebbe far bene per la gestione del consumo gomme, Mercedes ha dimostrato di essere sempre veloce e affidabile in gara, McLaren e Alpine in miglioramento e molto veloci, Ferrari che dovrebbe avere anche qui qualche nuovo aggiornamento tecnico.
Staremo a vedere come andrà, qui lo spettacolo non è mai mancato.
Ricordo che per via del fuso orario, da noi in Europa l'orario della partenza sarà intorno alle 20.00 (8 PM).
Aspetto i vostri pronostici e come sempre, buona fortuna a tutti! 🏁
---
Molti di voi già conoscono il funzionamento del nostro contest, mentre per i nuovi rimando al regolamento del concorso presente nel post della prima gara.
---
Per quanto riguarda il nostro concorso, più sotto potete vedere i risultati dell'ultima gara e la nostra classifica generale, per ora ancora con pochi partecipanti rispetto allo scorso anno.
In sette abbiamo indovinato il vincitore, risultato abbastanza scontato, quindi il premio viene diviso tra tutti. Risalta @acont, unico ad aver indovinato il pilota al terzo posto, che non deve spartire la vincita con nessuno.
Situazione in classifica stabile, ad eccezione di @ciuoto che guadagna una posizione superando @acont.
---
NFT FRAPPE'

Da quest'anno parte anche una collaborazione con gli amici di @nftfrappe che ci forniscono un ulteriore premio per il vincitore del contest a fine campionato: un NFT Epico di loro creazione!
Visitate pure la loro gallery di nftshowroom.


Gara #09 - Montreal, CANADA
Hello everybody,
we cross the ocean and move to Canada, with another of the classic circuits, in Montreal. Very fast track, with complicated and difficult parts, with hairpin bends and hard braking, but above all with the famous wall of champions at the exit of the chicane which divides the two main straights. Let's add the fact that it is built in a beautiful location, around the lake.
Here the challenge could be more open, with the Red Bulls once again the team to defeat, but the ones behind them are proving to improve more and more and get closer: Aston Martin could do well in terms of managing tire consumption, Mercedes has shown that it is always fast and reliable in the race, McLaren and Alpine improving and very fast, Ferrari which should also have some new technical updates here.
We'll see how it goes, here the show is never missed.
I remind you that due to the time zone, from us in Europe the starting time will be around 20.00 (8 PM).
I'll wait for your prediction, and as always, good luck to everyone! 🏁
---
Many of you already know how our contest works, while for the new ones I refer to the contest rules in the post of the first race.
---
As for our competition, below you can see the results of the last race and our general ranking, still with few players.
Seven of us guessed the winner, a fairly obvious result, so the prize is divided among everyone. @acont stands out, the only one to have guessed the driver in third place, who doesn't have to share the winnings with anyone.
Stable ranking situation. Only @ciuoto gains a position overtaking @acont.
---
NFT FRAPPE'

By this year a new collaboration with my friends of @nftfrappe who gift us a new prize for the contest winner at the end of the championship: an Epic NFT, original creation!
Take a look to the gallery on nftshowroom.


Race #08 results and general standing



Races Calendar 2023
| RACE | Track | 1st | 2nd | 3rd |
| --- | --- | --- | --- | --- |
| | | | | |
| 05 / 03 | | | | |
| R01 | Bahrain | Verstappen | Perez | Alonso |
| 19 / 03 | | | | |
| R02 | Saudi Arabia | Perez | Verstappen | Alonso |
| 02 / 04 | | | | |
| R03 | Australia | Verstappen | Hamilton | Alonso |
| 30 / 04 | | | | |
| R04 | Azerbaijan | Perez | Verstappen | Leclerc |
| 07 / 05 | | | | |
| R05 | USA - Miami | Verstappen | Perez | Alonso |
| 21 / 05 | | | | |
| R06 | ITA - Imola | NO RACE | - | - |
| 28 / 05 | | | | |
| R07 | Monaco | Verstappen | Alonso | Ocon |
| 04 / 06 | | | | |
| R08 | Spain | Verstappen | Hamilton | Russell |
| 18 / 06 | | | | |
| R09 | Canada | - | - | - |
| 02 / 07 | | | | |
| R10 | Austria | - | - | - |
| 09 / 07 | | | | |
| R11 | Great Britain | - | - | - |
| 23 / 07 | | | | |
| R12 | Hungary | - | - | - |
| 30 / 07 | | | | |
| R13 | Belgium | - | - | - |
| 27 / 08 | | | | |
| R14 | Netherlands | - | - | - |
| 03 / 09 | | | | |
| R15 | ITA - Monza | - | - | - |
| 17 / 09 | | | | |
| R16 | Singapore | - | - | - |
| 24 / 09 | | | | |
| R17 | Japan | - | - | - |
| 08 / 10 | | | | |
| R18 | Qatar | - | - | - |
| 22 / 10 | | | | |
| R19 | USA - Austin | - | - | - |
| 29 / 10 | | | | |
| R20 | Mexico | - | - | - |
| 05 / 11 | | | | |
| R21 | Brazil | - | - | - |
| 18 / 11 | | | | |
| R22 | USA - LasVegas | - | - | - |
| 26 / 11 | | | | |
| R23 | Abu Dhabi | - | - | - |
---
Official FIA Formula 1 Site
Official FIA Formula 1 Youtube Channel


Call for the Players
@robertomarinello, @zottone444, @stefano.massari, @catgio, @zipsardinia, @lokibalboa, @ciuoto, @blumela, @yocritico, @alfredolopez1980, @grof, @jonelescalona, @vicpics, @dexpartacus, @franz54, @nfelix92, @fuentesjo3006, @cmoljoe, @sportsjrfc2018, @bisec, @lucasantangelo, @carlood, @dianagomez, @pagliozzo, @lelluzzo, @antorchajohnny, @acont, @dernierdiaz, @deusjudo, @lolyfuentes, @salazarcag, @colon2018, @linterio, @jclark, @neo-wiza, @sljivanono, @justamoment, @lostprophet, @hollywwod, @barbadosso, @davidesimoncini, @serialfiller, @sukhothai, @perdomo56, @adimantong, @traveljack894, @stefanogabbo, @coccodema, @freestyle7, @massrado, @alequandro, @eagle71, @mrhuman88, @ifiwasfrank, @britandjosie, @cetyoung, @tosolini, @samubit, @vancouverpics, @samubit, @mauropi,@ifiwasfrank, @c3r34lk1ll3r, @bencwarmer, @siomara-2018, @sportsbuddy, @makeitreal95, @libertycrypto27, @ismaelgranados, @mrfrank88, @coolkris, @fraba, @stewie.wieno, @davidesimoncini and the others…
---
Immagini CC0 con diritti di modifica
CC0 Image labeled for reuse with modification
---
---