Hive F1 2023 Contest - Race #14 - Zandvoort, NETHERLANDS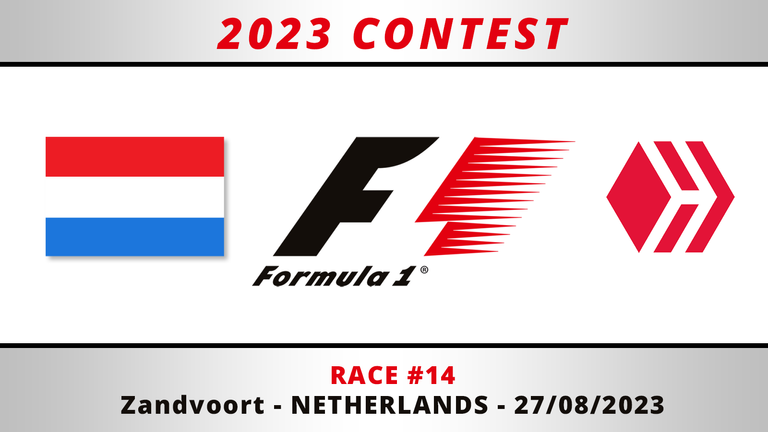 Gara #14 - Zandvoort, OLANDA
Un saluto a tutti.
Anche in Belgio nessuna novità: ha vinto Verstappen.
Secondo Perez, terzo Sainz.
Di nuovo c'è la McLaren che sembra essere tornata competitiva, con le buone performance di Norris e Piastri, soprattutto nella sprint race. Meno in gara, sicuramente per un setup azzardato in previsione pioggia (che non è arrivata).
Passando alla prossima gara, saremo in Olanda, a casa di Verstappen, che sicuramente avrà tutto il pubblico dalla sua parte. La pista non è molto lunga ed è veloce, con un solo lungo rettilineo, due molto corti e per il resto tutto in curva. Particolare la veloce curva parabolica prima del rettilineo principale. Favorito? Verstappen, come sempre! A seguire ci metterei le due McLaren, le Mercedes, subito dietro Ferrari e Aston Martin, che sembra aver perso quel qualcosa in più che aveva a inizio stagione.
Ousider Haas, Alpine e Williams.
Aspetto i vostri pronostici e come sempre, buona fortuna a tutti! 🏁
---
Molti di voi già conoscono il funzionamento del nostro contest, mentre per i nuovi rimando al regolamento del concorso presente nel post della prima gara.
---
Per quanto riguarda il nostro concorso, più sotto potete vedere i risultati dell'ultima gara e la nostra classifica generale.
@acont e @c3r34lk1ll3r si spartiscono il primo premio, avendo indovinato i primi due piloti sul podio, a seguire @green77 al secondo posto e tre concorrenti che si spartiscono il terzo posto. Classifica che vede @c3r34lk1ll3r allungare sempre di più in testa e @acont che scala qualche posizione.
---
NFT FRAPPE'

Da quest'anno parte anche una collaborazione con gli amici di @nftfrappe che ci forniscono un ulteriore premio per il vincitore del contest a fine campionato: un NFT Epico di loro creazione!
Visitate pure la loro gallery di nftshowroom.


Race #14 - Zandvoort, NETHERLANDS
Hello everybody,
No news in Belgium either: Verstappen won.
Second place to Perez, third Sainz.
Is McLaren which seems to be competitive again, with good performances from Norris and Piastri, especially in the sprint race. Less in the race, certainly due to a risky setup in anticipation of rain (which didn't arrive).
Moving on to the next race, we'll be in Holland, at Verstappen's home, who will certainly have the entire public on his side. The track is not very long and it is fast, with only one long straight, two very short ones and the rest all in corners. Particularly the fast parabolic curve before the main straight. Favorite? Verstappen, as always! Next I would put the two McLarens, the Mercedes, immediately behind Ferrari and Aston Martin, which seems to have lost that extra something it had at the start of the season.
Ousider Haas, Alpine and Williams.
I'll wait for your prediction, and as always, good luck to everyone! 🏁
---
Many of you already know how our contest works, while for the new ones I refer to the contest rules in the post of the first race.
---
As for our competition, below you can see the results of the last race and our general ranking.
@acont and @c3r34lk1ll3r share the first prize, having guessed the first two drivers on the podium, followed by @green77 in second place and three competitors sharing third place. Ranking that sees @c3r34lk1ll3r getting further and further in the lead and @acont climbing some positions.
---
NFT FRAPPE'

By this year a new collaboration with my friends of @nftfrappe who gift us a new prize for the contest winner at the end of the championship: an Epic NFT, original creation!
Take a look to the gallery on nftshowroom.


Race #13 results and general standing



Races Calendar 2023
| RACE | Track | 1st | 2nd | 3rd |
| --- | --- | --- | --- | --- |
| | | | | |
| 05 / 03 | | | | |
| R01 | Bahrain | Verstappen | Perez | Alonso |
| 19 / 03 | | | | |
| R02 | Saudi Arabia | Perez | Verstappen | Alonso |
| 02 / 04 | | | | |
| R03 | Australia | Verstappen | Hamilton | Alonso |
| 30 / 04 | | | | |
| R04 | Azerbaijan | Perez | Verstappen | Leclerc |
| 07 / 05 | | | | |
| R05 | USA - Miami | Verstappen | Perez | Alonso |
| 21 / 05 | | | | |
| R06 | ITA - Imola | NO RACE | - | - |
| 28 / 05 | | | | |
| R07 | Monaco | Verstappen | Alonso | Ocon |
| 04 / 06 | | | | |
| R08 | Spain | Verstappen | Hamilton | Russell |
| 18 / 06 | | | | |
| R09 | Canada | Verstappen | Alonso | Hamilton |
| 02 / 07 | | | | |
| R10 | Austria | Verstappen | Leclerc | Perez |
| 09 / 07 | | | | |
| R11 | Great Britain | Verstappen | Norris | Hamilton |
| 23 / 07 | | | | |
| R12 | Hungary | Verstappen | Norris | Perez |
| 30 / 07 | | | | |
| R13 | Belgium | Verstappen | Perez | Sainz |
| 27 / 08 | | | | |
| R14 | Netherlands | - | - | - |
| 03 / 09 | | | | |
| R15 | ITA - Monza | - | - | - |
| 17 / 09 | | | | |
| R16 | Singapore | - | - | - |
| 24 / 09 | | | | |
| R17 | Japan | - | - | - |
| 08 / 10 | | | | |
| R18 | Qatar | - | - | - |
| 22 / 10 | | | | |
| R19 | USA - Austin | - | - | - |
| 29 / 10 | | | | |
| R20 | Mexico | - | - | - |
| 05 / 11 | | | | |
| R21 | Brazil | - | - | - |
| 18 / 11 | | | | |
| R22 | USA - LasVegas | - | - | - |
| 26 / 11 | | | | |
| R23 | Abu Dhabi | - | - | - |
---
Official FIA Formula 1 Site
Official FIA Formula 1 Youtube Channel


Call for the Players
@robertomarinello, @zottone444, @stefano.massari, @catgio, @zipsardinia, @lokibalboa, @ciuoto, @blumela, @yocritico, @alfredolopez1980, @grof, @jonelescalona, @vicpics, @dexpartacus, @franz54, @nfelix92, @fuentesjo3006, @cmoljoe, @sportsjrfc2018, @bisec, @lucasantangelo, @carlood, @dianagomez, @pagliozzo, @lelluzzo, @antorchajohnny, @acont, @dernierdiaz, @deusjudo, @lolyfuentes, @salazarcag, @colon2018, @linterio, @jclark, @neo-wiza, @sljivanono, @justamoment, @lostprophet, @hollywwod, @barbadosso, @davidesimoncini, @serialfiller, @sukhothai, @perdomo56, @adimantong, @traveljack894, @stefanogabbo, @coccodema, @freestyle7, @massrado, @alequandro, @eagle71, @mrhuman88, @ifiwasfrank, @britandjosie, @cetyoung, @tosolini, @samubit, @vancouverpics, @samubit, @mauropi,@ifiwasfrank, @c3r34lk1ll3r, @bencwarmer, @siomara-2018, @sportsbuddy, @makeitreal95, @libertycrypto27, @ismaelgranados, @mrfrank88, @coolkris, @fraba, @stewie.wieno, @davidesimoncini and the others…
---
Immagini CC0 con diritti di modifica
CC0 Image labeled for reuse with modification
---
---