Hive F1 2023 Contest - Race #15 - Monza, ITALY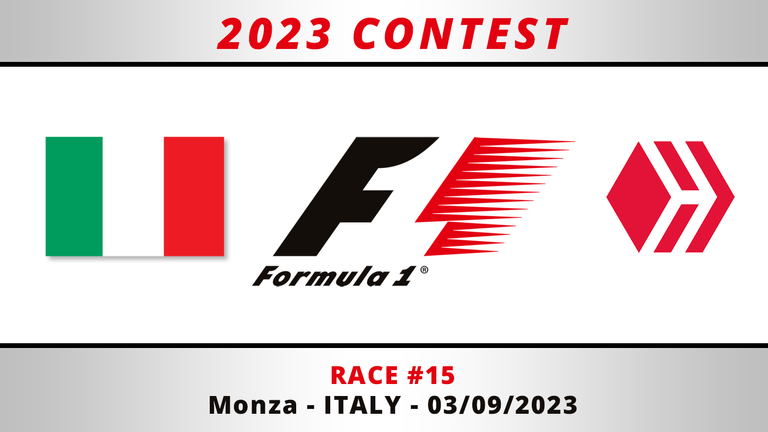 Gara #15 - Monza, Italia
Un saluto a tutti.
Che gara spettacolare in Olanda! Colpi di scena ed avvicendamenti, pioggia improvvisa e un grandioso Alonso che sale sul secondo gradino del podio! Verstappen vincente, come sempre ormai, e un ottimo Gasly terzo.
Ma veniamo alla parte saliente del post: Il Gran Premio di Italia a Monza!
La pista non ha bisogno di presentazioni, in quanto è una delle più iconiche e conosciute del mondo. Viste le performance e i risultati delle ultime gare, è lecito aspettarsi che oltre a RedBull, anche McLaren e Aston Martin potranno giocarsi la vittoria finale. Possibili outsider le veloci Alpine e la Williams di Albon.
Sicuramente siamo già tutti impazienti di vedere la gara e cosa succederà a Monza!
Aspetto i vostri pronostici e come sempre, buona fortuna a tutti! 🏁
---
Molti di voi già conoscono il funzionamento del nostro contest, mentre per i nuovi rimando al regolamento del concorso presente nel post della prima gara.
---
Per quanto riguarda il nostro concorso, più sotto potete vedere i risultati dell'ultima gara e la nostra classifica generale.
Risultato abbastanza scontato in Olanda, con l'ennesima vittoria di Verstappen, ma grazie alle piogge improvvise, lo spettacolo non è mancato.
Tutti abbiamo indovinato il vincitore, ma anche se in molti hanno indicato Alonso tra i tre piloti sul podio a fine gara, nessuno lo ha indicato al secondo posto.
Classifica praticamente invariata, avendo ottenuto tutti lo stesso punteggio.
---
NFT FRAPPE'

Da quest'anno parte anche una collaborazione con gli amici di @nftfrappe che ci forniscono un ulteriore premio per il vincitore del contest a fine campionato: un NFT Epico di loro creazione!
Visitate pure la loro gallery di nftshowroom.


Race #15 - Monza, ITALY
Hello everybody,
What a spectacular race in Holland! Twists and turns, sudden rain and a great Alonso who climbs onto the second step of the podium! Verstappen won as always, and an excellent Gasly third.
But let's get to the salient part of the post: The Italian Grand Prix in Monza!
The track needs no introduction, as it is one of the most iconic and well-known in the world. Given the performances and results of the last races, it is reasonable to expect that in addition to Red Bull, McLaren and Aston Martin will also be able to compete for the final victory. Possible outsiders are the fast Alpine and Albon's Williams.
Surely we are all already looking forward to seeing the race and what will happen in Monza!
I'll wait for your prediction, and as always, good luck to everyone! 🏁
---
Many of you already know how our contest works, while for the new ones I refer to the contest rules in the post of the first race.
---
As for our competition, below you can see the results of the last race and our general ranking.
A rather obvious result in Holland, with another victory for Verstappen, but thanks to the sudden rains, the show was not lacking.
We all guessed the winner, but although many pointed to Alonso among the three riders on the podium at the end of the race, no one pointed to him in second place.
Ranking practically unchanged, having all obtained the same score.
---
NFT FRAPPE'

By this year a new collaboration with my friends of @nftfrappe who gift us a new prize for the contest winner at the end of the championship: an Epic NFT, original creation!
Take a look to the gallery on nftshowroom.


Race #14 results and general standing



Races Calendar 2023
| RACE | Track | 1st | 2nd | 3rd |
| --- | --- | --- | --- | --- |
| | | | | |
| 05 / 03 | | | | |
| R01 | Bahrain | Verstappen | Perez | Alonso |
| 19 / 03 | | | | |
| R02 | Saudi Arabia | Perez | Verstappen | Alonso |
| 02 / 04 | | | | |
| R03 | Australia | Verstappen | Hamilton | Alonso |
| 30 / 04 | | | | |
| R04 | Azerbaijan | Perez | Verstappen | Leclerc |
| 07 / 05 | | | | |
| R05 | USA - Miami | Verstappen | Perez | Alonso |
| 21 / 05 | | | | |
| R06 | ITA - Imola | NO RACE | - | - |
| 28 / 05 | | | | |
| R07 | Monaco | Verstappen | Alonso | Ocon |
| 04 / 06 | | | | |
| R08 | Spain | Verstappen | Hamilton | Russell |
| 18 / 06 | | | | |
| R09 | Canada | Verstappen | Alonso | Hamilton |
| 02 / 07 | | | | |
| R10 | Austria | Verstappen | Leclerc | Perez |
| 09 / 07 | | | | |
| R11 | Great Britain | Verstappen | Norris | Hamilton |
| 23 / 07 | | | | |
| R12 | Hungary | Verstappen | Norris | Perez |
| 30 / 07 | | | | |
| R13 | Belgium | Verstappen | Perez | Sainz |
| 27 / 08 | | | | |
| R14 | Netherlands | Verstappen | Alonso | Gasly |
| 03 / 09 | | | | |
| R15 | ITA - Monza | - | - | - |
| 17 / 09 | | | | |
| R16 | Singapore | - | - | - |
| 24 / 09 | | | | |
| R17 | Japan | - | - | - |
| 08 / 10 | | | | |
| R18 | Qatar | - | - | - |
| 22 / 10 | | | | |
| R19 | USA - Austin | - | - | - |
| 29 / 10 | | | | |
| R20 | Mexico | - | - | - |
| 05 / 11 | | | | |
| R21 | Brazil | - | - | - |
| 18 / 11 | | | | |
| R22 | USA - LasVegas | - | - | - |
| 26 / 11 | | | | |
| R23 | Abu Dhabi | - | - | - |
---
Official FIA Formula 1 Site
Official FIA Formula 1 Youtube Channel


Call for the Players
@robertomarinello, @zottone444, @stefano.massari, @catgio, @zipsardinia, @lokibalboa, @ciuoto, @blumela, @yocritico, @alfredolopez1980, @grof, @jonelescalona, @vicpics, @dexpartacus, @franz54, @nfelix92, @fuentesjo3006, @cmoljoe, @sportsjrfc2018, @bisec, @lucasantangelo, @carlood, @dianagomez, @pagliozzo, @lelluzzo, @antorchajohnny, @acont, @dernierdiaz, @deusjudo, @lolyfuentes, @salazarcag, @colon2018, @linterio, @jclark, @neo-wiza, @sljivanono, @justamoment, @lostprophet, @hollywwod, @barbadosso, @davidesimoncini, @serialfiller, @sukhothai, @perdomo56, @adimantong, @traveljack894, @stefanogabbo, @coccodema, @freestyle7, @massrado, @alequandro, @eagle71, @mrhuman88, @ifiwasfrank, @britandjosie, @cetyoung, @tosolini, @samubit, @vancouverpics, @samubit, @mauropi,@ifiwasfrank, @c3r34lk1ll3r, @bencwarmer, @siomara-2018, @sportsbuddy, @makeitreal95, @libertycrypto27, @ismaelgranados, @mrfrank88, @coolkris, @fraba, @stewie.wieno, @davidesimoncini and the others…
---
Immagini CC0 con diritti di modifica
CC0 Image labeled for reuse with modification
---
---