Hive F1 2023 Contest - Race #17 - Suzuka, JAPAN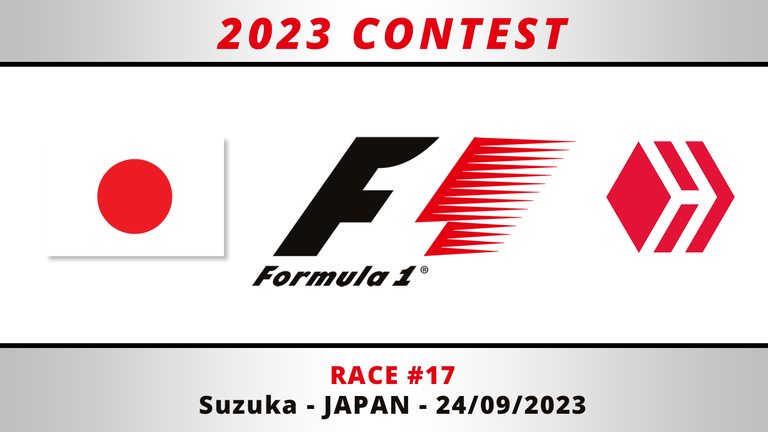 Gara #17 - Suzuka, GIAPPONE
Un saluto a tutti.
FERRARI!
Finalmente è tornata a vincere, ed è una notizia che molti tifosi stavano aspettando da molto tempo. Sainz, con un'ottima stregia negli ultimi giri, ha vinto interrompendo la serie di Verstappen, Leclerc invece non è riuscito a fare altrettanto bene, terminando al quarto posto.Grande prestazione di Norris e delle Mercedes, peccato per Russell che ha avuto un incidente all'ultimo giro dovendosi ritirare mentre lottava per il secondo posto.
Passiamo alla prossima gara: Suzuka, in Giappone. Altro tracciato storico dove la F1 corre praticamente da sempre. Molto tortuoso, è l'unico circuito ad avere un sottopassaggio dove la pista si incrocia. Molto tecnico e che richiede un ottimo setup delle vetture. Anche qui la Ferrari ha sempre fatto bene, e staremo a vedere se farà altrettanto. Ma le RedBulls torneranno sicuramente competitive. McLaren e Mercedes ormai una certezza, un pò in calo le Aston Martin, peccato per Alonso.
Anche questa sarà una gara da seguire, con le prestazioni delle diverse squadre sicuramente molto vicine.
Ricordo che per via del fuso orario, da noi in Europa la gara sarà al mattino intorno alle 7.00 AM.
Aspetto i vostri pronostici e come sempre, buona fortuna a tutti! 🏁
---
Molti di voi già conoscono il funzionamento del nostro contest, mentre per i nuovi rimando al regolamento del concorso presente nel post della prima gara.
---
Per quanto riguarda il nostro concorso, più sotto potete vedere i risultati dell'ultima gara e la nostra classifica generale.
@c3r34lk1ll3r comanda sempre la classifica ed allunga ancora, avendo indovinato il vincitore insieme ad altri tre concorrenti, tra cui @serialfiller, che riesce a risalire qualche posizione. Segnalo @stefano.massari unico ad aver pronosticato Norris al secondo posto.
---
NFT FRAPPE'

Da quest'anno parte anche una collaborazione con gli amici di @nftfrappe che ci forniscono un ulteriore premio per il vincitore del contest a fine campionato: un NFT Epico di loro creazione!
Visitate pure la loro gallery di nftshowroom.


Race #17 - Suzuka, JAPAN
Hello everybody,
FERRARI!
Finally back to winning, and it's a news that many fans have been waiting for for a long time. Sainz won with an excellent strategy in the final laps, by interrupting Verstappen's series, while Leclerc was unable to do as well, finishing in fourth place. Great performance by Norris and the Mercedes, a shame for Russell who had an accident on the last lap he had to retire while fighting for second place.
Let's move on to the next race: Suzuka, Japan. Another historic track where F1 has practically always raced. Very twisty, it is the only circuit to have an underpass where the track crosses. Very technical, here it is required an excellent setup of the cars. Ferrari has always done well here, and we'll see if they will do the same. But the RedBull will certainly come back competitive. McLaren and Mercedes are now performing and strong enough, Aston Martin are down a bit, too bad for Alonso.
This too will be a race to follow, with the performances of the different teams certainly very close.
I remember that due to the time difference, in Europe the race will be in the morning around 7.00 AM.
I'll wait for your prediction, and as always, good luck to everyone! 🏁
---
Many of you already know how our contest works, while for the new ones I refer to the contest rules in the post of the first race.
---
As for our competition, below you can see the results of the last race and our general ranking.
@c3r34lk1ll3r still leads the ranking and continues to grow distance, having guessed the winner together with three other competitors, including @serialfiller, who manages to move up a few positions. I would like to point out @stefano.massari as the only one to have predicted Norris in second place.
---
NFT FRAPPE'

By this year a new collaboration with my friends of @nftfrappe who gift us a new prize for the contest winner at the end of the championship: an Epic NFT, original creation!
Take a look to the gallery on nftshowroom.


Race #16 results and general standing



Races Calendar 2023
| RACE | Track | 1st | 2nd | 3rd |
| --- | --- | --- | --- | --- |
| | | | | |
| 05 / 03 | | | | |
| R01 | Bahrain | Verstappen | Perez | Alonso |
| 19 / 03 | | | | |
| R02 | Saudi Arabia | Perez | Verstappen | Alonso |
| 02 / 04 | | | | |
| R03 | Australia | Verstappen | Hamilton | Alonso |
| 30 / 04 | | | | |
| R04 | Azerbaijan | Perez | Verstappen | Leclerc |
| 07 / 05 | | | | |
| R05 | USA - Miami | Verstappen | Perez | Alonso |
| 21 / 05 | | | | |
| R06 | ITA - Imola | NO RACE | - | - |
| 28 / 05 | | | | |
| R07 | Monaco | Verstappen | Alonso | Ocon |
| 04 / 06 | | | | |
| R08 | Spain | Verstappen | Hamilton | Russell |
| 18 / 06 | | | | |
| R09 | Canada | Verstappen | Alonso | Hamilton |
| 02 / 07 | | | | |
| R10 | Austria | Verstappen | Leclerc | Perez |
| 09 / 07 | | | | |
| R11 | Great Britain | Verstappen | Norris | Hamilton |
| 23 / 07 | | | | |
| R12 | Hungary | Verstappen | Norris | Perez |
| 30 / 07 | | | | |
| R13 | Belgium | Verstappen | Perez | Sainz |
| 27 / 08 | | | | |
| R14 | Netherlands | Verstappen | Alonso | Gasly |
| 03 / 09 | | | | |
| R15 | ITA - Monza | Verstappen | Perez | Sainz |
| 17 / 09 | | | | |
| R16 | Singapore | Sainz | Norris | Hamilton |
| 24 / 09 | | | | |
| R17 | Japan | - | - | - |
| 08 / 10 | | | | |
| R18 | Qatar | - | - | - |
| 22 / 10 | | | | |
| R19 | USA - Austin | - | - | - |
| 29 / 10 | | | | |
| R20 | Mexico | - | - | - |
| 05 / 11 | | | | |
| R21 | Brazil | - | - | - |
| 18 / 11 | | | | |
| R22 | USA - LasVegas | - | - | - |
| 26 / 11 | | | | |
| R23 | Abu Dhabi | - | - | - |
---
Official FIA Formula 1 Site
Official FIA Formula 1 Youtube Channel


Call for the Players
@robertomarinello, @zottone444, @stefano.massari, @catgio, @zipsardinia, @lokibalboa, @ciuoto, @blumela, @yocritico, @alfredolopez1980, @grof, @jonelescalona, @vicpics, @dexpartacus, @franz54, @nfelix92, @fuentesjo3006, @cmoljoe, @sportsjrfc2018, @bisec, @lucasantangelo, @carlood, @dianagomez, @pagliozzo, @lelluzzo, @antorchajohnny, @acont, @dernierdiaz, @deusjudo, @lolyfuentes, @salazarcag, @colon2018, @linterio, @jclark, @neo-wiza, @sljivanono, @justamoment, @lostprophet, @hollywwod, @barbadosso, @davidesimoncini, @serialfiller, @sukhothai, @perdomo56, @adimantong, @traveljack894, @stefanogabbo, @coccodema, @freestyle7, @massrado, @alequandro, @eagle71, @mrhuman88, @ifiwasfrank, @britandjosie, @cetyoung, @tosolini, @samubit, @vancouverpics, @samubit, @mauropi,@ifiwasfrank, @c3r34lk1ll3r, @bencwarmer, @siomara-2018, @sportsbuddy, @makeitreal95, @libertycrypto27, @ismaelgranados, @mrfrank88, @coolkris, @fraba, @stewie.wieno, @davidesimoncini and the others…
---
Immagini CC0 con diritti di modifica
CC0 Image labeled for reuse with modification
---
---