HIVE FE 2023 Contest - R01 - Mexico City, MEXICO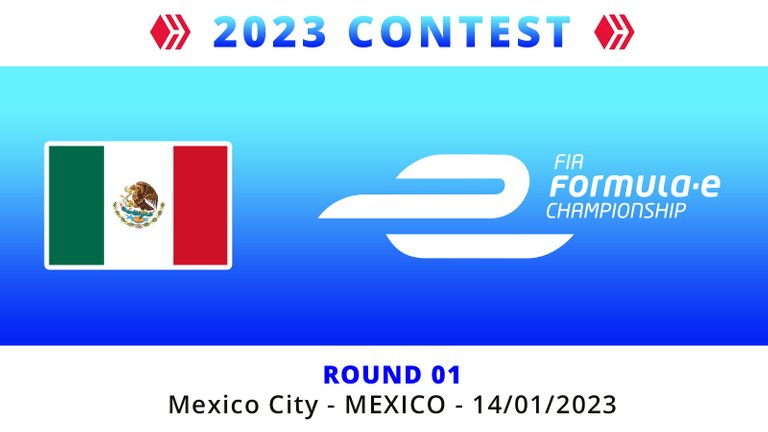 ITA
R01 - Città del Messico, MESSICO
Un saluto a tutti,
SI RIPARTE! E come ormai consuetudine, con la nuova stagione del campionato mondiale di Formula E, riparte anche il nostro contest. Il funzionamento è il medesimo dello scorso anno, un pò diverso da quello del contest legato alla Formula 1.
Qui si assegnano 3 punti per indovinare il pilota nella corretta posizione sul podio, e 1 punto se si è indovinato il pilota, ma in diversa posizione. Questo soprattutto per poter distribuire più punti e per via della sempre grande imprevedibilità dei vincitori.
Quest'anno debutteranno anche le nuove vetture: più piccole, più leggere e soprattutto più potenti! Inoltre vedremo la partecipazione di nuove squadre come McLaren, Maserati e Cupra che prende il posto di Audi. Segnalo anche che alcuni piloti hanno cambiato squadra, come il campione in carica Vandoorne che è passato a DS insieme a Vergne, passano in Andretti Lotterer e Dennis, Da Costa correrà su Porsche e Buemi passato ad Envision.
Qui potete controllare l'elenco completodi squadre e piloti.
Passando alla pista della prima gara, si correrà in Messico, su parte del tracciato utilizzato anche dalla Formula1, quindi non il solito circuito cittadino, ma una pista "vera" e lo spettacolo sarà assicurato! Come del resto è stato anche lo scorso anno, sempre qui.
Sarà interessante vedere le prestazioni delle nuove vetture e come si adatteranno i piloti alle loro nuove squadre. Come sempre il pronostico non sarà facile!
Ricordo che come al solito avrete tempo fino a prima della partenza delle gare per effettuare il vostro pronostico. Per i weekend che prevedono gare "doppie" potete scegliere se separarli in due commenti, uno per ogni gara, oppure insieme.
Vi aspetto numerosi e spargete la voce anche tra i vostri amici, più siamo e più ci divertiamo, in bocca al lupo a tutti!
---
Molti di voi già conoscono il funzionamento del nostro contest, che è lo stesso dello scorso anno, mentre per i nuovi rimando al regolamento del concorso presente nel post della prima gara.


ENG
R01 - Mexico City, MEXICO
Hello everybody,
LET'GO AGAIN! And as usual, with the new season of the Formula E world championship, our contest is also starting again. The rules are the same as last year, a little different from that of the contest linked to Formula 1.
Here, 3 points are awarded for guessing the driver in the correct position on the podium, and 1 point if the driver is guessed, but in a different position. This above all in order to be able to distribute more points and for the always great unpredictability of the winners.
This year the new cars will also make their debut: smaller, lighter and above all more powerful! We will also see the participation of new teams such as McLaren, Maserati and Cupra which takes the place of Audi. I would also like to point out that some drivers have changed teams, such as the defending champion Vandoorne who moved to DS together with Vergne, moving to Andretti Lotterer and Dennis, Da Costa will race with Porsche and Buemi moved to Envision.
Here you can see the full listing of drivers and teams.
Moving on to the circuit of the first race, it will take place in Mexico, on part of the track also used by Formula 1, so not the usual street circuit, but a "real" track and the show will be guaranteed! As indeed it happened here was last year.
It will be interesting to see how the new cars perform and how the drivers adapt to their new teams. As always, predictions won't be easy!
I remember that you will have time until the start of the races to make your prediction. For weekends that include "double" races you can choose whether to separate them into two comments, one for each race, or together.
I am waiting for you and spread the word among your friends, the more we are and the more we have fun, good luck to all!
---
Many of you already know how our contest works, while for the new ones I refer to the contest rules in the post of the first race.


Races Calendar, Season 8
| RACE | Track | 1st | 2nd | 3rd |
| --- | --- | --- | --- | --- |
| | | | | |
| 28-29 / 01 | | | | |
| R1 | Diriyah, SA | - | - | - |
| R2 | Diriyah, SA | - | - | - |
| 12 / 02 | | | | |
| R3 | Mexico City, MX | - | - | - |
| 09-10 / 04 | | | | |
| R4 | Rome, IT | - | - | - |
| R5 | Rome, IT | - | - | - |
| 30 / 04 | | | | |
| R6 | Montecarlo, MC | - | - | - |
| 14-15 / 05 | | | | |
| R7 | Berlin, DE | - | - | - |
| R8 | Berlin, DE | - | - | - |
| 04 / 06 | | | | |
| R9 | Jacarta, ID | - | - | - |
| 02 / 07 | | | | |
| R10 | Marrakesh, MA | - | - | - |
| 16-17 / 07 | | | | |
| R11 | New York, US | - | - | - |
| R12 | New York, US | - | - | - |
| 30-31 / 07 | | | | |
| R13 | London, GB | - | - | - |
| R14 | London, GB | - | - | - |
| 13-14 / 08 | | | | |
| R15 | Seoul, KR | - | - | - |
| R16 | Seoul, KR | - | - | - |


Official FIA Formula E Site
Official FIA Formula 1 Youtube Channel
---
Call for the Players
@robertomarinello, @zottone444, @stefano.massari, @catgio, @zipsardinia, @lokibalboa, @ciuoto, @blumela, @yocritico, @alfredolopez1980, @grof, @jonelescalona, @vicpics, @dexpartacus, @franz54, @nfelix92, @fuentesjo3006, @chipi17, @edgarf1979, @cmoljoe, @sportsjrfc2018, @bisec, @lucasantangelo, @carlood, @dianagomez, @pagliozzo, @lelluzzo, @antorchajohnny, @acont, @dernierdiaz, @deusjudo, @lolyfuentes, @salazarcag, @colon2018, @linterio, @jclark, @neo-wiza, @sljivanono, @justamoment, @lostprophet, @lovetaxi005, @hollywwod, @barbadosso, @davidesimoncini, @serialfiller, @sukhothai, @perdomo56, @adimantong, @traveljack894, @stefanogabbo, @coccodema, @freestyle7, @massrado, @alequandro, @eagle71, @mrhuman88, @ifiwasfrank, @britandjosie, @cetyoung, @tosolini, @samubit, @vancouverpics, @samubit, @mauropi,@ifiwasfrank, @c3r34lk1ll3r, @bencwarmer, @siomara-2018, @sportsbuddy, @makeitreal95, @libertycrypto27, @ismaelgranados, @mrfrank88, @coolkris, @fraba, @stewie.wieno, @davidesimoncini and the others…
---

Immagini Wikimedia Commons con diritti di modifica
Wikimedia Commons Image labeled for reuse with modification
Gustavo Girardelli CC BY-SA 4.0,
from Wikimedia Commons

---
---