[ENG/ESP] The Mist is a disturbing film by Frank Darabont that takes us back to the most destructive state of the human being. / La Niebla es una perturbadora película de Frank Darabont que nos retrotrae al estado más destructivo del ser humano.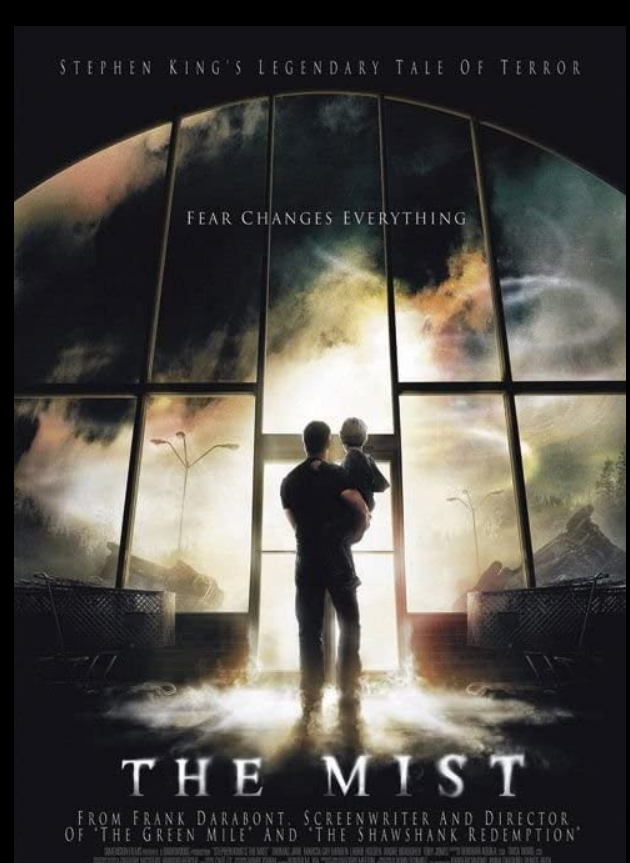 Source/Fuente: IMDB.
Making a film based on a book by Stephen King conditions the director to take risks that are not at all common.
The popular American writer, who has set almost all his books in Maine, where he lives, has horror and the supernatural aspect as the main plot of his works, many of which have been made into films, with greater or lesser success.
It is worth remembering especially The Shining (in my humble opinion by far the best one, with a great performance by Jack Nicholson), The Green Mile with a great Tom Hanks, Animal Graveyard with the unknown that could mean the performance of children in a horror film, The Dead Zone directed by David Cronenberg and many others.
To give an idea of the vastness of cinematic works adapted from Stephen King's books, one number is enough: 71 films have been based on his literary work.
I especially invite my friends @hubeyma and @marisa0949 to participate of this initiative promoted by the user @wiseagent.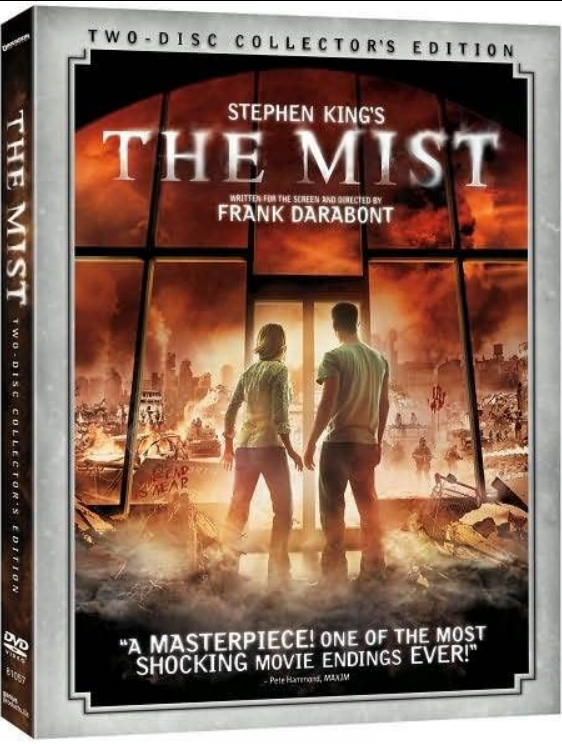 Source/Fuente:
Hacer una película basada sobre un libro de Stephen King condiciona al director a asumir riesgos que no son del todo comunes.
El popular escritor estadounidense que ha ambientado casi todos sus libros en el Maine, lugar donde reside, tiene al terror y al aspecto sobrenatural como el argumento principal de sus obras, muchas de las cuáles han sido llevadas al cine, con mayor o menor éxito.
Merecen ser recordadas especialmente El Resplandor (en mi modesta opinión en absoluto la mejor lograda con una actuación descomunal de Jack Nicholson), La Milla Verde con un estupendo Tom Hanks, Cementerio de Animales con la incógnita que podía significar la actuación de niños en una película de terror, La Zona Muerta dirigida por David Cronenberg y tantas otras.
Para dar una idea de la vastedad de obras cinematográficas adaptadas de libros de Stephen King es suficiente un número: 71 películas han sido basadas en su obra literaria.
Invito especialmente mis amigos @hubeyma y @marisa0949 a participar de esta iniciativa promovida por el usuario @wiseagent.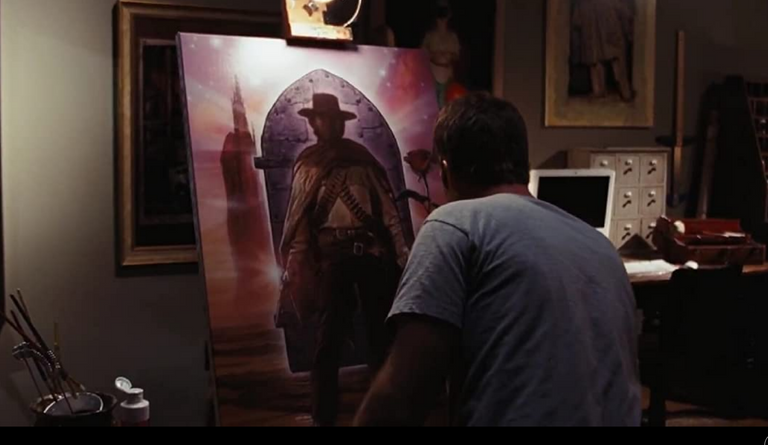 Source/Fuente: IMDB.

In this case and participating in the contest I'm going to talk about The Mist where the director achieves again one of the best film adaptations of the work of writer Stephen King.
Actually it seems more like a Lovecraftian story, where the style of the writer of Providence is best represented, a monster movie, which in a way follows the structure of 'Night of the Living Dead' (Night of the Living Dead, 1968), the biggest and best classic of George A. Romero that marked from then on a milestone to be followed by the rest of the directors.
The difference between Frank Darabont's film and George A. Romero's is that it manages to differentiate the human drama from the horror itself, with a modern sensibility.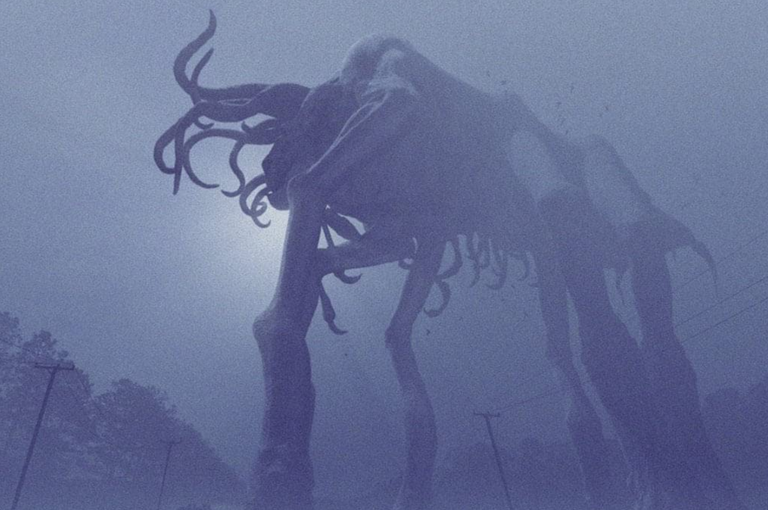 Source: IMDB.
En este caso y participando en el Concurso les voy a hablar de La Niebla donde el director logra de nuevo una de las mejores adaptaciones al cine de la obra del escritor Stephen King.
En realidad parece más una historia lovecraftiana, donde mejor está representado el estilo del escritor de Providence, una película de monstruos, que en cierto modo sigue la estructura de 'La noche de los muertos vivientes' (Night of the Living Dead, 1968), el mayor y mejor clásico de George A. Romero que marcó a partir de entonces un hito a seguir por el resto de los directores.
La diferencia de esta película de Frank Darabont con la de George A. Romero es que logra diferenciar el drama humano del terror en si mismo, con una sensibilidad actual.
Es decir, aplica la violencia del cine de terror de su época sin despojarlo del compenente de las relaciones humanas.

Suddenly a violent storm breaks out (as it could not be otherwise in a small town in Maine, where most of Stephen King's stories are set) which is followed by a dense fog that covers everything.
David Drayton and his son Billy along with others are inside a supermarket and discover that when anyone tries to leave to find their way home they never return. The fog begins to envelop the entire town.
Thus, people with different personalities are trapped inside the supermarket, each one of them locked in their own desperation and in a kind of claustrophobic terror from which they not only cannot get out, but which increases as the minutes go by.
Up to this point the film develops in a magnificent climax of suspense and anxiety that soon turns into terror when the people inside the supermarket see out of the fog some kind of monstrous creatures that are not of this world.
The only possibility to find a way out of this nightmare is to stay united and not get carried away by the differences in character that each one of them has. The greatest danger is that the group falls into panic and terror replaces the rational part inside each person.
The arrival of the apocalypse, the idea of offering sacrifices to calm these creatures and other possible solutions are presented without (dis)continuity until David wonders what is more terrifying: the monsters that lurk in the mist and gradually surround the supermarket or the people sheltered in it?
The only solution seems to be to flee as a group, amidst false prophets who predict the arrival of an imminent apocalypse and the madness into which all the members are falling in a kind of collective alienation that leads David to kill his friends and his son to prevent them from being devoured by the creatures, reserving for himself the last projectiles of his gun to commit suicide.
As he is about to do so he discovers that the gun is actually unloaded and as he resigns himself to fall into the hands of the monstrous creatures he hears a rumor coming out of the fog.
When he turns around he discovers that it is not a monster but army tanks and soldiers armed with flamethrowers are killing the monstrous creatures with them.
David at this point realizes that, in his desperation, he has killed his son and his friends in vain, instead of fighting to the end and hoping for help later. Kneeling he cries out all his pain and helplessness.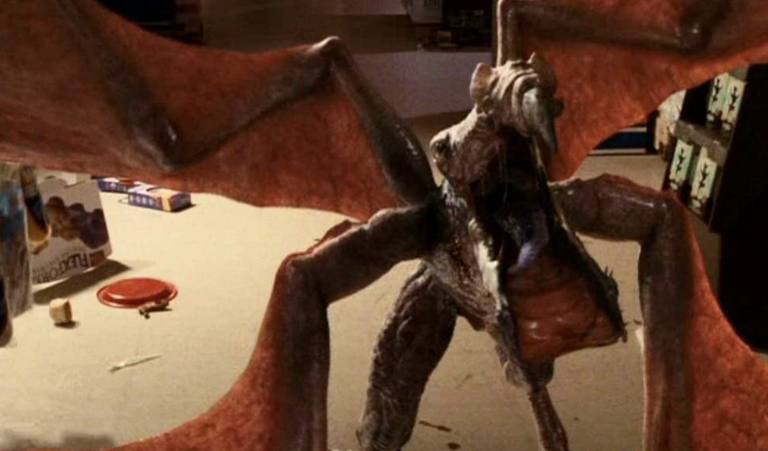 Source/Fuente: IMDB.
De repente estalla una violenta tormenta (como no podía ser de otra manera en un pequeño pueblo del Maine, lugar donde se ambientan la mayoría de los relatos de Stephen King) a la cuál sigue una densa niebla que todo lo cubre.
David Drayton y su hijo Billy junto a otras personas se encuentran dentro un supermercado y descubren que cuando cualquier persona intenta salir del mismo para encontrar el rumbo de su casa nunca regresa. La niebla comienza a envolver todo el pueblo.
Quedan así atrapadas dentro del supermercado personas con diferentes personalidades cada una de ellas encerrada en su propia desesperación y en una especie de terror claustrofóbico del cuál no solo no logran salir sino que aumenta con el pasar de los minutos.
Hasta aquí la película se desarrolla en un magnífico climax de suspenso y ansiedad que pronto se transforma en terror cuando las personas que están dentro del supermercado ven salir de la niebla una especie de criaturas monstruosas que no son de este mundo.
La única posibilidad de encontrar una salida a esta pesadilla es mantenerse unidos no dejándose llevar por las diferencias de carácter que tiene cada uno. El mayor peligro es que el grupo caiga en el pánico y el terror sustituya a la parte racional que hay dentro de cada persona.
La llegada del apocalypsis, la idea de ofrecer sacrificios para calmar estas criaturas y otras posibles soluciones se van presentando sin solución de (dis)continuidad hasta llegar al punto que David se pregunta qué es más aterrador: ¿los monstruos que merodean en la bruma y de a poco van rodendo el supermecado o las personas refugiadas en el mismo?
La única solución parece ser la huída grupal, entre falsos profetas que pronostican la llegada de un apocalipsis inmimente y la locura en que van cayendo todos los integrantes en una especie de enajenación colectiva que lleva a David a matar a sus amigos y a su hijo para evitar que sean devorados por las criaturas reservando para si mismo los últimos proyectiles de su arma para suicidarse.
Cuando está por hacerlo descubre que en realidad el arma está descargada y cuando se resigna a caer en manos de las monstruosas criaturas escucha un rumor que sale de la niebla.
Cuando se da vuelta descubre que no es un monstruo sino que son los tanques del ejército y soldados que armados con lanzallamas está matando a las criaturas monstruosas con ellas.
David a este punto se da cuenta que, en su desesperación, ha matado a su hijo y sus amigos en vano, en vez de luchar hasta el final y esperar en una ayuda postrera. Arrodillado grita todo su dolor y su impotencia.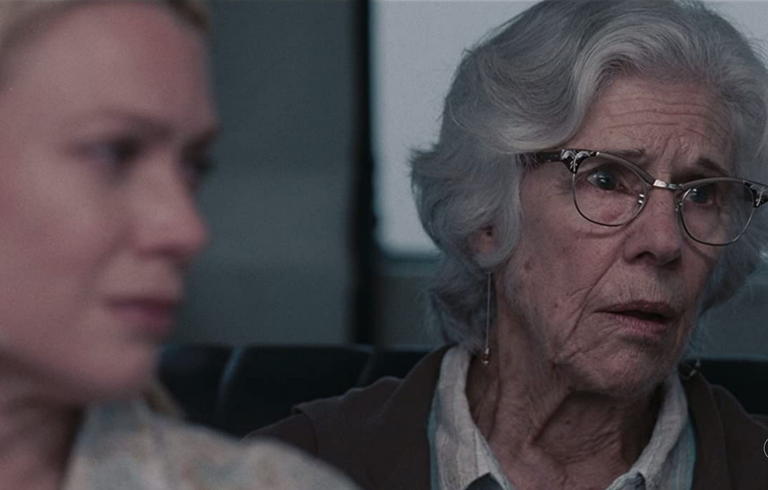 Source/Fuente: IMDB.

Thomas Jane como David Drayton.
Laurie Holden como Amanda Dumfries.
Marcia Gay Harden como Carmody.
Frances Sternhagen como Irene Reppler.
Sam Witwer como Private Jessup.
Alexa Davalos como Sally.
Toby Jones como Ollie Weeks.
Andre Braugher como Brent Norton.
Jeffrey DeMunn como Dan Miller.
William Sadler como Jim Grondin.

In the midst of confusion, fear and terror, a group of people fight for their survival locked inside a supermarket.
Frank Darabont's film is a sobering allegory that revolves around the moral collapse of modern civilizations where people live in the midst of chaos, uncertainty, anguish and depression.
The story is sometimes suffocating and even contradictory, but perhaps that is the director's true objective: to confront repressive intolerance and religious fanaticism with reason and common sense in the midst of an apocalyptic context.
The form taken by the creatures, perhaps a bit grandiloquent, has little to do with the true content of the film.
Whether they are extraterrestrial beings, undead or monstrous beings that are difficult to categorize matters little. What matters is the fact that they are created by the devastation of our own consciousness. Therein lies the message.
Our own fears and terrors assume the form that each of us is willing to give them.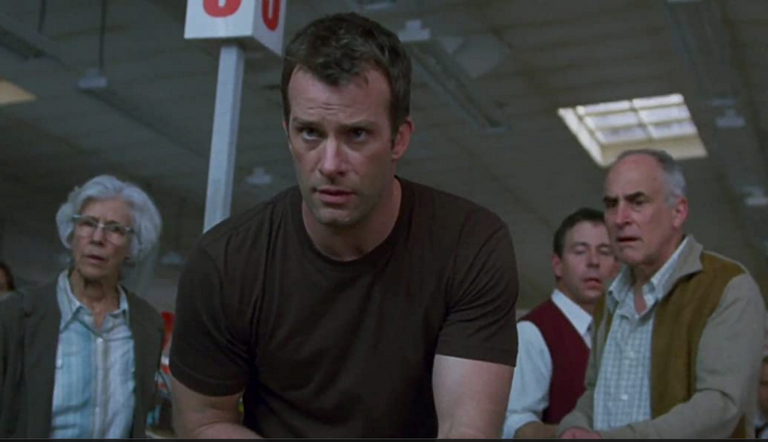 Source/Fuente: IMDB.
En medio de la confusión, el miedo y el terror un grupo de personas luchan por su supervivencia encerradas dentro de un supermercado.
La película de Frank Darabont es una aleccionadora alegoría que gira alrededor del derrumbe moral de las civilizaciones modernas donde las personas viven en medio al caos, a la incertidumbre, a angustias y depresiones.
El relato a veces es asfixiante y hasta contradictorio pero tal vez sea ese el verdadero objetivo del director: confrontar la intolerancia represiva y el fanatismo religioso frente a la razón y al sentido común en medio de un contexto apocalíptico.
La forma que toman las criaturas, tal vez un poco grandilocuente, tiene poco que ver con el verdadero contenido de la película.
Que sean seres extraterrestres, muertos vivientes o seres monstruosos difícilmente catalogables poco importa. Importa el hecho que son creados por la devastación de nuestra propia conciencia. Ahí está el mensaje.
Nuestros propios miedos y terrores asumen la forma que cada uno de nosotros mismos está dispuesto a darle.
Trailer of the movie in English:
Trailer de la película en español: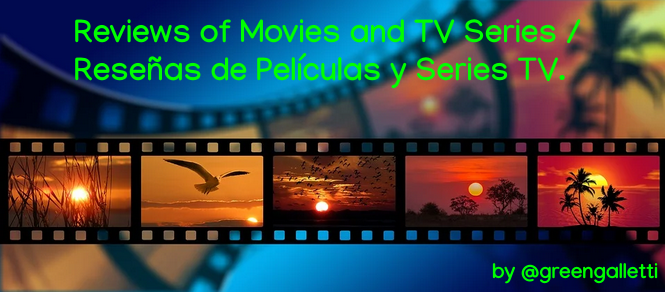 ---
---