Flying with Amanita

The dirt I lay my body on begins to soften, as the branches above me intermingle in a wavy dance. Vibrant and young spring greens swirl into the deeper emeralds. A bird calls out, its sharp voice echoing in the motions of the trees. A kaleidoscope spreads out from the sun, pulling me in.

I hear her call, rumbling the earth. She scares a family of otters back into the river, which I did not notice when I arrived here. The unmistakable rush of a hearty current surrounds me, how didn't I know... and through it, I hear her. "Come" she whispers from the leaves at my feet.

A deer skips past me, then through me. Stopping a few yards away, her translucent body blinks in and out, realigning in a slightly different position each time. I know she sees all I have ever done, as I gaze into her hollow eyes. I want to know her secrets, instead she shows me mine.





I spend a lifetime with the deer, ignoring the call I hear beyond until my days end. Smiling, I go to sleep for the final time in the familiarity of my bed.

Awakening on the dirt, which is not so soft now, I leap to a stand. Shaking a millipede from my heavy hand, I watch as it becomes every hand, my flesh is not my own.

"Come." her voice is less kind now, I can taste the insistence on her lips. She swells in my heart, and my feet move themselves. Sunbeams reach down through the trees to kiss my face, leaving inspiration tangled in my flowing hair. The breeze urges me forward.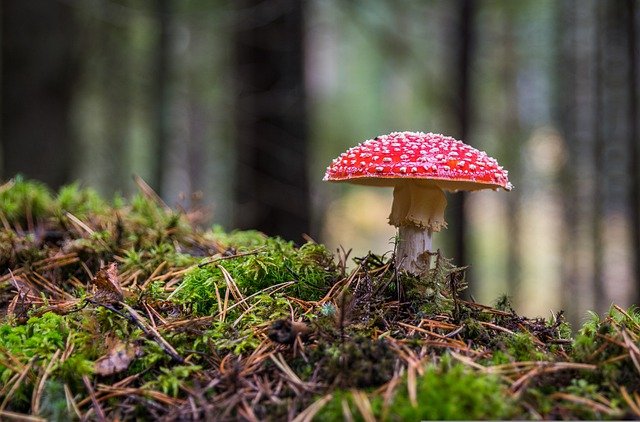 Photo by ekamelev on Pixabay
I lay eyes on her crimson flesh, dotted with white bubbles which pop along her surface, replaced as they expire. "Pick me up, I will defend you" she says in a silky voice. Who am I to refuse? As I wrap my fingers around her slender white stem, I lose her in the size of my massive hand. I suddenly stand at eye level with the canopy of the forest, all around me are dinosaurs perched in the trees.
One makes some bizarre noise like if a motorcycle blew bubbles... kicking its oddly small feet in a rapid motion, it begins to rise up into the air! Below me, I see strange creatures that look like toadstools running about. They shriek in scratchy voices, but I have no idea what they say.
The earth begins to quake, the rumble of massive footsteps coming from a nearby clearing. As I move to investigate, a trail of dinosaurs and mushroom people follow me. I carefully avoid their tiny bodies, as I place each foot. The clearing comes into view, and I see something strange.

"Just concede Marino! You cannot stop me from capturing Princess Beach again and again!" He breaths from a jagged mouth, wisps of fire streaming from between his teeth. His freakishly large eyes pierce me, as the sunlight glints against the spikes that dot his shell. Uh, Okay turtle dino.
I shrug, and turn back into the woods, as the mushrooms squeak in protest at my feet. They are lost in the swell of pleasant music that drifts around me from some unknown place. I jump through the woods, watching my poised hands unmoving in my line of vision. I kneel to pick a fly amanita, and suddenly my body is frozen in place.
You are over encumbered!
The deep voice booms out from the same source as the music, unidentifiable, it comes from everywhere. I scroll though my pockets in my mind, as shirts and candlesticks pour forth from me. I begin to move again, and my unwanted items fall to the ground. Following a curving stone path up a hill, I am mesmerized. The floating diamond in the sky moves ever closer, increasing in size.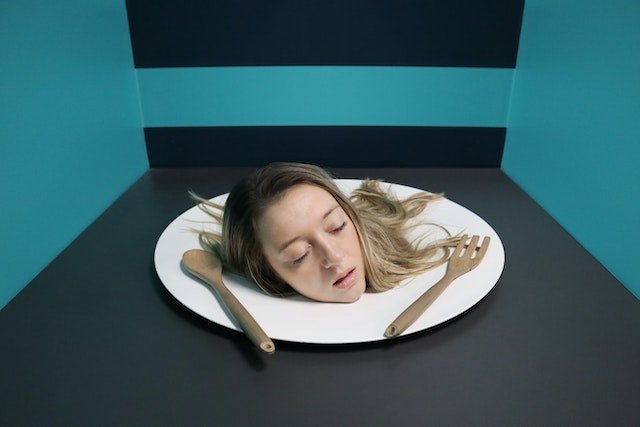 Photo by Designecologist on Pexels
At the top is a marble shrine with detailed archways inviting me forward. As I climb the steps that lead to its centered altar, the offering that has been lain takes form. The head of a woman is slumped, lifeless upon a plate. I recoil from the sight, falling backwards onto the stairs.
As I flip feet over head, I gain momentum. The speed dries me out, I cannot stop. Wind blowing through me, I am carried in its path. The strands of my being tangle together in a rolling knot that sweeps the sand. A tumbleweed, I am in no hurry to go anywhere once more.
I run into the head of a woman after months, her eyelids flutter open to take me in. The glint of the plate reflects in green eyes, menacing me. She opens her mouth in a grin, except her teeth do not belong to a friendly creature. Sharp points intersect with one another, capped like the peaks of mountains. I become aware of a chill that spreads up my legs.

Resting my weary mind behind sealed eyes, I count my breaths like coins in my hand. Colors dance in the darkness, as my body sways side to side. It begins as a comfort, but ends in nausea.
I blink in the dim light of my living room, my walls expand and contract around me. The clock on my wall says 27:92, I nod. It is time. I pull myself up from the floor to get ready for work, leaving a bag of dehydrated mushrooms on the carpet.
---
This is my contribution to
this
contest hosted by the Freewriters community "A picture is worth a thousand words". The Mushroom made me think of the game Oblivion first, then Mario. I included my own little tribute to the two here :) This was a fun write to help me push through my writer's block!

---
---