Nerffin and the Troll Baby, Gnomeville's Mystery ~ Part 2

This is a continuation of Gnomeville's Mystery Part One by the lovely @snook, which you can check out here!
---
"Hear what?"
"Well, maybe if you listened..."
The trees of Gnomeville had been mighty grumpy as of late. They loved the gnomes, they really did. But dammit if gnomes weren't needy little buggers. Conversations were tense.
Another room, deeper roots, a place for gnomes to be themselves. A library, a hearth, a bed of nails. Whatever they needed, yeah?
It was a deal that went back through the ages, the trees provided for the gnomes, and they stewarded the earth.
It worked brilliantly, until it didn't. The earth was changing, the gnomes had changed. To be honest, the trees themselves had changed. It had been a long time coming. A forest must retire too, you know. Well, in the midst of this weariness, the
troll baby
  had appeared. The screaming little blessing from the storks...
---
---
💫
G W E N
Fred and Emma had a love story as old as time. Maybe you've heard it before? A fierce passion for science drove them into each other's arms, determination to save Gnomeville making them a bit hot under the cap. They knew that the woods needed a sustainable ecological solution, and damn if they weren't going to find it together! We've
all
  been there!
They had a crush on each other since they were kids, and everyone knew it but them... until the trees stepped in, of course! With a properly planted root, the pair had fallen into love, literally. After desperately rolling in the dirt sucking face as the whole village pretended to politely look away, things just flowed. Yeah, they were special, two of a kind.
😍
Well, this particular tree-home came with an odd room. It was located partially underground, with little windows letting a sliver of light through to highlight a throne. Nearby was
the bassinet.
Intricately woven, and fit for royalty, there was just one odd detail about it... its mattress was lined with spikes, and inside was a baby that was not... let us say, standard?
Little Gwen had arrived on their doorstep as soon as they went to bed, like babies do. Green and bubbling over with discomfort, her wails had woken the couple up, sending Fred into a tizzy. They'd spoke of having a kid
someday
but the plan had been to save the town first!
Or so Fred thought. Until Emma, upon spotting their new bundle, had rushed off into the depths of the house to return with baby toys. Mighty shady.
"Well, the blackberry bush behind our home didn't fruit this year, surely you knew a baby was coming, love?" Emma had said. Sure, Fred had wondered about the subterranean room that came with the home. Frankly, he had assumed that the trees had finally learned to tell jokes. Nerffin, the village wacko, had been doing his best to teach them for years...
---
---
😎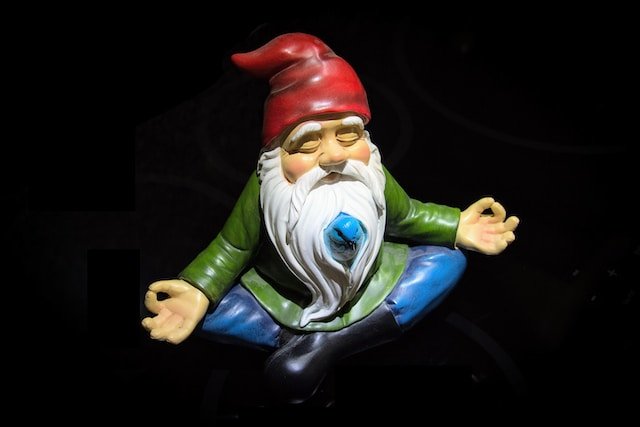 Photo by David Brooke Martin
👂 N E R F F I N 👀
Gnomes think they're hella woke. Open air schools, permaculture, and acceptance. If a gnome was mean to another gnome, their tree would die. Trees hate assholes, and when a jerk lives in one, it will perish from sheer dissapointment. The punishment for this was to be sent deep into the earth to degen till you died.
But did any of the gnomes question that? Largely no. Well, Nerffin sure did! He'd gone underground before, there was no rule against it, after all. The pillowy beds made for the mistresses of mischief, a kitchen which never stopped producing steaming and decadent dishes.
Gnome hell was super chill. That is... until you died from the lack of sunlight. "Serves you right for letting a tree die!" the woke citizens of Gnomeville chorused. Besides, down in the earth they received the best tobacco, grown by dryads and rolled into cigarettes by the fairies. THAT obviously absolved them for the uh, murdering aspect... in their minds.
Madness! It was unhinged.
urge
sapped the strength from their hearts.
Gnomes
need
to garden, like centaurs need to tell verbose jokes with little substance to them. Like the Dwarves ache to mine, and the manticores yearn to gore people.
It was who they were, assholes or not.
Well, after his visit into the earth, Nerffin had decided to soak his mind in some giggle juice. Loading his pipe up with a mix of jazz cabbages and tobacco, he'd gotten properly wasted after that. Bad vibes.
It was in this state of mind that he came up with a bright idea. He'd try to impart a sense of humor on the trees. Laughing stopped him from feeling blue. Maybe if the trees lightened up, they'd stop dying over jerks?
For a long time, everyone felt that Nerffin was positively insane. He spent years cackling into tree roots, dressing up in eccentric outfits, and performing strange dances on the topsoil. "Interpretive dance always makes
me
laugh! What's wrong with you?" He could be heard yelling one afternoon.
Well, ever since Gwen appeared, some had whispered that maybe he'd managed something... But it sure wasn't stopping the trees from making like a uh... tree, and dying. Hopes stayed high for Fred and Emma to find a solution.
---
---
Meanwhile, in the mycelium network...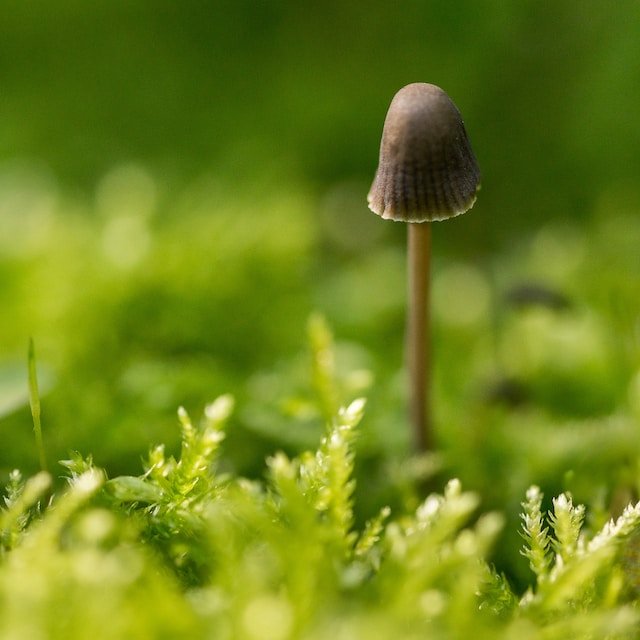 Photo by Mason Unrau
The cool air of fall roused the morels, they sprouted with the full knowledge of the earth in tow. Small brown mushrooms peaked out from the fields, sometimes supervised by an amanita cap or two. Although no one had ever bothered to ask, they spoke for the trees.
Yeah, sometimes they did it by giving you some dysentery like illness, and sometimes they tried to make you
see it
in vibrant color... It was as chaotic as the flood of data they received. Mushrooms are the cell phones of the dirt, and trees are CHATTY.
"Hey Greg, did you see that leaf?"
"No Martha, but there is a bug on me, isn't that JUST??"
The trees seriously never shut up, yet no one was listening. Until the universe cursed them with Nerffin, big-hearted and totally unable to convey their message to anyone. Perfect.
---
---
🍃

E M M A
The beakers steamed, the percolators percolated, the alembic hissed with a satisfying tone that spelled success. Surely this would be the answer. It had to be, Emma's heart couldn't bear to lose another tree. Just as focus began to sing its sweetest song to her, Fred stormed in.
His face was as red as his beard, it was the week of his man period and he had been on edge all day. What now?! "YOUR daughter is such a troll!" He professed.
The tears swell inside her buldging eyes like Fred poked them. Angry cry initiated. "How COULD you?" Emma wailed, "She's our daughter, a TROLL? You absolute bird brain!"
"Emma! She's literally a troll!" Fred shot back, and then "Don't you think there's a rather lot of butterflies in here?"
He was right, the suckers had appeared like bubbles, filling the room with the soft brush of wandering wings. The love Emma and Fred felt for each other overcame them in the moment, and they reached out for each other's hands.
As the lab implements sizzled down and finalized their process, one last stream of butterflies escaped from the steam. Maybe the potion would help solve the mystery that plagued Gnomeville, but for right now it was highly effective at diffusing the tension. Emma laughed, and Fred's face returned to the normal level of old man grumpiness.
Then came the frantic knock at the front door, sweeping them back to reality...
---
---
To be continued by @enginewitty 🔥🕺

---
---