🍽🍖🍗RECETA: Desayuno Venezolano ‖ RECIPE: Venezuelan Breakfast🍗🍖🍽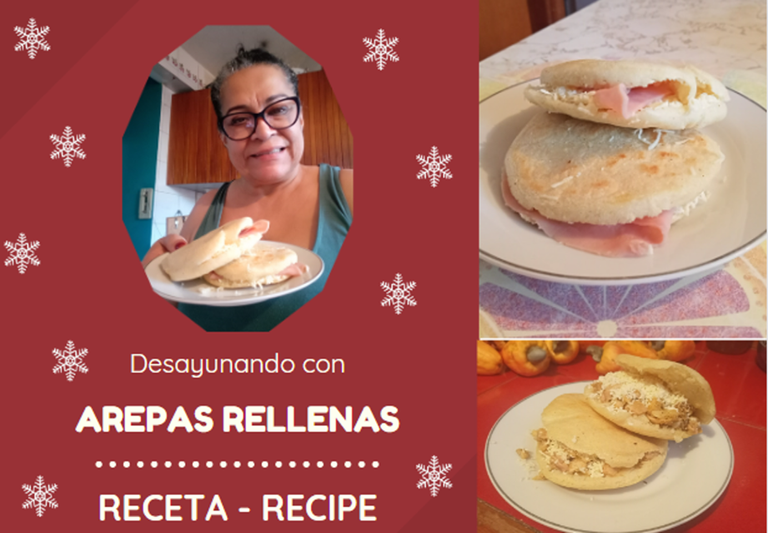 Hola amigos HIVERS!!! hoy voy a compartir con esta maravillosa comunidad, lo que preparé de desayuno para familia y especialmente para mi hijo el día de ayer.
Hello friends HIVERS!!! today I am going to share with this wonderful community, what I prepared for breakfast for my family and especially for my son yesterday.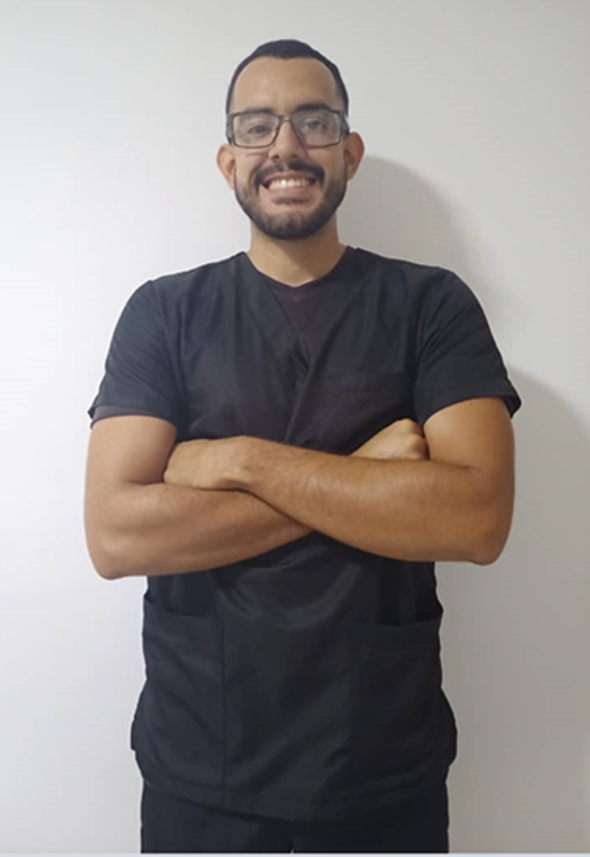 Primero les cuento que tomé la decisión de preparar esta receta el día de ayer, porque a mi hijo Ángel (esta es su foto) no le agrada mucho comer pan; él dice que es más saludable la arepa. En fin, como a mí me gusta que mis comensales disfruten al máximo la comida que Yo preparo, ayer mi desayuno estuvo dedicado a mi hermoso hijo.
First of all, I decided to prepare this recipe yesterday, because my son Angel (this is his picture) doesn't like to eat bread very much; he says that arepas are healthier. Anyway, since I like my guests to enjoy the food I prepare to the fullest, yesterday my breakfast was dedicated to my beautiful son.

Recuerdo que, la primera que hice arepa, fue con la ayuda de mi mamá quien me explicaba con mucha paciencia cómo debía hacer la masa y cuánto tiempo debía amasarla; porque el secreto para que la arepa te quede suave es que la masa quede muy suave, y eso se logra con un buen amasado.
I remember that the first time I made an arepa, it was with the help of my mom, who patiently explained to me how to make the dough and how long I had to knead it; because the secret for the arepa to be soft is that the dough is very soft, and that is achieved with a good kneading.

Como pueden imaginarse, mi primera arepa no me quedó tan redonda como las que hago ahora, podría decirse que quedó casi cuadrada jajaja. Sin embargo, créanme, muy pronto comencé a hacerlas redonditas como las de mi mamá, es más, desde hace mucho tiempo mis arepas me quedan más bonitas que las de ella 🤣🤣🤣
As you can imagine, my first arepa was not as round as the ones I make now, I could say it was almost square hahaha. However, believe me, very soon I started to make them round like my mom's, in fact, for a long time now my arepas have been prettier than hers 🤣🤣🤣.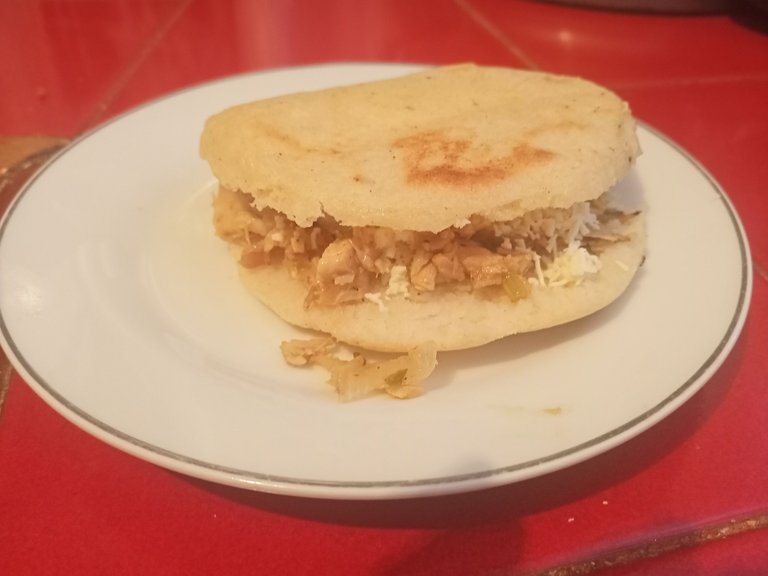 La arepa rellena es la preferida por todos los venezolanos a la hora de elegir su desayuno o cena, y hasta a la hora del almuerzo para acompañar carnes, guisos, pescados, sopas, entre otras comidas. Pero también en Colombia son amantes de la arepa como aquí en Venezuela, es más, venezolanos y colombianos nos la pasamos disputándonos el origen de nuestra querida arepa. Lo único que yo sé es que todos los venezolanos nacemos con una arepa debajo del brazo 🤣🤣🤣.
The stuffed arepa is the favorite of all Venezuelans when it comes to choosing their breakfast or dinner, and even at lunchtime to accompany meats, stews, fish, soups, among other meals. But also in Colombia arepa lovers like here in Venezuela, in fact, Venezuelans and Colombians spend time disputing the origin of our beloved arepa. The only thing I know is that all Venezuelans are born with an arepa under our arms, 🤣🤣🤣

Hoy voy a hacer mis arepas con dos clases de rellenos; uno de los rellenos es jamón y queso blanco rallado, y el otro es pollo desmenuzado guisado y el mismo queso blanco rallado.
Today I am going to make my arepas with two kinds of fillings; one of the fillings is ham and grated white cheese, and the other is shredded chicken stew and the same grated white cheese.
Bueno, comienzo con la receta ‖ Well, I'll start with the recipe:

2 tazas de harina precocida de maiz (Yo utilicé harina PAN, la consentida por todos los venezolanos).

1 cucharadita de sal. (Este ingrediente es opcional, pero sinceramente arepa sin sal, no es arepa).

2-1/2 tazas de agua (algunas personas utilizan agua tibia, pero si usas Harina PAN, no es necesario).
2 cups of precooked corn flour (I used PAN flour, the favorite flour of all Venezuelans).

1 teaspoon of salt (This ingredient is optional, but honestly, arepa without salt is not arepa).

2-1/2 cups of water (some people use warm water, but if you use PAN flour, it is not necessary).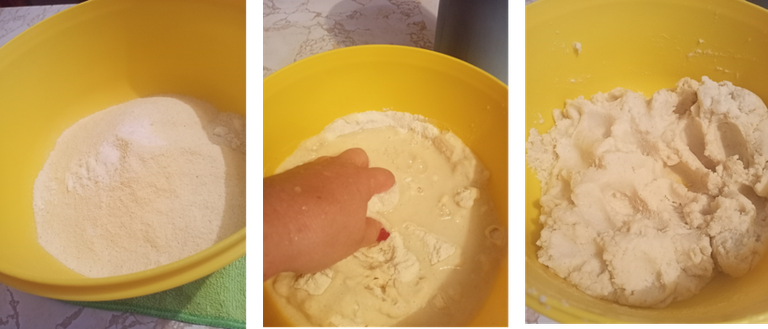 ¿Cómo preparar la masa? ‖ How to prepare the dough?
Coloca los ingredientes en un recipiente hondo y mezcla hasta integrar muy bien.
Deja reposar por 2 minutos.
Amasa la masa con ambas manos durante 5 minutos.
Place the ingredients in a deep bowl and mix until well blended.
Let stand for 2 minutes.
Knead the dough with both hands for 5 minutes.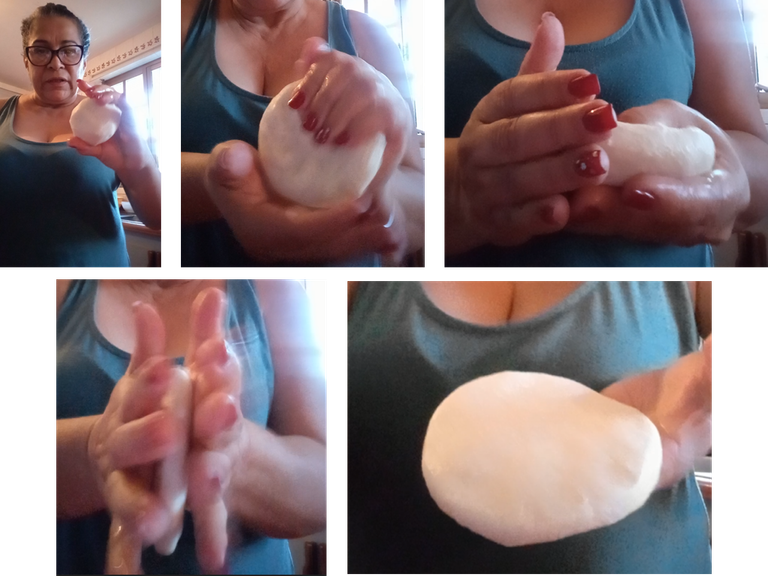 Divide la masa en 10 porciones iguales. Forma bolitas con las manos y aplánalas con las palmas de las manos de tal forma que formes discos de aproximadamente 10 centímetros de diámetro.
Divide the dough into 10 equal portions. Form small balls with your hands and flatten them with the palms of your hands in such a way that you form disks of approximately 10 centimeters in diameter.
NOTA:
La cantidad de arepas va a depender del diámetro y el espesor de cada arepa. En mi caso las hago de 10 centímetros de diámetro y con las cantidades indicadas en esta receta obtengo 10 arepas.
NOTE:

The amount of arepas will depend on the diameter and thickness of each arepa. In my case I make them 10 centimeters in diameter and with the quantities indicated in this recipe I get 10 arepas.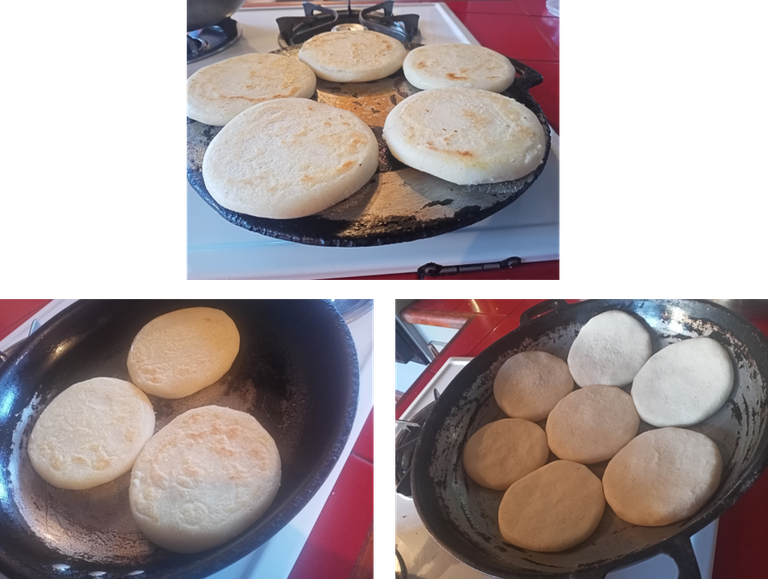 Calienta una plancha o sartén untado con un poco de aceite, coloca las arepas y cocínalas a fuego medio por cada lado, durante 5 minutos.
Heat a griddle or frying pan greased with a little oil, place the arepas and cook them for 5 minutes over medium heat.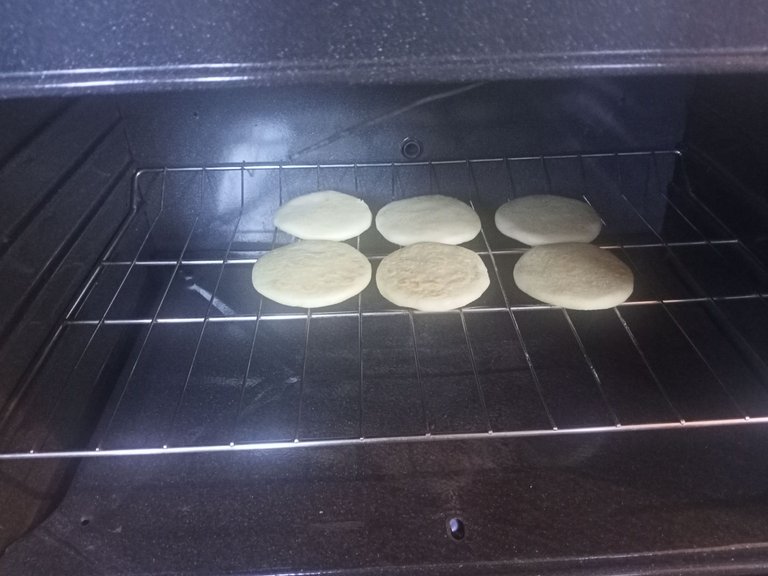 Luego hornearlas durante 15 minutos, volteándolas a mitad de la cocción para que se inflen y se doren uniformemente.
NOTA: otra forma de cocinarla es en la misma plancha o sartén, tapándolas una vez que se doren por ambos lados, y dejarlas cocinar durante 10 minutos más. volteándolas a mitad de la cocción.
Then bake them for 15 minutes, turning them halfway through cooking so that they puff up and brown evenly.
NOTE: another way to cook them is on the same griddle or pan, covering them once they are browned on both sides, and let them cook for 10 minutes more, turning them halfway through cooking.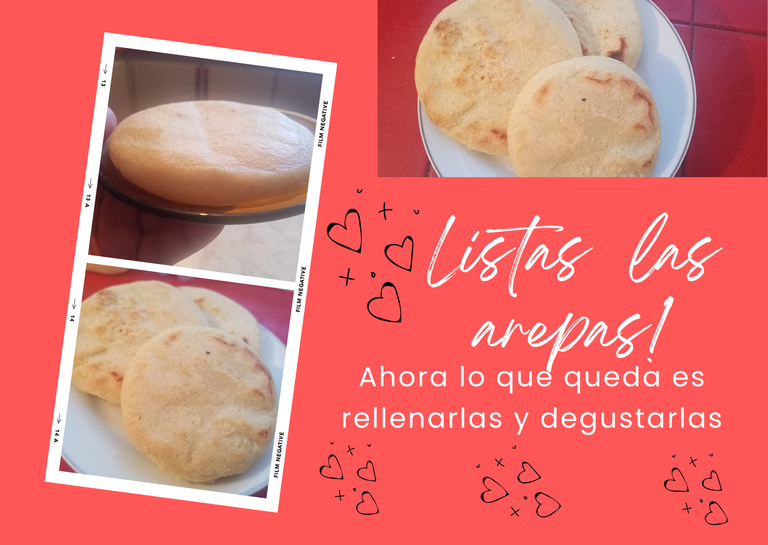 Pasado el tiempo de cocción, retiralas de horno, la plancha o sartén, abrElas por un costado y rellenarlas con lo que te guste.
Once the cooking time is over, remove them from the oven, the griddle or pan, open them on one side and fill them with whatever you like.

Como les dije al principio, esta vez mis arepas las rellené, unas con jamón y queso blanco rallado y otras con pollo desmenuzado guisado y el mismo queso blanco rallado.
As I told you at the beginning, this time I filled my arepas, some with ham and grated white cheese and others with stewed shredded chicken and the same grated white cheese.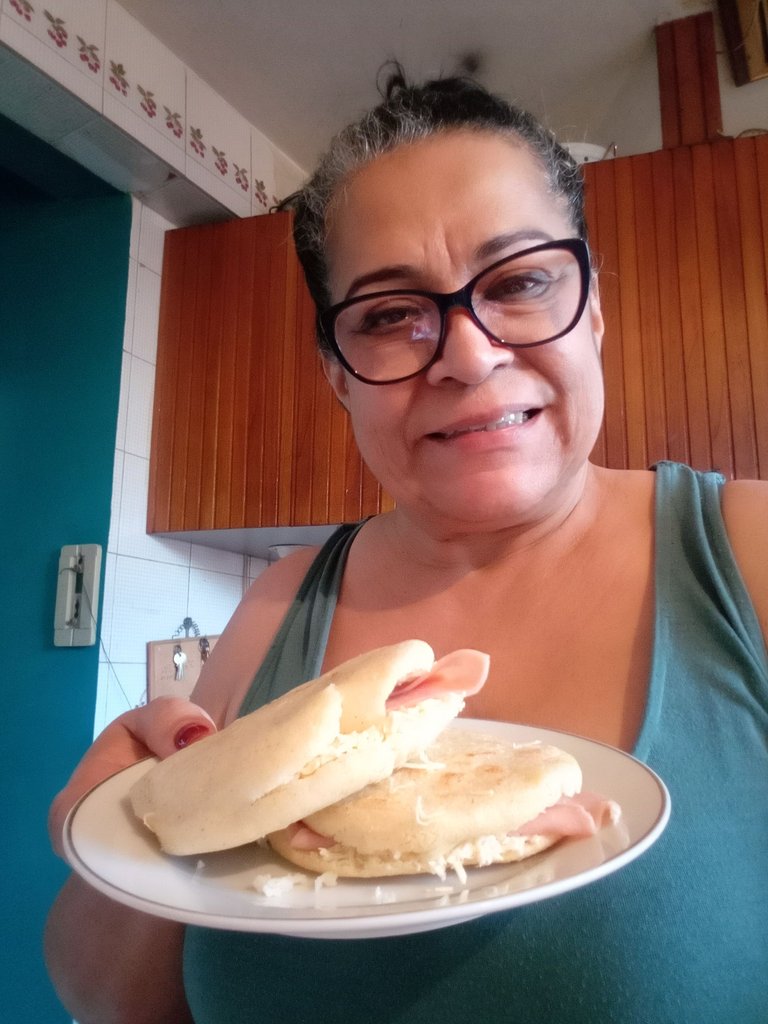 Bueno queridos amigos, los invito a preparar este plato típico de mi país y también de otros países. Y no olviden de escribirme para decirme cómo les quedaron sus arepas y cuál relleno le colocaron.
Well dear friends, I invite you to prepare this typical dish from my country and also from other countries. And don't forget to write me to let me know how your arepas turned out and what filling you put in them.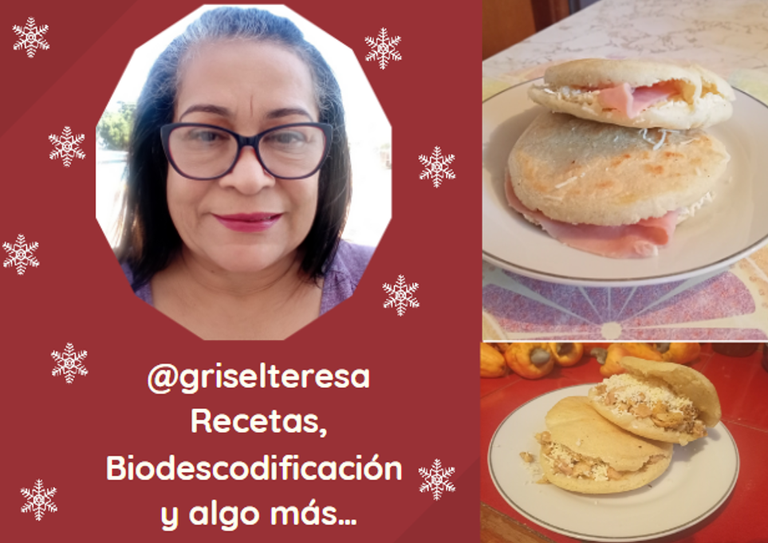 GRACIAS, GRACIAS, GRACIAS por leerme, votar y comentar.
Espero que esta publicación haya sido de su total agrado y utilidad.

THANK YOU, THANK YOU, THANK YOU for reading, voting and commenting.
I hope this publication has been of your total pleasure and usefulness.

Este texto es redactado, parafraseado por @griselteresa y traducido al inglés utilizando www.DeepL.com/Translator (versión gratuita).
This text is written, paraphrased by @griselteresa and translated into English using www.DeepL.com/Translator (free version).

Las fotos son propias capturadas con mi teléfono realme C3.
The photos are my own taken with my realme C3 phone.

Las imágenes son editadas en PowerPoint y CANVA
The images are edited in PowerPoint and CANVA

Las imágenes utilizadas en los separadores fue tomada del sitio web SHUTTERSTOCK
The images used in the dividers were taken from the SHUTTERSTOCK website.
---
---