🍅 🍝SALSA FACIL PARA PASTA 🍝 🍅 ‖ 🍅 🍝EASY SPAGHETTI SAUCE 🍝 🍅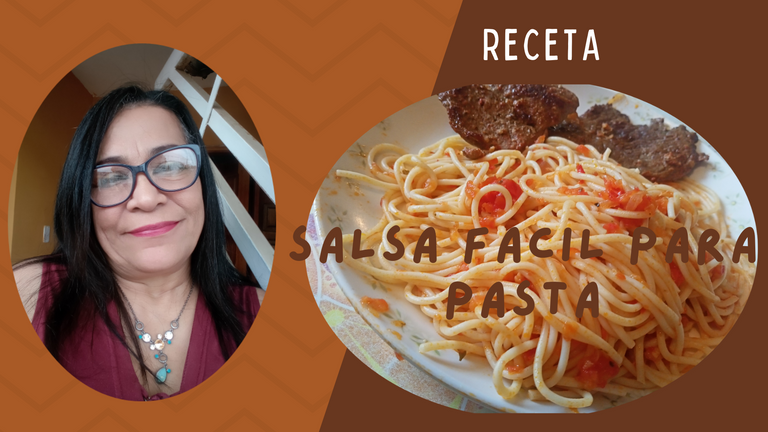 Hoy amaneció el cielo un poco nublado, parece que va a llover.
Today the sky was a bit cloudy, it looks like it is going to rain.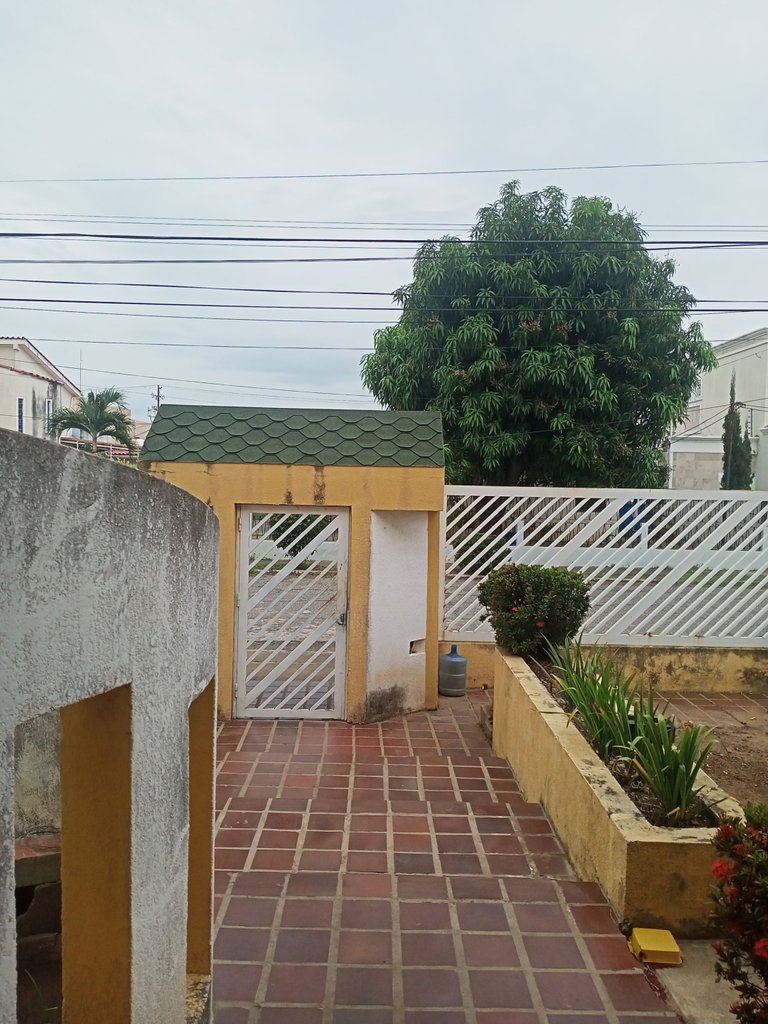 Porque aquí es muy raro que el tiempo esté así, y generalmente hay mucho sol.
Estoy ahora parada frente a mi casa y miren cómo se ve.
Because here it is very rare for the weather to be like this, and it is usually very sunny.
I am now standing in front of my house and look how it looks.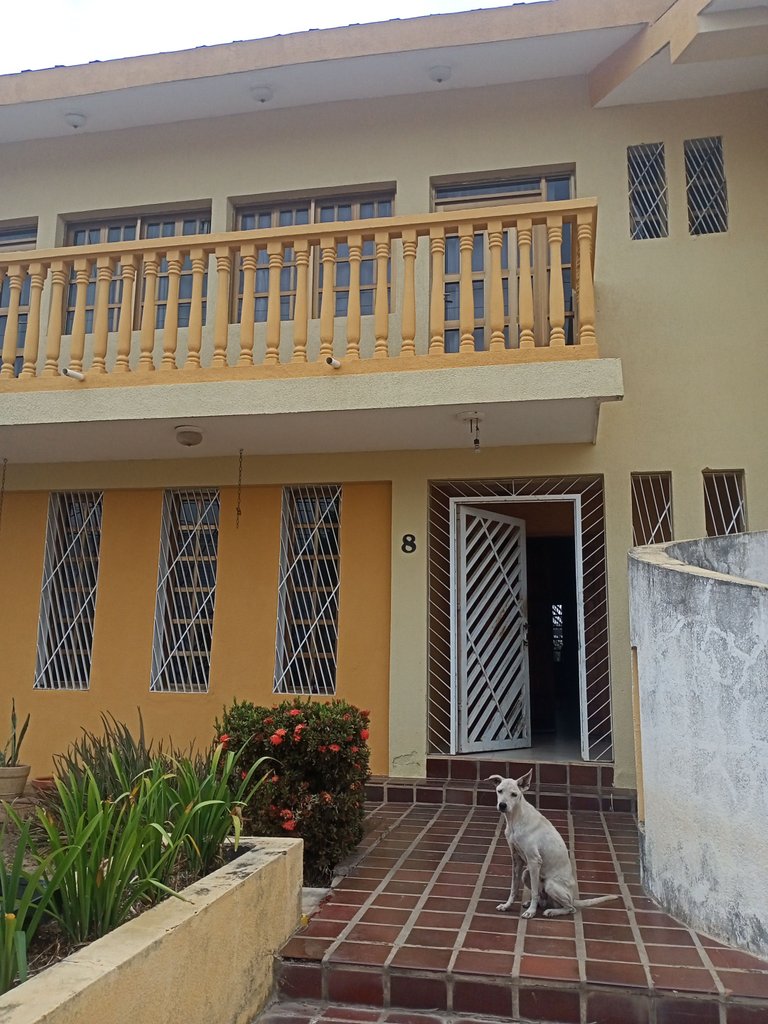 Generalmente el sol es muy intenso a esta hora (9:00 am) y las paredes de mi casa a esta hora se observan así como en la siguiente foto, bastante soleado.
Generally the sun is very intense at this time (9:00 am) and the walls of my house at this time look like in the following photo, quite sunny.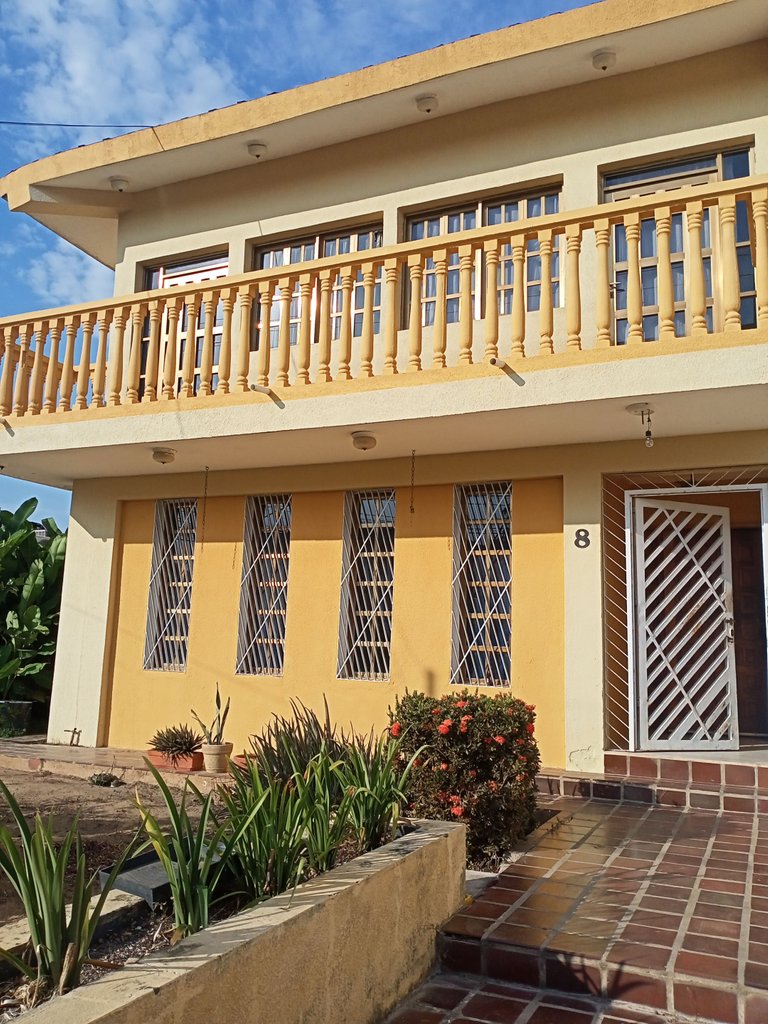 Aprovecho para presentarles a mi mascota que está muy delgada porque estuvo muchos días enferma y no quería comer, pero ya está recuperándose.
I take this opportunity to introduce you to my pet who is very thin because she was sick for many days and did not want to eat, but she is recovering.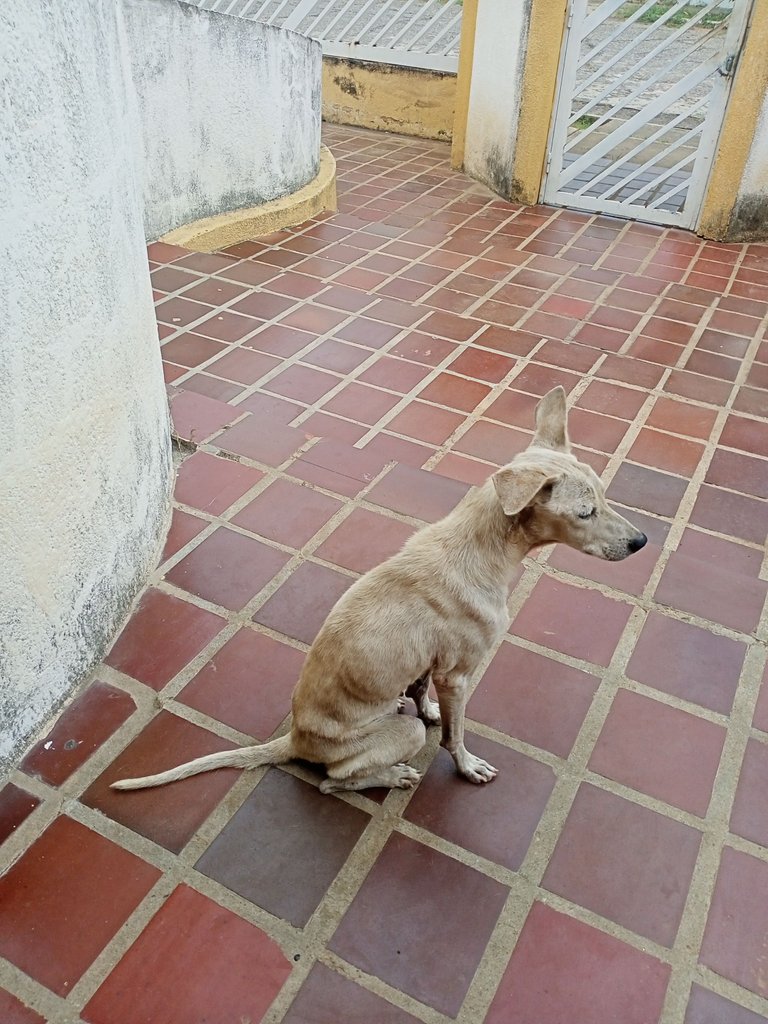 Este ambiente así un poco oscuro me quita las ganas de cocinar; así que hoy se me ocurre preparar un plato sencillo pero muy sabroso.
Además, es un plato que me trae muy bonitos recuerdos porque es el plato con el que siempre me esperaba mi madre los fines de semana, cuando regresaba a mi casa después de haber pasado una semana lejos de mi casa, porque estudiaba en la universidad que está ubicada en otra ciudad.
Se trata de una combinación muy particular y creo está especialmente diseñada por las madres de esta región, porque es un plato que comúnmente se sirve en las mesas venezolanas.
En realidad, el platillo final es muy sencillo, consta de filetes de carne cocinados a la plancha, acompañados con pasta larga mezclada con una salsa muy sabrosa, preparada con tomate.
Hoy compartiré con ustedes esta receta de salsa para pasta, elaborada con pocos ingredientes: tomate, cebolla, ajo y orégano; muy fácil de preparar y lo más importante, son unos de los espaguetis más sabrosos que he probado en mi vida.
Los ingredientes que utilizaremos para preparar la pasta son los siguientes:
This dark atmosphere makes me feel like cooking, so today I decided to prepare a simple but very tasty dish. It is also a dish that brings back very nice memories because it is the dish that my mother always waited for me with on weekends, when I returned home after spending a week away from home, because I was studying at the university that is located in another city.
It is a very particular combination and I think it is specially designed by the mothers of this region, because it is a dish that is commonly served on Venezuelan tables.
Actually, the final dish is very simple, it consists of meat fillets cooked on the grill, accompanied with long pasta mixed with a very tasty sauce, prepared with tomato.
Today I will share with you this pasta sauce recipe, elaborated with few ingredients: tomato, onion, garlic and oregano; very easy to prepare and most importantly, it is one of the tastiest spaghetti I have ever tasted in my life.
The ingredients we will use to prepare the pasta are the following: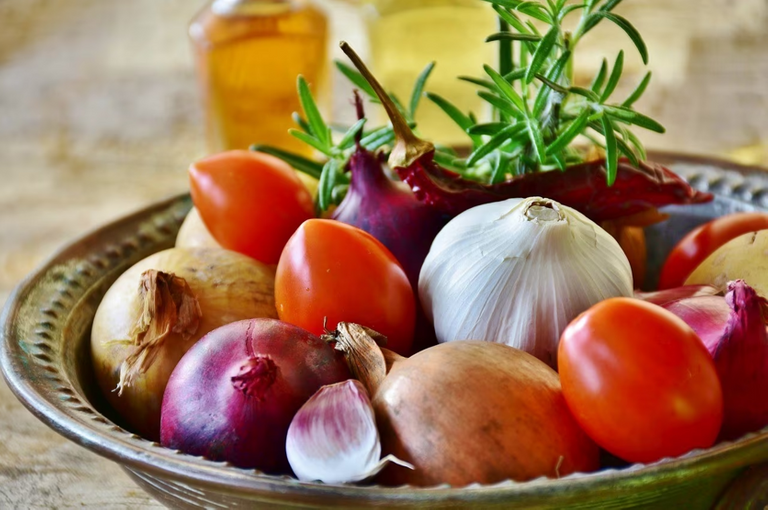 FUENTE
INGREDIENTES PARA 500 gr DE PASTA:
225 gramos de cebolla rallada.
750 g de tomate maduro rallado.
4 dientes de ajo triturados.
1 diente de ajo (opcional).
1 cucharada de orégano molido.
5 cucharadas de aceite.
1 cucharada de azúcar.
50 ml de agua.
Sal y pimienta negra molida, al gusto.
INGREDIENTS FOR 500 gr OF PASTA:
225 grams of grated onion.
750 g of grated ripe tomato.
4 cloves of crushed garlic.
1 cloves of crushed garlic (optional).
1 tablespoon of ground oregano.
5 tablespoons of oil.
1 tablespoon of sugar.
50 ml of water.
Salt and ground black pepper, to taste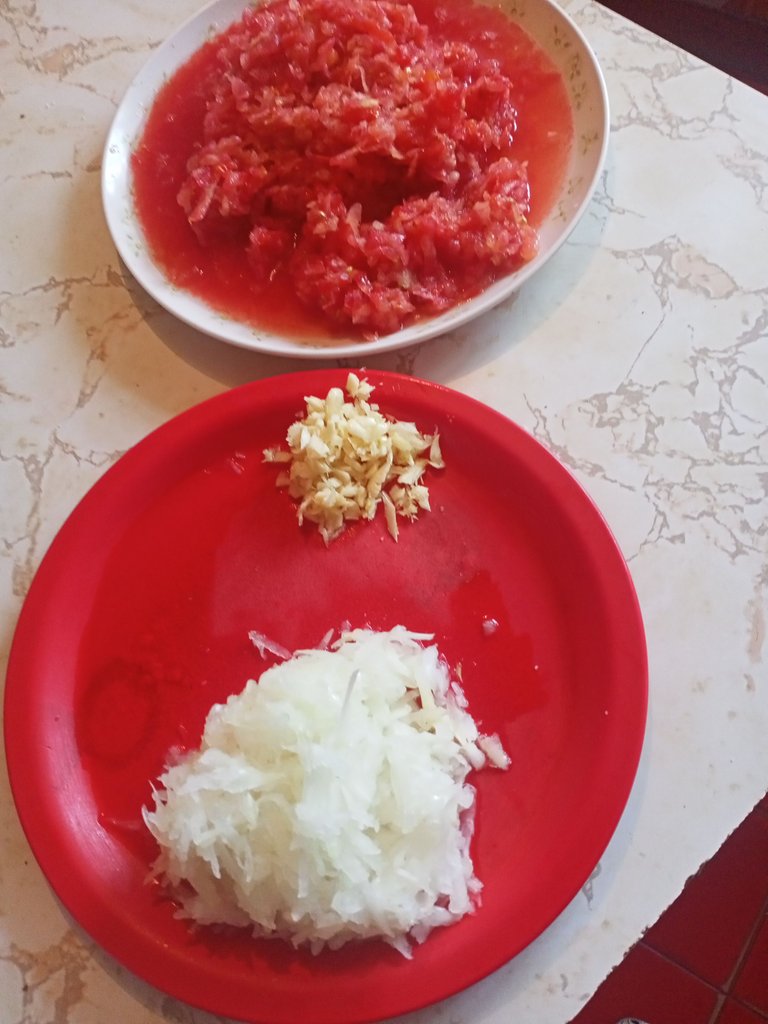 Antes de continuar, les aclaro que estas cantidades pueden variar según el gusto. A mí particularmente me gusta con bastante ajo; por esta razón le agrego un diente de ajo al final.
Before continuing, I clarify that these quantities may vary according to taste. I particularly like it with a lot of garlic; for this reason I add a clove of garlic at the end.

PROCEDIMIENTO:
Colocar en una cacerola el aceite, el ajo y la cebolla.
Encender el fuego y cocinar hasta que la cebolla y los ajos comiencen a dorarse.
PROCEDURE:
Place the oil, garlic and onion in a saucepan.
Turn on the heat and cook until the onion and garlic begin to brown.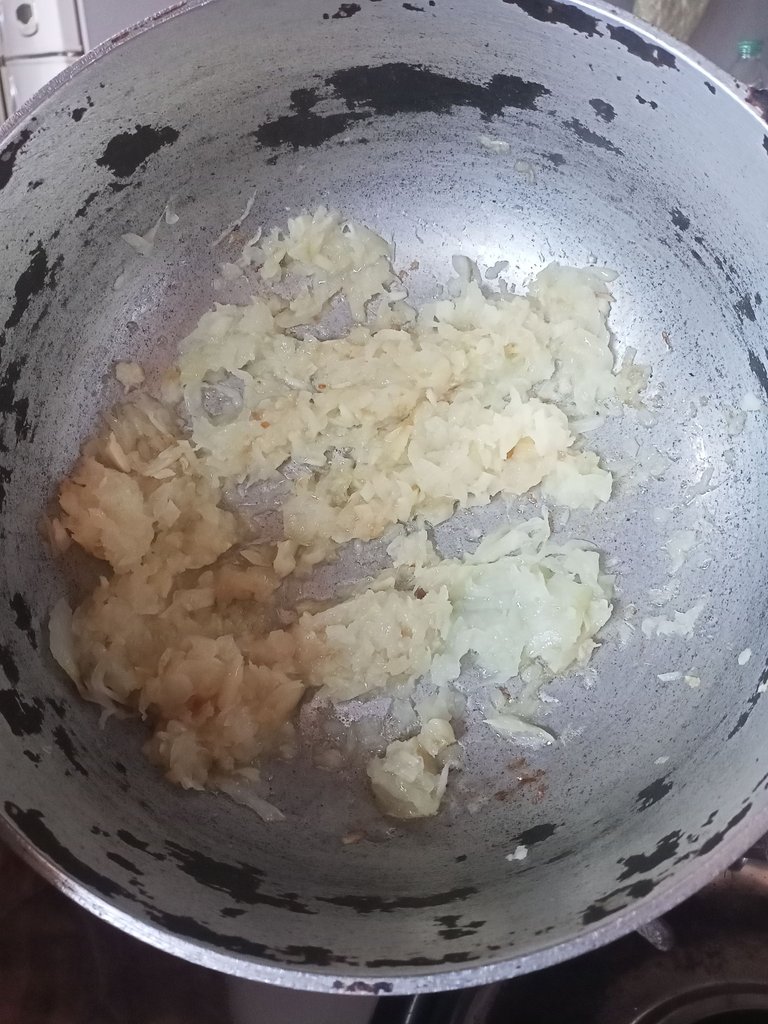 En ese momento agregar el tomate incluyendo su jugo.
At this time add the tomato including its juice.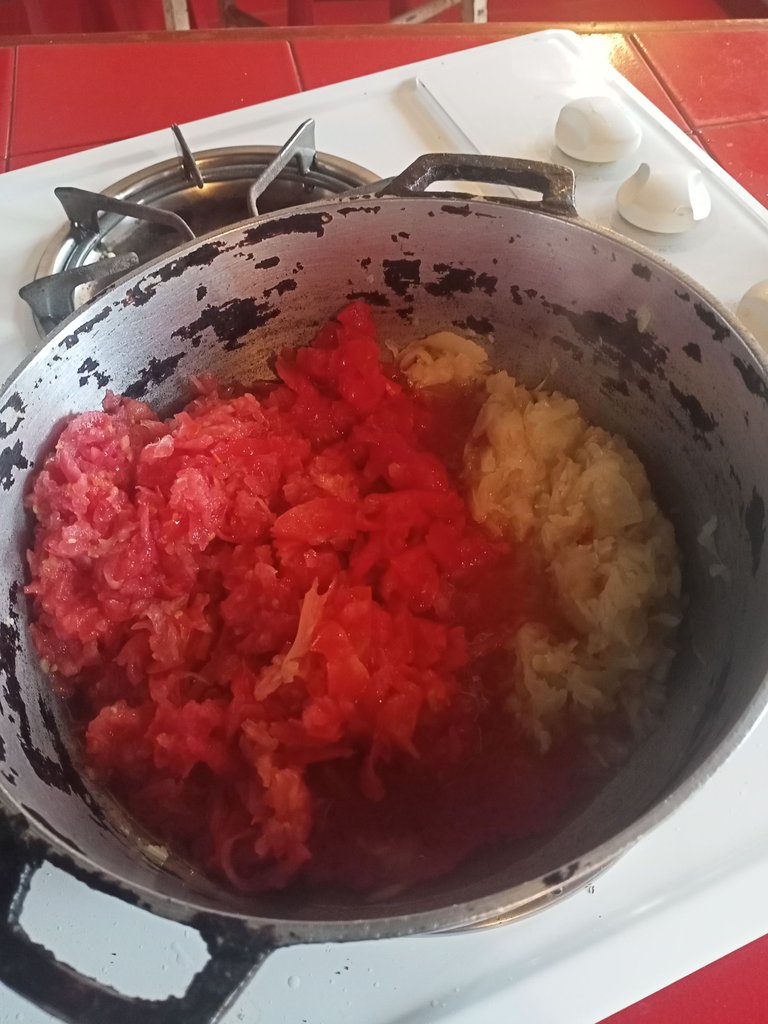 Mezclar bien y agregar la sal, la pimienta y el agua.
Mix well and add salt, pepper and water.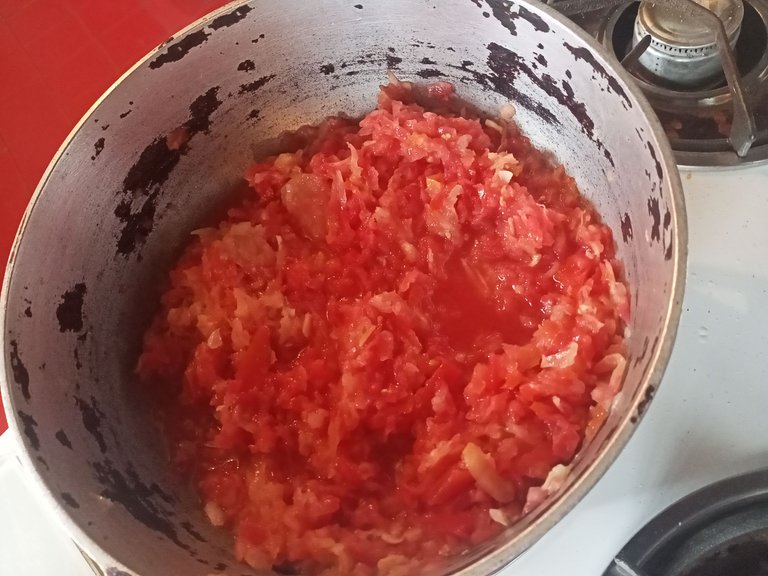 Dejar cocinar a fuego medio durante 10 minutos.
Let cook over medium heat for 10 minutes.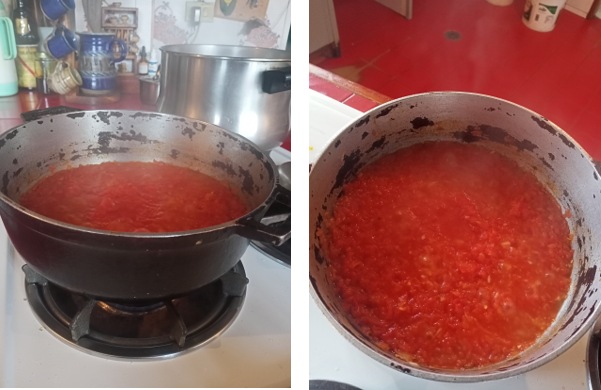 Pasado este tiempo rectificar la sal, agregar el orégano y el azúcar y cocinar por 5 minutos más.
Ahora agregar el diente de ajo que quedaba pendiente, mezclar y retirar del fuego.
After this time, correct the salt, add the oregano and sugar and cook for 5 more minutes.
Now add the remaining clove of garlic, mix and remove from heat.
Colocar la pasta cocida dentro de la salsa y mezclarla muy bien hasta que quede totalmente impregnada con la salsa.
Servir caliente rociada con queso. En mi caso utilicé queso blanco venezolano semiduro, el cual tiene un sabor intenso.
Place the cooked pasta in the sauce and mix it very well until it is totally impregnated with the sauce.
Serve hot sprinkled with cheese. In my case I used semi-hard Venezuelan white cheese, which has an intense flavor.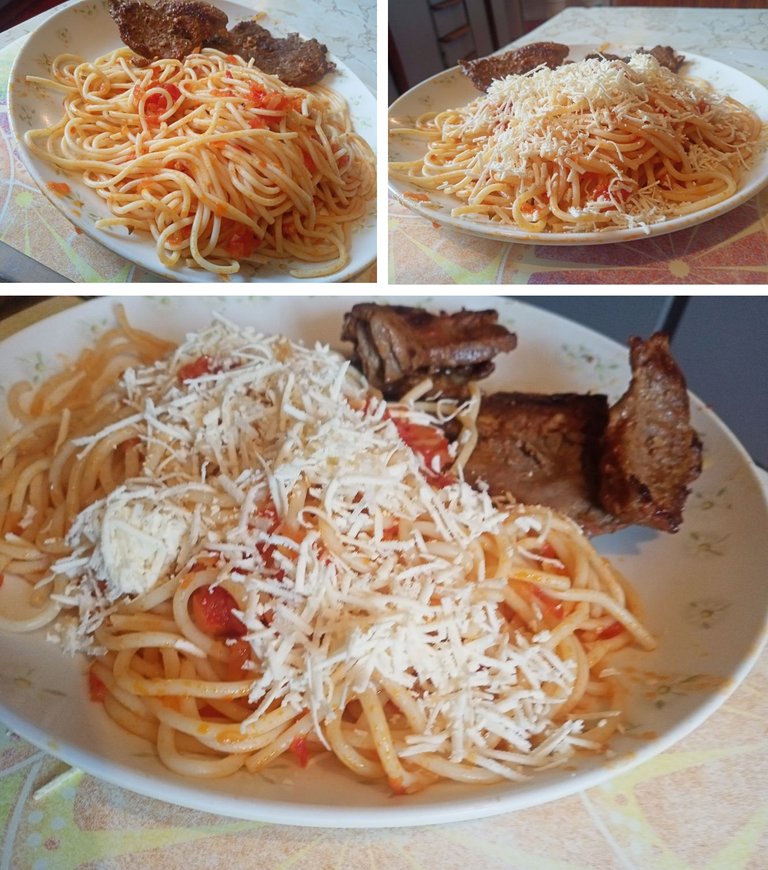 NOTAS:
Yo agrego azúcar a la salsa para quitarle el sabor acido. Si la salsa se siente aún muy ácida, se puede agregar un poco más de azúcar.
A mí me gusta que la salsa quede con los trozos de tomate gruesos, pero si lo deseas, puedes pasarla por un pasapuré o licuarla antes de servirla.
NOTES:
I add sugar to the sauce to take away the sour taste. If the sauce is still too acidic, you can add a little more sugar.
I like the sauce to have chunky tomato chunks, but if you wish, you can puree or blend it before serving.
GRACIAS, GRACIAS, GRACIAS POR LEERME.
Espero que esta publicación haya sido de su total agrado y utilidad.

THANK YOU, THANK YOU, THANK YOU FOR READING ME.
I hope this publication has been of your total pleasure and usefulness.

PREPARA ESTA RECETA Y CUENTAME CÓMO TE QUEDÓ.
PREPARE THIS RECIPE AND LET ME KNOW HOW IT TURNS OUT.

Este texto es redactado por @griselteresa y traducido al inglés utilizando www.DeepL.com/Translator (versión gratuita).
This text is written by @griselteresa and translated into English using www.DeepL.com/Translator (free version).

Las fotos son propias capturadas con mi teléfono realme C3
The photos are my own taken with my realme C3 phone.


---
---