Call of Duty 2 📽 Through the Lens
My brethren! My Schwesters! It is time again to go back! How back are we going? Waayyy back. // well actually not that back comparatively
Why are we traveling to such distant times you may ask. Wekk, it is simple you see. To witness the best a franchise has to offer! Yes! Call of Duty is a long and storied franchise, and to say that the second installment is the best might sound like heresy to some. 🙃
Or gospel to others...
Thus❗️ In this edition of Through the Lens 🎞, we'll be taking a look at the shooter that started a movement, Infinity Ward's' best single-player game, and a trend setter for years to come from 2005: Call of Duty 2, Roll it! 📽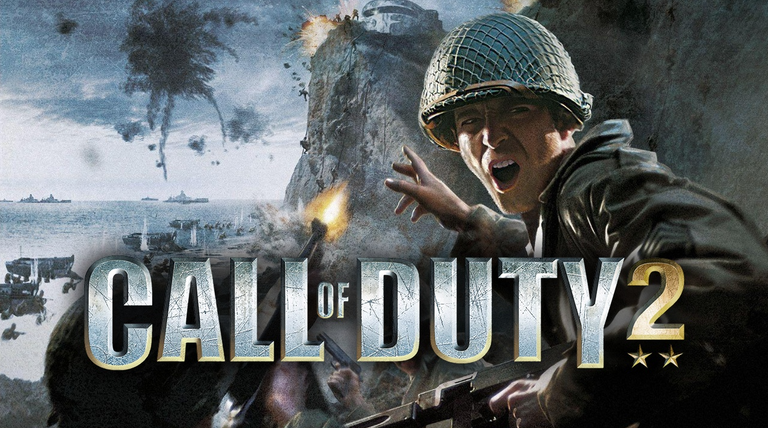 🔶 UP TOP 🔶

I implore you to listen to the soundtrack while you read. It's such a great theme setter for this article - and this game. Just listening to the first few notes brought me back decades... 💯
It truly feels like you're in World War 2. It's atmospheric, it's haunting, it's heroic. It's everything you want a first-class first-person shooter to have. Listening to it now made me want to reinstall the game instantly. 😁
Compossed by the amazing and underrated Mr. Graeme Revell!
I still remember the day when I bough this game. Imagine me, the little raskle that I was, buying it at a flea market (it was the year it came out for sure). I went to my mom's work afterward and she asked to see what I bought. I still remember her face as she said "Ughh, another one of those shooting games." 😂
We do not fault this woman for her ignorance! Nay! As we do not fault the astray! How was she supposed to know that her son would become addicted to a shooting game and ruin all his grades? You might say she was right to worry, but let me ask you this, how important are grades actually? 😤
I'd say the experiences is what shapes us. And thus, let me tell you why this one I remember to this very day...

🔶 PRESENTATION 🔶

From Jump Street (not the movie) the presentation in this game slaps. And when I say jump street (not the movie) I mean from its tutorial. One of the most classic and well made tutorials in all of video gaming. 😌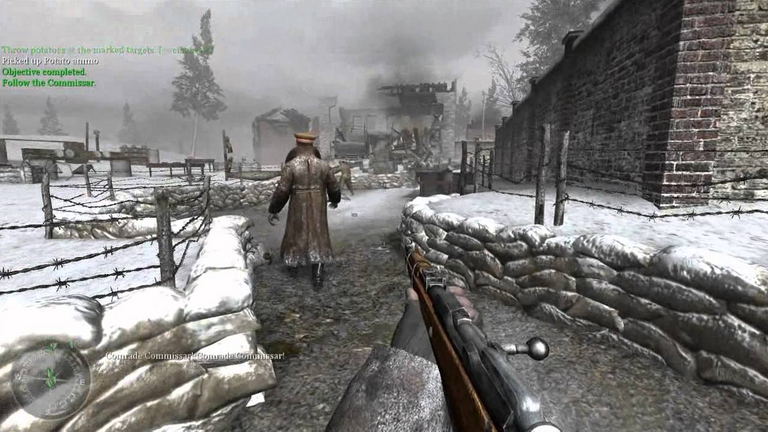 It sets the tone perfectly, who doesn't remember throwing potatoes and pretending they're granades? 😁 It sets the tone and doesn't let up for the duration of the run time. This goes hand in hand with the, art direction, music and sfx in general.
The characters that you play as, although silent, all have character because of the way their allies are voiced. So much thought and care was put into these random soldiers. It made you feel like you have real comrades on the front lines, fighting side by side with you. 🔫
This is a good segway to talk about this game's bread and butter...

🔶 THE CAMPAIGN 🔶

Long before Call of Duty was strickly a multiplayer shooter (I know they still have campaigns but whoa re we kidding?) it was the best single-player modern shooter.
We can't say best single-player shooter in general cause then you're lumping it in with DOOM and the like. And we don't do that. Nono.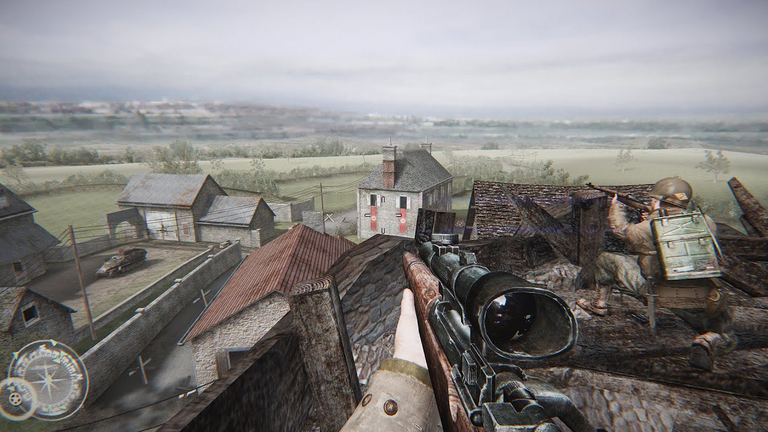 You play as several ally fighters on different fronts, fighting against the Nazi germans. Each character you play as has a different rank and different outlook on what's happening. None of this is explicitly stated to you, you just gather it from contextual clues. Which is the best way to gather something. 🍓
What the game does really well is the constant chatter. *Everyone is yelling. From your friends to your enemies. It's great.
Each side has their own guns and uniforms. Making it feel different every time you switch characters. But we'll talk bout said guns more in the next section. For now let's just say the campaigns effortless switching of perspectives is handled perfectly.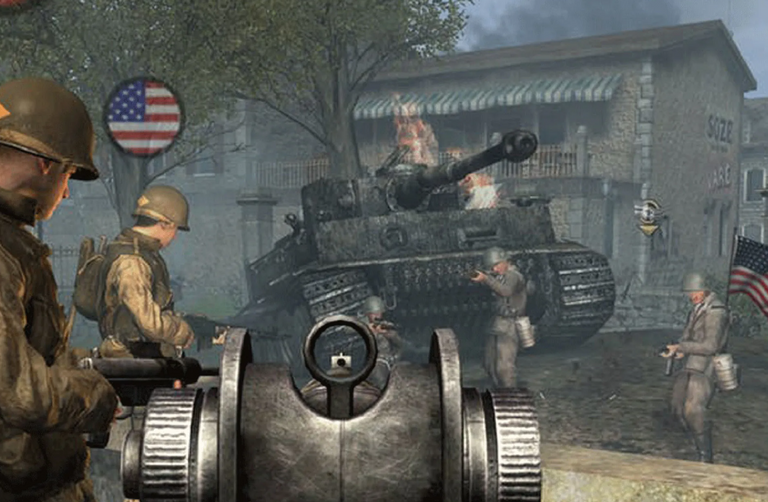 Last thing to mention here is the flow of it all. The missions are just constructed in such a way that the dynamic moment-to-moment gameplay beats just feel amazing. Before each mission there's a small letter from the character you're playing, all displayed in a different style to match the front you are on. // probably should've said this in presentation but we forge on
It's truly one of the best single player first person shooter campaigns every created, and you owe it to yourself to try if you re a fan of the genre. 😇
Now... I mentioned something about guns...

🔶 GUNPLAY 🔶

For the time? As good as it gets. And honestly it's been so long since I've played that I can't really remember how good it was. 😅 I just know that at the time it felt great, very responsive, very nice-feeling.
Now what is this nice-feeling crap you're saying. We came here for technical analysis! Well,, it means when you shoot someone, it feels like your shots connected. Not sure how to explain it otherwise. You either have played it or not. You either have felt it... or not....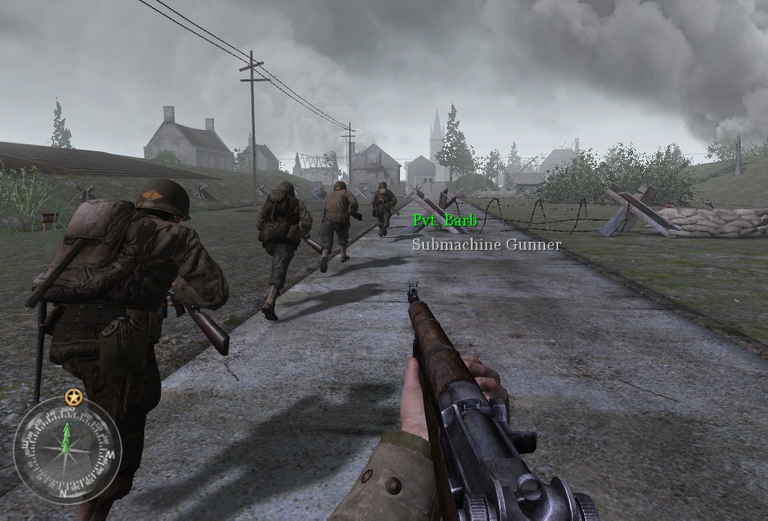 You can throw your guns and pick up others. You can use mele, throw granades. All the good stuff. This means you always have the Nazi's guns at your disposal. And most times you would be using those since yours would run out of ammunition.
But between the two of us, the German guns sucked. 😂 Which makes sense since those were at your disposal the most. Good game-design that.
Man this game is so great.

🔶 LEGACY 🔶

THis game is in the hearts and minds of so many people. It came out at a revolutionary time for gaming (the mid 00s were the $#!%) and as such is in the collective psyche of many older gamers.
Now the young ones out there, they need to experience this gem. I am 🙏 to whatever God is available that EA smartens up and sees all these great remasters running around and decides to remake Call of Duty 1 and 2. The newer generation reserves to play these games!
As such, the legacy of this game is timeless. One of the shooters that will forever be remembered in the pantheon of the greats.

Thank you for reading, you rock! (and maybe roll) 👏👏👏
Shout-out to the 🍕PIZZA🍕 gang, 🤙 gang. 🤙
Really though, you owe it to yourself to play this if you haven't. I get the game is old now, but the story and way its all presented still holds up. An amazing experience that I hope you all get one day.
👊 Follow me on my HIVE blog 👊
Have you had ana amazing week! And here's to an even better one! 🙌
---
---