Croatia Study Visit ✈️ Day 2 ▶️ Seeing Zagreb Proper!

DAY 1 | YOU ARE READING DAY 2 | DAY 3 | DAY4 | DAY 5
---
Hello again! I'm so glad you could make it. 👋 Today we're tackling the second day of my study visit to Croatia, and the first official work day. Exciting, I know. 😉
I'm glad the community accepted this series, I was a bit anxious about what people would think. 😅 But I guess that's the case whenever you try anything new. But that's neither here nor there. Let's get going already, my breakfast is getting cold!
We going to Zagrebtower everyone! Let's a gooo! 🚀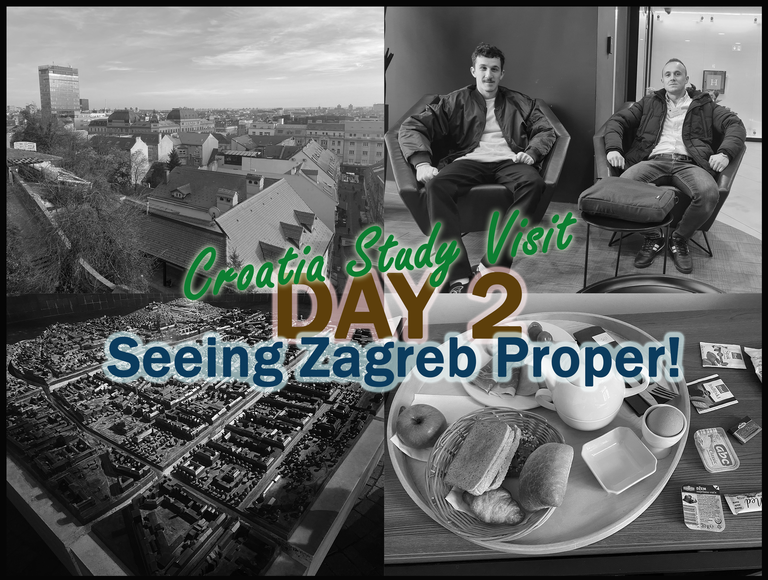 🔶 ZAGREBTOWER 🔶

After the night before, I ended up going to bed a bit later than intended. I wanted to do some pushups in the morning and get a shower before the taxis picked us up at around 09:00 a.m.. But I woke up so refreshed that it didn't matter. 🤷‍♂️ I was as ready for the day as I could be. Soon, breakfast arrived.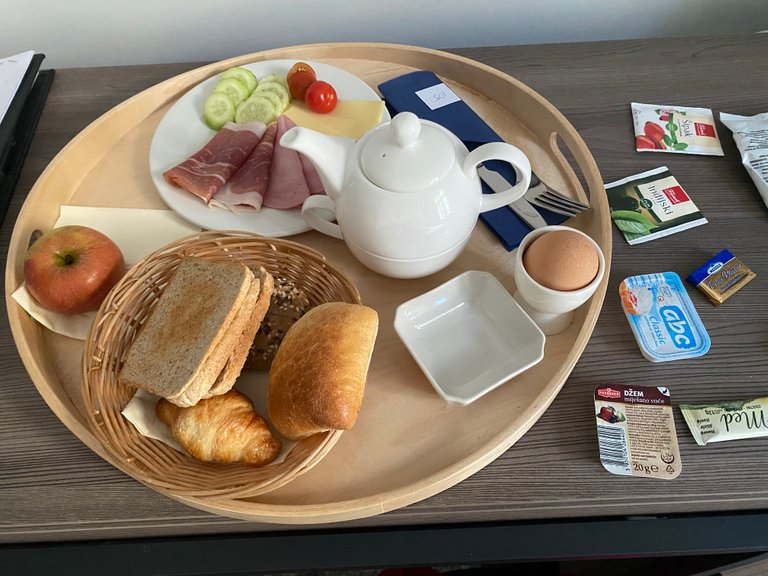 Breakfast was delicious btw. The bread was nice and warm as were the pieces of meat. Honestly, I was surprised at how full I was. 😅
Everyone was on time and soon we were standing before Zagrebtower.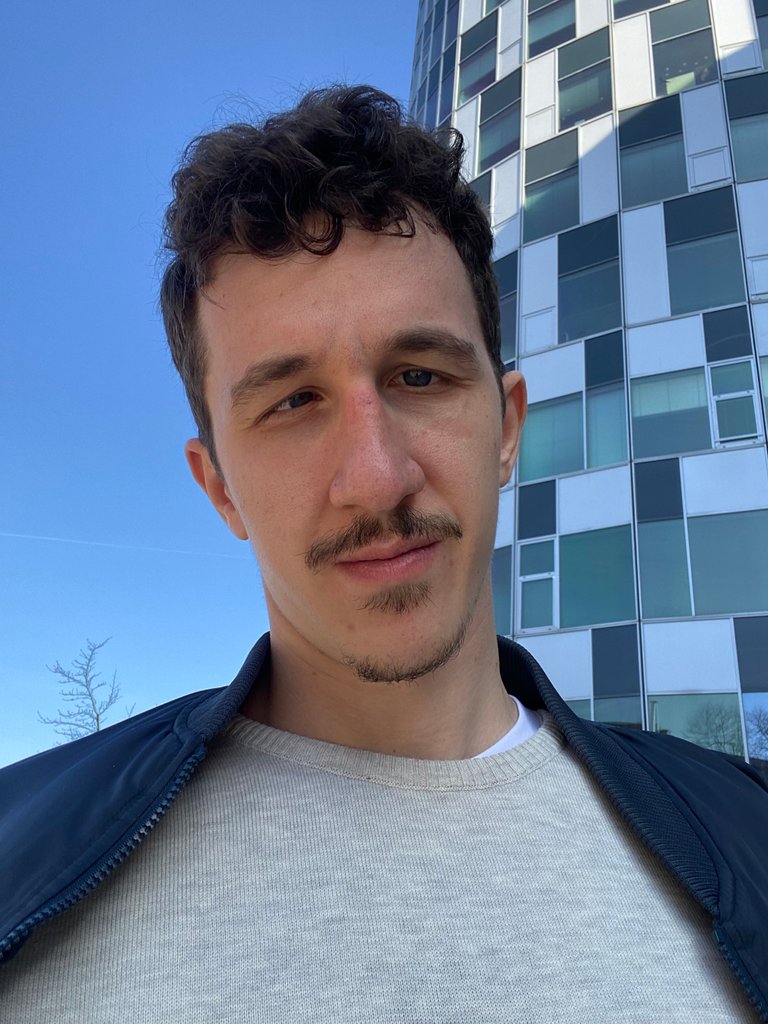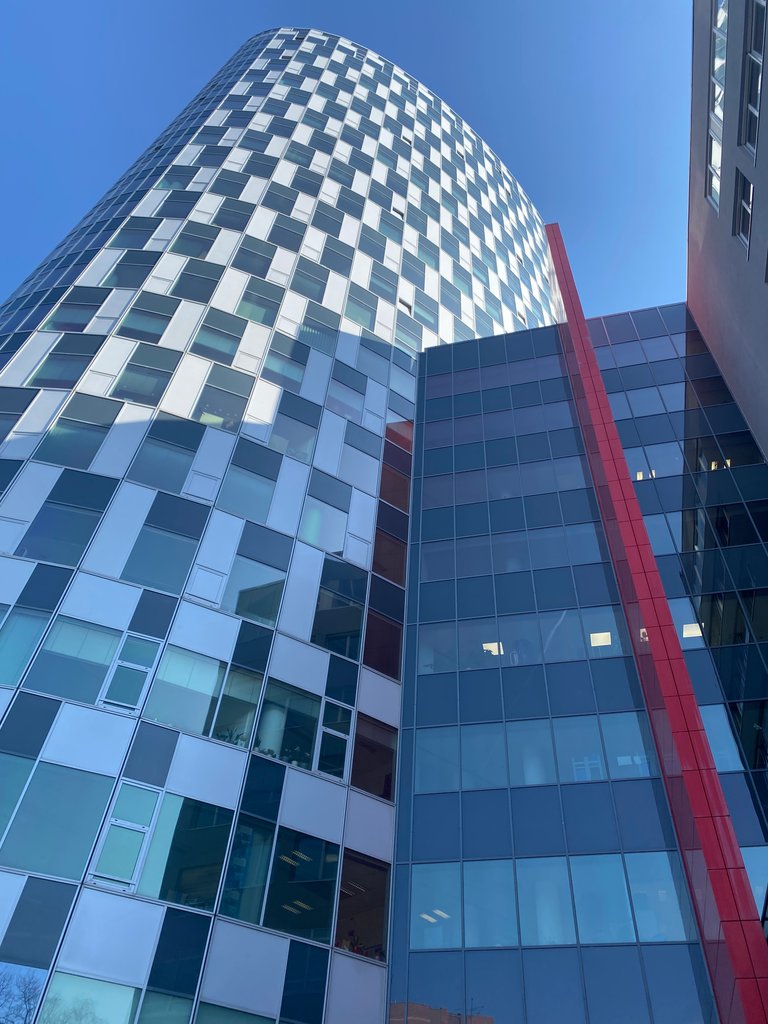 This building was amazing. It looks great from both the outside and inside. The workers there say it's a nightmare in winter cause it's mostly glass and it's super cold inside. 🌡️ But I don't care! I'm a visitor, and as a visitor it was dope.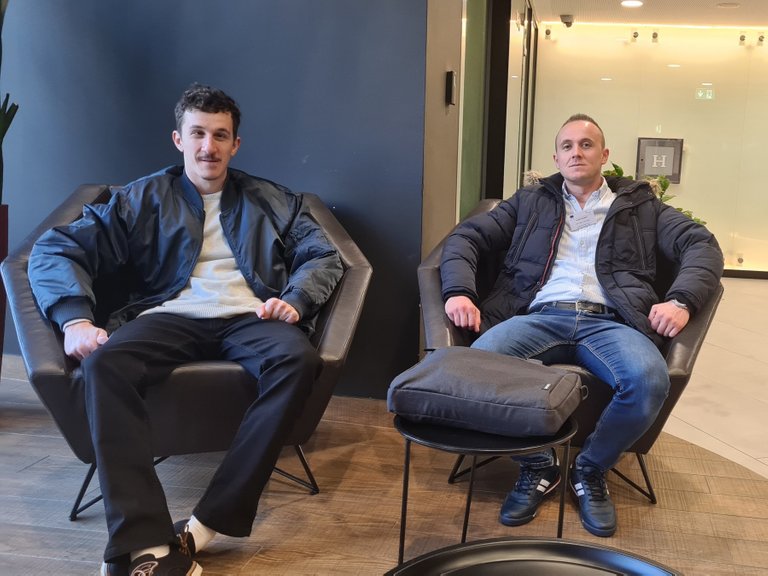 Me and my colleague in the "great hall", as it were.
I was here from around 10:00 to around 15:00, and my time was mostly spent attending meetings.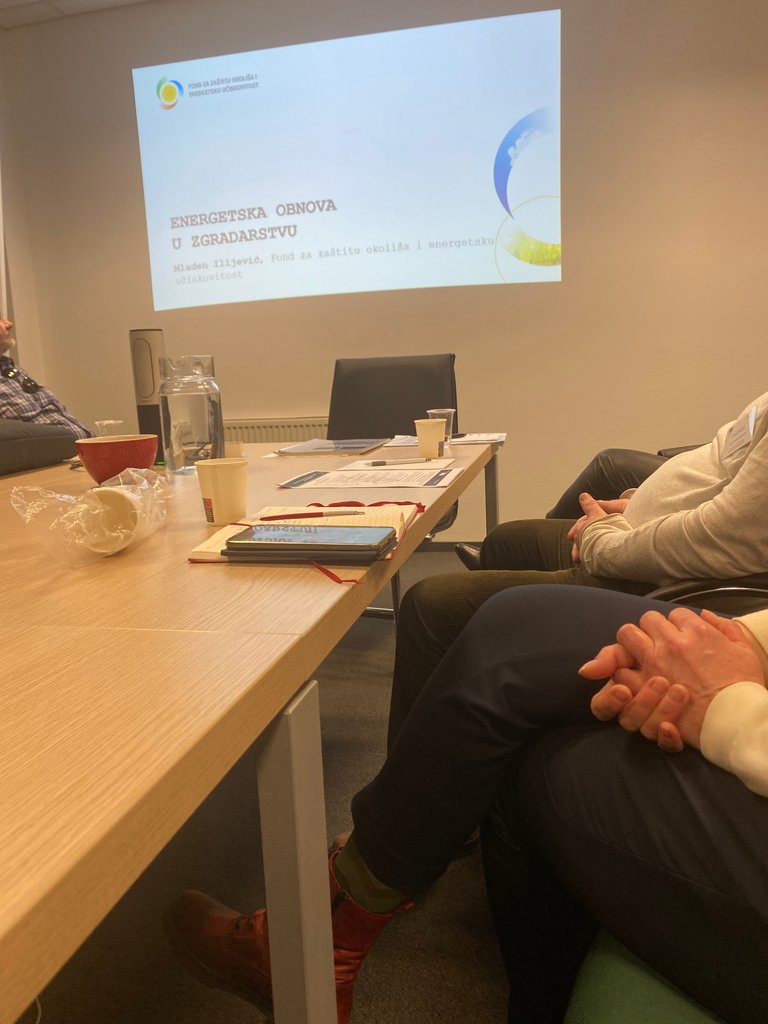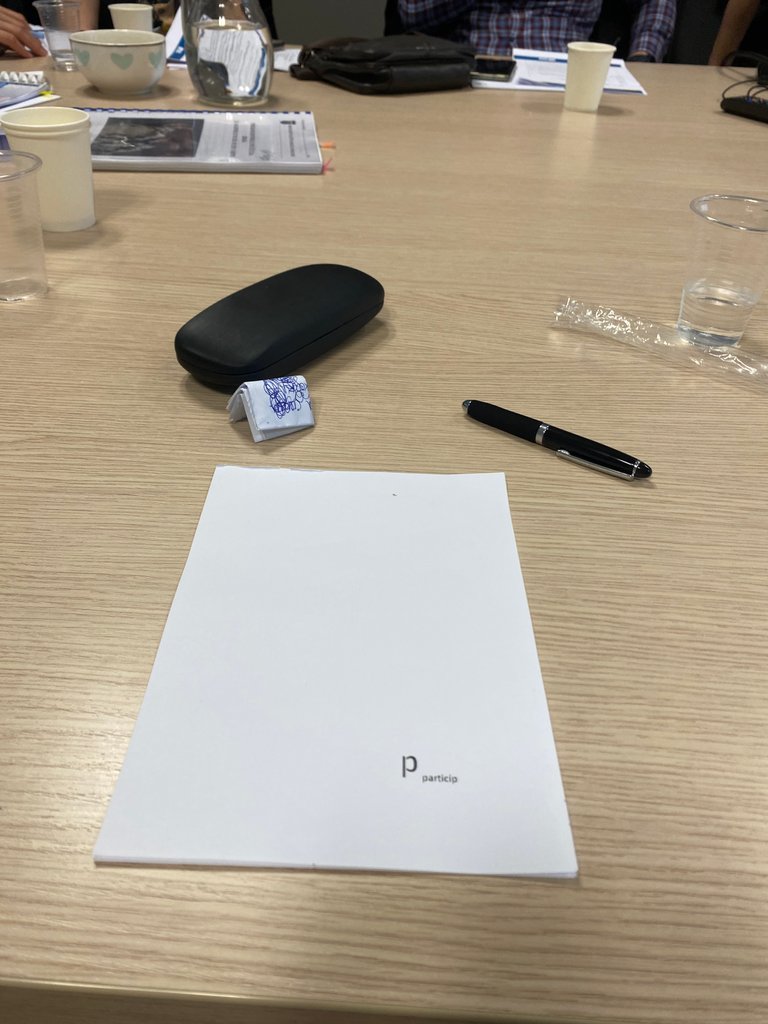 Although we did visit the little bar they had on the first floor to get a quick pick-me-up. 🤤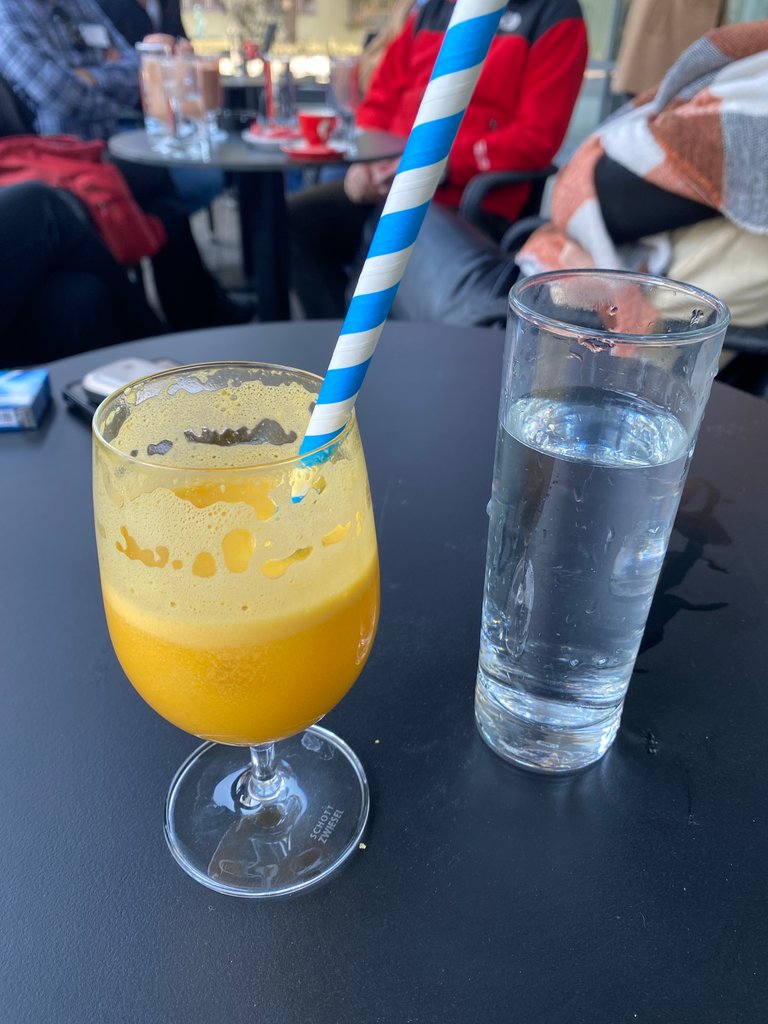 We went back to the hotel for a quick shower, and soon, we were back out into the town to take a proper stroll through this beautiful city. 🚶‍♂️

🔶 OUT AND ABOUT 🔶

We were agreed to go on a trip through Upper Zagreb, but most of our coworkers wanted some time to rest. So I and my homie Hikmet decided we would go and eat lunch, do some laps around the city, and see what's up. 😉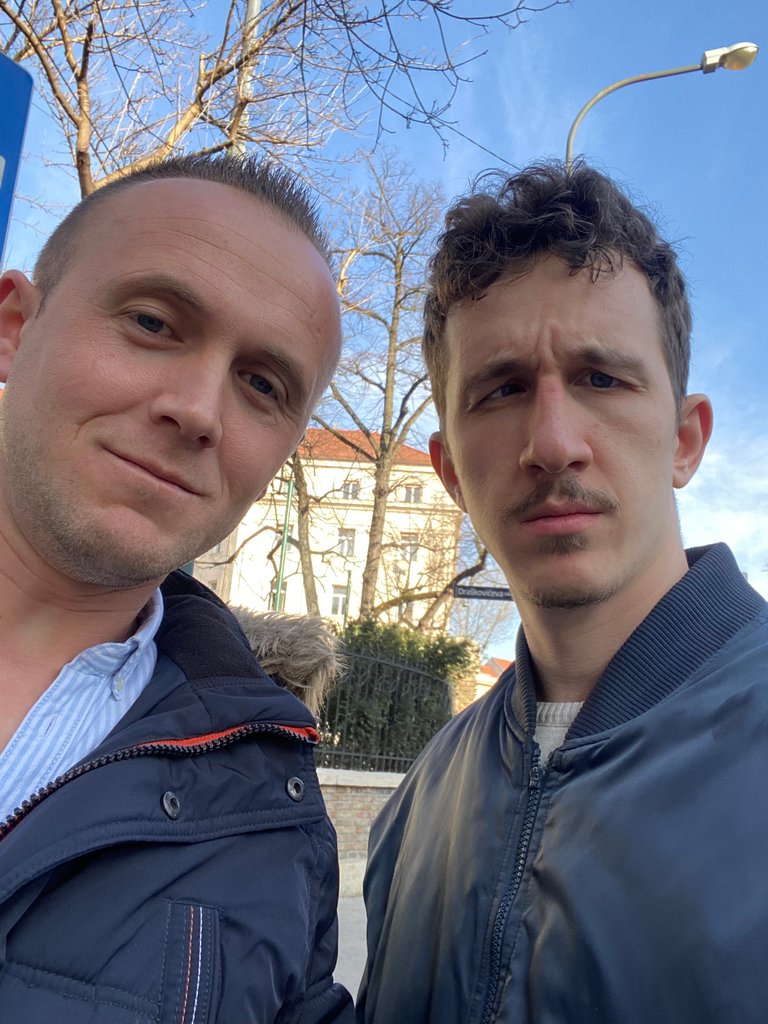 Having sign posts always helps. 💯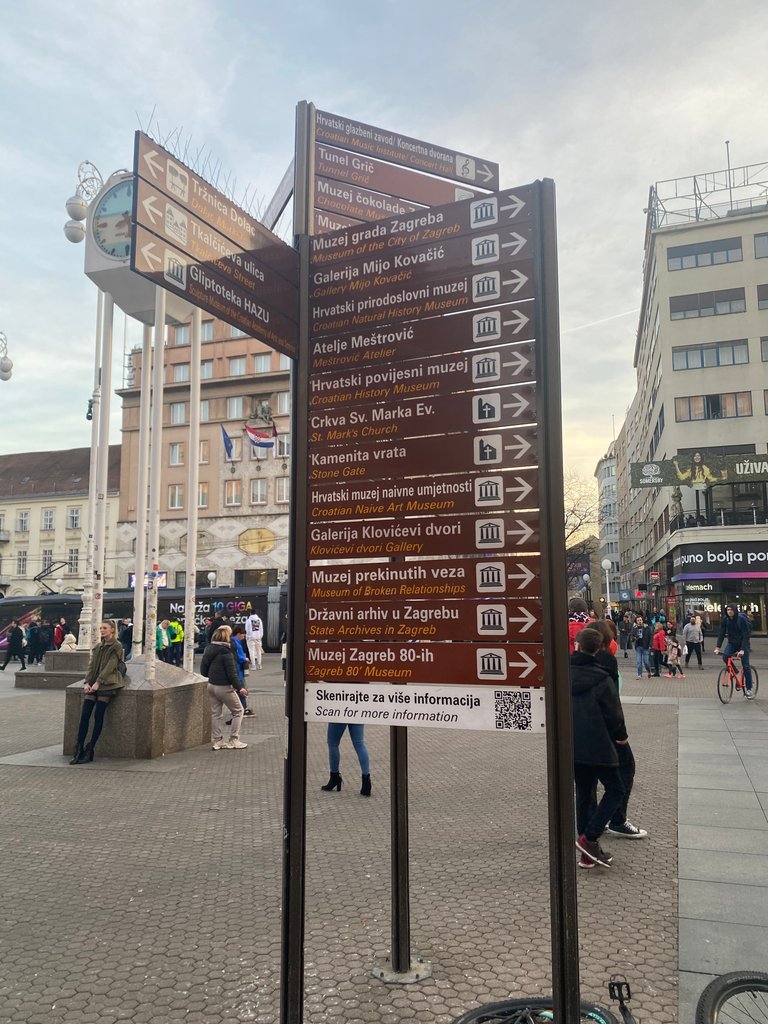 The city center was even more beautiful during day time. And yes, the trams were still scary.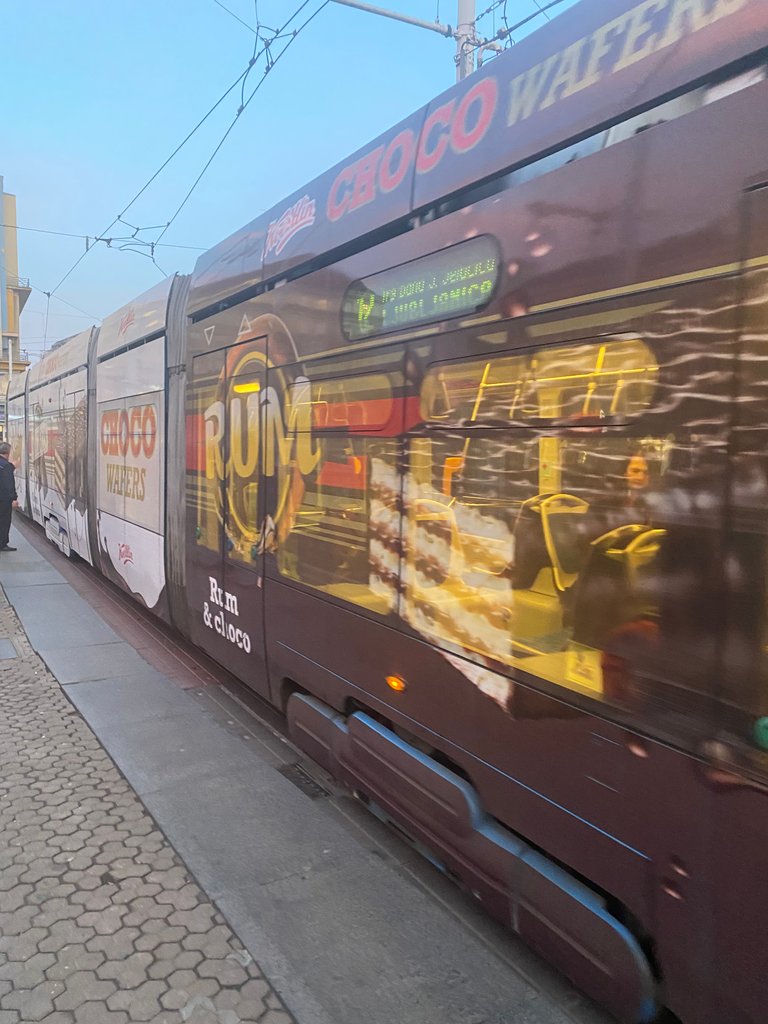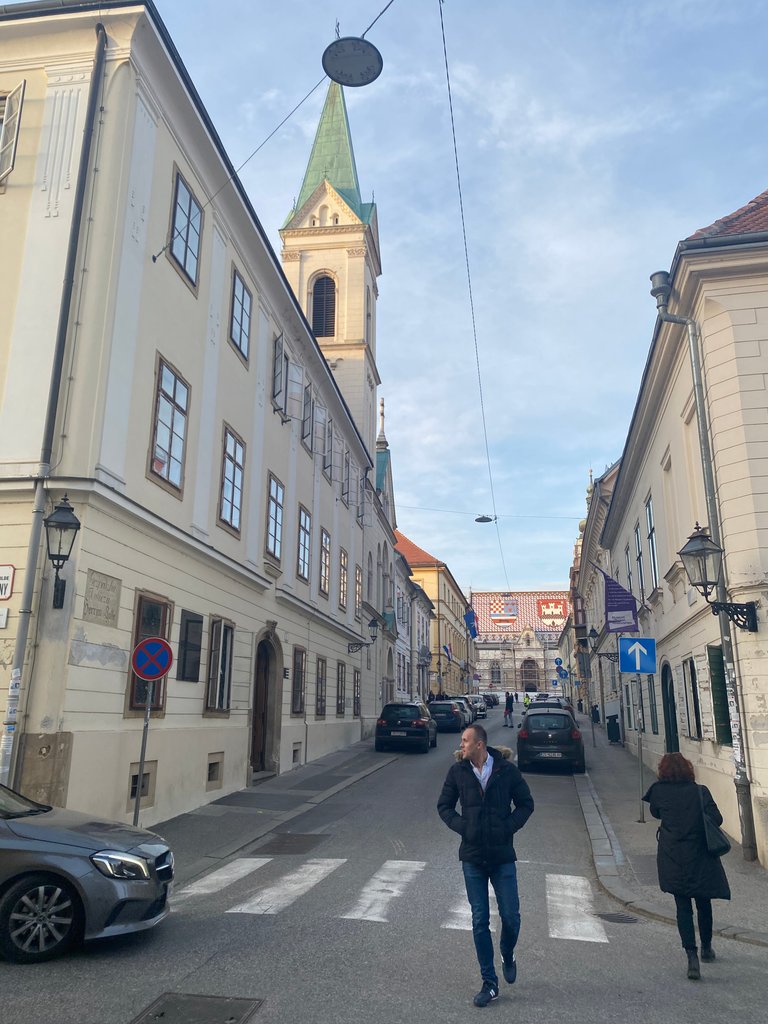 The city is alive. And most where you turn you're greeted by friendly faces.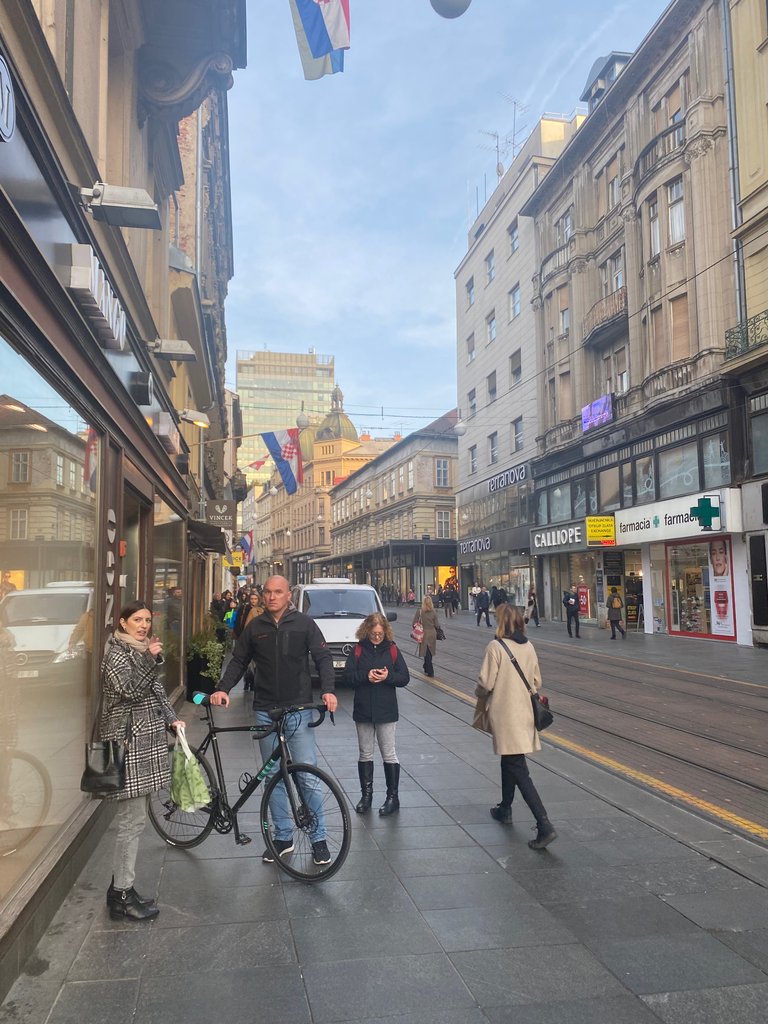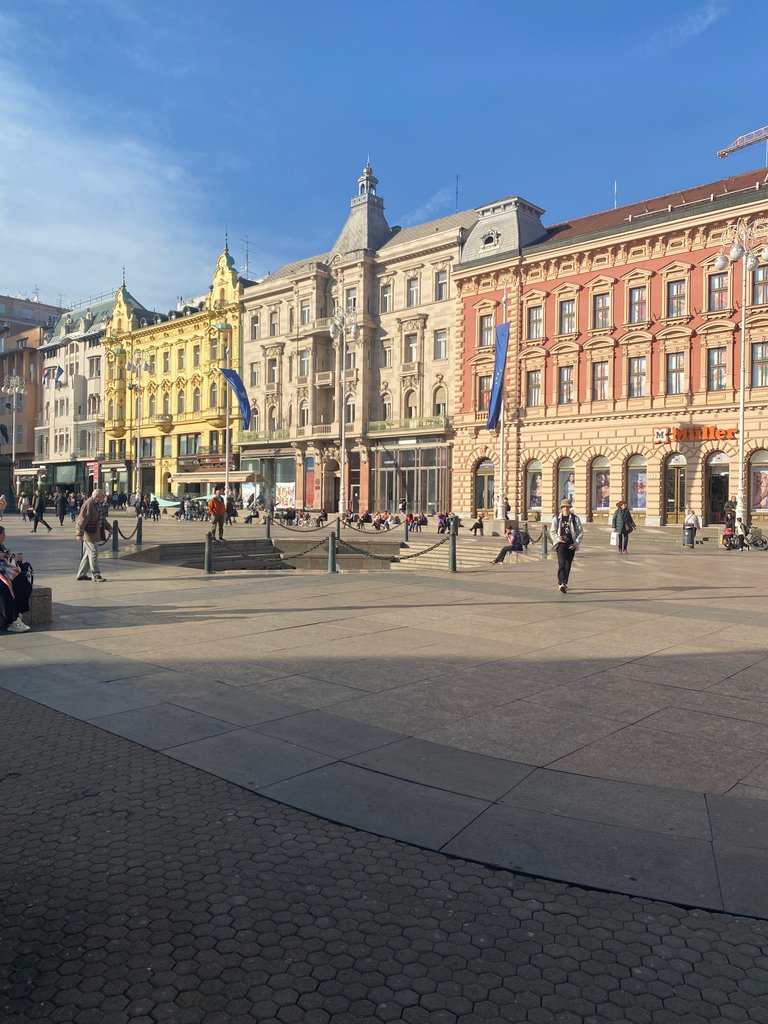 Soon we were at the main square again, meeting our good buddy Ban Jelačić again. // see the previous post on why this guy was a badass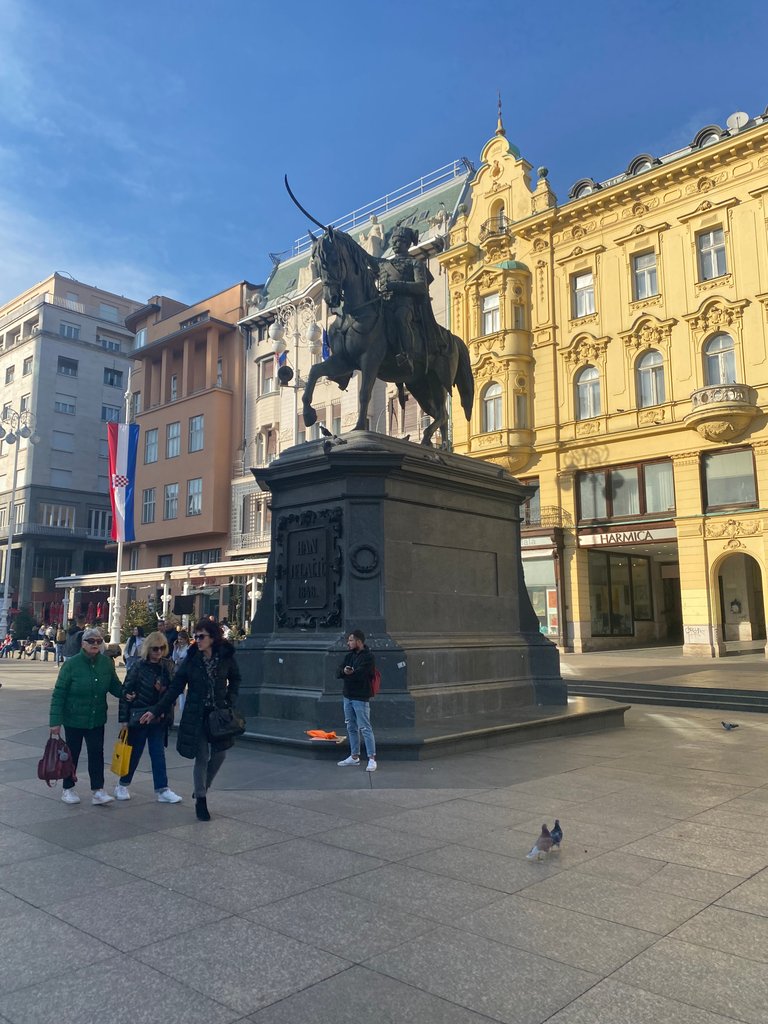 We knew where we wanted to eat. The previous night there was a lot of ruckus coming from one particular place. And by asking around they said that it had amazing food and beer. Enough for us! It was also easy to find, just up these stairs and next to this woman's statue.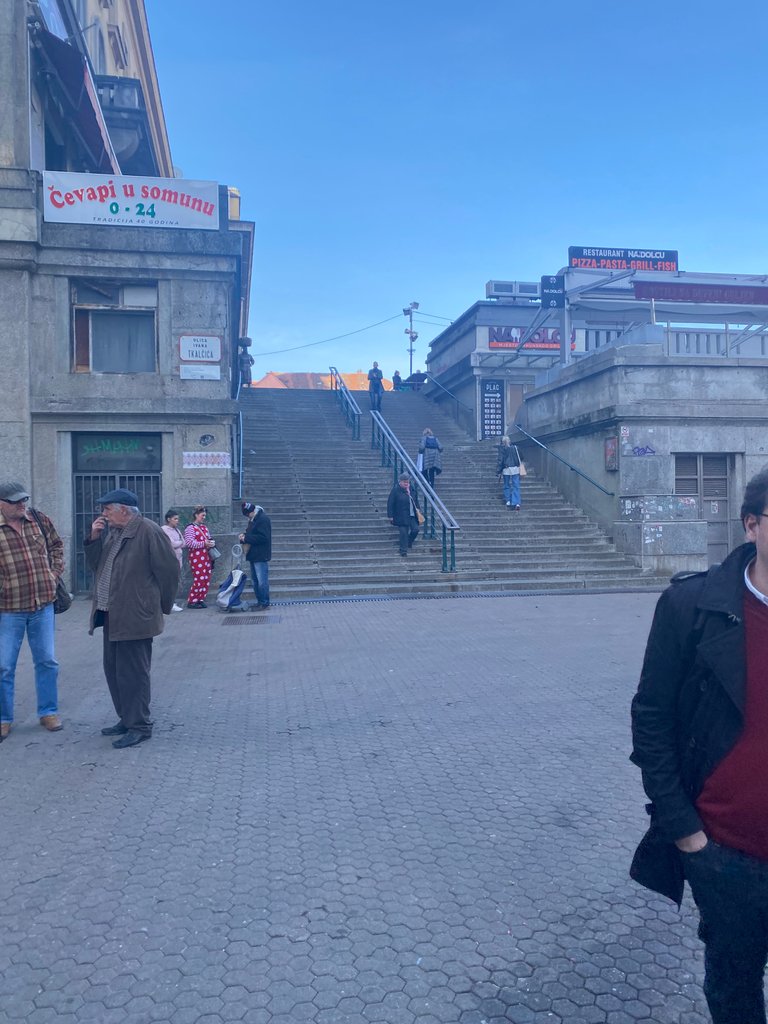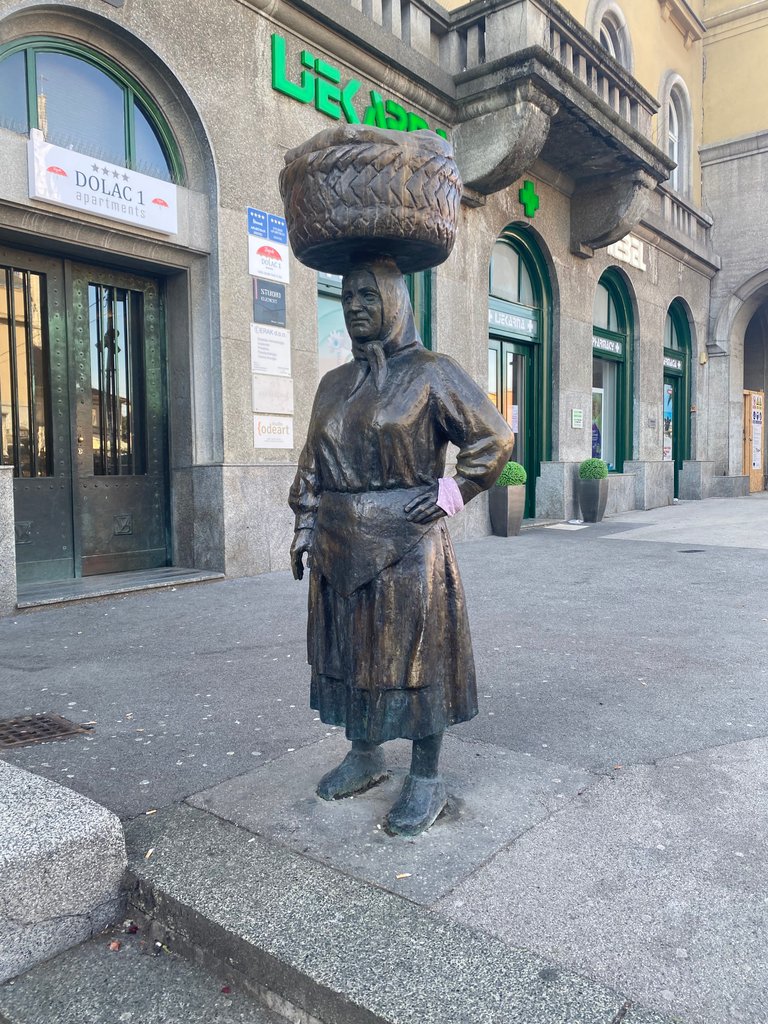 Needless to say, we weren't disappointed. 👏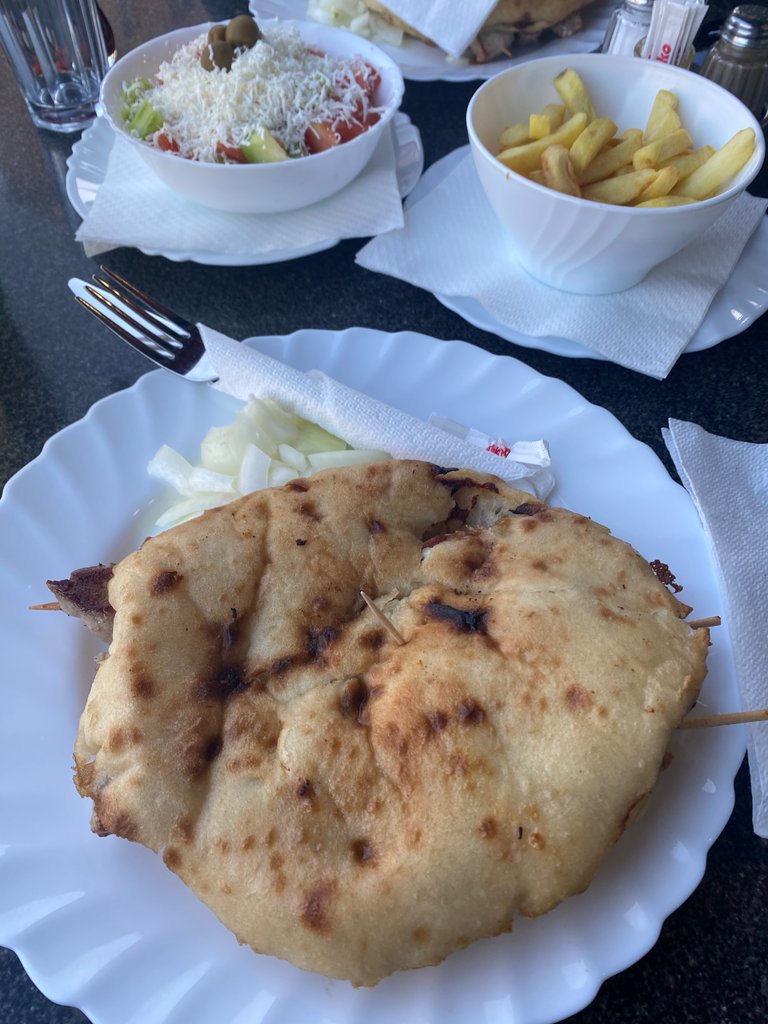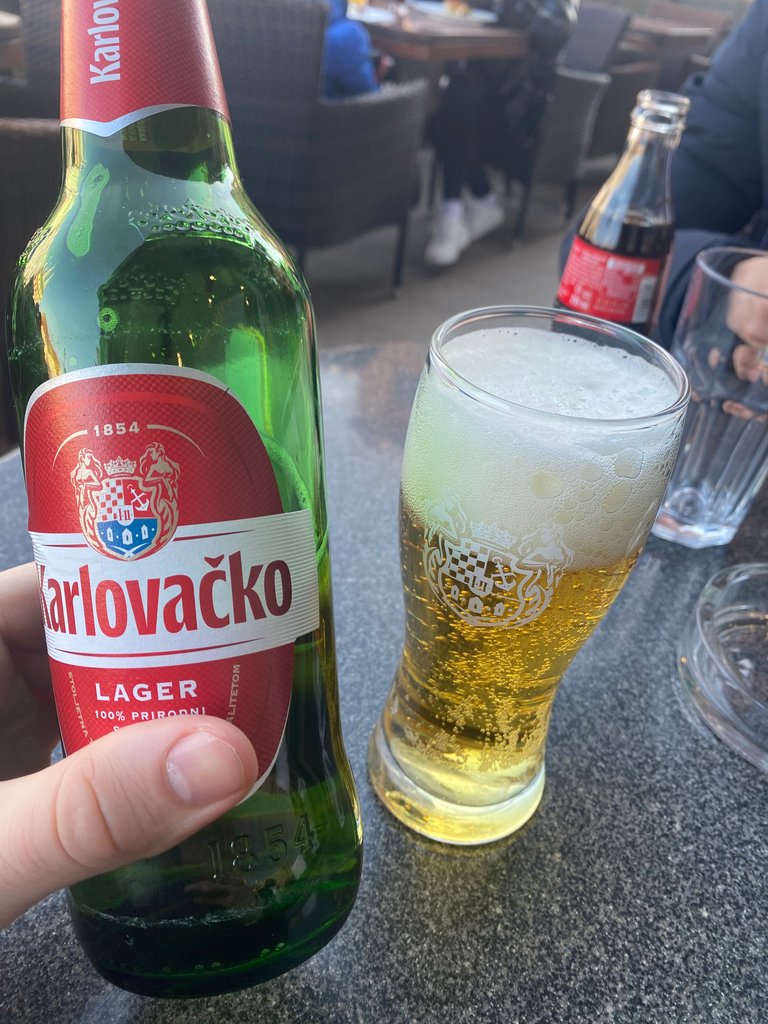 Delicious + great service + relatively cheap. What else could a young boy ask for? Nothin'. After we were well and truly stuffed, it was time to meet up with our other colleagues and go through the area known as Upper Zagreb.

🔶 "CABLE CAR" 🔶

How do we get to another part of the city? With a Cable Car of course! 😂
And it's a "cable car" but it runs on rails. So I dunno what's up with that. All I know is they mentioned that it's one of only two such transportation devices in Europe. *The other is in Switzerland.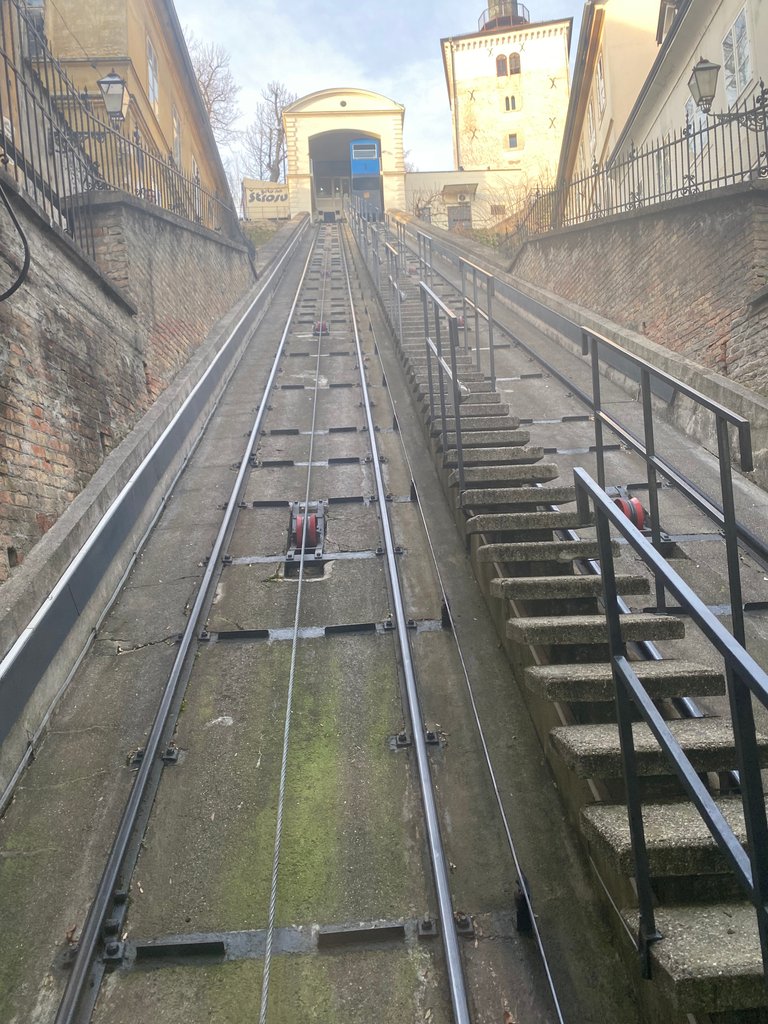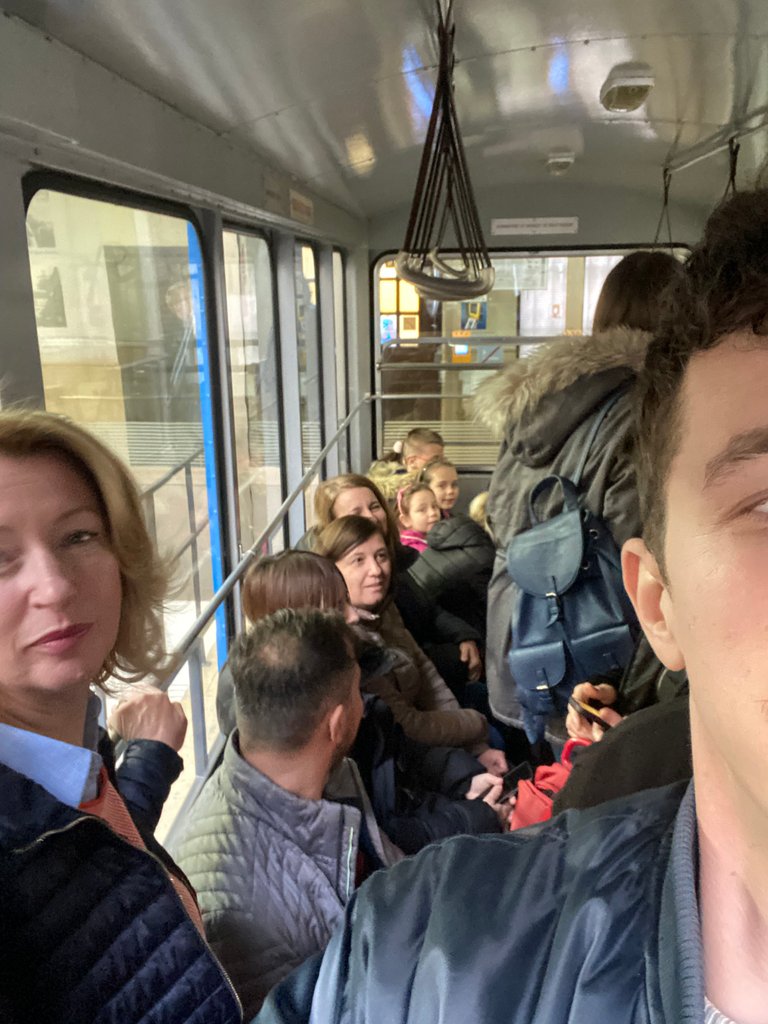 Once we finally got up there the view was breathtaking.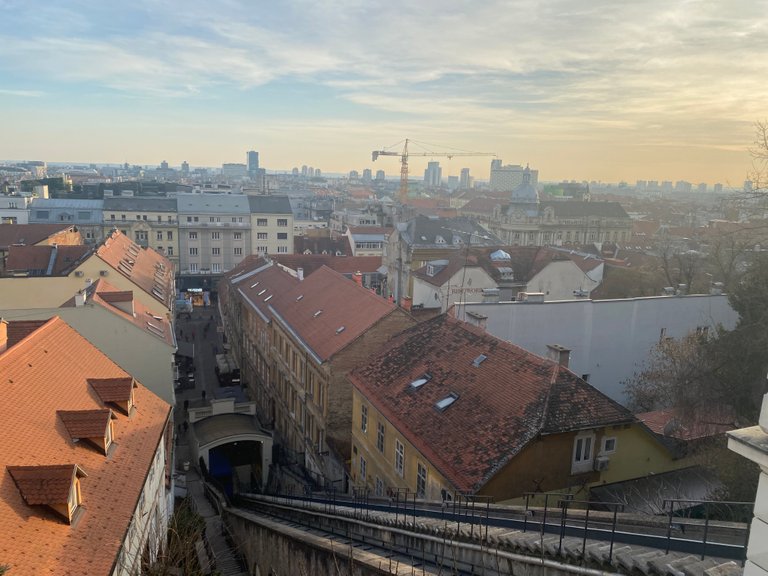 But we didn't ride that 30-second, overpriced cable car for nothing. Views alone? Nah. We came to explore!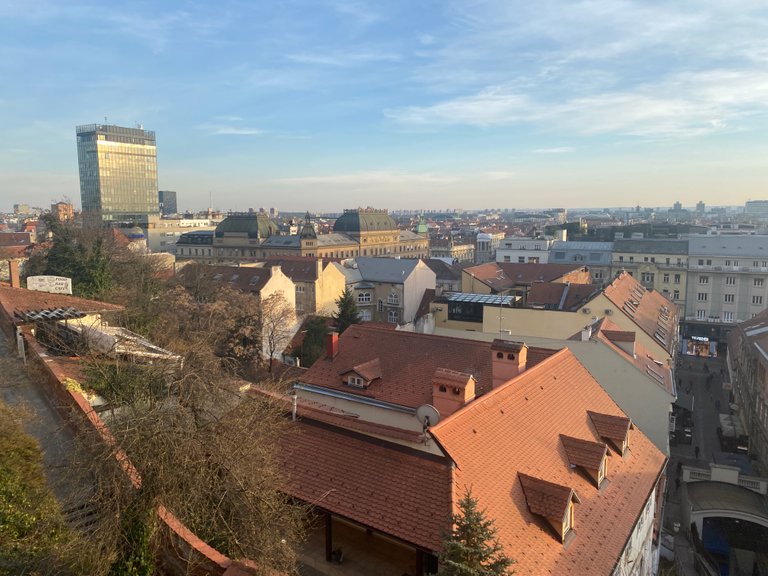 The views were nice though. 😁

🔶 UPTOWN 🔶

Here, most buildings are not in use, and it serves more as a tourist destination than anything else.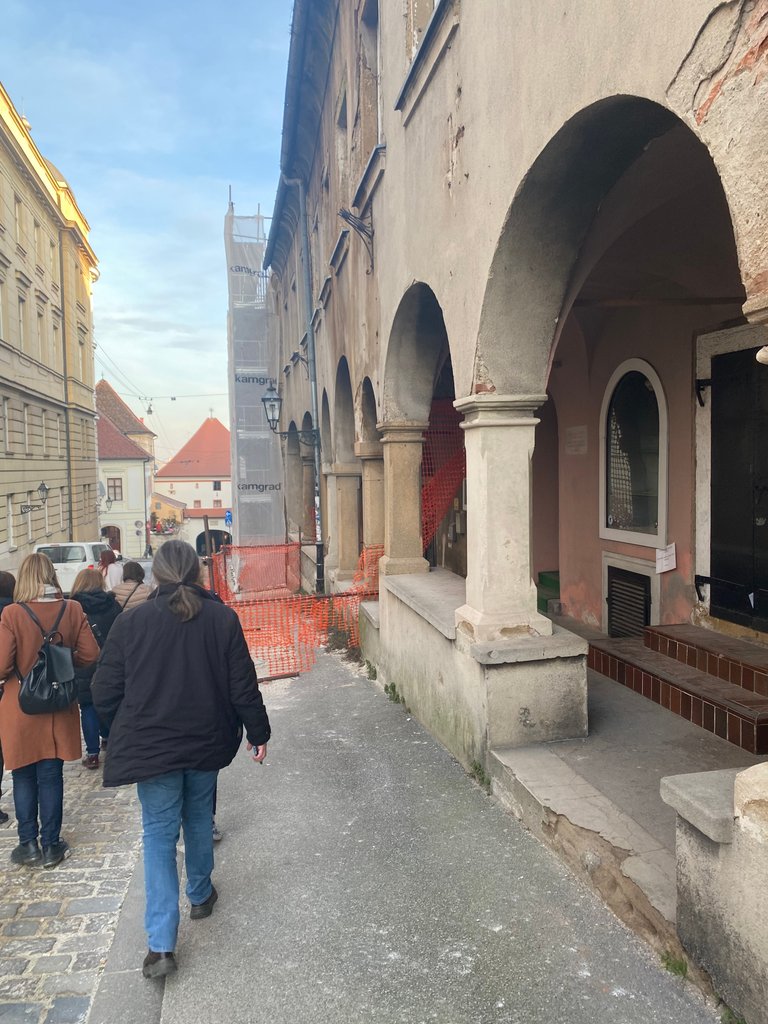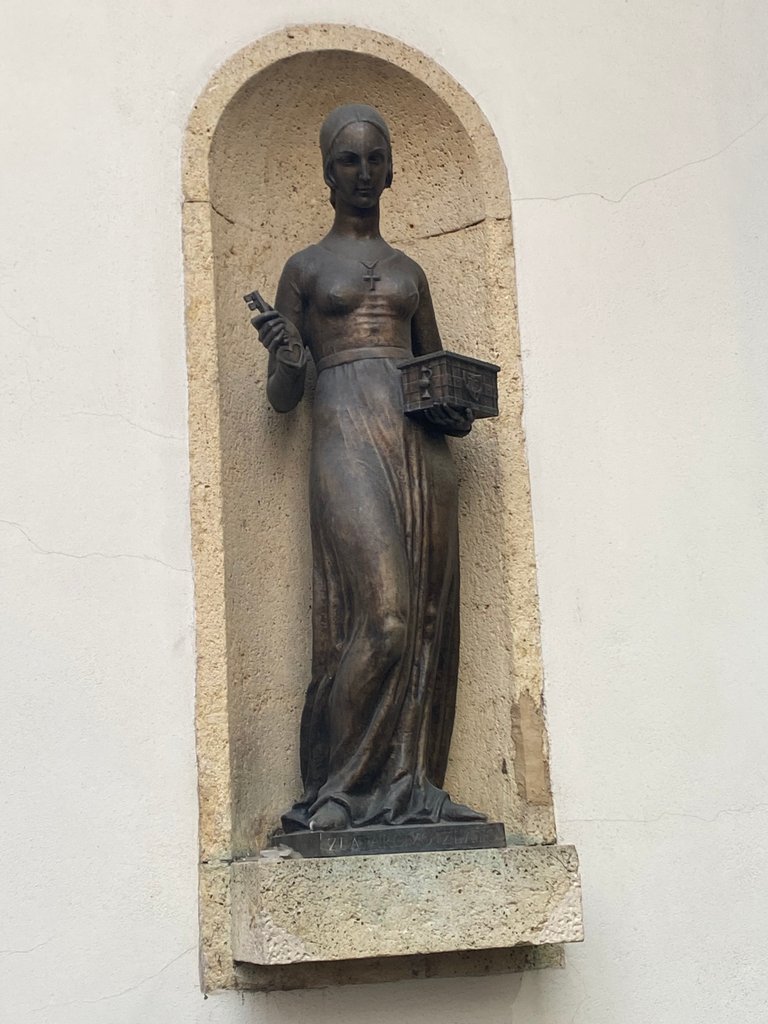 A lot of old important buildings are in this area, such as the first-ever broadcasting station in Croatia. Which they still keep intact as a sort of memorial for the nearly 100-year-old building.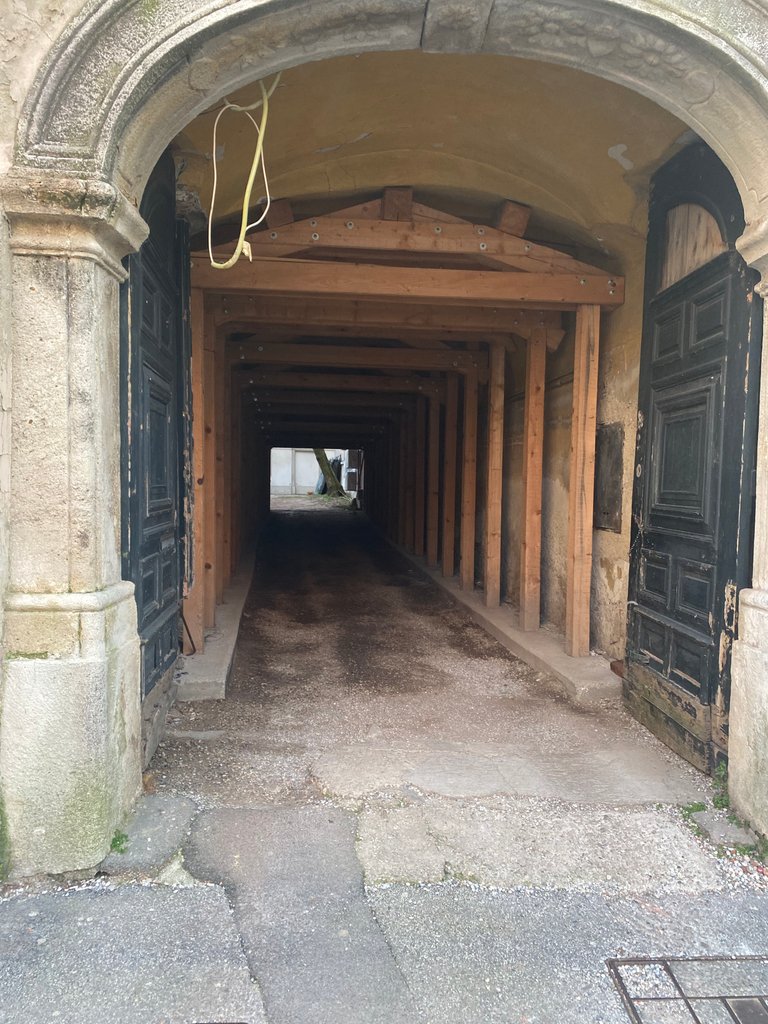 We def saw a lot more tourists than in the center itself.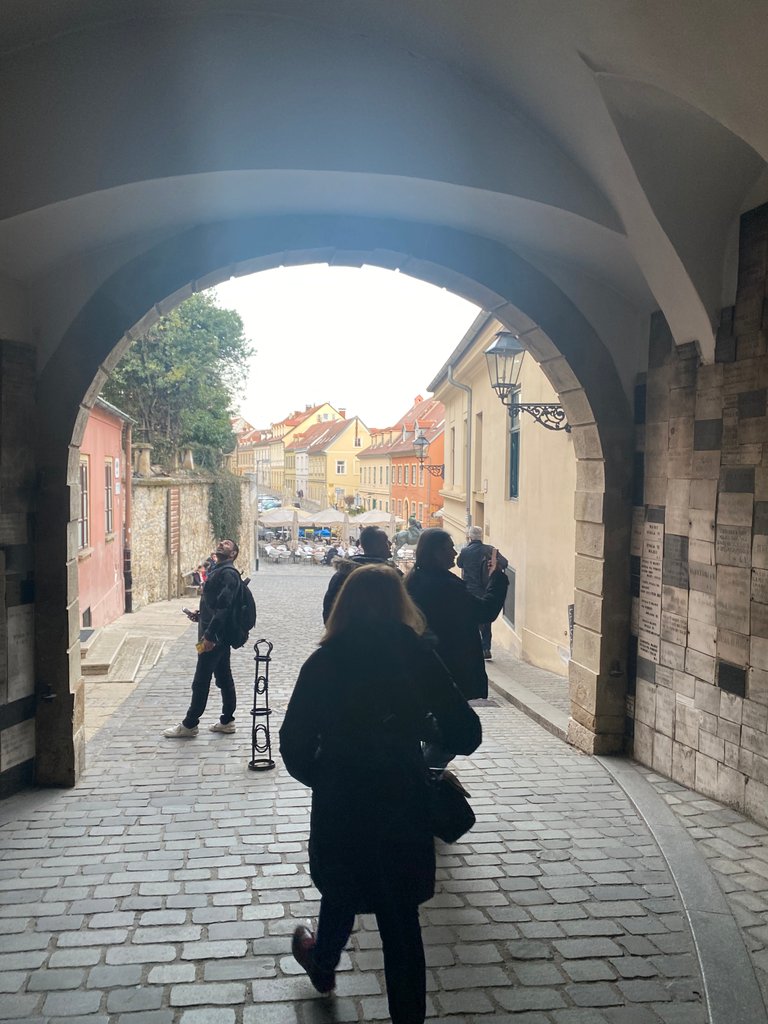 The picture to the right is of an incaged engraving of Jesus and his mother Marry. No one is allowed to touch it, and people are not supposed to talk in the archway.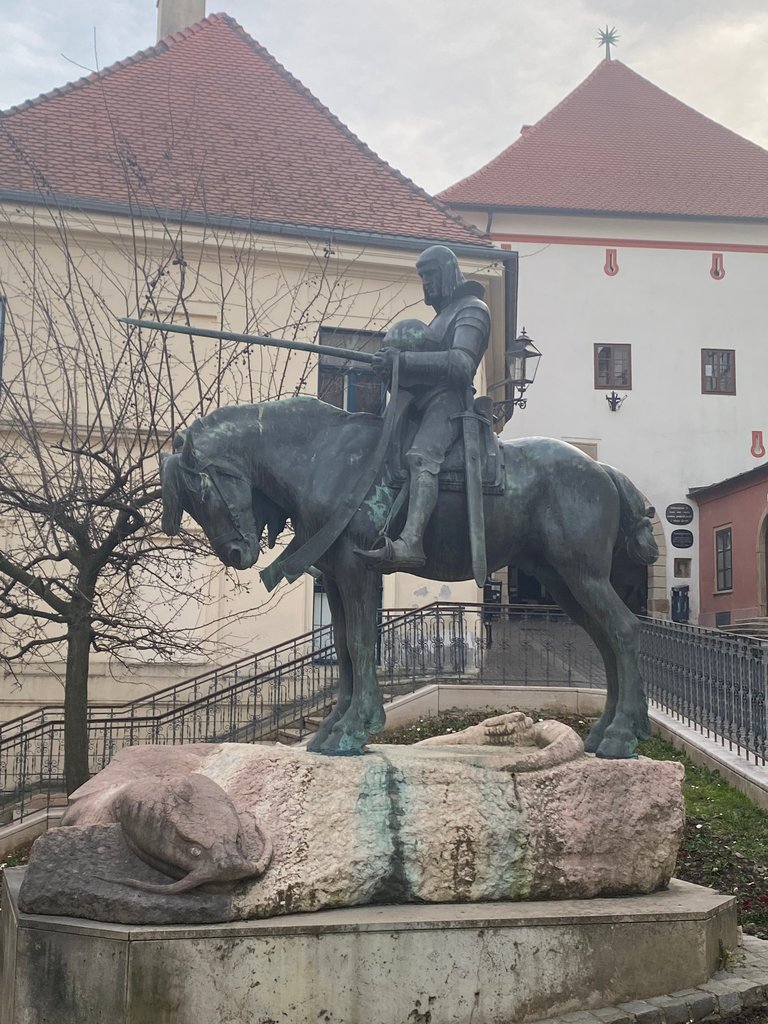 And of course, can't go anywhere without seeing another soldier! This one was super cool to me, like straight out of some medieval movie. 💪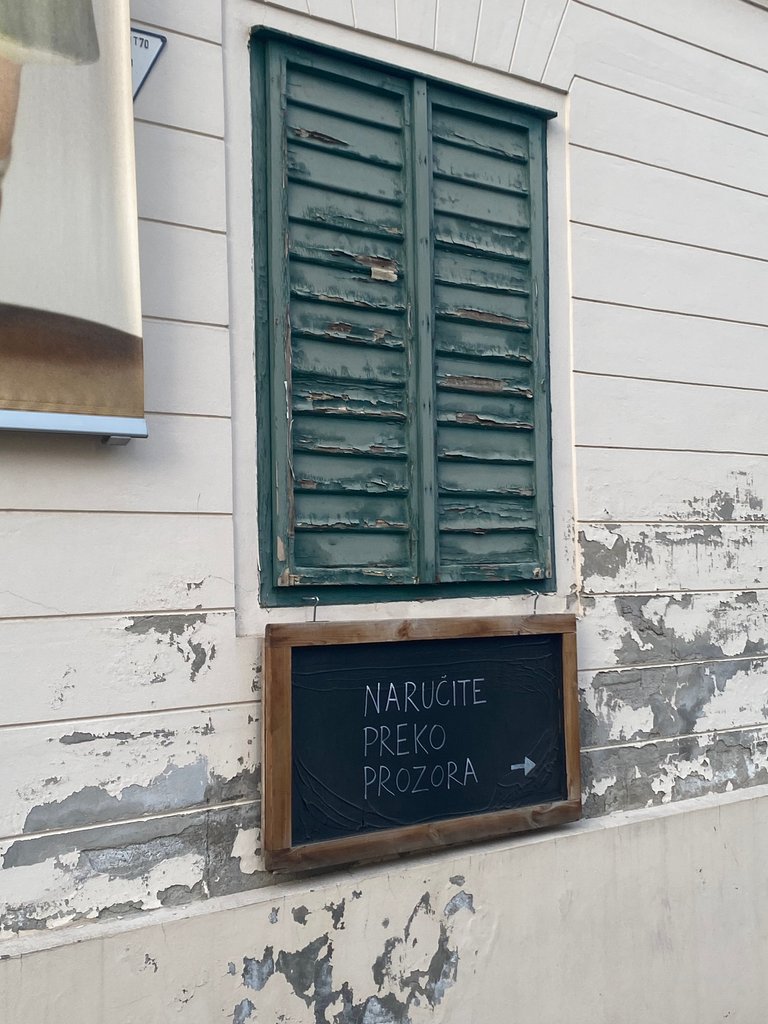 Sign says "Order through the window" -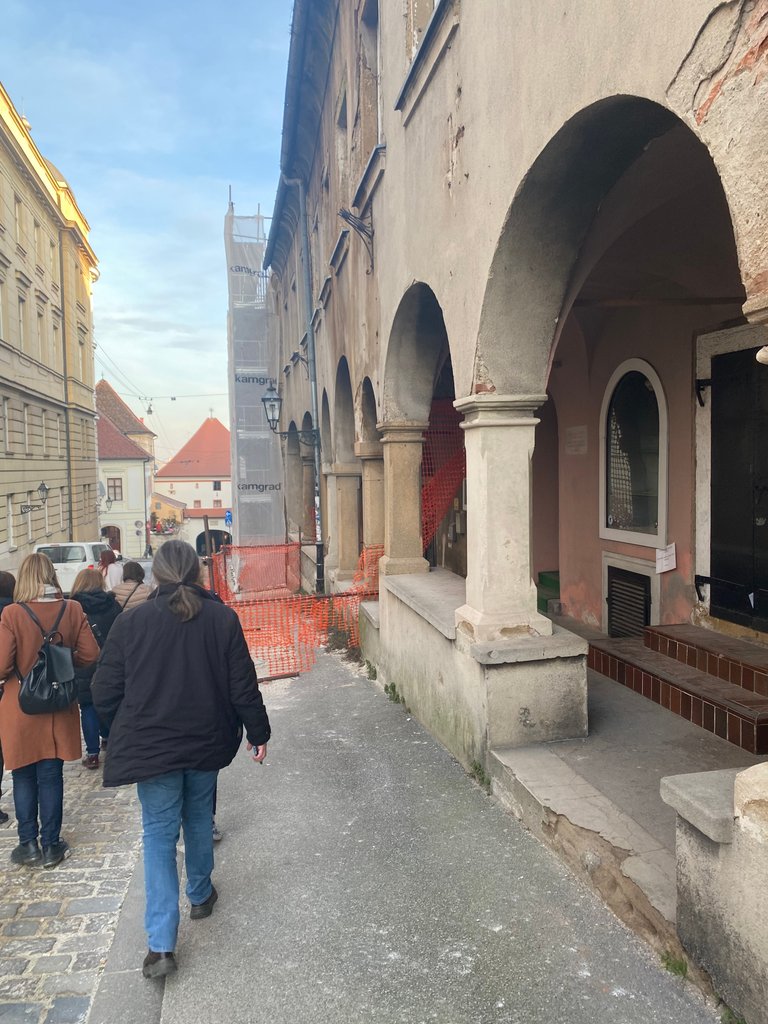 Soon enough, however, it was time to head back down.

🔶 MULLING AROUND 🔶

We split up once we descended the treacherous heights of Upper Zagreb.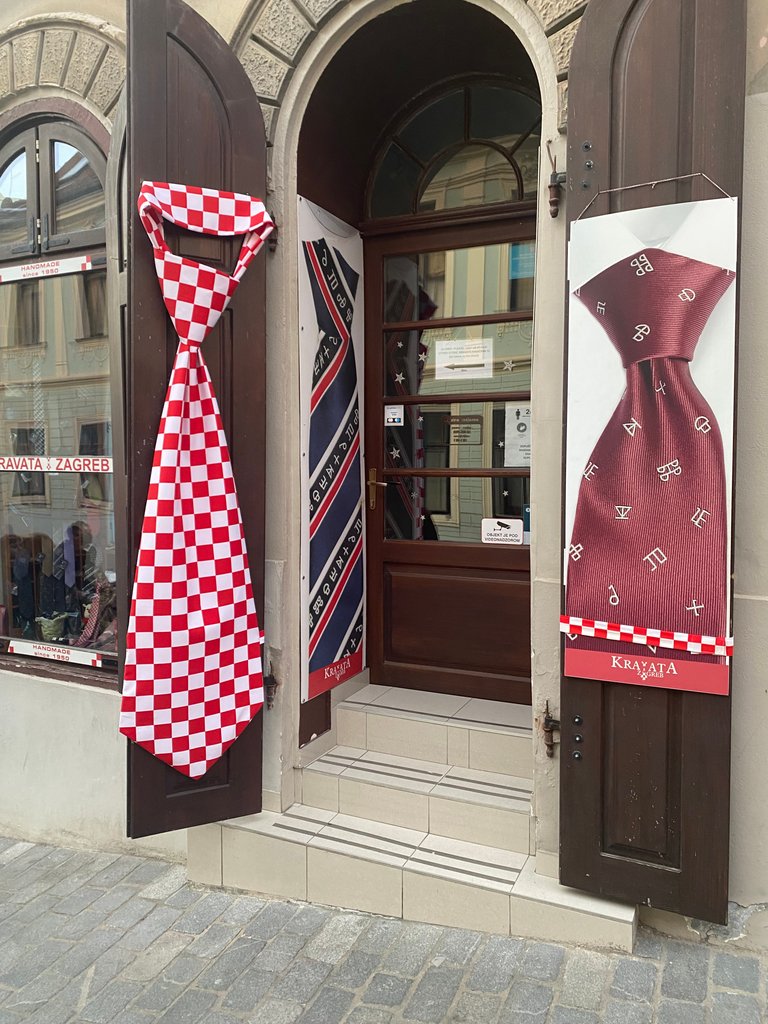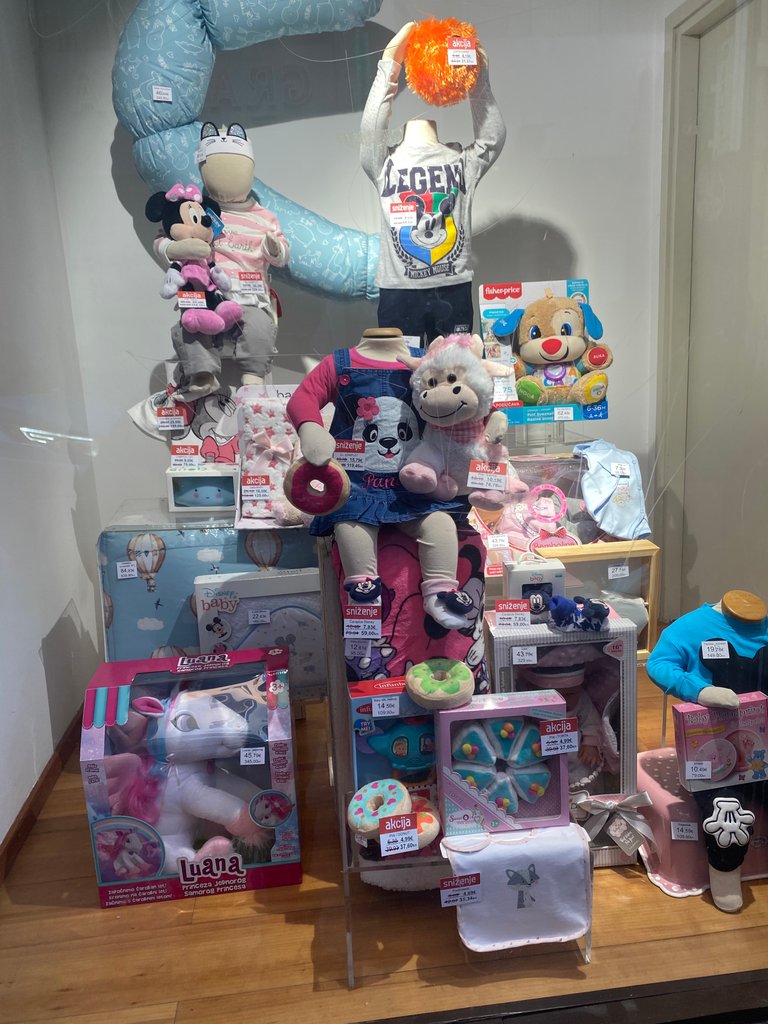 I and my bud started window shopping and seeing all the great stores lining the main streets.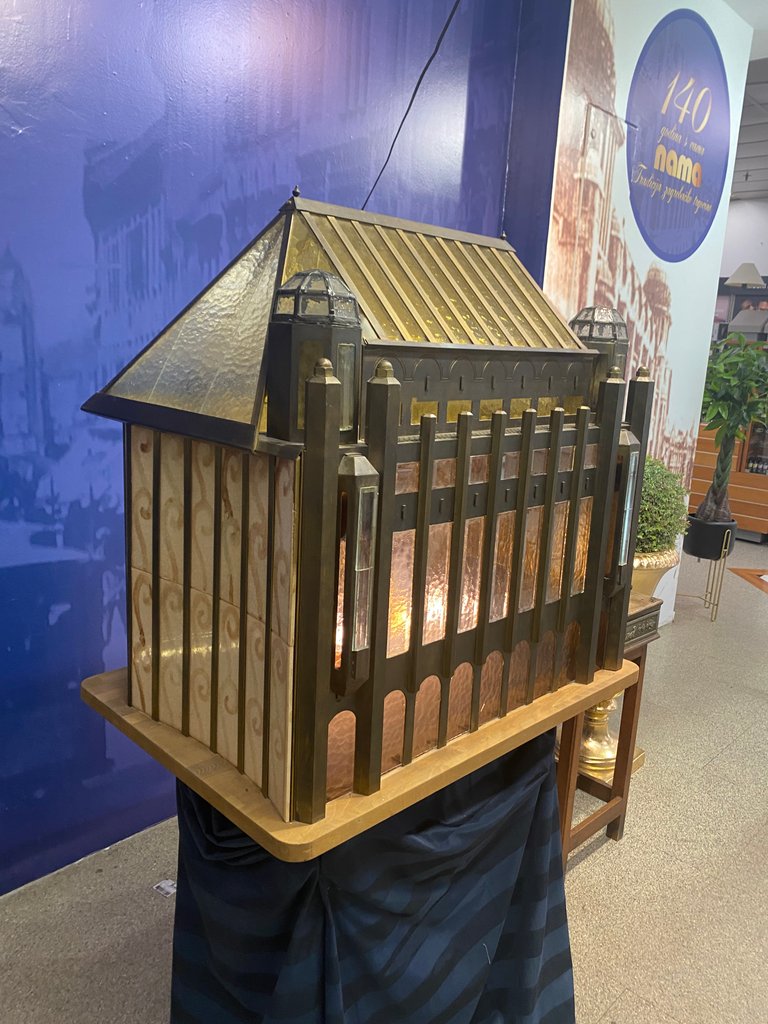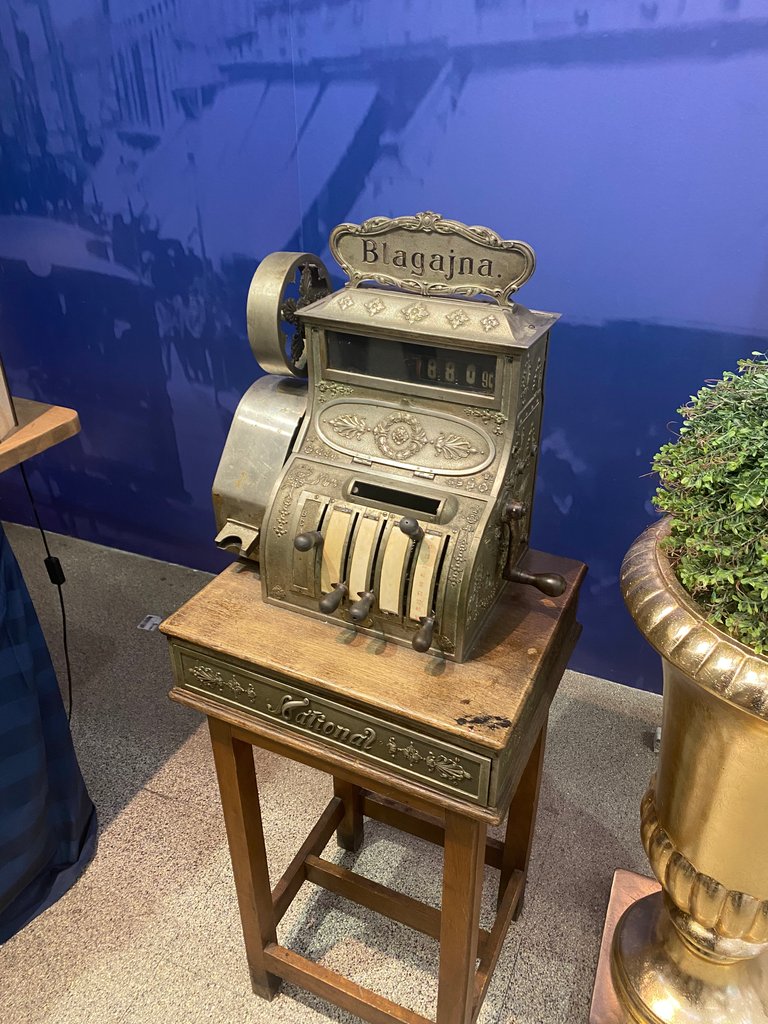 We entered a boutique that had these sweet-looking antiques.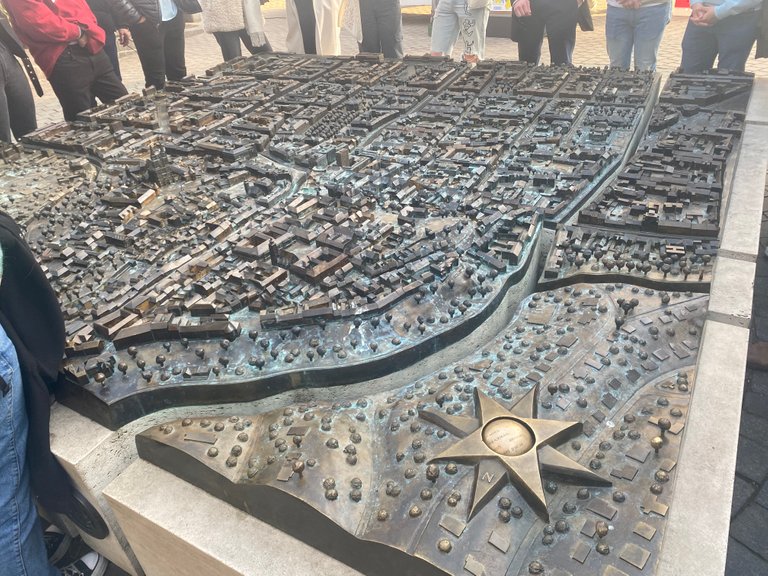 There's this sweet-looking metal mock-up of the city, and it's an actual representation of the city. It's near the main square and people are allowed to walk up to it and touch it all they want.
There is a security guard standing close by of course. 😅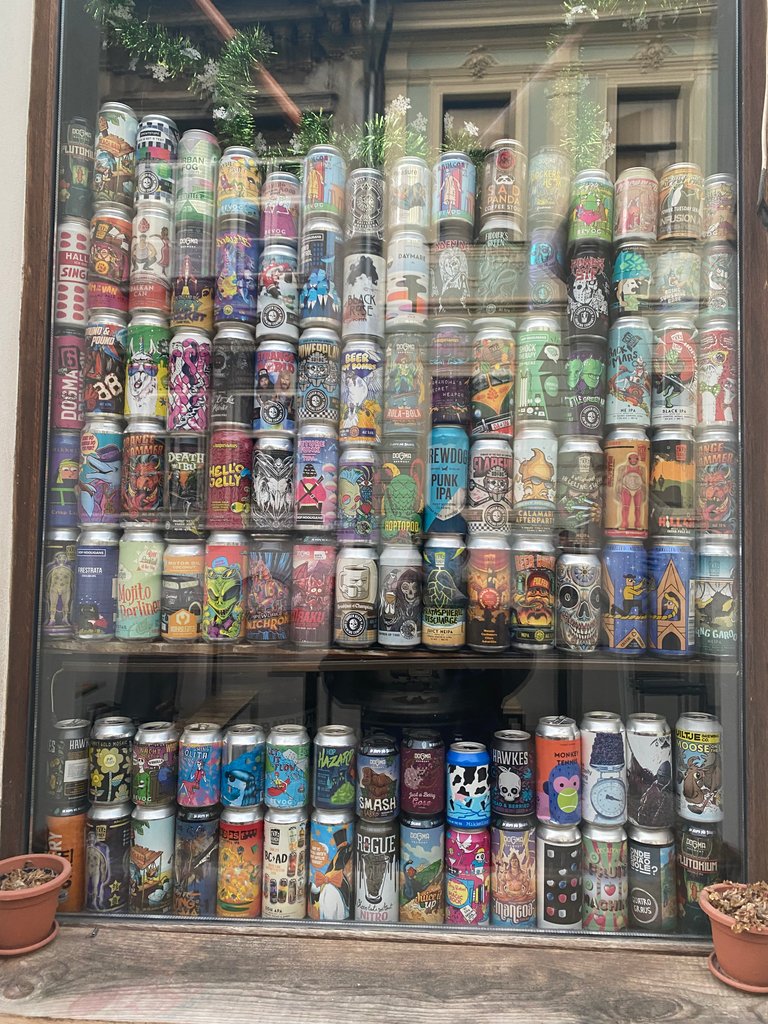 Of course, can't go anywhere without seeing a windowsill filled with used cans. Amirite or amirite? 😤
Soon enough it was time to get back to the Hotel, and I didn't want to leave again at night to buy my food. So I did what every sensible man would in this situation.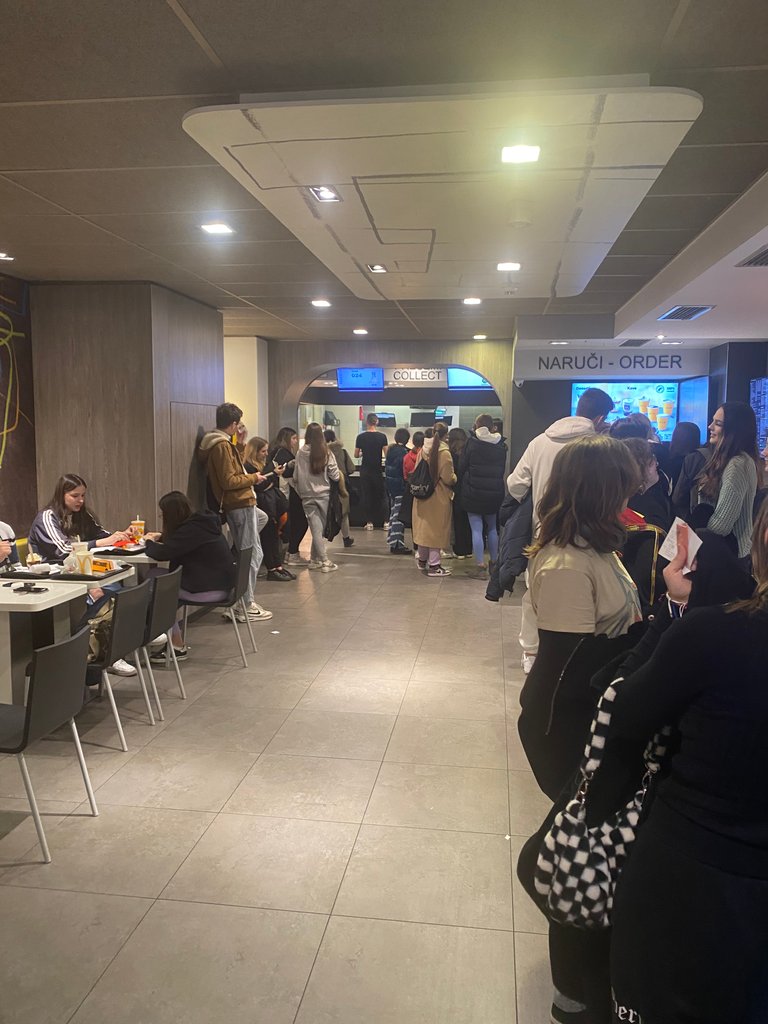 I stopped at Mcdonald's.
🕺🕺🕺

Thank you for reading, you rock! (and maybe, possibly, roll) 👏👏👏
Shout-out to the 🍕PIZZA🍕 gang, 🤙 gang. 🤙
Wanna see the rest of my adventure? Well, ask no more fellow internet users!
BEHOLD: DAY 1 | YOU ARE READING DAY 2 | DAY 3 | DAY4 | DAY 5
Day 2 officially in the books! 📚 Hope you guys enjoyed reading this as much as I did writing it. 😁 I had such a blast in Zagreb and would return in a heartbeat.
Seriously considering moving there in the future. Such a pleasant place to be.
Day 3 coming soon!
👊 Follow me on my HIVE blog 👊
Hope that everyone has an amazing start to their weekend! 🙌
---
---