DOOM (2016) 📽 Through the Lens
You know what I adore most in this world? This stupid trends of naming new games in the franchise with the same name as the base game - like a soft reboot of sorts. I love that so much, it's so not confusing at all, nope, not confusing at all, hahahahahhaaha gun emoji
(they did the same thing with Tomb Raider and God of War, but that's a column for another time 😁)
Doom 2016, which I'll refer to as just Doom from here on out, is a master class in FPS gaming. Master.class. 😤 Anyone who hasn't put this game in their Mt. Rushmore of fps games - hasn't played it. Simple as that. 💯
Sooo, you guys ready to slay some demons? In this edition of Through the Lens 🎞, we'll be looking at id fabulous return to form from 2016: DOOM, Roll it! 📽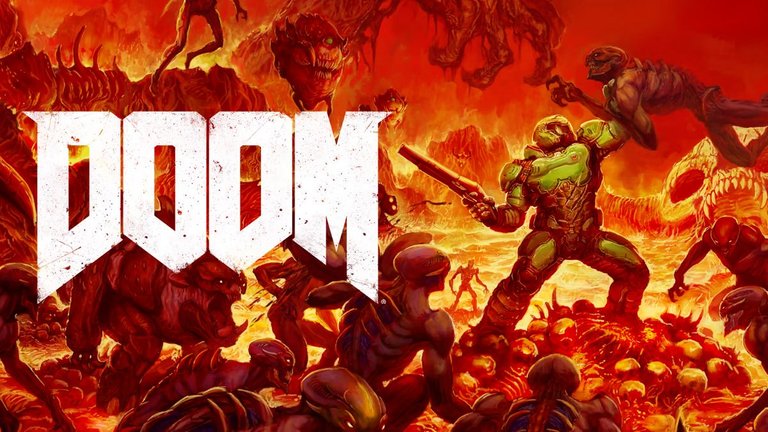 🚩 UP TOP 🚩

Okok, you guys know I always recommend you listen to the soundtrack while reading these. Well this time I really mean it. 😁 Seriously, this is the best soundtrack I've had on Through the Lens and one of the best soundtracks in gaming period. So if you've never heard it, you're missing out.
Doom 2016 soundtrack by the amazing Mick Gordon
I've never played the old Doom games. Well, I have and I haven't. Have because I think I've tried Doom 2 at an internet cafe once. 😅 But that's about it. Suffice to say, Doom along with Wolfenstein are the granddaddies of FPShooters. So you can imagine the fans' frustration with all the lackluster Doom sequels.
As well as an abhorrent movie adaptation that I'm sworn under pain of death to never talk about.

Id was one of the premier gaming studios back in the day, and for them to fall so low was just another piece in the same depressing game deb pattern. 😢
Imagine everyone's surprise when this game came out and it was actually...good. Not only good not only great but motherbleeping amazing!

😈 DADDY'S HOME 😈

In 2016 all hell broke loose! 🔥🔥🔥
I remember what a monumental WTF moment this game's release was. Before the epic single player campaign came out, we got the multiplayer version. And the multiplayer version was soso. Not bad, but definitely not Doom. So everyone was on edge "Are id after all the promises still delivering a subpar Doom experience?" Boooooy, were we wrong. 😂
When the campaign dropped - it dropped. It was heard on Jupiter and the sound wave reverberated back to earth to cause several tsunamis in Japan (why Japan? well don't they get a lot of tsunamis? hey! i'm not the one making the rules here!)
Everyone was shook. I remember the GOAT Totalbiscuit gushing over it at the time (RIP legend) the video til this day is one of my favorites, and I highly recommend it if you are a fan of the game. 😄
Everyone and their mama surprised. Id had returned to their former glory, and many would say they exceeded it. I would concur with that sentiment. 💪 This game's single player went above and beyond what anyone expected or even thought they wanted. It was such a huge surprise **that it won GOTY easily. 🙌
And to this day is one of the greatest single player FPS campaigns of all time. Which, if you know your FPS campaigns, is high marks indeed. There are a lot of good FPS campaigns out there.

👿 DOOMGUY 👿

"Doomguy is back, and he is scarier than ever."
John 16:50.
One of my favorite things about this game is just how funny it is. 🤣 Stuff like "Demonic Invasion in Progress! is just a-tier writing. ✍️
The entire game is tongue and cheek like that. 😆 Doomguy just smashes anything and everything that prevents the flow of gameplay. One the nose? For sure! Brilliant? Most definitely❗️
The lore of the game is even more bonkers. The demons from hell actually fear this guy. this...doomguy? runs away ina chorus of boos / The previous games are also all canon, which I love. And the fact that every prime demon absolutely $#!&s their pants because of you is just mwa 👌 I know you didn't expect a story section in a freaking Doom article, but if you dive into it, its pretty hilarious. 😁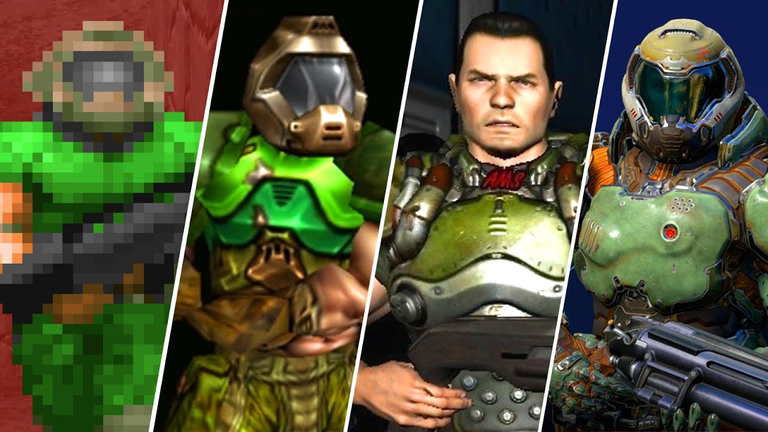 The character design/environment visuals/kill animations/soundtrack all work in tandem to bring you this badass experience. 😇 no wait I meant 😈 no angels allowed in this column!
You feel you are this badass demon slaying warrior of myth. A living breathing devil exterminator. If that doesn't sound cool that you need your dopamine levels checked. 😎 He never speaks, he never thinks, he is just a demon killing machine. And every aspect of this game is designed around that. Its designed around one of the most badass video game characters ever devised. And it lets you be him. 💪
Absolute bloody 10/10.

👹 DEMONS 👹

When I was a kid I remember that demons were pretty scary. Weeelllll, so did most people who played the original Doom. Aaaaaannnnnddd, I guarantee that anyone who has played this game is no longer scared of any form of demon. 😄
Quick housecleaning before we talk about the design stuff: ✍️
All the demons look awesome. They move and act awesomely and are generally fun to kill. Hence, they themselves are awesome!

The gameplay loop here is just amazing. You traverse these large, intricate, secrets-filled levels - filled with combat arenas and mini bosses. Managing your resources (the staple of a Doom game IMO) and... here's the important part... not dying! 😁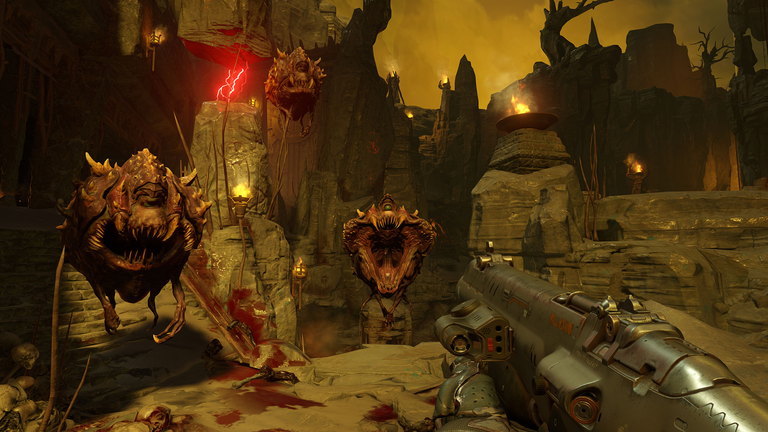 There's a quick-kill system in the game that when it was first introduced made a lot of people weary. "This is just modern lazy game design! You get loot from insta-killing enemies? In Doom you need to find your loot!" 🤡 Those poor fools... but how could they know? The quick-kill system fits the fast-paced action perfectly. It allows for the flow of combat to never really quit, if you know what you're about, you will always patch yourself up and keep going. 🎌 It's also not a free-kill per se, you are a sitting duck while executing the animation, so you need to be strategic while using it, especially on higher difficulties. 🔥
And yes, this aint CoD 🤢, you can have more than two weapons in your inventory. You can have up to ten. not only that but each weapon has two different types of fire (you unlock these by playing the game and exploring!), so technically the games has 20 weapons to play around with. And you can do a lot playing. 😁
"Suffice to say this is the best gunplay in any video game."
Elon Musk, 2017
There are few feelings as satisfying in life as expertly navigating a combat arena, switching weapons to suit the demons you are up against, and barely hanging on by a thread. I'm getting excited just thinking about it.
The final boss is kinda meh, but we'll lat that slide - game's earned it. 😄

🏆 LEGACY 🏆

I really wish there was a red chalice/trophy emoji so it can fit the rest of the article's theme. 😅
In many respects Doom brought back the arcade shooter to the forefront of the gaming industry. Until its release it was all MilSims and CoD/Battlefield clones. 🤷‍♂ It's like developers forgot that at one point, players could carry more than two guns at a time. 😁
With this title id has earned my trust. They could mess up their next two titles, and I'd still trust them. Yes, Doom is that good.
If nothing else, Doom will be considered as one of the best single player FPS campaigns to have ever been made. 💯

Shout-out to the 🍕PIZZA🍕 gang, 🤙 gang. 🤙
I had a lot of fun writing this piece. 😁 No seriously, I know I almost always say that, but these time I felt like I was playing the game again. So ye, a lot of fun. I actually reinstalled the game myself after all the hyping up I did. I was like why am I not playing this game every second of my life? 😝
At any rate, I hope i introduced some much forgotten joy from playing this game, or some much renew joy. 😮 One can only dream...
Also, I know I didn't talk about it much, but the multiplayer version of this game is really not all that bad. I think the servers for it are still running even (id are bosses like that). So if you want a sneak peak of what the gameplay is like, try it out! But don't get it twisted, the single player is where this game's at, I'm just talking about feeling out the gunplay here. 😅
On second though, if this glowing recommendation piece didn't convince you to give this masterpiece a try, I doubt the multiplayer will, so scratch that last paragraph completely.
Hope everyone enjoyed reading, I always appreciated your feedback, of course. 😌
👊 Follow me on my HIVE blog 👊
Have a great start to your week folks! 🙌
---
---