Flowers for Algernon, by Daniel Keyes - REVIEW

What up crew? 🙌 Hope everyone is doing well . 😌
In my last post I talked about how I exclusively read Sci-Fi/Fantasy. That is kinda true. 😂 While this book has some Sci-Fi elements I don't consider it a Sci-Fi book per see. And yes, before you ask, I did change the rules to suit my narrative. It's my review, I can do what I want, sue me. Thanks for coming to my ted talk. 😎
I love this book. It sorta came out of nowhere for me, and I read it in one or two days. I devoured it. 😅 Loved absolutely every minute while reading it. And I hope that with this review I can inspire some of you to give it a shot as well. 😇
Obligatory 📢 SPOILER FREE 📢 (kinda). As always, it's written with the longtime reader in mind. 😉 There's enough pie to go around people! 🕰
Why I said 'kinda' up there 🔺 is because I'll have to give up the premise of this book. There's no other way to talk about it. That in itself would be considered spoiler-free because the premise is written on the book itself. HOWEVER: I feel the experience of not know what you are getting into is what makes this book stand out. 💯
If you re looking for a fast, emotional, poignant read. Please read this book before continuing. It will blow your socks off!
Note: All quotations in this article are excerpts from Daniel Keyes's "Flowers for Algernon", 1966.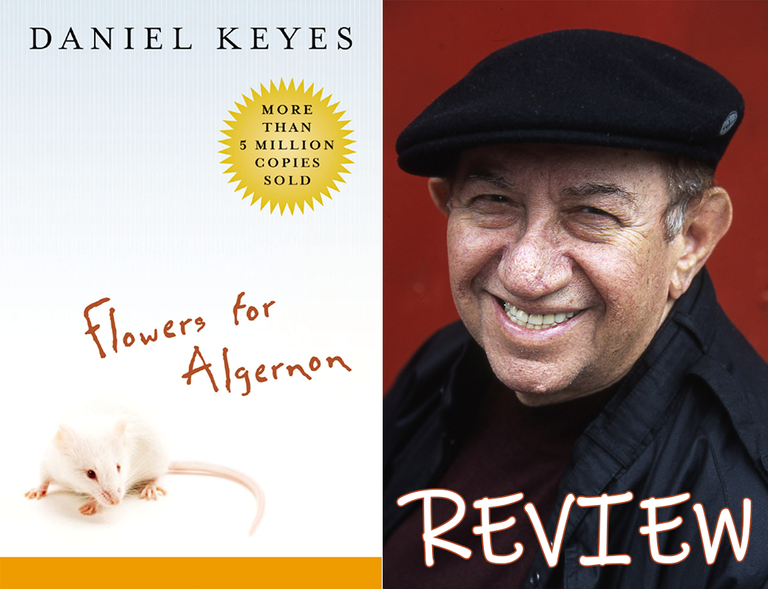 "I don't know what's worse: to not know what you are and be happy, or to become what you've always wanted to be, and feel alone."

Daniel Keyes is not a very famous writer. Not surprising since this is his most famous work, and the only work that really took off. I haven't read his other projects, but I intend to do so. Life's kinda hectic right now though. 😅
He first released Flowers for Algernon as a short story in a local Sci-Fi magazine. It was a smash hit and one a Hugo award the following year (basically the Oscars for writer). Then, 6 years later, he finally released a novalized version of the short story. That is the version we are talking about here.
Keyes definitely honed this story to a sharp tip. The man had been writing the story for basically a decade. By the time the novel came out, it was the best version of the story. THat's a luxury not very authors have. 🙃
Well, he did, and he used it to create a work of literature that will be talked about until the end of time - in my personal humble opinion. 😌


"Intelligence is one of the greatest human gifts. But all too often a search for knowledge drives out the search for love. This is something else I've discovered for myself very recently. I present it to you as a hypothesis: Intelligence without the ability to give and receive affection leads to mental and moral breakdown, to neurosis, and possibly even psychosis. And I say that the mind absorbed in and involved in itself as a self-centered end, to the exclusion of human relationships, can only lead to violence and pain."

Again, I'll preface this by saying: READ THE DAMNED BOOK!, this section will reveal the premise of the book, which will definitely lessen your reading experience if you plan on reading this beauty. If you don't, or you already have, then we moving right along❗️
Flowers for Algernon is about a retarded person that through a miraculous medical procedure becomes a genius. (like, actually retarded, not the way that word has morphed over the years - Charlie (our protagonist) is mentally insufficient to live in society as a normal joe shmoe). 🙁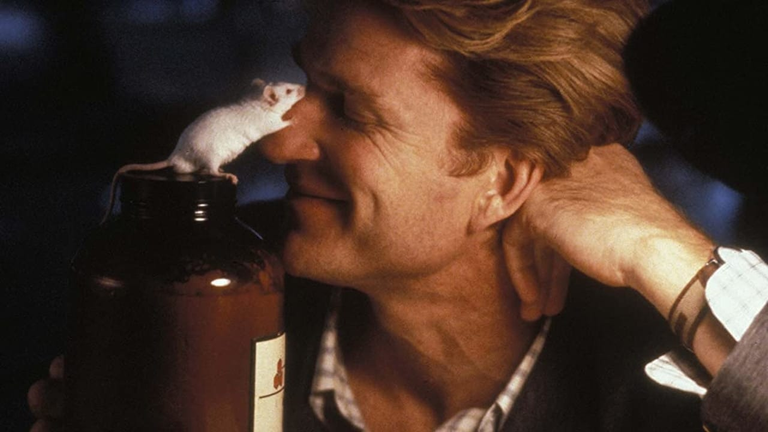 Charlie and Algernon in the movie adaptation.
As an aside - I am quite passionate about mentally challenged persons. My cousin had a severe case of autism, so much so that it took his life at a young age due to complications. So I am empathetic to their plight, which is why I think this book hit a bit differently for me.
The story is told as an epistolary (a plot told through notes/journal entries etc.). Charlie himself gives us his perspective on things as they had just occurred to him. And.it's.riveting. 😅
The format works so well because Keyes is able to expertly relay Charlie's emotional and actual intelligence through the language he's using. 😮 I cannot describe just how effective this is, because of how well Keyes manages it. In the beginning the text has no punctuation, spellings are wrong and there is no semblance of structure at all. As the plot thickens this changes substantially. Then changes again, and again. 😭 This marriage of theme/plot/character development/prose is rarely seen in any book. And that I just stumbled upon it makes it even more special for me. 🙂


"How strange it is that people of honest feelings and sensibilty, who would not take advantage of a man born without arms or legs or eyes—how such people think nothing of abusing a man with low intelligence."

The amount of times I've cried while reading a book can be counted on one hand, I balled like a baby reading Flowers for Algernon. 😭😭😭
The conversation it sets is so poignant and powerful. How our understanding of mental illness has only marginally improved since the mother bleeping 50's! It's really tragic, but most of all, disappointing. I assume it will take us much longer for people to understand that a mental deficiency is not all that different in severity to a physical deficiency. 😐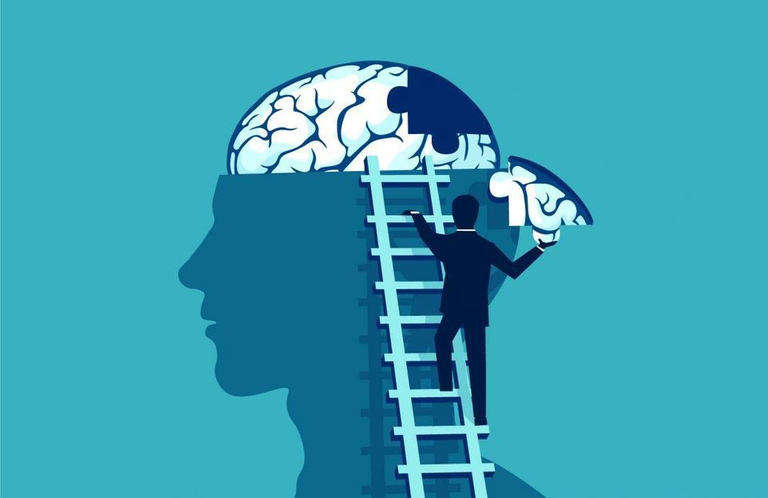 And this text makes these points by adhering through the strength of the medium itself. I love this! So few people take advantage of the type of art they are creating. But Daniel Keyes understood he wanted to make a novel, and he used every trick in the book to make the emotional punches hit that much harder. 😱
This book asks: What good is intellect, without empathy to wield it? And I concur, what good is it? If we cannot see and understand our fellow human, then what benefit do we have except for a selfish one? i.e a misuse of our superpowers. 🙃
This book manages to put that message across with startling effectiveness . I'll reiterate: very few works of art manage to weave their theme with their presentation like Flowers for Algernon has. 💯 This level of accomplishment is something I dream I'll be able to achieve one day with my writing. 😌


"I am afraid. Not of life, or death, or nothingness, but of wasting it as if I had never been."

I don't care what nobody says, this here's a masterpiece. 💪 So much can be learned from it, so much of the world can be understood through it. It's beautiful.
You owe it to yourself to give this book a try.
None of its adaptations over the years have stuck the landing, because the story is meant to be read as a book. It's almost impossible to translate it poignancy in another medium, the story was made to be told through text, simple as that.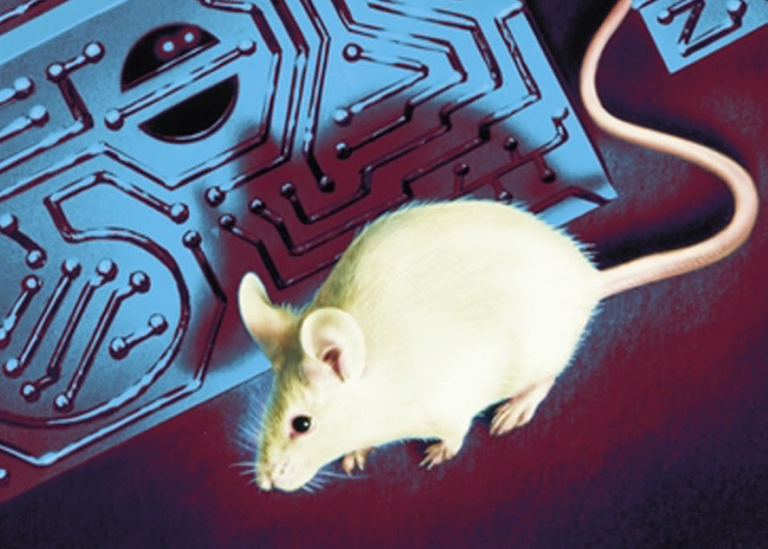 I also find it tragic that Keyes never managed to replicate his success, but I also understand it. The man was not a full-time professional writer, and this story kind of fell into his lap as a brainchild. It's always hard to top your art when its a success at this high of a level. 😌 I don't envy the man. But at least he left the world with a permanent staple in its development. Flowers for Algernon will be read for centuries to come, and that's an accomplishment most of us can only dream. Good stuff Mr. Keyes, may you rest in peace. 😌
If I've convinced one person to read this book, then I'm a very happy camper. 😁

I was pretty apprehensive writing a review for Flowers for Algernon. I love this book so much, and I want to gush about it, but at the same time I don't want to ruin it for people who haven't discovered it yet. So the line I had to walk was pretty thin. 😄
But I should've known I had nothing to worry about, this book's talking points are vast, and I probably could've ranted on about its themes for a novella's length more. But that wouldn't be a review, it would be a rant. 😁 And also it would spoil it for people, so I think I managed to hit a sweet spot - at least I hope so. 😅
If you've made to the end, thanks for reading, you rule! Due give this book a shot if you haven't. It's suited for non readers and readers alike. Just read the first 20 pages, and you'll get hooked in. Trust, yo, boy! 😉
👊 If you enjoyed this review please consider following my HIVE blog 👊
Obligatory Shout-out to the 🍕PIZZA🍕 gang, 🤙 gang. 🤙
Stay safe and look after one another! 🙌
---
---