Marvel Snap - REVIEW
The best mobile game of 2022. 😱
This statement is not my opinion. This metric is all over all the apple and android stores. It won 'Best Mobile Game' at this year's Game Awards. And is without a doubt the newest breakout hit in mobile gaming.
It is a card game, and if you know me, you know that I absolutely love card games. A card game junky they call me. And I have reached the highest rank in every card game I've played, in its first season, Snap wasn't the exception. 😉
So I feel very much qualified to write about this groundbreaking title. Groundbreaking? Most certainly, let me explain...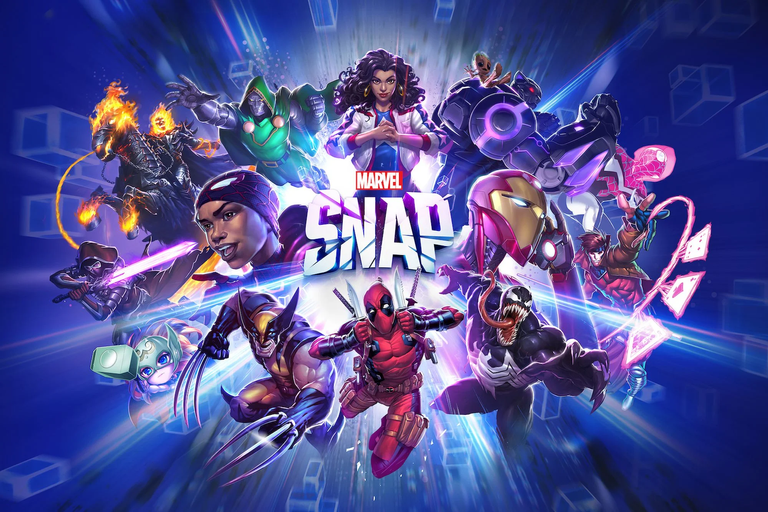 🚩 BEN BRODE 🚩

No other way to say it. 😅 Citing the developer's name might feel like a cop-out but sometimes the individual really is that important. So, who is Ben Brode?
Ben Brode was the lead designer and developer of Hearthstone. If you know anything about card games you will know that Hearthstone was the biggest CCG for a very long time. Arguably, still is. So when he left Blizzard in 2019, everyone was curious what would be his next project.
A great interview with the man himself for those curious.
The man has a perspective on the design space that is so refreshing. The same thing happened to Hearthstone. A very slick learning curve combined with actual strategic depth is the secret sauce that makes his games amazing.
You might look at a game of Marvel Snap and say, wait? this is complex? I'm a seasoned Magic player and I can tell you: yes. it very much is. 😉
Allow me to elaborate...

🚩 A LOT LIKE POKER 🚩

Another card game that I adore playing is ye old Poker. 🃏 Marvel Snap shares a lot of similarities with Poker.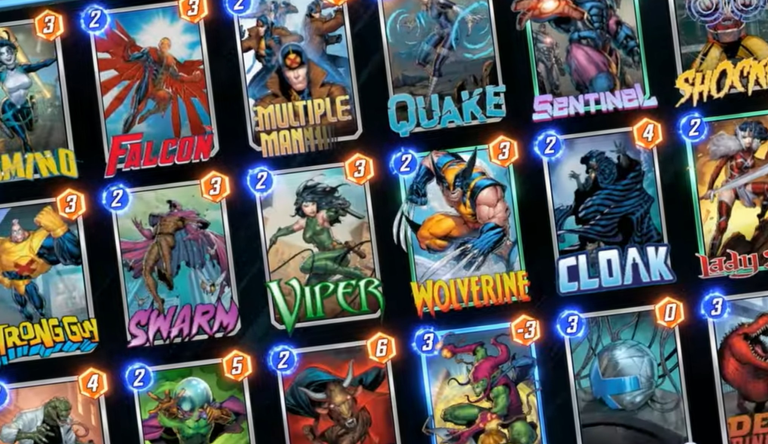 First, Snap is a session based card-game.
You judge your success through a session of playing, not one game. Since Snap's games are very short, and the random nature of its design (which we will cover in detail) would be terrible if this was a single-match game (such as Magic Arena or Runeterra). Instead you calculate your success by how many cubes (matchmaking points) you are able to acquire in one session.

Second, You can All-In, Fold, or Limp.
These terms will be familiar to anyone who knows poker. In Marvel Snap you can Snap, doubling the stake of each match. You can also Retreat, greatly minimizing the stakes. Conceding a match in other card games always equates to you losing a said match - well not here. If both you and your opponent Snap then the reward is quadrupled. 😮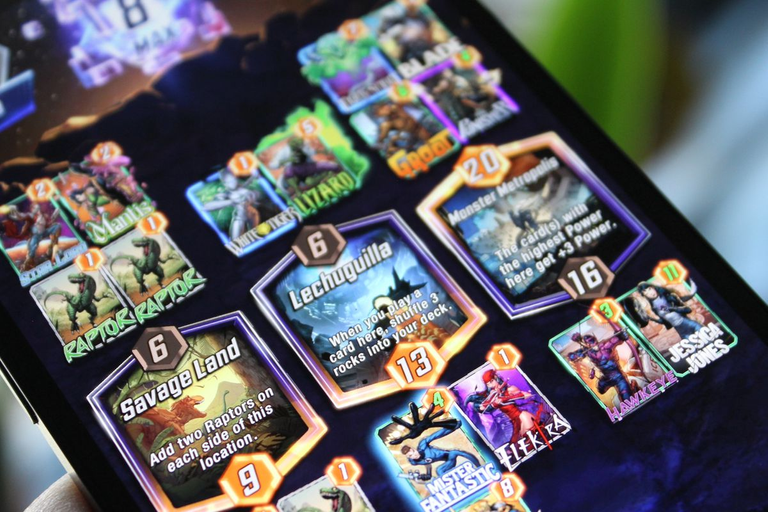 This means knowledge of the metagame and your opponent's deck is crucial to victory in Snap. Knowing when to Snap and when to Retreat to maximize your overall haul is the most important thing. This adds a level of depth to the game unavailable in any other CCG.
So how do you play? Well, I'm glad you asked...

🚩 HOW TO PLAY 🚩

So we covered Poker. The other influences have to be Gwent and Artifact.
In Snap, you have 3 locations. Each location is randomly spawned. These locations grant the game special conditions that make each match feel fresh. They can also totally counter some decks, hence why retreating is a must-feature. The locations can be as simple as '+1 to all cards here' or as complex as '25% to destroy cards played here' .
You place cards in this location, and at the end, whoever has more power on 2 out of the 3 locations, wins! If there is a tie, the total power is the tiebreaker.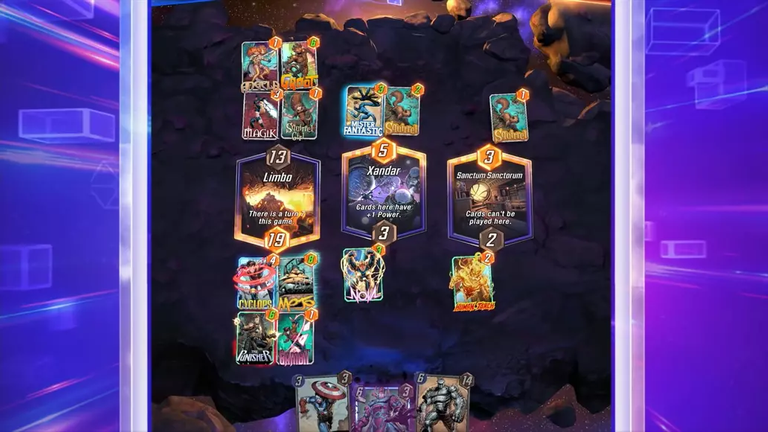 The cards themselves are also very simple. Only two numbers to keep track of: how much energy the card costs and how much power it grants. A lot of fo cards have a lot of effects. But that goes without saying. This base design in itself is the simplest out of any card game out there. It allows for brevity in design that is so refreshing and easy to understand. Layer this underneath all the extraneous difficulty and you have a card game born of decades of experience. Culminating in something truly special.
In addition, Snap has a deck size of only 12 cards. This is the smallest deck size out of any current or past CCG. Making deck building very fun for even the most novice deck builder. I personally play CCG for the deck building, trust me when I say this low card amount does not hinder the game's depth.
So, how do you get new cards? Man you are just killing it with the questions today...

🚩 PROGRESSION 🚩

Snap has the best progression out of any card game currently out there.
Not even currently, that's me being coy, it has the best progression period. You can argue about the game's complexity and stuff, but this point is unarguable. 😁
Marvel Snap has no packs. 😱 Yes, you heard me. In some ways, it is the least predatory game out of them all. But in others, it's its own completely new thing. You can argue that Runeterra is more generous, and I would agree, but the way Snap meshes its progression with unlocking cards and card variants is wholly unique.
Each time you upgrade a card's visual appearance you get points that progress you in the Collection Track. This Collection Level is tied directly to which cards you can receive from said track. There are 3+ pools/series of cards, and each correlates to your Collection Level and matchmaking.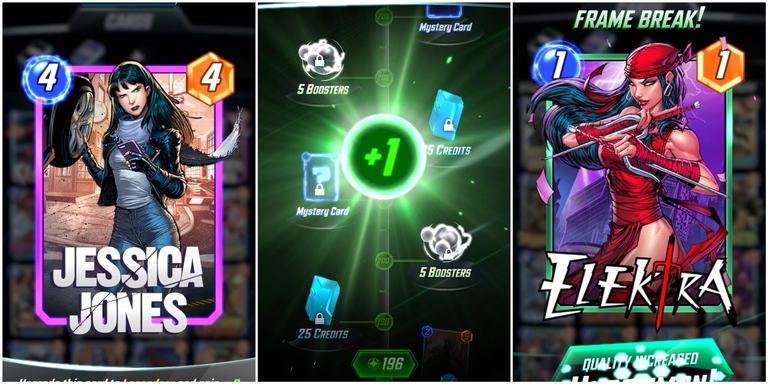 When you're in pool 1 you will only play versus other enemies in pool 1. And so on. Also, you don't receive the cards at the same time as everyone else, meaning your collection will be different than mine. And seeing Snap's low deck cost, makes deck building very beginner friendly and easy to execute.
My favorite thing about this is that you're not gated with money. With cards that you do not possess because you didn't buy enough card packs. There is even a limit to how much money you can spend in the game. This is honestly unheard of. 😅
This progression system along with the matchmaking system we talked about earlier makes Snap a truly unique and fun experience to just climb and grind. Something no card game can claim at the moment. 💯

🚩 CONCLUSIONS 🚩

It is hard to look at Marvel Snap and not call it the future of card games. It's simplistic surface level design, mixed with its sophisticated meta game design, make for an excellent combination.
There is grind in the game, and that is unavoidable. ANd honestly, right now I'm feeling that fatigue myself. Currently at the beginning of pool 3, I feel like I have so much left to go, yet don't have enough cards to make new decks. And am getting kinda tired of the ones I am playing with now. 😅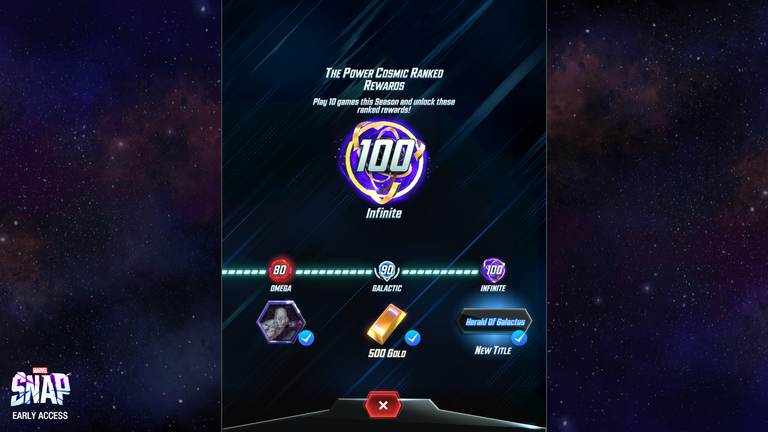 I reached Infinite as you can see, but beyond that there's nothing to keep you playing beside unlocking more cards. And that in itself is a grind.
Regardless, I feel like Marvel SNAP is the future of this genre, and only time will tell whether its lofty ambitions will be met.
If you have any interest in playing card games, then I recommend you give this one a try.

Shout-out to the 🍕PIZZA🍕 gang, 🤙 gang. 🤙
👊 Follow me on my HIVE blog 👊
Hope you had a wonderful year, and here's to an even better one! 🙌
---
---