MTG Arena - REVIEW
I know, I know. A card game that's not Splinterlands... 😭 I humbly request your forgiveness, hive friends. 🙇‍♀ But I don't play Splinterlands, even though I'm a very experienced card game player. I'd argue competitive card games are my best greener. Having reached the highest rank in both MTG and Runeterra for several seasons. 💪
I've already made a Runeterra post however, so now it's time for the big dog. 🐶 And no, I said competitive card games, so Hearthstone does not count. 😂🤣😂🤣😂🤣 runs cackling to the other room
It took Wizards of the Coast decades to make a competent online client. This is even more perplexing when you realize Magic the Gathering is the biggest card game in the world. 😅
And even then, the client is the worst out of all the other CCG clients. 😁 Hey! At least they have one. Let's take a look-see, hmmmmmm? 👀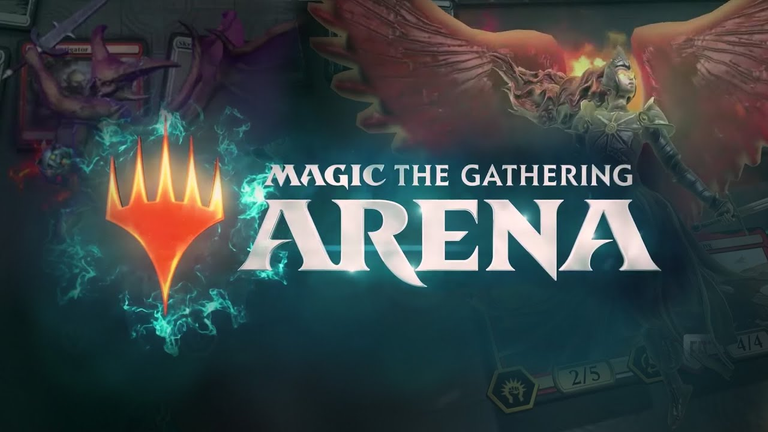 Magic the Gathering is the first TCG (trading card game) ever created. Developed by the now legendary designer Richard Garfield, its unique approach to 'flow' and 'pacing' made the game a hit virtually since its inception. 😱
For those wondering why I haven't linked Arena's soundtrack. Well... the game kinda doesn't have one. With like 3 to 4 songs in total. 😅
Let's go through how to play Magic. This will be the 2 minutes guide for dummies. Very basic. Just so you can get the gist of it:
Each player starts with 7 cards. You can use a mulligan to get a new hand at the beginning of the game, but these mulligans vary so we won't spend time on them;
These cards are called spells. These spells are divided into: Sourceries, Creatures, Artifacts and Enchantments, Planeswalkers, and tokens. Along with some others depending on the set;
How to read a magic card:





The phases. Each turn goes through 5 phases: Draw, Main 1, Battle, Main 2, End. At the beginning and end of each phase, any of the players can react. If they have the appropriate card to do so. Before each player's draw phase, each player un-taps each mana;
Mana is not gained automatically. Unlike the newer CCGs, you gain mana from Land Cards. These land cards have to be drawn and played like any other card. Tapping a mana card will use its mana. There are 5 mana types in Magic the Gathering;
There are many formats to play. Each changing up the rule set and/or deck construction rules;
And that's basically it. 😆 Of course, this is the very, very basics. Just so you get an idea of what type of card game MTG is. 🙂

So why haven't Wizards made an online client for their game sooner? Who knows, mannn. Just behind the times I guess. There's MTG Online, a janky, old client that is still up and functional to this very day. But it is so outdated I'm surprised some people still use it. 😬
Wizards also made a single-player PC game: Duals of the Planeswalkers. Some years back. This was moderately successful, it had a good enough client to be playable. However, it was only single-player and you could only play with premade decks... Again, it's obvious Wizards had no idea what they were doing. 😅
The year was 2018 and Magic the Gathering finally got its first decent PC client. Way to go Wizards! You did it! 🙌
It's not all sunshine ☀️ and rainbows 🌈 though. 😅 MTG Arena's client is made in Unity, and if you know anything about the Unity engine, you know that it's finicky, to say the least. And if anything it's not meant to support a game like Magic. It's not not made to do so. But most def not ideal yo.
This has resulted in countless bugs, crashes, and all your other favorite things. Each patch fixes one thing, then breaks another. 😂 Such is life. Out of all the card games out there, I think MTG Arena's 'experience' is the worst. 😥

Magic is an expensive game. And that's putting it mildly. 😁 All card games from Pokemon to Yu-Gi-Oh! to Magic are expensive. But because of MTG's legacy, its cards have been known to reach astronomical levels. We're talking tens of thousands for one card.
Now, you won't be spending this much in paper Magic, a competitive tier-1 deck goes around 200$, which again, you'll have to change soon as the next season arrives. Which usually happens in three months. 😅 So still, pretty expensive.
MTG Arena is a whole different beast.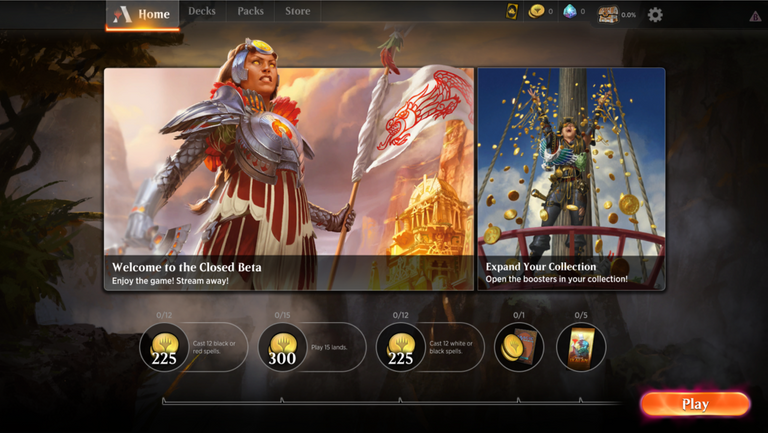 In Arena you have gold and gems. Gold is the free currency gems aren't. 😄 You get gold from finishing daily quests and winning games. Gems, you have to buy or get as a reward for winning events. You get cards from opening packs, winning events, and winning games each day. You also have wildcards which you could spend on any card of the associate wildcard rarity type. You get wildcards from opening packs.
Without going into the math of it all, trust me - this system ain't consumer friendly. It rivals Hearthstone's in terms of its predatory nature. Not as bad... but pretty close...
There is also the Mastery Pass. A battle pass system that grants you value the more you play. It's basically your run-of-the-mill battle-pass system, only Wizards has been reducing its value each year. So take that as you will. 😬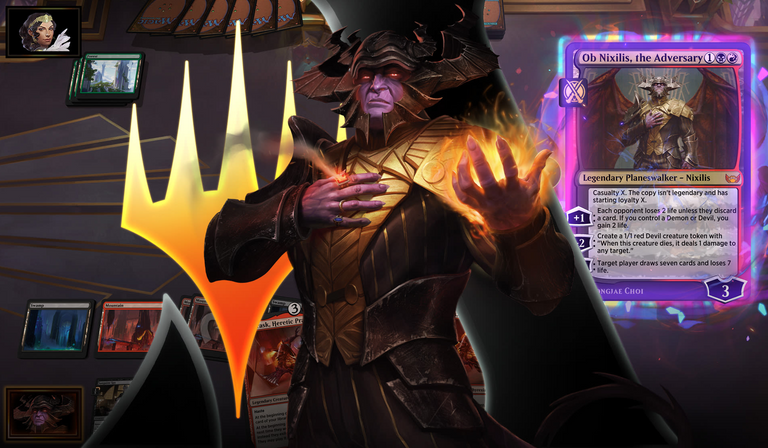 Both paper MTG and arena MTG are expensive. You could play Arena free-to-play and still e competitive, which is by no means a bad thing. That is a very, very good thing. But it will take an ungodly amount of hours to grind the necessary cards needed. And then... set rotation happens, most of the cards you've earned are no longer usable, and you quit the game. 😭 This happened to me.

So if the client is sub-par and the monetization is not the friendliest, why should you play this game? A very valid question my friend. 😁
Well the game itself is still arguably the best card game out there. Most depth, most strategic potential. It is truly an amazingly designed card game, and it has lasted through three decades, taking punches from contender after contender and still standing strong. 💪
The client is still serviceable, and the game is still playable free-to-play. It has its drawbacks, but if you want to play one of the best, if not the best, card games in the world - MTG Arena is the way to go. It's the only way to go. And it ain't half bad, it could be worse, but for the game it represents it could be much better as well. 💯

Shout-out to the 🍕PIZZA🍕 gang, 🤙 gang. 🤙
My last card game post got crickets. 😁 Let's see how this one does.
👊 Follow me on my HIVE blog 👊
Have a great start to your week!! 🙌
---
---