Spicy Mac and Cheese
Spicy Mac and Cheese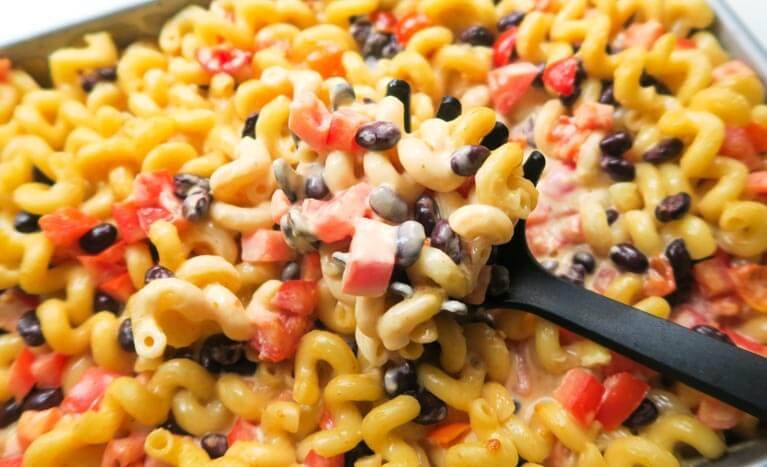 Everyone loves mac and cheese right? Well how about adding a little kick to it with my special spicy mac and cheese recipe!
This recipe is simple to make and quick. More than likely you already have these ingredients sitting around in your house just waiting to be put together into the ultimate meal.
The secret is in the sauce and it's something I always have on had to give anything I eat a little kick. The sauce... siracha!
While you can use any noodle for mac and cheese for this one I enjoy using Cavatoppi or Cellentani noodles. These noodles soak up the sauce and add a extra fine touch to your homemade dish.

Guide:
Prep Time: 5 Minutes
Cook Time: 30 Minutes
Ready In: 35 Minutes
Ingredients:
1 box of Cellentani or Cavatoppi noodles
4 roma tomatoes
1 can of black beans
1 pint of heavy whipping cream
2-5 tablespoons siracha (or more if you can handle it!)
2 16oz of shredded sharp cheddar
1/2 teaspoon ground mustard (optional)
Tortilla Chips (optional)
Instructions:
Preheat your oven to 425F and start cooking your noodles. Dice the tomatoes and drain the black beans setting aside.

When noodles are almost finished begin making the cheese sauce. Pour heavy whipping cream into a sauce pan and heat over medium heat. Once warm, add in your shredded cheese one bag at a time and stir constantly while melting. Once melted add in siracha and ground mustard and stir in. Taste and add more siracha if you want more heat.

Drain cooked noodles and cover with the cheese sauce. Mix in with tomatoes and blackbeans. Pour into a 9x13 inch baking dish and bake for 15-20 minutes until the top looks dry and lightly browned in a few areas.

Remove and enjoy with tortilla chips!
---
---